Virtual assets, NFTs, cryptocurrencies, and the Metaverse are common topics in any chat about gaming and new virtual worlds. New technologies have allowed sponsors and artists to be part of this rising environment and show their pieces of artwork.
But, if you're starting in these territories, you already know that getting information can be a bit hard. You may ask yourself, where can I find the last NFT project and learn how to invest in them?
This is when you have to visit an NFT Discord server.
A Discord server will provide you with the essential information you can acquire via real-time chats, guides, and other media.
What Are NFT Discord Servers?
NFT Discord servers are special groups on Discord where people gather to discuss NFT projects and related topics, such as investments, creations, tools, upcoming projects, and more. Most NFT Discord servers are public and have their own DAO (Decentralized Autonomous Organization). On the other hand, some servers require you're an NFT holder to be part of the community.
Why Are Discords Important for NFT Projects?
NFT Discord Servers are relevant since they provide different information about current or incoming NFT projects. Many also offer exciting data and tips about suitable NFT investments and creation. Discord servers also allow members to purchase unique artwork and even mint their own creations.
How to Join an NFT Discord Group?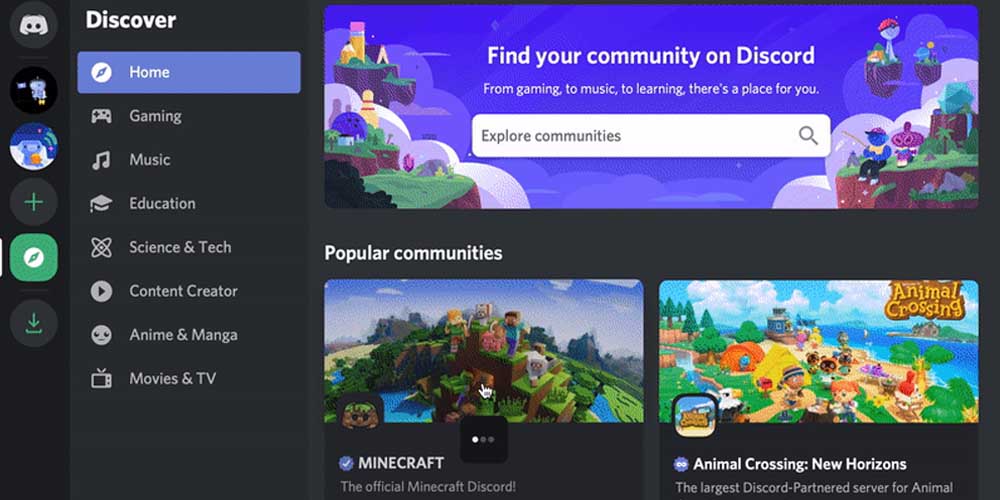 Joining an NFT Discord server is relatively easy. Of course, some NFT Discord communities ask for some special requirements and steps, but, in general, you have to do the same. These steps are the following.
Go to Discord.com
If you still need to get a Discord account, the first step is to head to its official site, Discord.com. Here you'll need to create an account and personalize your profile.
Search for the Server in which You're Interested
Now you have your account, you can start to search different NFT discord communities and join them if you fulfill the requirements. To do this, go to the compass icon on the screen's left side. Here you can explore public servers.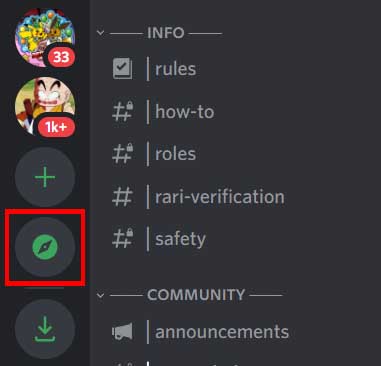 On the next page, write the name of the NFT community you're looking for. In this case, we typed "Rarible." Many options related to your query will appear at the bottom of the screen.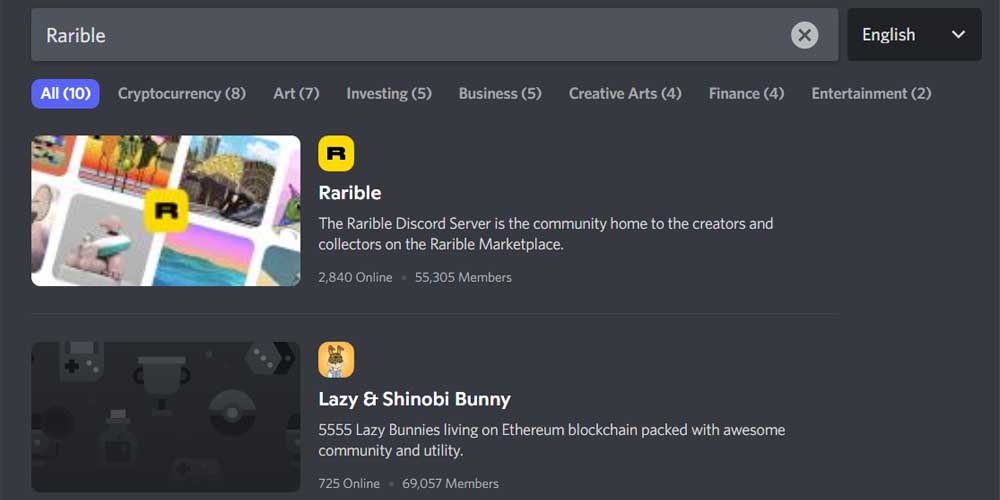 Verification and Agree to Rules
Depending on the NFT Discord community, you must pass through different verification processes. Some NFT communities ask for a phone number to verify your identity through a code. Others use images to corroborate that you're not a robot. Some use captchas or puzzles. Anyway, you'll have to verify your identity and agree to the general rules of the active community.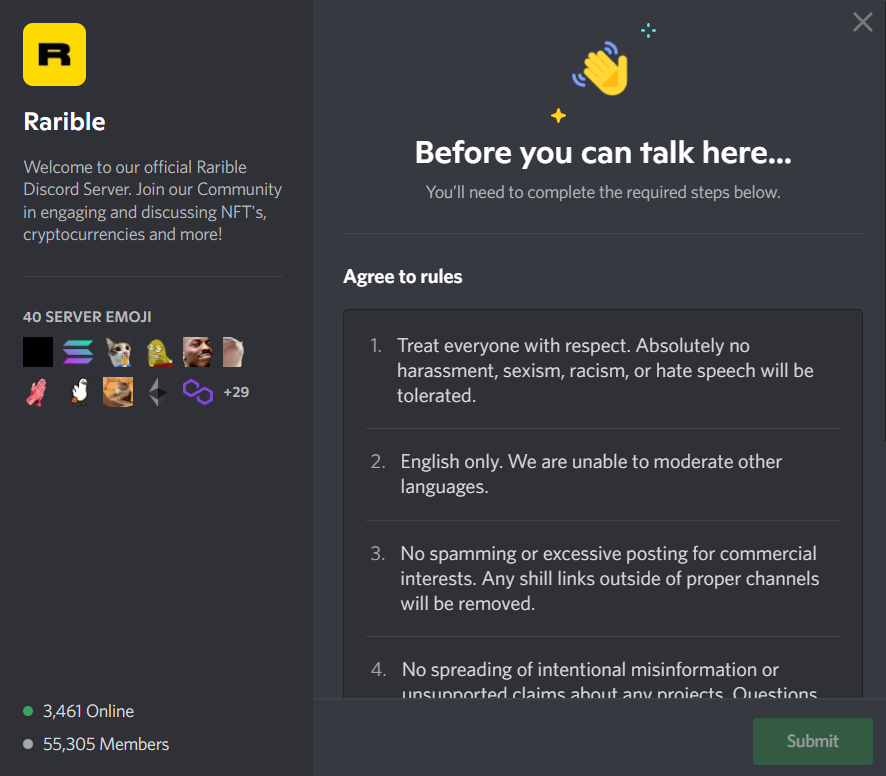 After finishing this process, you can participate on conversations in the Discord channel. Still, be careful with the information shared through DMs. Some communities do not allow private messages to other community members.
An Alternative to Join FNT Discords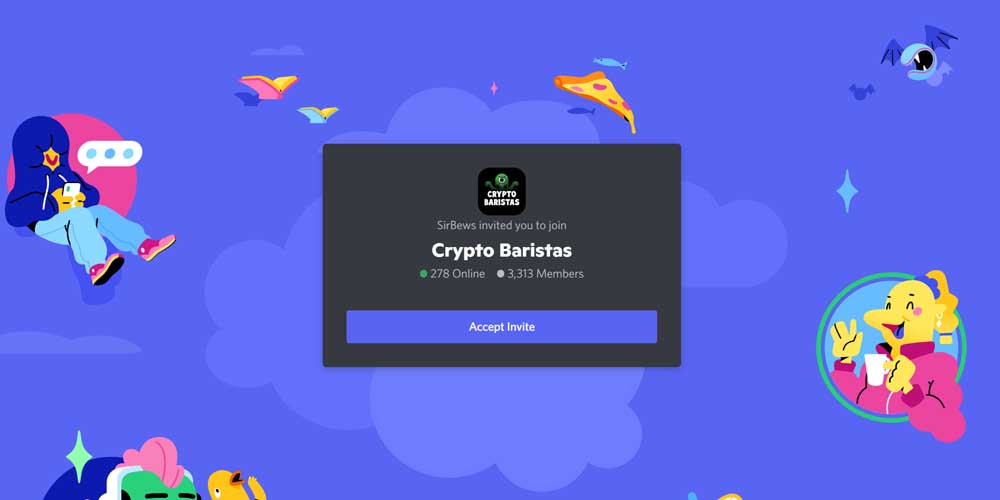 Various NFT Discord communities allow you to join their NFT Discords by receiving an invitation directly from the project owner. For instance, Crypto Baristas has a button in the top right of its website that facilitates your incorporation into Discord. Just click it, and you'll be redirected into the community.
Best NFT Discord Servers for NFT Fans
This section lists seventeen of the most popular and recognizable Discord servers that can be very useful for learning about current developments.
Open Sea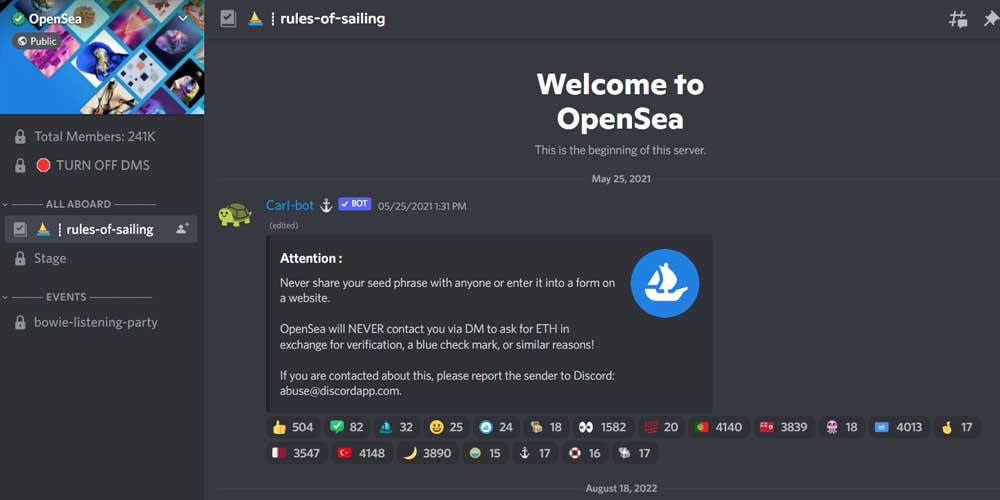 Open Sea is the first and largest NFT marketplace and collectible crypto space. Here, NFT collectors come to buy their favorite pieces of virtual art of the NFT world. Besides, in Open Sea, NFT artists mint their profitable NFT projects waiting for a wise investor who decides to acquire their piece of genius.
Its Discord community provides many resources for those beginning in the NFT space and reveals new upcoming NFT projects. Currently, it has over 162,000 members; thus, it's one of the most reliable Discord groups you can join.
Open Sea server benefits creators and developers who want to use OpenSea technology and add it to their projects and websites. OpenSea's Discord is always full of interactions and conversations about developing projects, updates, news, Twitter threats, and more!
Crypto Baristas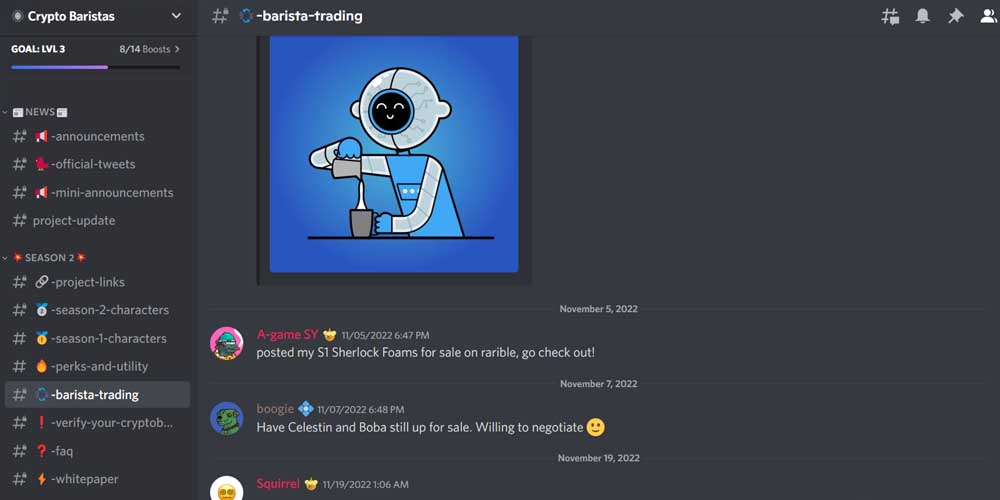 Crypto Baristas is a Discord community focused on a generative NFT project with a special love for coffee-makers and producers. Crypto Barista's NFT collections, as the first NFT-funded café in the world, heavily contribute to the farm and stakeholders of this delicious drink. In other words, the project raises funds with caffeine-loving characters.
NFT creators contribute to this project by creating their own imaginations about the crypto baristas. They discuss their creations, mint opportunities, prices, and more with this incredible community.
CryptoPunks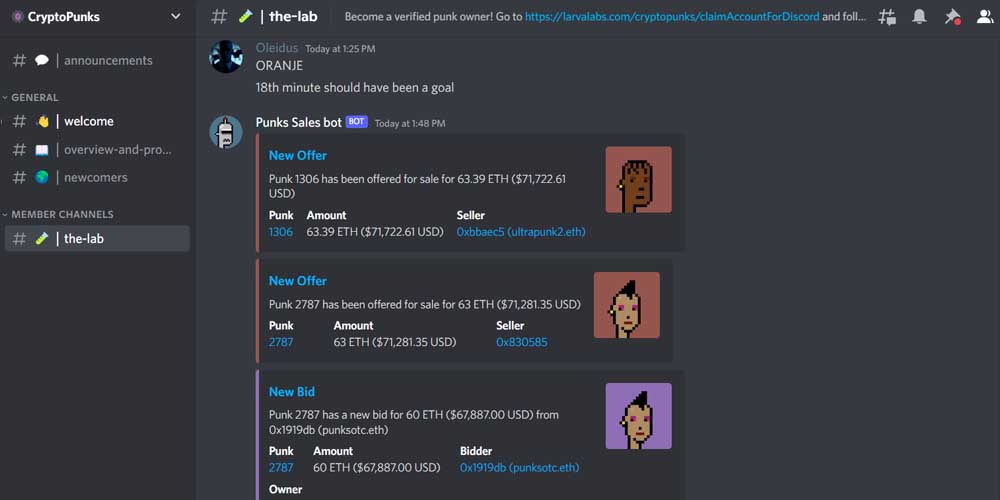 Crypto enthusiasts know that CryptoPunks is a pioneer in the NFT space and one of the first collections released in 2021. It is a high-valuable collection that gathered many NFT creators in 2022 through its CryptoPunks Discord.
CryptoPunks is one of the most significant discords in the NFT industry since you can learn about crypto security by reading crypto traders' chats and the Admin's updates. Besides, this is a great site where investors can watch and check lucrative projects of crypto NFTs.
The problem with CryptoPunks is that only NFT holders can chat and interact with other members. Still, it's an excellent site to learn about NFTs and check the last assets. No doubt, a highest quality Discord community.
Rarible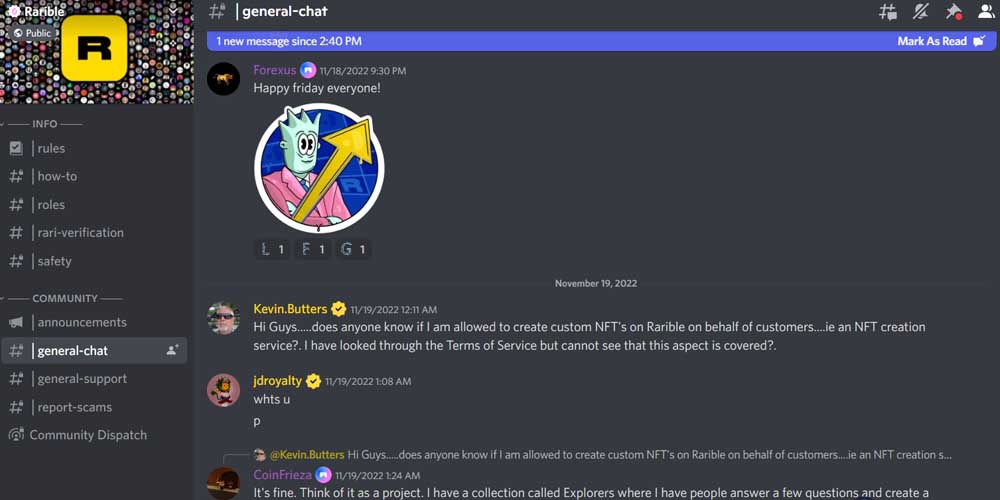 We mentioned this Discord early in this article and must repeat it. Rarible is one of the best NFT Discords in crypto and the second most popular marketplace to purchase NFT. It features many of the most successful NFT projects, even new NFT projects.
This Discord, like the ones mentioned above, provides hundreds of educational pieces of advice from developers, NFT investors, and creators via open talks. This channel is also where you can find and learn about popular projects and NFT news and find out which are the most profitable.
Rarible website has been the house for many famous NFT projects that, over time, created their Discord servers, such as MekaVerse, Cryptoadz, and Creature World.
VeeFriends Discord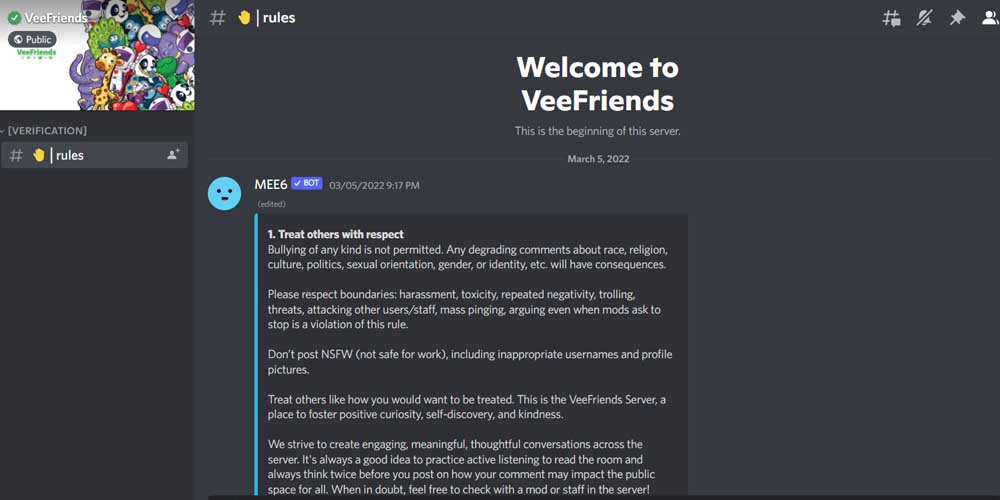 Gary Vaynerchuk, the Belarusian-American entrepreneur, and investor is the founder of the decentralized autonomous organization, VeeFriends, and Discord of the same name. VeeFriends is the NFTs personal collection of Gary Vee and a creative community where users can discuss NFT gaming, technology, and its remarkable capabilities.
Regarding Discord, VeeFriends has one of the highest-quality Discord communities on the web. The investor is well-known for predicting the future of social media and assets, and the story is very similar regarding NFT drops.
This Discord is exceptionally active and a great site where new NFT investors can learn a lot about the subject and even talk about random topics. Besides, users can learn about the project of the NFT creator if they are interested in investing in it. Currently, this Discord has over 365,000 members.
Art Stars Club NFT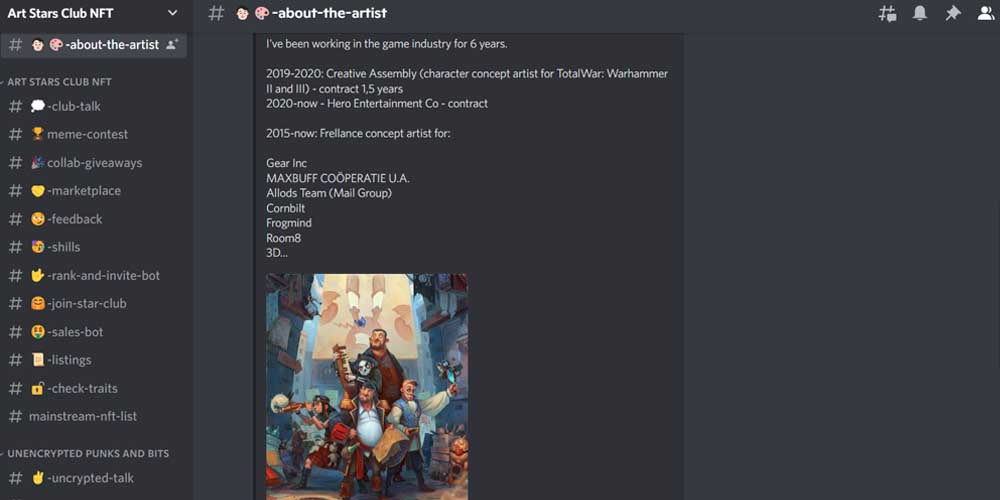 Art Stars Club NFT is a blockchain-based collection and a small Discord server with more than 10,000 members. It boasts an attractive slogan: "steal like an artist, paint like a thief," which encourages members to create art pieces. They can be part of its DAO-curated art platform if they are successful.
Although relatively small, Art Stars Club is an incredibly active community with 10,000 randomly generated NFTs living in the Ethereum Blockchain in ERC-721 tokens.
Finally, to say that Art Stars Club is an exciting discord for new users or artists looking for inspiration and developing their artistic side.
Aspen Labs
Aspen is an NFT company that has created a blockchain decentralized app where users can access relevant data and functions through De-Fi, NFTs, and other social lending platforms. According to Aspec, their mission is to bring traditional and digital markets and public Discord servers closer for a better understanding of crypto trading and creation.
Aspen Labs provides maximum utility to its members and has 24,116 like-minded people discussing NFTs, Ethereum, and other topics.
Furthermore, Aspen Labs performs a revenue model divided into three segments, dCOLLECT, dLEND, and Hypersphere. The whole system is dedicated to bringing the highest interest possible to investments in cryptocurrency.
Aspen Labs' more critical artistic work and collection is "Soviet Boys," a series of rare NFTs that emphasizes the color palette to boost the expression of Russian guys.
Mutant Cat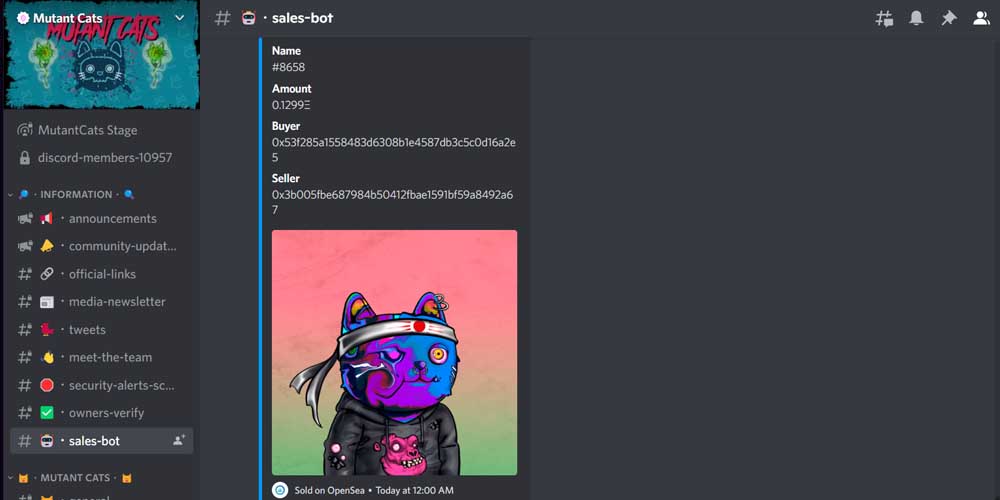 Mutant Cat project is the first cat-based DAO where the community supports and owns cool cats to accumulate royalties for the organization's development. The royalties are used to buy Blue Chip NFTs in the fractionalized vault. The fractions are distributed to holders, taking the form of $FISH, the token of this community.
Even though this Discord server is heavily focused on helping community members, you can talk about multiple topics and other decentralized apps, such as cryptocurrencies, DeFi NFTs, and blockchain.
Besides, members can access many benefits given by this Ethereum Blockchain-based projects, such as NFT drops, perks, rewards, giveaways, and more, always focused on cutting-edge technology.
Brain Vomit's Garden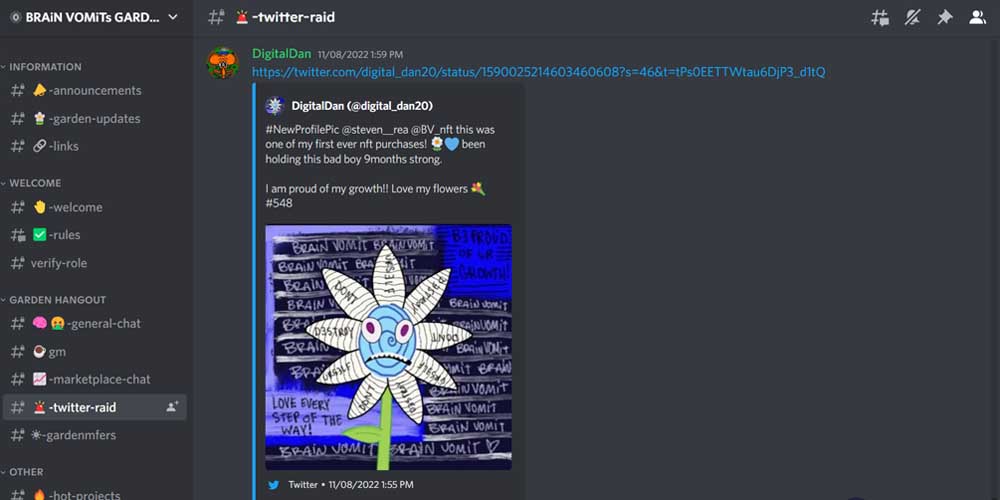 Brain Vomit's Garden is a project created by the artist and skateboarder Steven Rea, who started it after an accident to keep his mental health. The final results arrived 18 months later.
This official Discord server is an excellent community for aspiring artists, creators, newbies, and virtual space users by providing experiences and advice. Besides, active members can look for artists and check their latest creations.
Still, Brain Vomit's Garden has 1,000 members, but conversations are really educational, so we recommend you join if you want to experience the NFTs world.
Bored Ape Yacht Club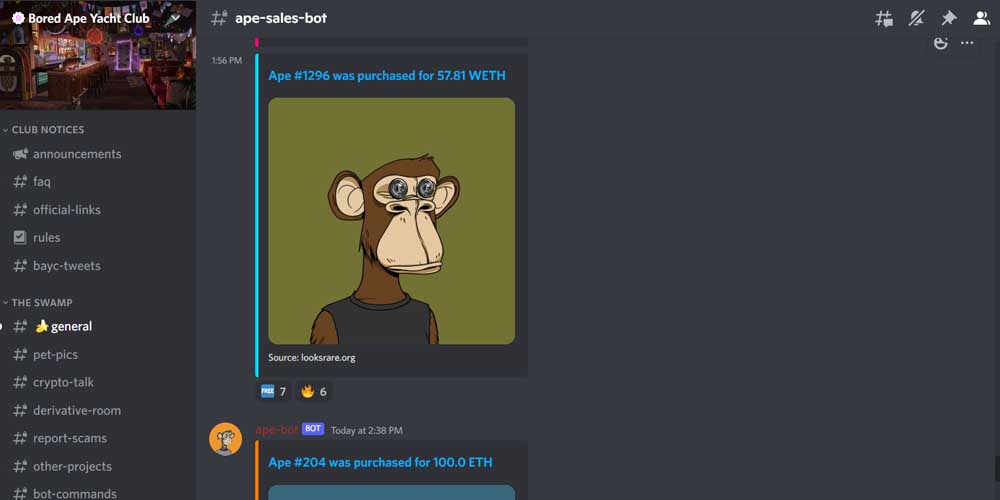 This NFT collection is likely one of the most famous on this list. Currently, it has one of the most oversized market caps, and its server of the same name boasts over 175,000 members. Besides, this collection is a museum NFT with more than 10,000 Bored Ape NFTs living in the Ethereum Blockchain.
Being part of this premium community assures access to the BATHROOM, the collaborative graffiti board of this elite club membership.
This NFT Discord server is incredibly active, and digital artworks are always promoted. Besides, essential projects are shared daily. Bored Ape Yacht Club is an excellent site for people who want to learn about the blockchain game and the benefits of the community. It's also great for people who want to invest in these assets of the digital world.
Galaxy Gang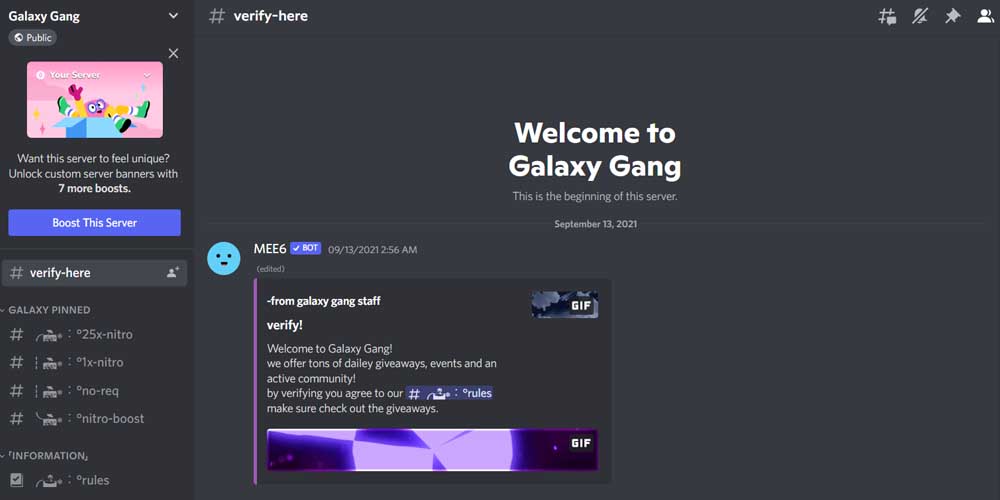 Galaxy Gang is a global community of people interested in discussing various topics of the metaverse and crypto world, as well as a social media platform to talk about colorful themes.
One of the most relevant characteristics of this space is that its members are not just investors or artists. It boasts people looking for education in this regard and discovering new features in the NFT world.
Besides, Galaxy Gang performs several daily events, tons of giveaways, and rewards for the most persistent members. If you're interested in discovering opportunities in the market and learning more about NFTs directly from NFT collectors and senior participants, this is the awesome community you were looking for.
Flower Girls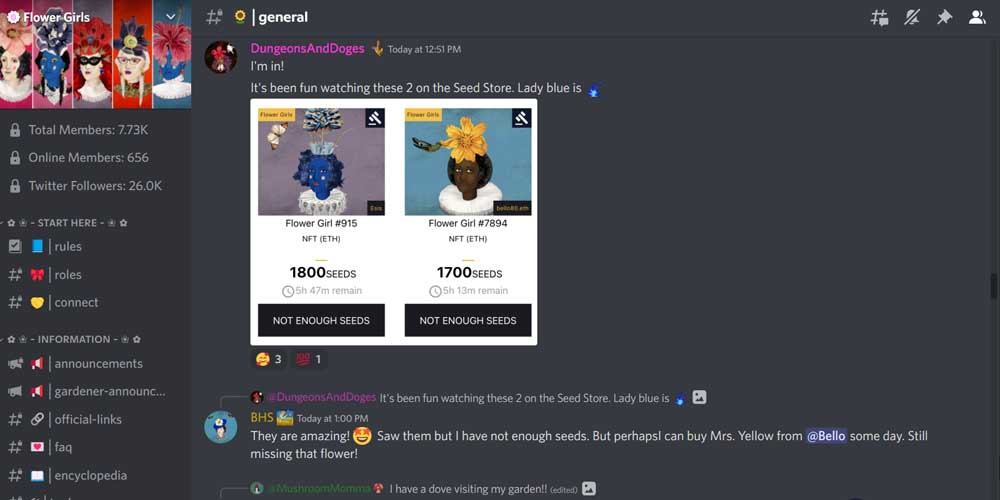 This project is less famous than the others in this list but still is known as a high-quality Discord community. The reason? Because members are more concerned about developing the community and learning process than the floor price. Due to this, the artworks of this project are relatively cheaper than other projects in this list.
In Flower Girls Discord, members continuously share NFT's experiences and all kinds of 2D and 3D arts. Members also build a massive community on Instagram and Twitter, becoming an extremely active group of people discussing everything.
Open Head NFT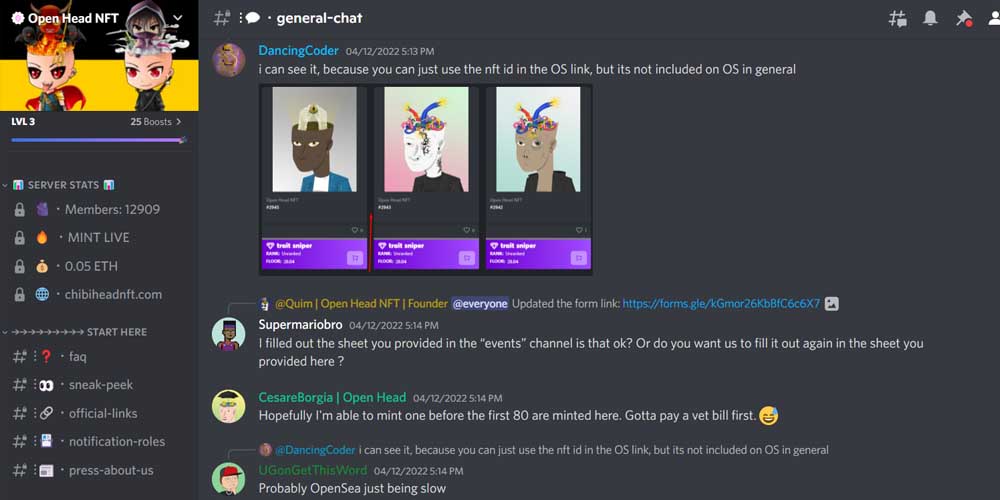 Among all the active NFT discord communities on the popular chat platform, Open Head NFT focuses on a single NFT project, the Open Head NFT art. This project presents several advantages and benefits, such as loot boxes, ongoing raffles, missions, rewards, a shop space, tokens, a combat bot, and more. Open Head is also one of the most important projects in the NFT sphere.
CrypToadz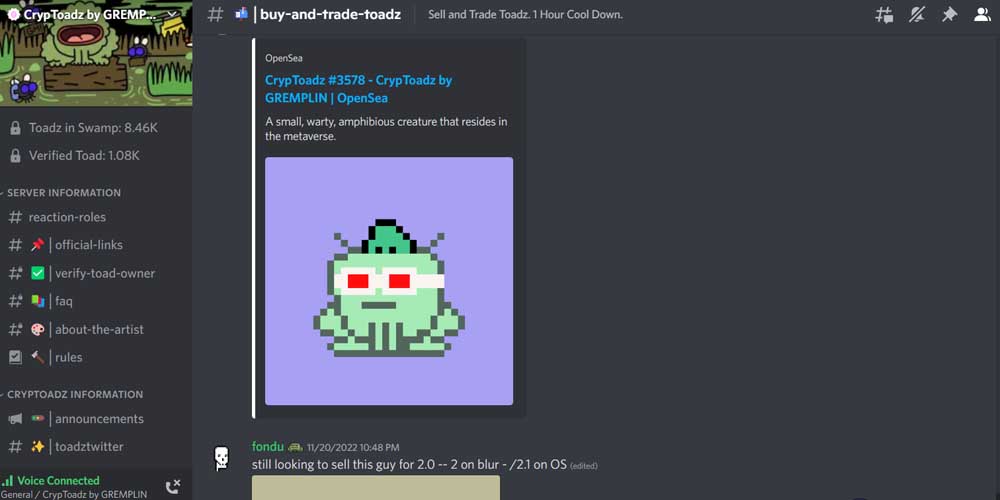 CrypToadz Discord is not the biggest community in the crypto world, but it may be the funniest and one of the most active. People interested in memes, NFT-based entertainment, new ideas, and learning more about the Metaverse and digital assets arrive at this stage channel to get the best of it.
The creator of this project and community is Gremplin, an anonymous artist, who with the help of other artists – BN89, Chanzero, Cat, Dinfo, Emmy, Heeeee, Sum1, and Motivateme – developed this massive project.
CrypToadz has gained much popularity in the NFT world and is the central topic of discussion in many forums and channels.
MekaVerse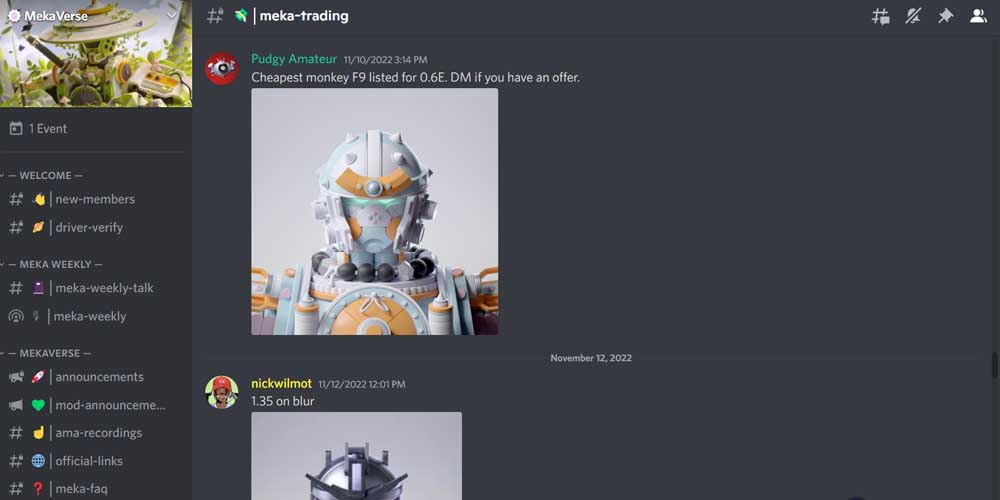 Considering that the Nippon culture has a strange interest in mechas, or Japanese giant robots, an NFT project based on this subject could be present. The MekaVerse universe has 8,888 randomly procedurally generated mechas, each with different traits, designs, colors, and unique characters.
This tight-knit community was one of the fastest growing last year, reaching over 250,000 members. Here you can be part of NFT-related discussions and talk about many mechas and intend to raise awareness about these Japanese pieces of art.
Currently, MekaVerse has over 13,000 members. Since it's officially opened to the general public, most members join this Discord to follow ideas on this exciting topic.
Friends with Benefits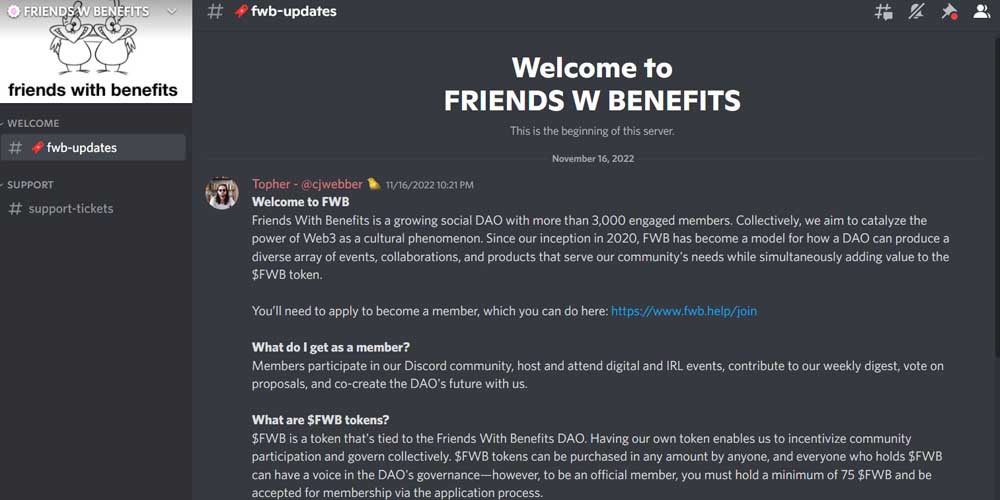 Friends with Benefits is a project and community headed by Andreessen Horowitz, the primary investor in this friendly space. In short, it is a crypto social-based club and a DAO, where members come to learn about the most critical projects in the NFT world.
Currently, it boasts more than 2,000 members, and –we have to say it– it's a group chat, but it aims a little further. Friends with Benefits is building a space where people can read an online magazine, find new music, and even a startup incubator for people interested in investing in several BFT projects, such as CryptoDads.
Friends with Benefits also performs parties to encourage members to participate in its activities. Erykah Badu and Yves Tumor are two of the most relevant artists who have presented their shows at those parties.
Nowadays, FwB is one of the most potent venture companies in the world due to its initial funding budget, which reaches 10 million dollars.
Nouns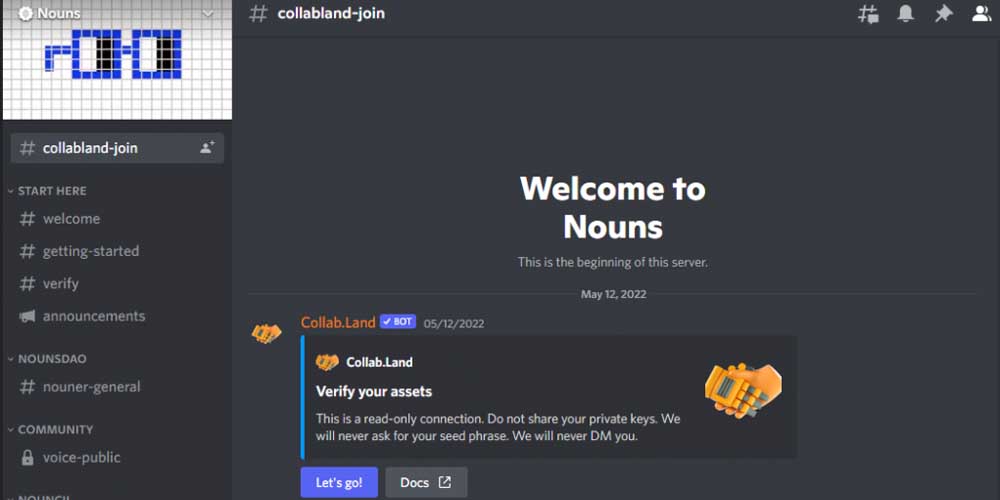 Nouns is a unique entrepreneurship in the NFT environment since each piece of art created commonly exceeds 150 ETH. Each of these nouns is composed of a 32 x 32-pixel matrix. Motives are based on real life and can be combined in almost endless ways. For instance, you can get a result as a Noun based on Christmas Eve and then a different one based on strange forms and dark colors. One noun is generated daily and auctioned off during the next 24 hours.
Final Thoughts
Experts, developers, investors, advertisers, and artists agree that NFTs are the future. Not for nothing, every news channel on the web regularly publishes exciting content about non-fungible tokens.
If you're thinking about entering the NFT world, you'll likely get a good profit if you know exactly how the market works and which decentralized apps on the forefront you need to use. We know it's not easy, but visiting and joining some of the Discord servers mentioned in this article will help you better understand this phenomenon.
Finally, if you're interested in learning about non-fungible tokens, check out other articles related to the Metaverse and NFts on our blog.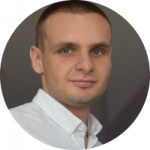 SEO specialist with over six years of professional experience. A/B test and Data-Driven SEO enthusiast. In his work, he focuses on the development and implementation of a strategy that achieves predetermined, specific goals. Privately, a fan of mountain biking.