Introduction
Today, the presence of articles concerning eSports in magazines like Forbes is business as usual. However, just a few years ago the industry was not taken seriously, whereas eSports players were mocked for being called sportsmen. So what caused such a drastic change in the perception of eSports? The answer is simple – when no one knows what it's all about, it's most likely about the money. That being said, let's take a look at the development of eSports over the years, and answer the question: how much is eSports worth today and is esports worth investing in?
Why is eSports so popular?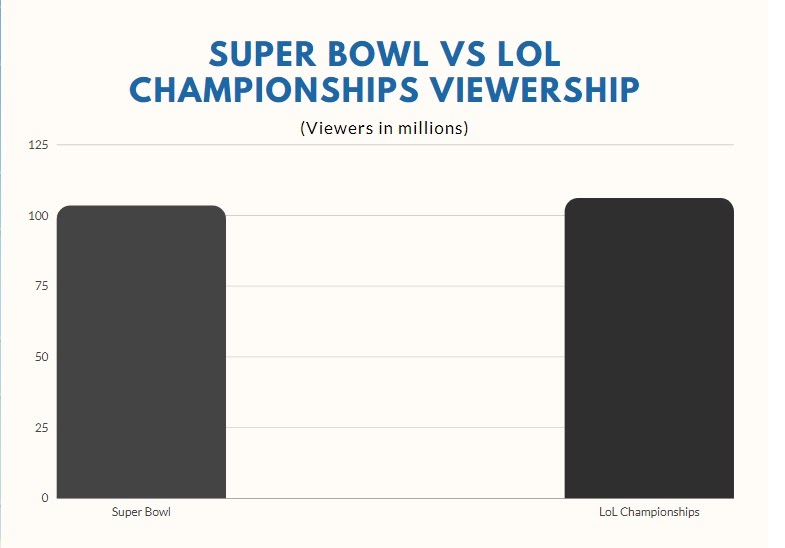 As reported by the statistics, the audience of the Super Bowl in 2018 was estimated at 103.4 million. To compare, the 2017 League of Legends Championship was watched by 106 million viewers globally.
As shown by these data, eSports already matches traditional sport in terms of popularity. However, it is a relatively young field compared to traditional sports disciplines. That being said, if eSports continues at this pace of development, it could become the most popular sport in the world.
What are the reasons behind the overwhelming popularity of eSports?
Accessibility. In comparison to tennis, which requires expensive equipment, a court, and a coach, eSports is open to anyone with a computer, console, or mobile phone and the Internet. What is more, gamers can sometimes play a particular video game with their idols as they invite them to participate in the so-called "sub games" during their stream on Twitch or YouTube.
No physical requirements. It's difficult to match an opponent 10 inches taller in basketball or someone weighing 40 pounds more in American football. There are no such barriers in eSports – all that counts is the skills strictly related to the game.
It is free to watch. As with traditional sports, fans love watching their idols. Thanks to platforms like Youtube and Twitch, an eSports audience can get entertainment from watching tournaments for free. For comparison, getting access to an important sporting event is often associated with purchasing a Pay Per View (PPV) subscription or at least a TV subscription.
The growing power of the Internet. Young people are moving away from traditional media such as television, focusing all their attention on the Internet. This one, in turn, is overflowed with eSports, thanks to which the field is gaining popularity.
eSports Tournaments
Viewership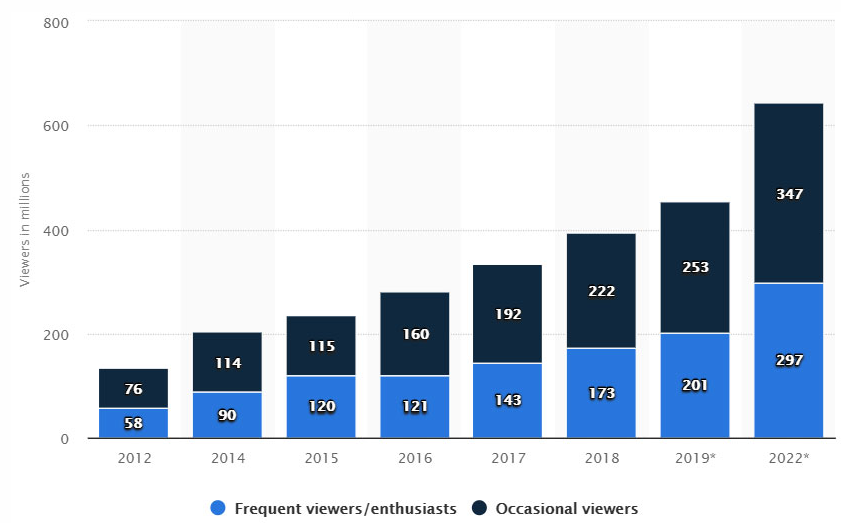 (source: statista.com)
In recent years, the popularity of eSports tournaments has grown at an extremely fast pace. What is more, as the estimates on the chart present, it is not going to stop anytime soon.
The viewership of eSports events and streams are usually measured by their peak concurrent viewership counts and hours watched total, which differs eSports from traditional sports. Events concerning the latter measure total viewership numbers alone.
What is more, eSports viewers follow events on various streaming platforms, such as Twitch or YouTube. Additionally, tournaments are broadcasted not only on official channels but also on the channels of streamers providing their live reactions and additional content. These streams often also reach a large audience without any extensive marketing like advertising.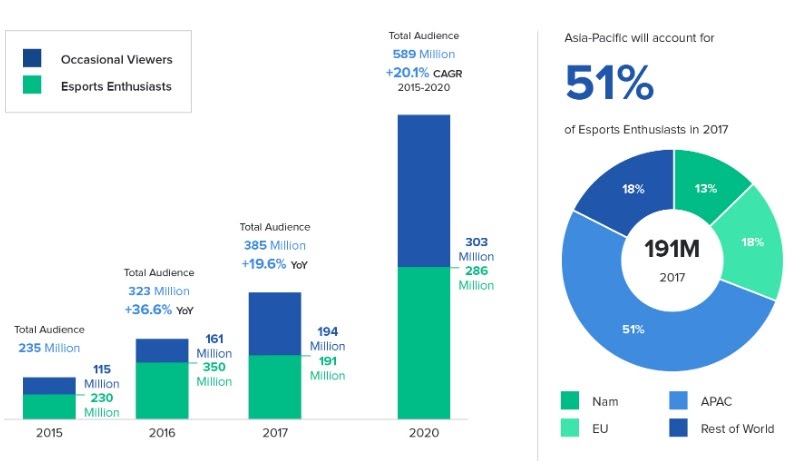 (source: toptal.com)
Even though the eSports industry has enormous growth opportunities in the United States, it is just a drop in the ocean compared to the eSports market size in the Asia Pacific. Over half of the world's frequent eSports viewers and enthusiasts come from Asia Pacific (especially China), compared to just 13 percent in North America.
As it is not difficult to guess, the popularity among viewers translates into the value of the entire eSports market.
Prizes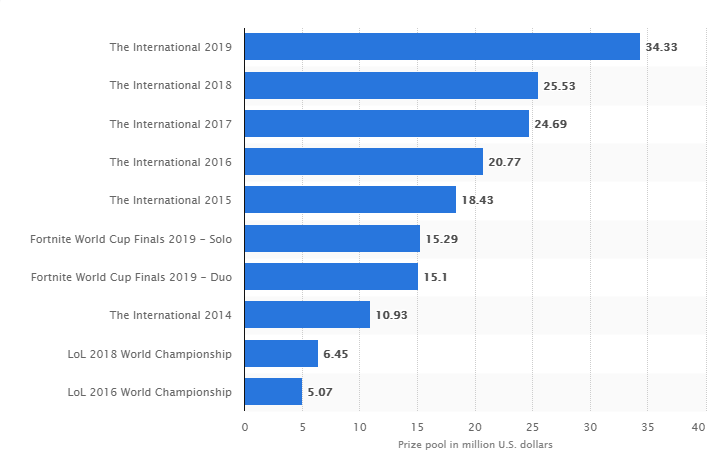 (source: statista.com)
The chart presents top eSports tournaments worldwide as of November 2020, ranked by the overall prize pool. The highest prizes were available in the International 2019, an annual Dota 2 equivalent of the World Cup in traditional sports.
However, the 2019 Fortnite World Cup Finals had $30 million in prize money over the three days, even though it consisted of four different tournaments. Having outplayed the competition, sixteen-year-old American Kyle "Bugha" Giersdorf managed to win $3 million in the solo tournament. This is the highest amount garnered by an individual player in eSports history.
As we can see, 10 competitive events have generated around $ 150 million in the prize pool over the past years. It should be noted that tournament prize money in eSports is increasing at an average rate of 42% a year, which contributes to the extremely rapid growth of the eSports industry worth value.
eSports Market Revenue 2020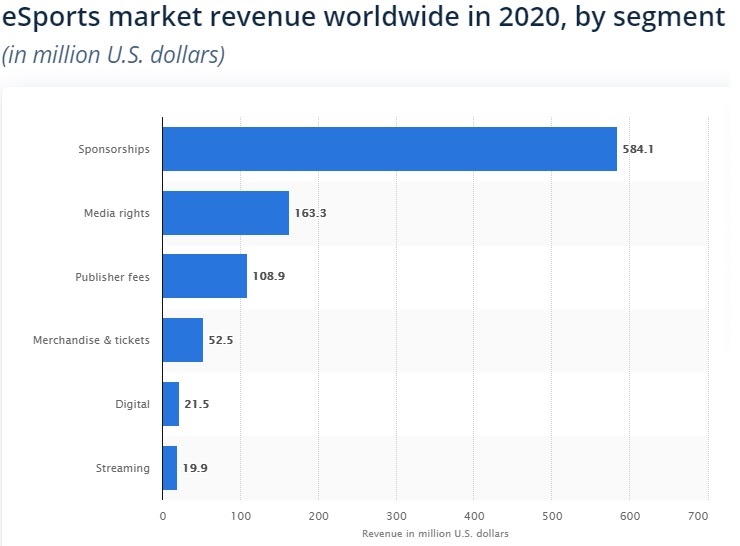 (source: statista.com)
As can be seen on the chart, eSports market revenue is divided into several segments, with the largest share coming from sponsorships. However, a lot of revenue also come from sources such as:
Media rights ($ 163 million),
Publisher fees ($ 108.9 million),
Merchandise & tickets ($ 52.5 million).
Digital ($ 21.5 million)
Streaming ($ 19,9 million)
Is the eSports market worth investing in?
Due to the COVID-19 pandemic, even the largest companies couldn't avoid economic difficulties. However, the need to stay at home increased the popularity of eSports, as most games noted an increase in players, whereas eSports tournaments were watched by an even bigger audience than usual.
Still, even before the pandemic, many well-known figures have decided to invest a part of their wealth in eSports.
Drake
In October 2018, Canadian rapper Drake and Scooter Braun, manager of stars such as Justin Bieber and Ariana Grande, decided to try something new. Making their way to the eSports world, the gentlemen would invest an unspecified amount of money into organization 100 Thieves, becoming co-owners of the team. 100 Thieves teams compete in games such as Call of Duty and League of Legends.
Drake has been involved in the eSports community in the past. In March we were able to watch him team up with popular streamer Ninja, which attracted over 635,000 viewers in front of the computer screens.
Drake and Scooter Braun are not the only music industry representatives investing in eSports. Besides them, we may enumerate Logic, Pusha T, Post Malone, or P. Diddy.
Michael Jordan
One of the best basketball players in history, Michael Jordan, is another individual who seized an opportunity and invested in the world of eSports. The former Chicago Bulls player has put $ 26 million into gaming company aXiomatic Gaming, which is the owner of one of the most popular eSports organizations Team Liquid, known, among others, from LoL or CS: GO.
"I'm excited to expand my sports equity portfolio through my investment in aXiomatic. Esports is a fast-growing, international industry and I'm glad to partner with this great group of investors" – commented Michael Jordan.
As with musicians, other athletes also decided to invest in eSports. These include David Beckham, Stephen Curry, Andre Iguodala, Steve Young, and Kevin Durant.
Activision Blizzard
Activision Blizzard, the creators of Overwatch, have also invested in the eSports market. Despite having enormous revenue generated by Overwatch in 2019 ($6.49 billion), the company invested $50 million into eSports, even though according to the calculations it may take up to 10 years to make a real return.
Esports Market Future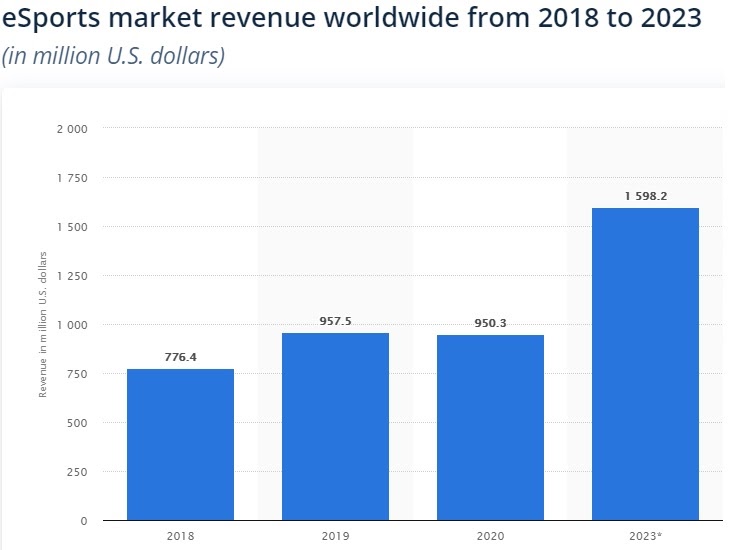 (source: statista.com)
Due to the pandemic, previous predictions of specialists concerning the development of eSports may turn out to be inaccurate. Although the industry has not been hit as badly as other sectors of the economy, part of the revenues is based on tickets or organized events. For example, the professional LoL leagues in Europe and North America have been forced to continue without an audience, whereas others were made online.
In 2020 it is estimated that the value of the global eSports market is a bit less than $ 1 billion. Still, according to data from statista.com, this value is expected to increase by about $ 650 million by 2023 and amount to almost $ 1.6 billion. Recently I hear the question: is esport growing? The data speaks for itself.
However, according to data provided by Forbes, Esports revenue has already exceeded $ 1 billion, while having audiences of more than 443 million across the globe – that is more than American Football and Rugby combined.
Esports also saw a huge increase in awareness of the eSports industry In the last 5 years. In 2015, about 800,000 people had a basic understanding of eSports, while the next year more than a billion people sparked interest in the field. What is more, the numbers were growing by hundreds of thousands annually. Last year, the global awareness of eSports was estimated at around 2 billion.
If the eSports industry continues to grow at its current rate, the eSports revenue could financially outrace Formula One and the UEFA Champions League in the following three years. Currently, the $34 million prize for Dota 2's The International is larger than the total prize pool available for competitors in the UEFA Europa League.
Mobile eSports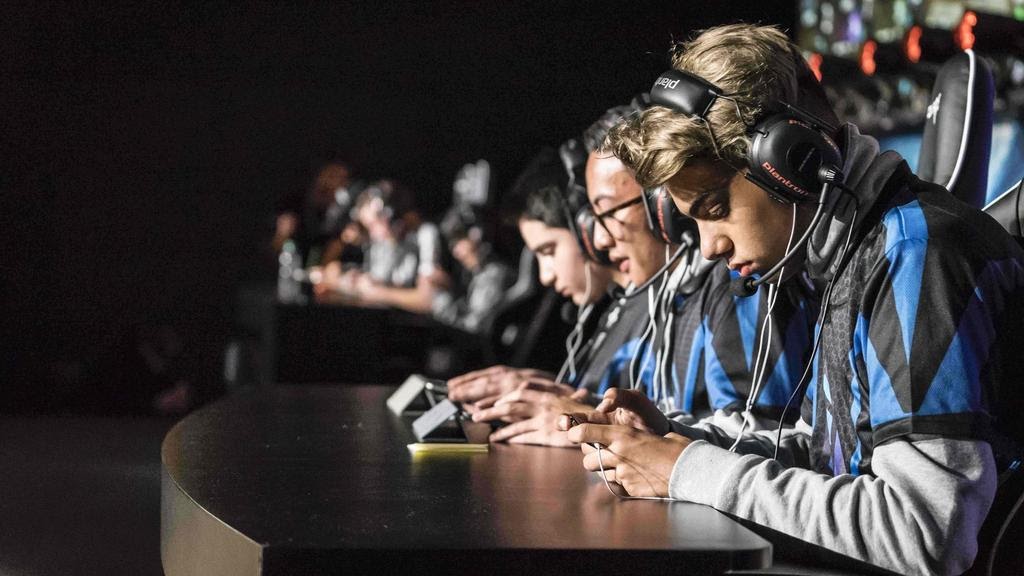 At the end of 2020, the global gaming market was estimated to be worth around $160 billion. 53% of the number – $85 billion – comes directly from mobile games, which indicates their active role in the market.
However, mobile eSports have been covered by PC and console video games because they are simply relatively young in terms of presence on the market. Some of these, such as PUBG, are mobile versions of already existing eSports, whereas others are original titles, taking the best out of the unique platform mobile gaming provides.
However, the growth of mobile eSports like Hearthstone or Clash Royale suggests the rapid increase in its importance. Everything indicates that these games are just the beginning. They consequently draw in bigger crowds and pay out big money at most major tournaments.
Conclusions
Taking into account all the above-mentioned data, eSports is not more popular than for example football yet. However, it is developing faster than any other sport-related industry. The number of gamers who become loyal fans of particular games is constantly growing. That being said, the interest in global eSports translates into an increase in the value of the eSports market, which, as Fobres' report says, exceeded billion in 2020.
If you are looking for esports marketing seo agency we're straight here for you. Let's start a new esports seo project! Contact us via the form at the bottom.
FAQ
Is eSports more popular than traditional sports?
eSports is more popular than some of the traditional sports right now, yet has not exceeded the popularity of the most popular mainstream sports like football or cricket.
When did League of Legends become an eSport?
As reported by Wikipedia, professional competitive tournaments first time ever took place in 2011 during the Season 1 World Championship at DreamHack in Jönköping, Sweden.
What is the global eSports revenue 2020?
Global eSports revenue in 2020 is estimated at $1 billion.
Copyright 2021. All Rights Reserved.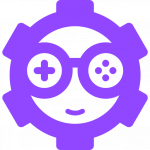 Marketing Director with over six years of experience in the field. Managing teams carefully and out-of-the-box thinking is his main factor in growing businesses through the right marketing practices. His Outreach Specialist background helps him to develop highly converting and organic campaigns.