Before social media giants like Facebook, Twitter, or Instagram marked their position, there were other online communication methods. One of the most popular ways of connecting with others was forums. Someone made a thread with a question, statement, or whatever, and the rest could answer it a similar way you comment on a Facebook post. And if you were participating in a debate, you had to wait for the other person to get online and answer your post.
It sounds pretty archaic nowadays, so why even bother with cryptocurrency forums? Well, you would be surprised how much valuable data you can find there shared by the crypto community. Crypto enthusiasts are everywhere, so you shouldn't stray away from good ol' forums. Finding one isn't hard, but you must ensure it's a trustworthy source of authentic information. Therefore, we provide a list of the best cryptocurrency forums with reliable content, constant moderation, and a mature community.
Pros and Cons of Joining a Cryptocurrency Forum
Every solution has its bells and whistles, and it's no different with crypto forums. Here we will list the essential advantages and disadvantages of joining a crypto forum.
Pros:
You can learn A LOT from cryptocurrency enthusiasts.
Participate in cryptocurrency discussions regarding mining, buying, investing, etc.
Good source of valid, cryptocurrency-related news.
An online forum is a great place to promote your affiliate links or products professionally.
Dozens of discussion boards regarding the crypto industry.
Genuine reviews from first-hand experience.
The cryptocurrency community is always happy to help.
More mature members compared to other social media platforms.
Cons:
Like everywhere, there's always a risk that some community members are scammers.
You might buy or subscribe to the wrong service just because someone recommended it for the sake of making commissions.
You have to take every investment advice with a grain of salt.
Forums are not official learning platforms.
As you can see, the pros outweigh the cons by a high margin, and the cons can be easily avoided using common sense.
Best Cryptocurrency Forums Chosen by GamerSEO
Apart from gaming and technology, we also have a passion for the crypto world. To keep our SEO services valuable and consistent, we have to keep up-to-date with the current trends. That being said, all forums included here are handpicked by us, and we visit them regularly. Therefore, here are the top online crypto forums you can safely bookmark.
The Bitcoin Forum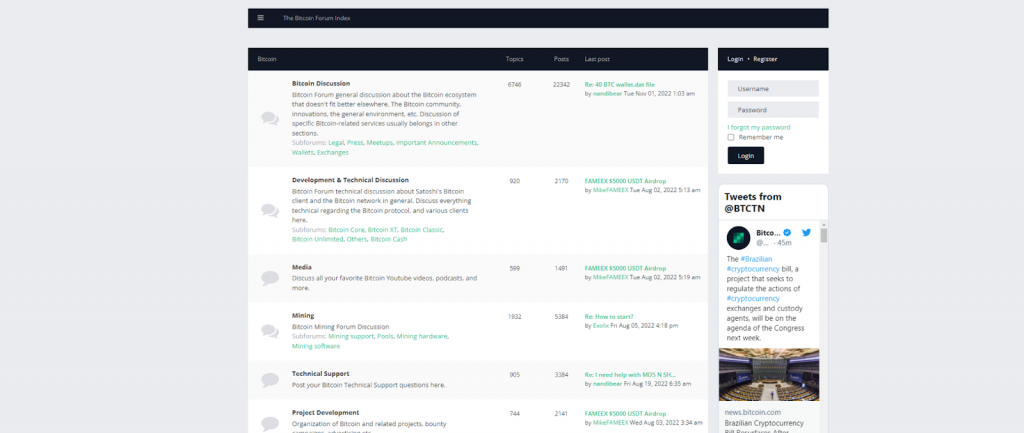 As the name suggests, The Bitcoin Forum is a great place to learn about Bitcoin economics, blockchain technology, and basically everything crypto-related. From daily news to active discussions and, finally, the crypto market. Here, you will share your views with others, find new projects, and even share airdrops with other active members.
If you're just starting to explore the crypto communities and don't have much experience, it's a great place to start. There are plenty of tutorials regarding crypto trading and crypto wallets. And if you're a complete beginner, visit the "Get Started" section for a comprehensive guide regarding cryptocurrencies. It's also a great place for foreigners if English isn't your mother tongue. You'll find several sections in dozen languages to talk with your fellow countrymen.
Forum Link:
[H]ard Forum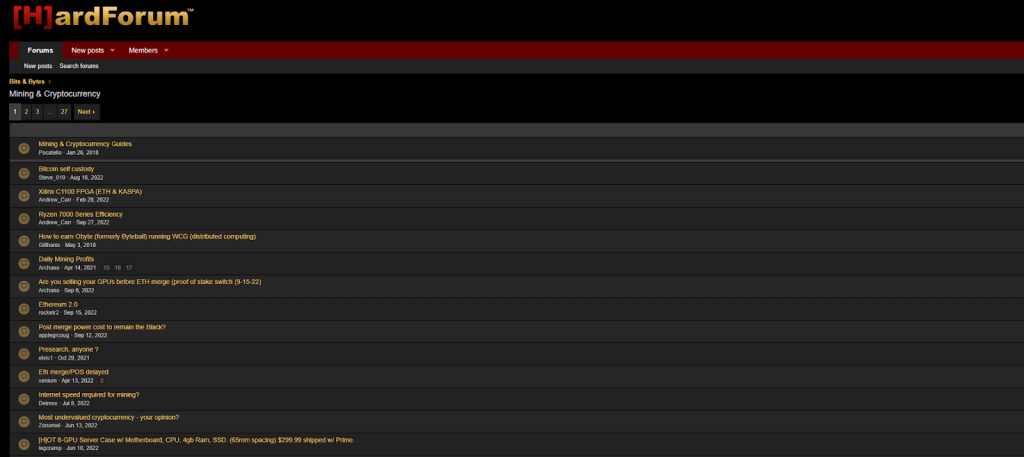 The presence of this forum on our list might be surprising for some readers since [H]ard Forum isn't a crypto-related website. It's a great place for PC builders and technology geeks, so most topics found here are related to PC hardware, programming, gaming, cloud computing, etc. However, there is also a whole section dedicated to cryptocurrencies.
There are over 1k topics here, so we're talking about a pretty active discussion board. At first, people used to only discuss mining bitcoin here, but it expanded into one of the better online communities regarding crypto. It's a great place for the latest cryptocurrency news or to simply discuss with other crypto enthusiasts.
The only downside we found is that it has no sub-forums inside the crypto-related section, so finding an interesting topic can be tedious. However, the thriving community inside the Hard Community Forum perfectly makes up for it despite being aimed at PC hardware enthusiasts.
Forum Link:
BeerMoney Forum

Do you want to make money online? Then you've come to the right place. Like [H]ard Forum, BeerMoney isn't entirely devoted to cryptocurrencies, but it has an entire section called "Crypto Forum." The forum's main purpose is to share informative discussions on various money-making ventures like investments, forex trading, gambling, etc. And since cryptocurrencies are a money-making venture, its presence here is completely justified.
The crypto section is divided into several sub-categories, so navigating here is a breeze. Whether you want to find crypto traders, learn more about bitcoin cash, or discover recommended crypto wallets, BeerMoney will give you that and then some. With over 200,000 active members, it's a true repository of knowledge.
Forum Link:
Altcoins Talks

This forum is one of the most versatile you can find. Bitcoin enthusiasts founded it to discuss the latest news and trends in the bitcoin world. However, with the community growth, new sections were added regularly. At the time of writing, the forum has separate sections for the most popular cryptocurrencies. You will find everything you need to know about Bitcoin, ETH, Binance Smart Chain, and much more. Other sections cover NFTs, DeFi tokens, stablecoins, cryptocurrency mining, crypto wallets, and best crypto marketplaces.
Crypto traders would definitely want to look at the latest crypto-related news, discover new crypto projects, and keep an eye on the trading signals. Even beginners are not forgotten, as there are educational sections where you can gain the necessary knowledge. There's even a forex forum where you can find the latest news regarding the stock market and commodity trading! Some people even offer a job where they pay in cryptocurrencies. It's also a good source to search for the latest cryptocurrency giveaways.
Forum Link:
Boards.ie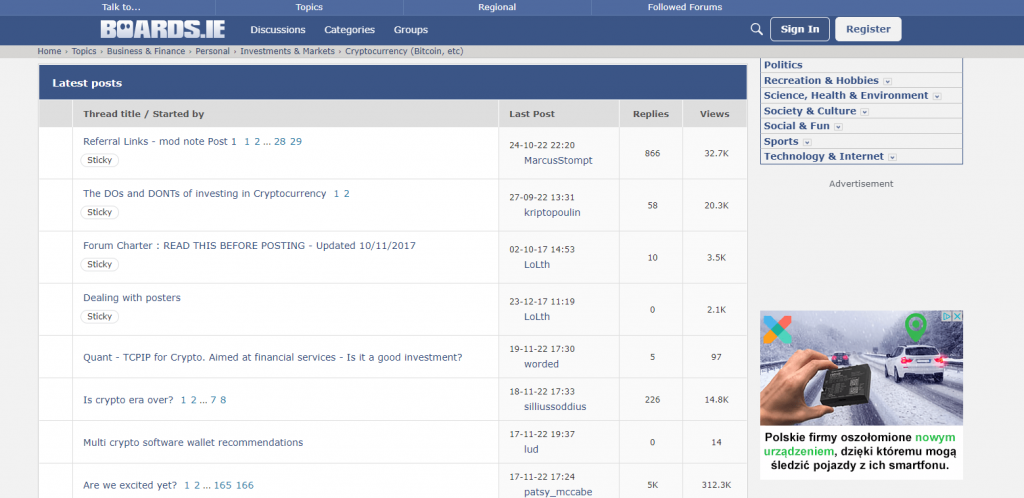 This one is aimed at investors looking for more ways to raise their financial gain. That being said, it's not the best place for beginners. Users here assume you already have some experience and share their investment thoughts. Whether you want to learn more about the financial market or look for profitable investments, this forum is for you.
The cryptocurrency section features informative articles about the newest trends, crypto wallets, trading strategies, etc. Even emerging blockchain projects like crypto flatcoins are covered here, so it's definitely a great place if you're looking for fresh and innovative ideas. And if you ever wondered what the do's and don'ts of investing in cryptocurrencies are, there is an entire topic focusing only on that.
Forum Link:
r/CryptoCurrency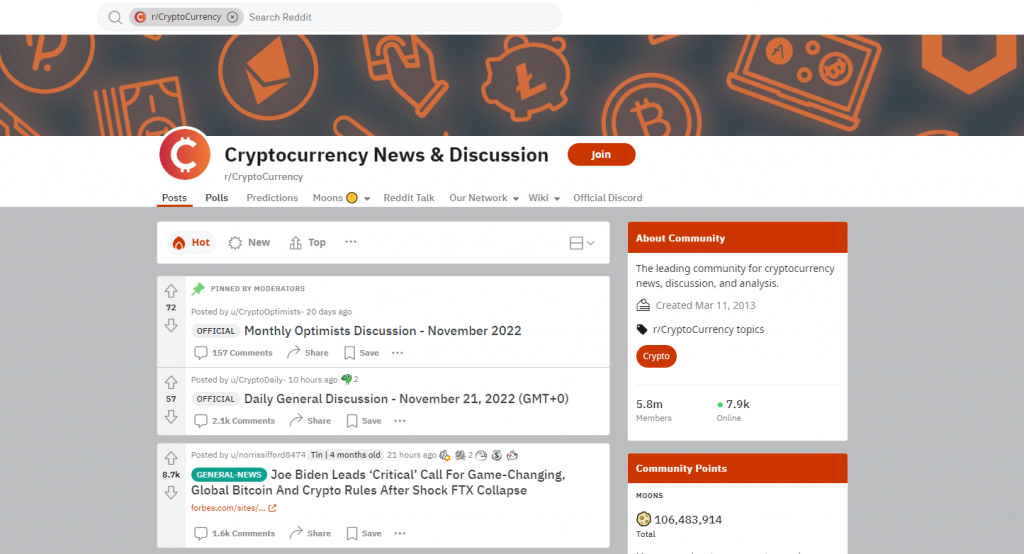 If you didn't visit Reddit at least once, you must have been living under a rock. It's the largest and most popular online community where you can find groups for every topic imaginable. Each subject of interest has its own section called a subreddit. The most popular one is r/CryptoCurrency which has around 6 million active members at the time of writing. Saying that Reedit has an evergrowing membership base is like saying nothing.
As you may have guessed, this cryptocurrency subreddit has A LOT of content to read. From the latest news to online money-making methods, places to exchange cryptocurrencies, or various trading patterns. New topics pop up like mushrooms, so you can visit this page multiple times throughout the day, and you'll always find something new. If you don't mind scrolling to infinity and the lack of separate sections, this subreddit is a must for every crypto enthusiast.
Subreddit Link:
Keep Up to Date by Joining a Crypto Forum
As you can see, Crypto Forums are great places to learn about the crypto industry. Our picks will get you covered if you're looking for international news, trading information, or learning about Bitcoin or other cryptocurrencies. Entrepreneurs dedicated to the subject write interesting topics with deep insight daily, so you'll only have to use their knowledge. Knowledge is power, and power is money, so don't waste time and connect with your fellow traders and investors to extend your budget!