In 2020, the video game industry became a bigger moneymaker than the global movie and North American sports industries combined. The video game industry has skyrocketed in recent years because of various ways to play video games. And as developers are constantly launching new titles, video game marketers have to deal with ever-growing competition.
However, the industry's growth also means that more and more people are falling in love with gaming. The trick is to reach them and convince them that your product is something they've been looking for.
Today, we will show you how digital marketing creates immense opportunities for exposing your game to your target audience. Let's discuss the best practices of video game promotion, using traditional and modern solutions combined.
Discord
Discord is a popular text and voice chat platform created by gaming industry enthusiasts Stan Vishnevskiy and Jason Citron in 2015. They wanted gamers to have their own space to communicate, exchange thoughts, and build even stronger communities. The platform is an excellent alternative to the more obvious social media like Facebook, Twitter, or Instagram.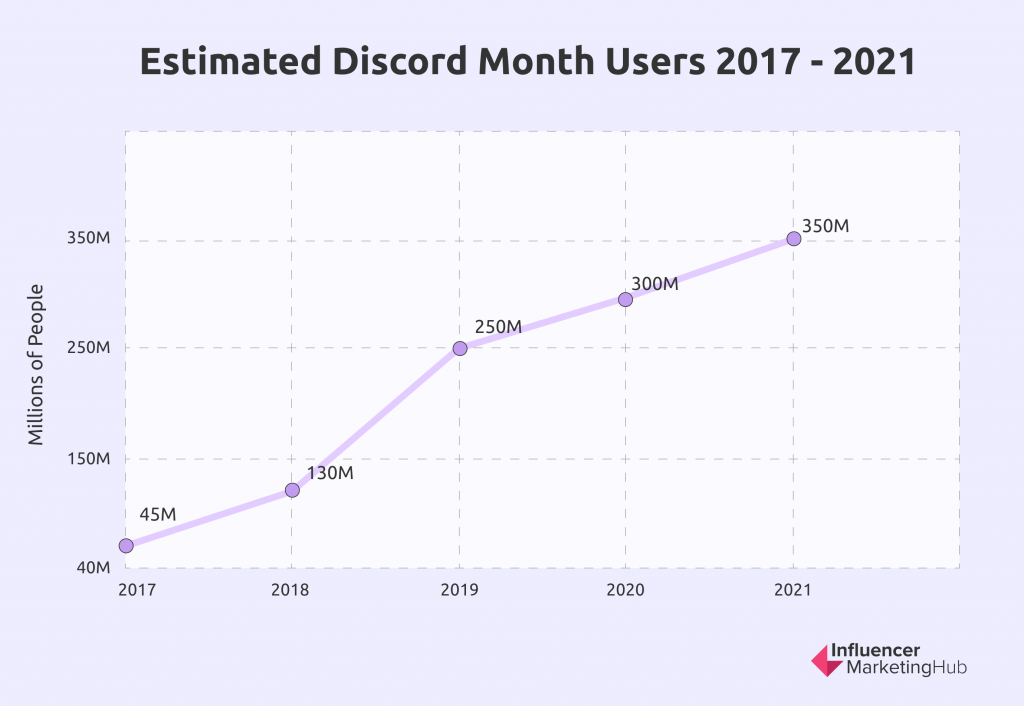 As you can see above, Discord hit 350M monthly users in 2021, making this app even more popular than Snapchat. Considering that gamers widely use the platform, it can't be left out of your marketing efforts.
Thanks to Discord's presence, you can build deeper connections with your audience and interact with your target users in an enjoyable and meaningful way. This creates a chance to make them your super fans and advocates of your brand. If you answer their questions and stay open for suggestions, they will spread the word about your product among other gamers, helping you build brand awareness, loyalty and generate hype.
With that in mind, Discord is excellent for collecting valuable feedback that will help you improve some aspects of your game. What's more, it's an ideal platform to run early access tests with your video game community members. You can share the pre-alpha build with the loyal members of your Discord channel and receive quality feedback that will help you develop your game's weak points.
Twitch Streaming
9 out of the 10 most popular categories on Twitch in July 2021 are games. That means video games and video game streamers reign on Twitch. As for video game promotion, especially esports games, efficient presence on Twitch can be significantly boosted by a well-planned influencer marketing strategy.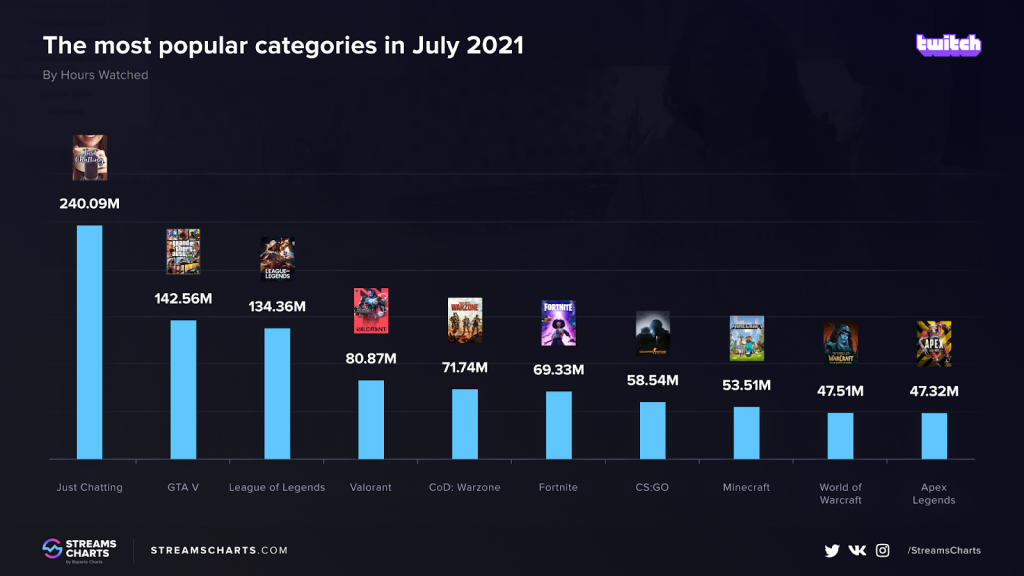 While looking for gaming streamers, pay attention to the types of games a particular streamer plays. Gamers are a demanding crowd – keep in mind that not all games can awaken the interest of every gamer. Some prefer board games, whereas others love Saints Row IV or Rockstar Games productions such as Grand Theft Auto.
Another brilliant feature of Twitch is its interactivity. Unlike other social media channels like a Facebook page, viewers don't have to comment and then wait days or weeks to get a reply. If they post something funny, ask a question, or comment on a streamer's action, viewers can actually see their reaction or hear the answer in real-time.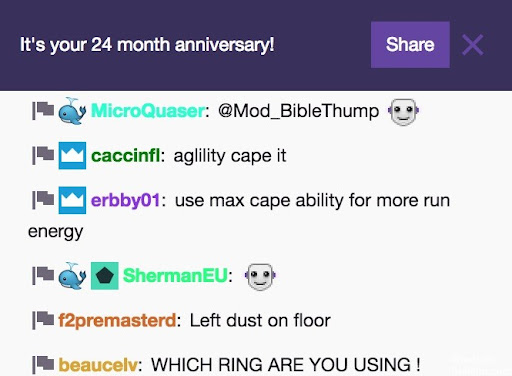 This is great for building connections with your target audience because it makes it feel like a real conversation. Smaller streamers can have an even stronger bond with viewers because fewer people and chat messages are easier to manage. That, among other things, makes collaborating with a smaller influencer worth considering.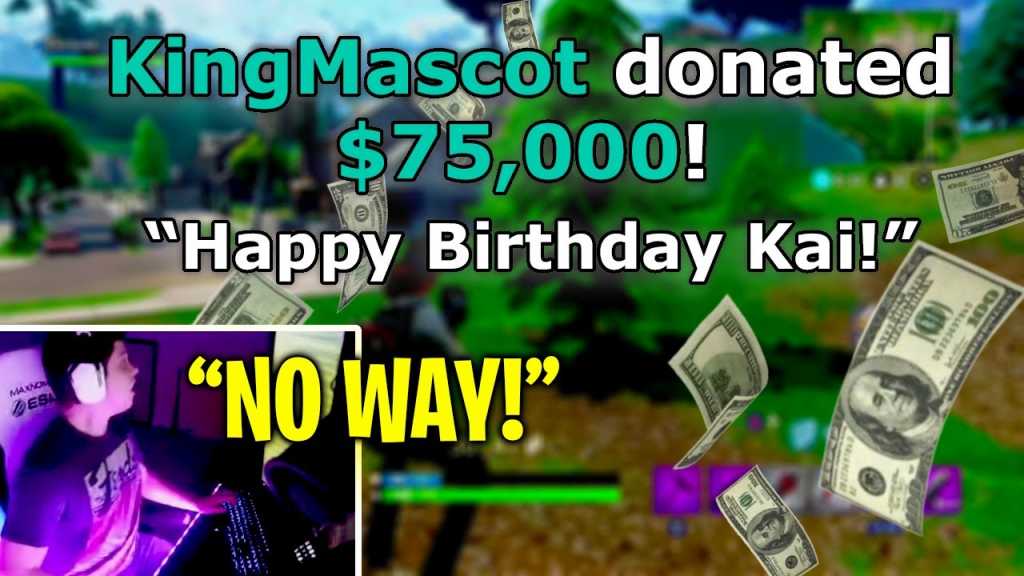 Additionally, most of the donation or subscription alerts are also highly interactive. Streamers set up alerts for notifications such as a new follower, sub, or donation. Along with it, viewers can send a short message that pops up on the streamer's screen, so they often donate just to see the streamer's reaction to their question or funny message.
Promoting online games on this social media platform is unique because viewers can play with streamers, form guilds and clans, make teamhunts in MMORPGs, or compete with them in MOBA or shooters. Moreover, gamers watch streamers to learn from them and get tips, which they can later implement in their gameplay.
TikTok
"Tiktok isn't my target audience."
If that's what you have thought when looking at the headline, you might be completely wrong. Because of its beginnings, TikTok is still perceived as a platform dominated by younger audiences. However, the app has seen massive growth during quarantine as people have had the time to explore it.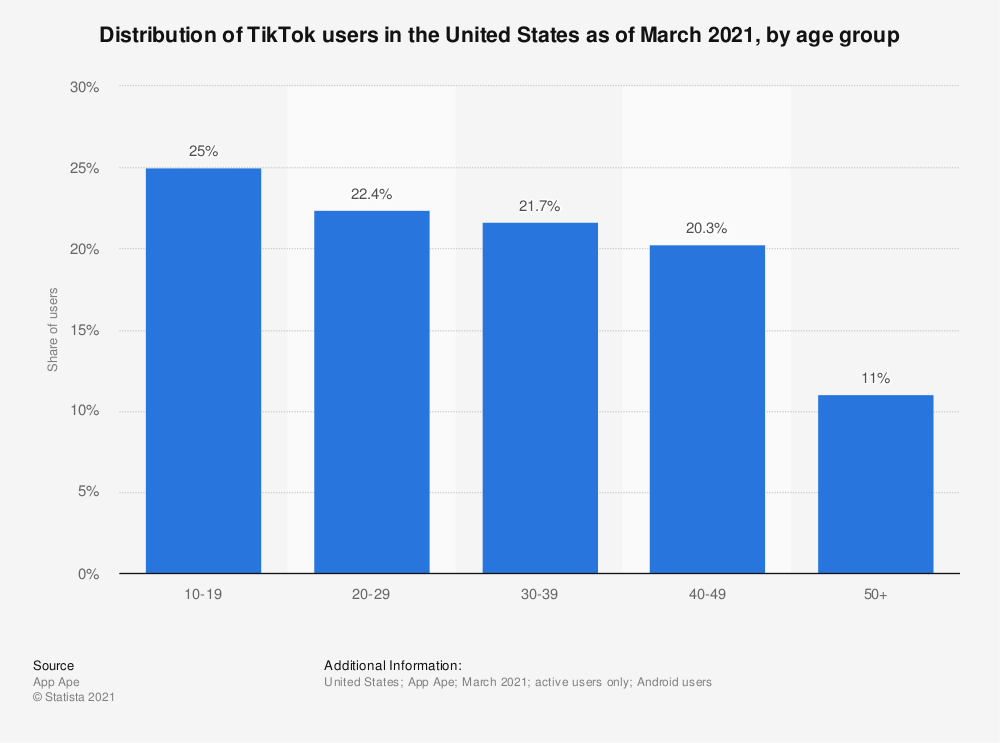 According to a Statista report from March 2021, more than 75% of Tiktok users are 20 or older. Considering that an average gamer is 34 years old, TikTok seems like an ideal social media for video game marketing.
What makes the platform so unique is its algorithm. On Tiktok, you don't need hundreds of thousands of followers to reach broad audiences. To compare, Instagram posts are displayed to your followers only. As for Tiktok, the algorithm first shows your content to a small group of users. If they engage, the video goes further to more and more people. Furthermore, if your content becomes viral, you'll have an easier way to do it again in the future.
Richard Rampas, the marketing manager of Volcanoids, is well aware of TikTok potential. Creating videos on the platform, he answers his community's questions and highlights particular features or mechanics of the game. The content generates tons of engagement, proving that the TikTok community is highly interested in games. Some of his videos even have a few million views!
YouTube Channel
Indeed, Twitch is still the undisputed champion in live streaming, and other streaming platforms have to watch its back. Still, having a YouTube channel brings excellent commercial possibilities for your game marketing campaign.
The platform has started to put significant emphasis on gaming and esports. In 2020, YouTube made a deal with Activision Blizzard to become an exclusive partner for the Call of Duty and Overwatch leagues.
What's so great about YouTube is that it doesn't force you to box yourself in with one content type only. With a decent amount of creativity, you might surprise your viewers with various forms of gaming-related videos so that everybody would find something for themselves.
Here are some examples.
Game Reviews
Game Reviews are mostly created in collaboration with YouTube influencers. By asking a popular content creator to genuinely review your game, your product reaches their audience. This way, you increase brand awareness, and, if your game suits their taste, it will acquire new players.
Remember that game reviews don't have to be only about your game launch only. You may ask influencers to create videos commenting on the latest global update, new patch, the changes to PvP or any system, new in-game characters, or anything else.
Tutorials, Guides, and How-to Videos
We may divide gamers into numerous categories. One of the categories are those who love exploring dungeons, solving mysteries, or experimenting with gear. Others, however, prefer to find all necessary information quickly as they want to level up, learn to play a certain profession, or solve a quest fast and effortlessly.
Creating a series of tutorials explaining at least the basic features of your game may be key to retaining these impatient players, or simply those who can't solve a particular problem on their own.
Tutorials should be informative and well-organized. If you are explaining how to do a particular quest, list the requirements and needed items at the beginning of the video. Imagine that you follow somebody's quest tutorial for 20 minutes. Then, it turns out that you don't have a necessary item to proceed with because it hasn't been said before. What would your reaction be? Yeah, so now you know why.
Gaming Highlights
With their short attention span, Millennials and Gen Zers are in demand of action. Let's Plays are simply too long forms of content for these groups to consume. That's why having gaming highlights is an ideal method to reach these audiences. With short, action-packed highlights, you can satisfy their need for constantly changing stimulus.
Thus, create videos where you're pulling off tricky moves, creatively defeating your enemies, or achieving anything difficult in a style. Spice it up with some funny bits of commentary and here you go – a recipe for content tailored to Millennials and Gen Zers. You can also publish it as the popular #shorts videos.
Secrets of the Game
If one of your game features is extensive lore, creative easter eggs, or a massive number of quests, your YouTube videos might give players some hints about that. However, we would advise not to spoil too much.
Website and Blog
Whenever people are looking for information about your game on search engines, you should make sure that they find a website that proves it's a serious project. Pay attention to not only the layout of the website but also SEO optimization and the diversity of content. Besides the general description of the game, the homepage should include screenshots, videos, descriptions of game features and the story behind it, as well as a blog section.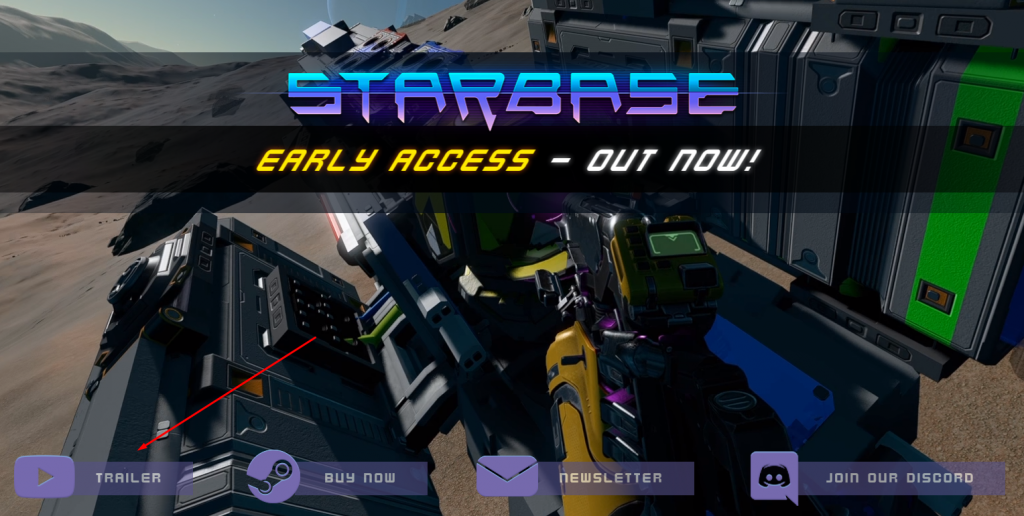 The screenshot above presents the homepage of Starbase, a hybrid voxel/vertex-based space MMO. As part of their advertising, they have created an attention-grabbing trailer, the link to which catches the eye right after visiting the website. What's more, the developers know how important it is to engage their audiences even before the official launch. Thus, the homepage encourages them to join Starbase's newsletter and Discord server.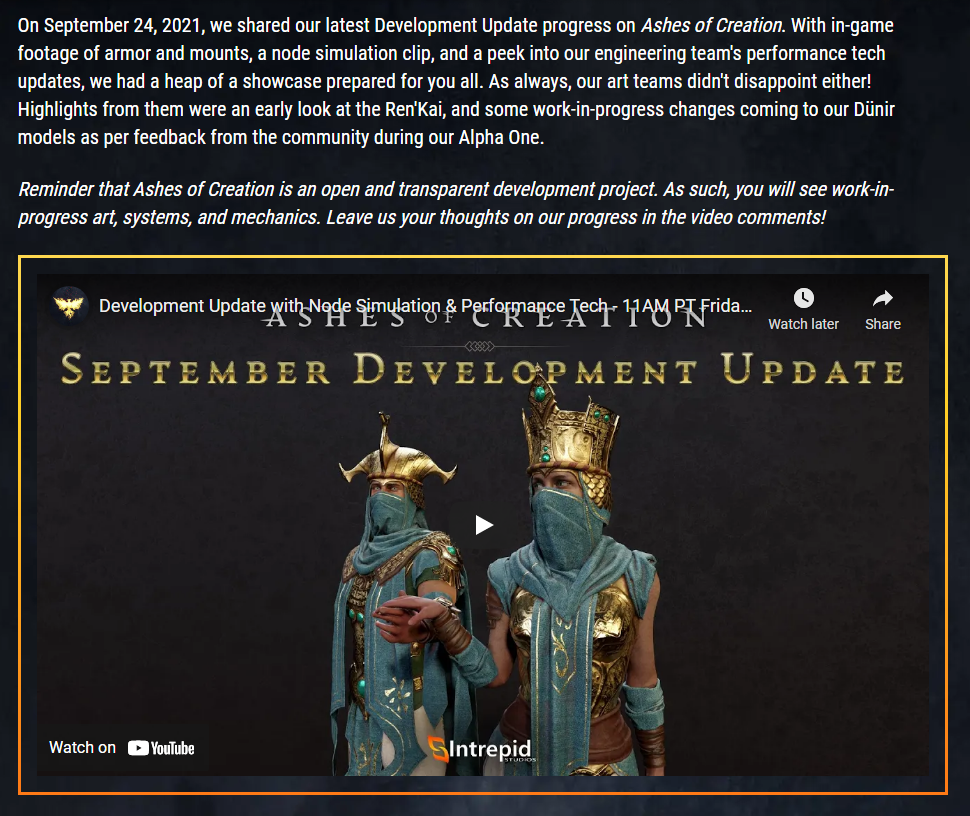 Let's now have a look at another promising and anticipated game, Ashes of Creation. This time, however, we'll focus on how they run their news section. It features numerous posts about game development activities, describing the changes the dev team has implemented into the game. Each post is supported by an extensive YouTube video so that players can listen to dev discussions and comments.
With that in mind, your blog could discuss anything related to your gamedev activities. Share insights on issues you faced during the development process. Tell people what's on your mind for the future. Show how you have fixed some nasty bugs. Summarize your progress in weekly or monthly reports.
Keeping in touch with your audience will boost your reputation in the community, generate buzz and hype, and will assure people that the project is worth waiting for. Furthermore, it may encourage them to support your development efforts financially, so you could get some extra funds to further expand your project.
Store Ranking Optimization
If you want to promote mobile games, app store optimization should be the very first thing you do to increase the visibility of your mobile apps your mobile apps visibility and boost their metrics. Data show that finding apps through a search option is the most common way Google Play and iOS app store users discover mobile apps.
However, proper mobile game promotion in app stores isn't easy to achieve. Today, you have to compete with other apps on the App Store and Google Play marketplace and use the right marketing strategies to grab people's attention. Have a look at the infographic below.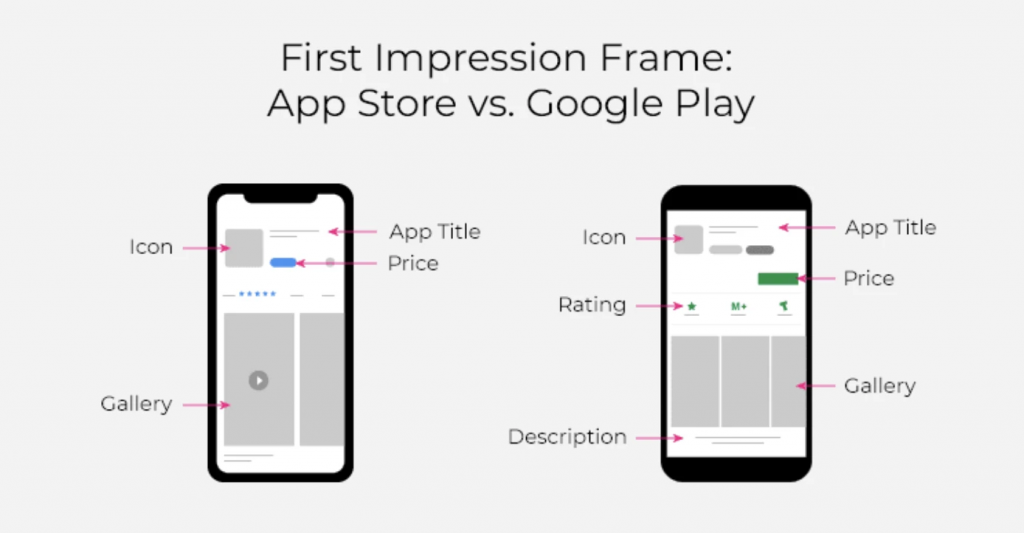 According to Storemaven, 60% of your visitors won't scroll beyond your first Impression. This is why it's so crucial to focus on the elements included above to increase the number of downloads, improve install ratio, or other important metrics.

But before users click on your app, they have to find it. Similar to SEO, to improve app's visibility, you have to focus on keyword analysis. Make sure to include the strongest and most relevant key phrases in the title. Since the App Name is crucial for the algorithm, this is where you should place your best keywords and key phrases. Besides the game name, the title should contain the game type. Other ranking factors include Icons, screenshots, ratings, and reviews.
Female Gamers Are on the Rise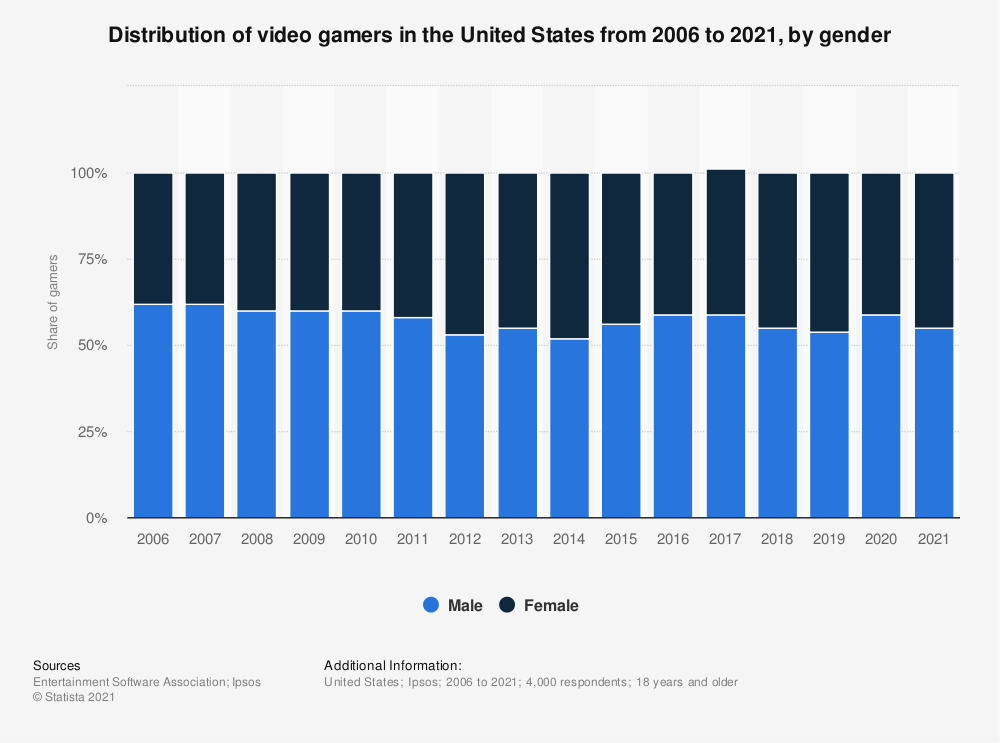 In 2021, women accounted for 45% of all gamers in the United States, noting a 4% growth from 2020. This statistic clearly presents that the number of female gamers is still increasing. Furthermore, in Asia, accounting for 48% of the world's total gaming revenue, women now constitute 40-45% of the Asian gaming population, according to Google and Niko Partners.
In the gaming industry, however, there is still a prevalent belief that women are mainly interested in social and mobile games related to fashion stuff. However, 2019 research shows that women enjoy playing all game genres on different devices and platforms.
Game developers begin to slowly notice the dormant potential in female gamers. According to Wired, 18% of games launched last year included female protagonists.
As for mobile gaming, women are more avid gamers than men – their sessions last 25% longer. Furthermore, even though women mostly prefer single-player mode games (86%), trending games such as Call of Duty or Fortnite have also attracted interest from female gamers. Interestingly, 36% of the CoD community and 34% of Fortnite players are women.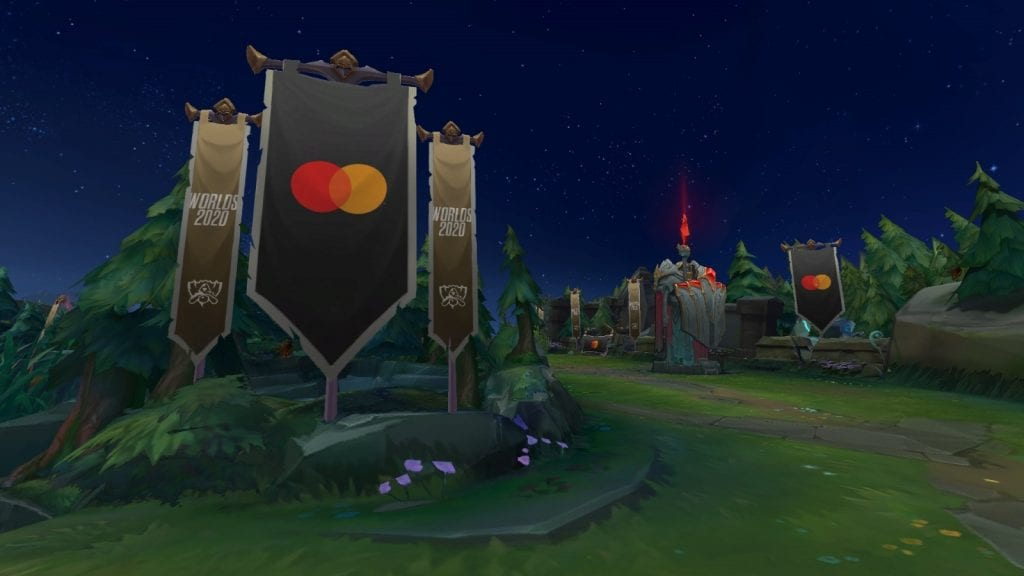 What's important for brands is that 50% of women in a relationship who contribute half or more of the household income manage the home budget. In 2020, MasterCard's ad campaigns included in-game banners inside LoL's Summoners Rift. Following the success, other companies, such as Spotify and Mercedes-Benz, will launch in-game ads within Riot Games' most popular title.
Key takeaway: marketing in the gaming industry, regardless if it's TV commercial or mobile game ads, should be more inclusive. With stereotype-free protagonists, titular character and plot, you will create a welcoming brand identity, attract larger audiences, get more attention around your game, and develop greater trust with people.
Reach Game Journalist Sites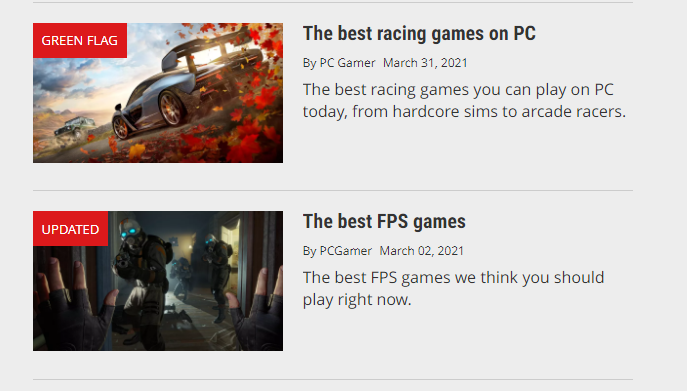 Talking about your game on live streams, social media or your blog is great to convince users who have already shown some interest in your game. However, many players haven't heard about your game at all (yet). Say that someone enjoys action-adventure games like Grand Theft Auto IV, but already knows the game inside out. Such a player might look for similar titles over the web on industry-related blogs.
These websites feature lists such as "The Best FPS games" or "The best racing games on PC", which is usually a summary of the highest-ranking games in a particular genre. Therefore, try reaching out to game review websites to get your product featured on their page. Then, you can use the obtained reviews to enrich the game description in any game store, such as Steam.
For instance, Shadow of the Tomb Raider Steam page features journalist reviews from well-known industry sites. Notice how reviews from IGN, Hardcore Gamer, and PC Gamer are located right under the "recent updates" section.

The Best Video Game Advertising Campaigns
We have already covered the best methods of video game promotion. Let's now bring up examples of how well-known games' marketing departments created successful game promotion campaigns. This way, we'll see how to use creative promotion to engage audiences, get new fans, generate hype around the game, and, finally, earn millions of dollars.
Call of Duty: Black Ops II
In late 2010, in just 24 hours Call of Duty: Black Ops sold over 5.6 million units and earned $1 billion in less than two months. The campaign began with a video on YouTube channel FPSRussia that noted five million views. Next, the producers published a documentary video about the future of Warfare, followed by the first trailer debut during the NBA Playoffs. The game set a new Amazon pre-order record and has now been viewed over 38 million times on YouTube.
Additionally, the publisher collaborated with agencies 72andSunny and AntFarm on a pair of brief teasers and even a full-length film. Besides, the campaign featured a strong mobile element and even a live-action ad with Robert Downey Jr. and Omar Sy. The game brought in $1 billion in 15 days, reaching the figure quicker than James Cameron's Avatar
Mass Effect 3
Mass Effect 3 was one of the most anticipated RPGs of 2012. Electronic Arts and BioWare used viral marketing to keep fans hyped by publishing weekly videos, blog content, and active presence on social media. Yet, that wasn't everything. In February 2021, Electronic Arts, inspired by the space exploration game theme, had attached game copies to weather balloons, and sent them into the air.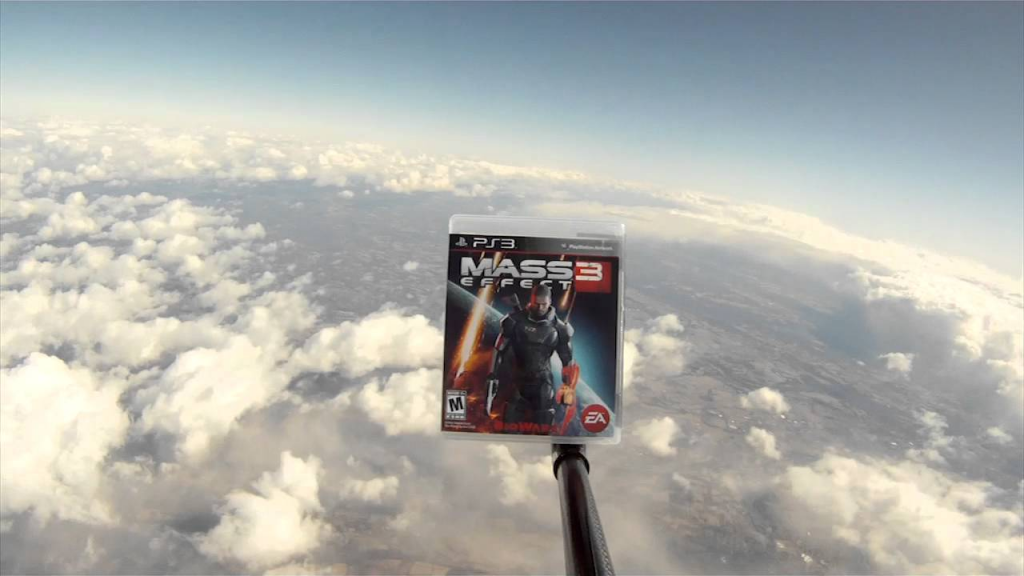 The copies were released from major cities around the world, including London, Las Vegas, and New York. After they returned on the ground, diehard fans raced to find them as finding a landed balloon meant fans could grab a copy of the game before its scheduled March release date.
From the marketing and packaging to the title's increased focus on third-person shooting, Mass Effect 3 was designed for the mass market, and it took $200 million in two months
Disney Infinity
The Disney Infinity console game, being a little inspired by Activision's Skylanders series, integrates collectible physical toy figurines of popular characters into its gameplay. A Disney Infinity base connects to the gaming console. Then, players place the figurines onto the base to unlock the game content. Thus, the Disney Infinity marketing team had to educate their audience about the game's unique interactive features, such as unlimited gameplay, the freedom to create stories, and gameplay experiences featuring favorite Disney and Pixar heroes.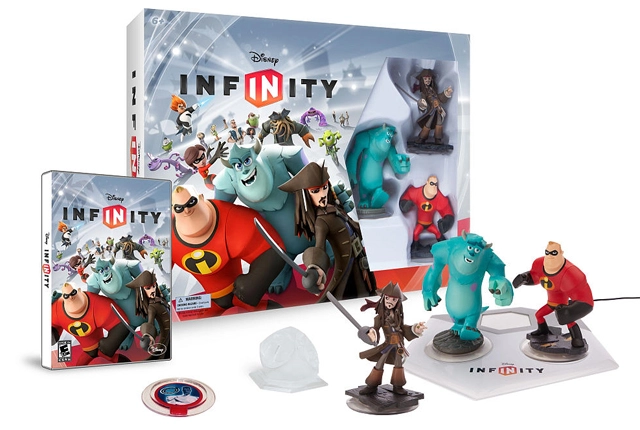 Disney put their effort on mobile and tablet as the only media types that allowed for experiential ads via a tactile, interactive touch screen. The idea of the campaign was to bring up an individual experience to consumers both on-the-go and at home.
Disney's marketing campaign also included a great social media campaign featuring Facebook posts and digital Valentine's Day cards. What's more, the company marked its presence on websites like ESPN, Nickelodeon, and Yahoo. Wrapping up, in 2013, the game was one of the 10 best-selling games in the U.S., according to the New York Times.
Mario Kart
Mario is certainly one of the most iconic characters in video gaming history. Since 1981, the loveable Italian carpenter-cum-plumber has appeared in over 200 video games and has led to over 445.2 million game sales. Furthermore, the Mario Kart series alone has shifted more than 100 million units since 1992.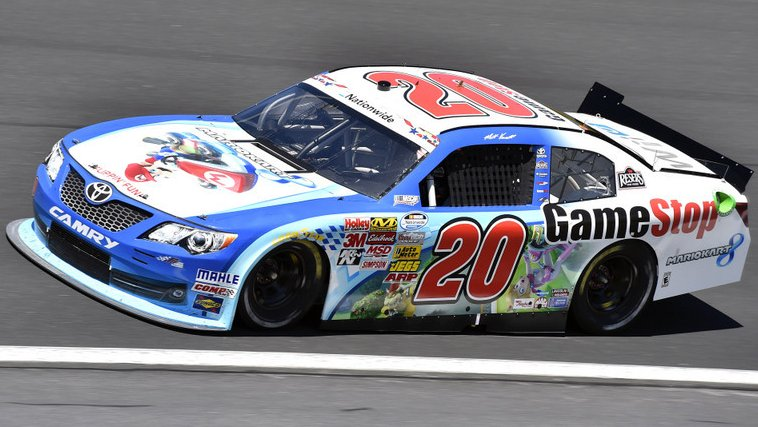 To market the title, Nintendo set up a year-long campaign including a series of activities, starting from teasing screenshots and TV commercials to pre-order bundles and web-based promotions. Furthermore, the campaign featured a branded NASCAR ride and trackside appearances by Mario and his brother Luigi. The campaign was well received, with Nintendo selling 2 million game copies in the first month after release.
FIFA Soccer 13 (2012)
Having sold over 100 million copies since 1993, Electronic Arts' FIFA series is known in the whole world. When it launched in September 2012, FIFA Soccer 13 sold 4.5 million copies in just five days and had shipped 14.5 million units by May 2013, making it the best-selling game among sports simulators.
As the FIFA series boasts official licensing from football clubs, EA Sports was able to get the biggest football names aboard to promote the series. EA Sports visited top Premier League clubs and invited players to settle their differences off the pitch and in the game. The event featured players from Arsenal, Tottenham, or Everton.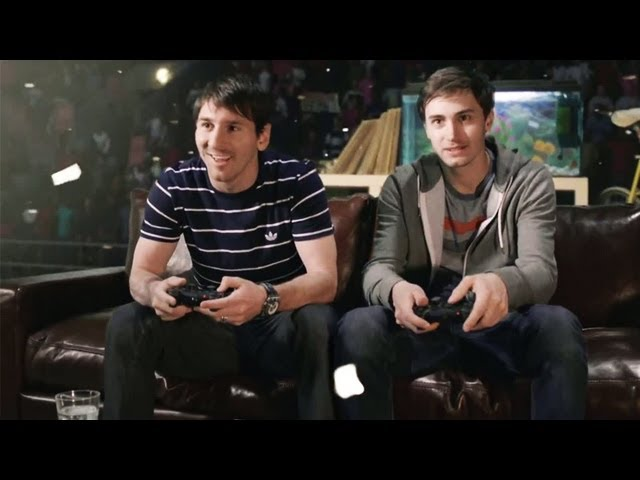 Furthermore, the title's campaign was complemented with billboards in football stadiums around the U.K. and a Twitter campaign. Seven times Ballon D'or winner Lionel Messi was the face of the campaign, which included a "Join the Club" TV ad. Also, other football stars attended launch events to sign limited edition copies of the game and participate in competitions with eager fans.
Other Game Marketing Examples
Dead Island, "Part 1: Tragedy Hits Paradise," and "Part 2: Dead Island Begins" – the YouTube trailer created by Axis Animation generated more than 13 million views. For diehard fans, there's also a Dead Island novel published by Bantam Books on September 6, 2011.
Angry Birds – Launched for the first time in 2009, the company's marketing drive has made Angry Birds an empire with stuffed toys, board games, theme park attractions, movies, and more.
Wii Sports. Making a shift, Wii Sports took a chance on universal appeal, reaching out to a new audience that included not only avid gamers but also moms, and grandparents. The trailers presented whole families including senior citizens having fun together while playing the game. Overall, the marketing campaign generated sales of 82.9 million copies in March 2020. The marketing efforts included:
in-store displays,
TV ads,
massive public events,
demo kiosks,
A music tour.
Portal 2. Valve announced Portal 2 in March 2010 and promoted it using ARG (alternate reality game) including the Potato Sack, a collaboration with numerous independent game developers. Later, Valve shared downloadable content and a simplified map editor to allow players to create and share levels.
Portal 2 received various positive opinions regarding its gameplay, balanced learning curve, pacing, dark humor, writing, and acting. Numerous publications and critics have described it as one of the best video games ever.
The Legend of Zelda: Ocarina of Time 3D. The marketing efforts in Japan featured a Japanese boy band Arashi as their influencers. Besides that, the game's marketing strategy also included online site takeovers, in-store displays, gameplay highlighting TV spots, pre-order bonus items, targeted print ad campaigns, and a huge pre-release event in Sydney, Australia.
The Sims 2. EA Sports mixed various marketing activities – from branded content packs and expansions to special edition DVDs. Aware of the opportunities, famous retailers featured their real-life goods in the game's virtual marketplace as an expansion pack, leading to collaborations with brands such as H&M Fashion Stuff and IKEA Home.
Conclusions
To perform successful marketing campaigns in the video gaming industry, one has to be familiar with industry trends, gamers' inclinations, and have expertise in creative production. Even though TV ads may still be useful to generate awareness, gamers are mostly present on platforms created with them in mind. These include Discord, Twitch, or YouTube gaming. Besides, TikTok is yet another medium that's worth deeper analysis during market research.
In addition to social networks, you should pay attention to visibility in search engines. This is why building a well-designed website and a constantly updated blog is a must during video game promotion efforts.
If your game has a mobile version, reaching high positions in app store charts is another key factor in the process. Boosting your game's position will positively translate into the number of downloads and, in turn, install rates.
You also can't forget about women. A common mistake is targeting an ad campaign and game content at male audiences only, even though the gaming community is divided almost in half when it comes to gender.
Of course, if you need help in creating buzz around your game's announcement, building an emotional connection with your audience through content marketing, or you want to level up marketing of your already published game, we will be happy to share our expertise. Feel free to contact us anytime.
To finish off the article, we've got a question for you: What, in your opinion, was the most gripping video game promotion campaign? We're waiting for your example!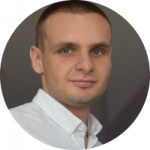 SEO specialist with over six years of professional experience. A/B test and Data-Driven SEO enthusiast. In his work, he focuses on the development and implementation of a strategy that achieves predetermined, specific goals. Privately, a fan of mountain biking.