During its beginnings, gaming was perceived as a worthless time consumer. However, the market has quickly evolved into a billion-dollar business. Today, it is engaging one of the largest communities over the Internet.
Currently, the gaming market creates immense marketing opportunities. Still, it is often neglected due to the stereotypical perception resulting from a lack of insider knowledge.
Want to know how to reach the gaming community? If so, then you're in the right place. Today, we are presenting the most popular social networking for gamers. After reading the article, you'll know:
Who are modern gamers,
Which platforms bring them together,
How to use utilize this knowledge to level up your marketing game.
Let's get straight into it.
Video Games: The Demographic Change
Sadly, some people still view gamers as friendless teenage boys heating ready-made food in a microwave. Nevertheless, the data below suggest that this is couldn't be further from the truth.
Age Distribution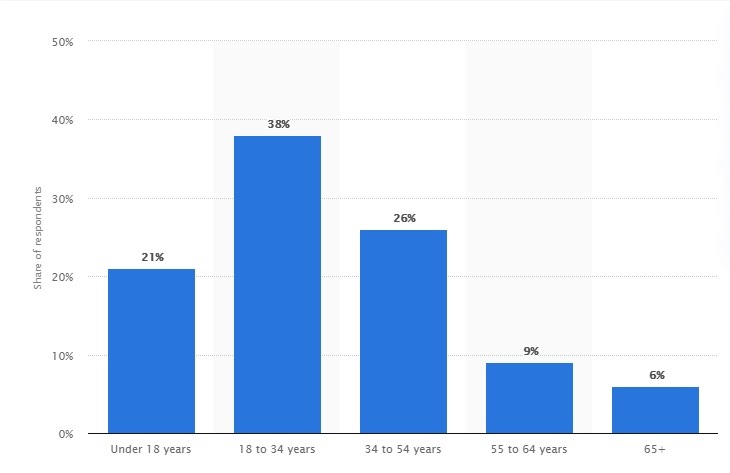 Age breakdown of video game players in the United States in 2020 – Statista.com
According to the graph above, gamers are divided into various age categories. It's worth noting that none of them significantly dominates the rest. This may result from the number of computer games on the market that reach different age groups.
A video game such as Minecraft will most likely attract a rather younger gaming audience. However, a type of game like World of Warcraft has been on the market for many years. This means it's aging with its loyal gaming community.
Male vs Female Gamers
Distribution of computer and video gamers in the United States from 2006 to 2020, by gender – Statista.com
It might seem that the gamers market is heavily male-dominated, yet this is contradicted by the statistics. In 2019, the industry was almost half divided in terms of gender. Women accounted for 46% of the market, whereas men constituted the remaining 54%. That, once again, shows how inaccurate the stereotype of a gamer is.
Is Gaming Part of Social Media?
In 2020, there were an estimated 2.8 billion gamers worldwide. That is more than 25% of the global population. Based on these statistics, we can't call gaming a part of social media. It is social media in its own right.
Let's have a look at an example of Fortnite.
In May 2020, the game alone had 350 million registered members. That being said, the gaming industry is a social network with billions of daily active users. And the gameplay is just a part of Fortnite's universe.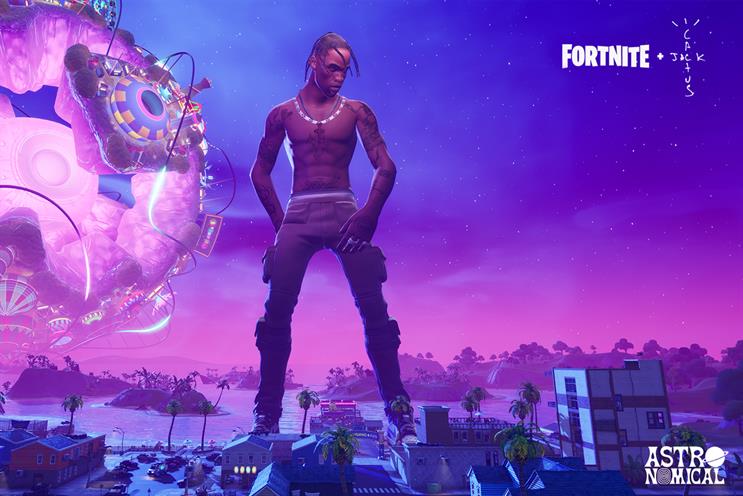 In April, Epic Games joined forces with rapper Travis Scott and prepared a special weekend event. As a result, players could watch a giant avatar of an American artist performing his biggest hits. The show gathered 12 million concurrent players, which was an all-time popularity record for the entire Battle Royale genre. If that's not a great opportunity to socialize with friends (and strangers), then we don't know what is.
Social Gaming
Social gaming is another area of gaming with still underrated potential. First, let's start by defining what social gaming is, as this concept is frequently misinterpreted.
Social games are games published on social networks (one of the most popular social gaming sites is Facebook). In this context, each game (even virtual chess) will be a social game, as long as the gameplay takes place on a social network.
Social games should be clearly distinguished from PC and console games like MMO, MOBA, or Shooters. The idea behind social games is to create positive interaction between friends or family (most often within one social network). Normally, such games include activities like feeding virtual animals, watering trees, or sending gifts. However, all the different types of games are in majority competitive and take place outside of social networks.
Who Plays Social Cames?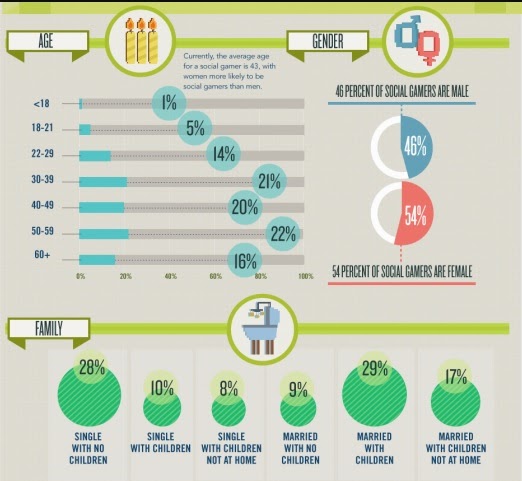 source: www.digitalbuzzblog.com
Perhaps surprisingly, a typical social games player is a housewife. The largest percentage of people involved in virtual farms and cities are married people with children (29%), followed by childless singles (only 1 percentage point less).
All that opens up new marketing and advertising possibilities, which have been noticed by popular brands.
Marketing in Social Games
By far the most common marketing model is to promote products and brands inside the best social games.

This strategy was used by the Japanese multinational automaker, Mazda. They brought the attention of Facebook users by cooperating with one of the most popular social games on Facebook, Bejeweled Blitz. The company placed ads in the game itself and funded the grand prize – a new Mazda 3 car for the winners of a special tournament.
What Social Networks do Gamers Use?
Traditional social media is also a great way to reach gamers. There were 3.8 billion people active on social media in 2019, many of which are certainly gamers. For example, the League of Legends Facebook fanpage will soon hit 15 million likes.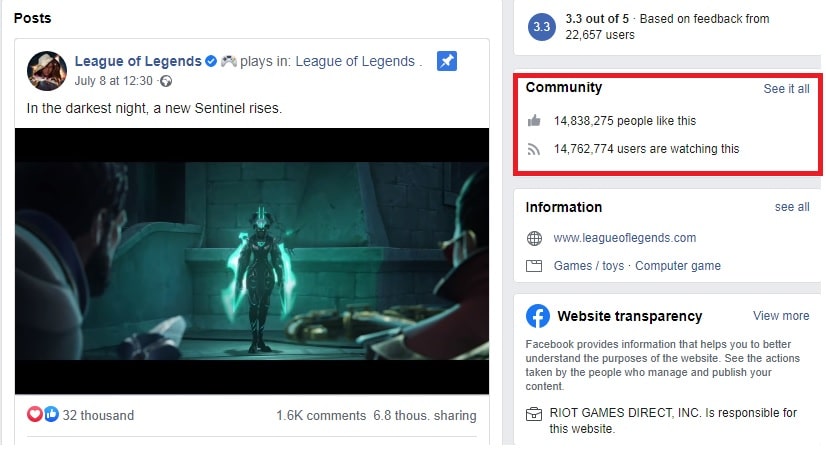 Therefore, advice to game developers – you have to mark your presence on social media. Not only does it give you multiple ways to reach potential audiences but also hugely boosts your brand awareness.
Let's now move on to the best social media platforms you can't miss.
Facebook
As people say – if you don't have a FB profile, you don't exist. With roughly 2.8 billion monthly active users, Facebook is the biggest social network worldwide.
How can it be used for marketing purposes in gaming?
Create an official fanpage – this not only gives you an opportunity to announce news, updates, or ask for feedback but also allows consumers to interact in comments. They can share ideas, videos and screenshots. This may serve as a form of your products' blog.
Use FB groups. They function similarly to fanpages, but include more space for brainstorming and content sharing. Anyone may ask questions, share photos, memes, their in-game achievements, or stories. What is more, they may provoke discussions concerning, for example, the best strategies to pass missions or quests.
Try FB streaming platform out. In 2018, Facebook started an initiative called Facebook Gaming. Thanks to it, users can broadcast their in-game adventures, which creates space for marketing cooperation. Fitness or lifestyle brands often cooperate with Instagram or TikTok stars. Gaming companies, however, choose gaming influencers as they let them hit up their target audience.
Twitter

"2020 was the year we were all at home. And the year where we all played video games more than ever before. For the first time ever, there were more than 2 BILLION Tweets about gaming throughout the year. This is up 75% from 2019, with a 49% increase in unique authors" – shared Rishi Chadha, Head of Gaming Content Partnerships at Twitter.
This shows the size of the gaming audience that uses Twitter every day. If you are considering marking your presence on Twitter, here are our tips:
Inform your followers about events such as live streams,
Share user-generated content,
Post consistently and regularly,
Engage fans by organizing competitions with attractive rewards or giveaways,
Announce quick news and ask for followers' opinion.
Discord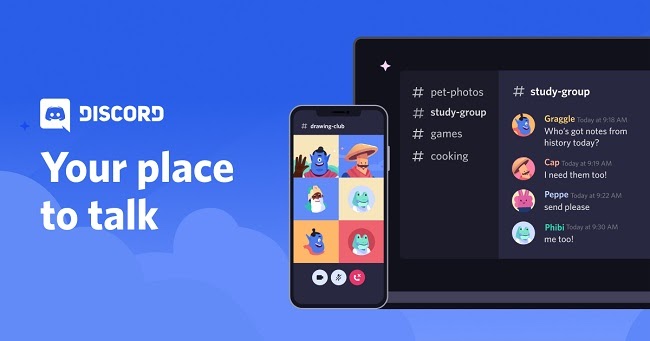 Discord is an application that works both on PC and mobile phones. It lets the server owner create up to 500 channels on a server.
Discord combines voice, video, and text app features, replacing popular voice communicators such as TeamSpeak, Ventrilo, or Mumble. At the same time, it gives Slack-like possibilities of text channels. Thanks to the chat channels and voice channels, like-minded gamers can discuss various gaming-related topics, such as strategy or tricks. However, Discord gaming servers often have separate channels for off-topic discussions, such as politics or sports.
When it comes to marketing possibilities, Discord provides the following benefits:
You can build a community of fans who stay connected to your brand, 
Discord offers the possibility to sell games directly to the community via Store Channels,
It provides daily statistics concerning your game purchases as well as the customers location, etc.
90/10 revenue share.
Steam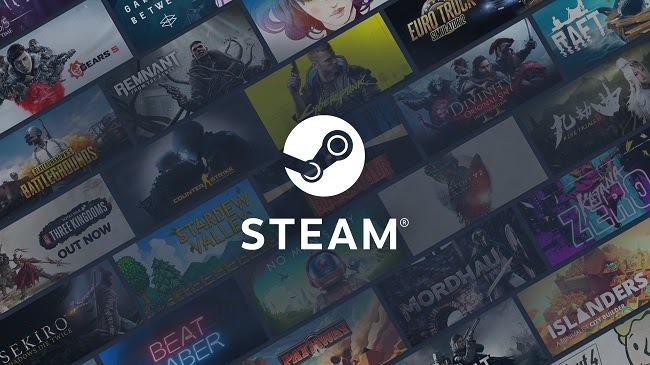 Steam not only sells thousands of games but also brings players together. In the "Community" section, gamers have access to forums and discussion groups focused on specific games.
What is more, users regularly look for advice and troubleshooting. The section is often visited by developers (especially the smaller ones) who listen to the voice of the community. This way, they know what should be improved in their titles. Thanks to the chat options, gamers can send messages to each other via text chat. They might also talk via voice chat.
Want to promote your game on Steam? Here's a list of some tips that your team may focus on:
Take a look at steamgifts.com. Some smaller studios decide to run promotions by uploading several copies of their game there. If someone wins your game and then checks and likes it, they can recommend it to their friends.
Create your page a few months before the release date. Combine sharing game content with giveaways of keys.
Think about cooperating with influencers. While sending a message to any YouTuber or streamer, personalize it. It should provide a higher reply rate than sending the same text to everybody.
Twitch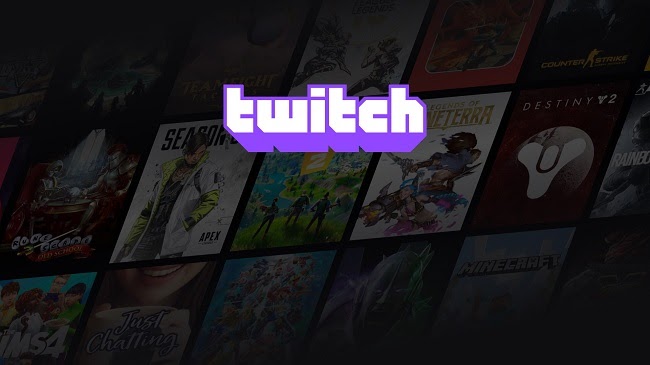 Twitch is a real-time streaming platform, having millions of views daily. Users can both broadcast content as well as watch others. Streamers usually comment on their actions, while viewers ask them questions and discuss with other users in the built-in chat.
The platform creates immense possibilities for marketers, making it available to reach a lot of recipients. Here are some stats: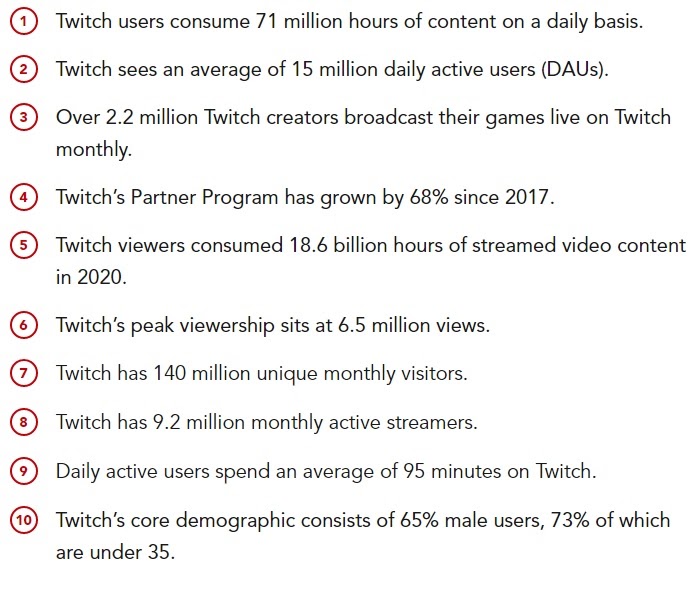 source: mediakix.com
How to use Twitch to advertise your product?
Start streaming yourself. Even small or medium game developers often show how they work on creating their products. Explain your viewers what the game development process is about. Let them see some aspects of the gaming life from a different perspective.
Cooperate with streamers. Live broadcasts are a great place for advertising. The streamer can place a banner advertising your product on the screen or in the background. They can also play your game or present your website content, whether it is a live casino, a site with CS: GO skins or any other thing.
Use Twitch ads. Twitch also shows pre-broadcast ads. The key aspect is they cannot be skipped. This means your spots can be displayed to users every time they visit a new stream.
YouTube

source: thinkwithgoogle.com
The statistics provided by Google are truly striking. Although YouTube is super popular, people don't know how to gain benefits from it. When it comes to gaming, there are plenty of ideas you might include in your marketing plan. Let's have a look at a few points:
Create videos with tutorials. Gamers often browse through YT channels to learn how to get better at a particular game.

Stream and upload gameplay videos. There is a big gamer group that spends their leisure time watching others play rather than playing themselves. These videos can be longer gaming sessions or highlights of the best action-packed moments.

Work with YouTubers. In 2014, Variety conducted a survey asking U.S. teenagers (age 13-18) to rank 20 popular personalities from Youtube and Hollywood. The survey analyzed approachability, authenticity, and other criteria, which the respondents considered aspects of their overall influence. Ultimately, popular YouTubers occupied the top five spots! All of these interviewees are now grown-ups. And according to the constantly-growing popularity of YouTubers, respondents' taste has not changed since.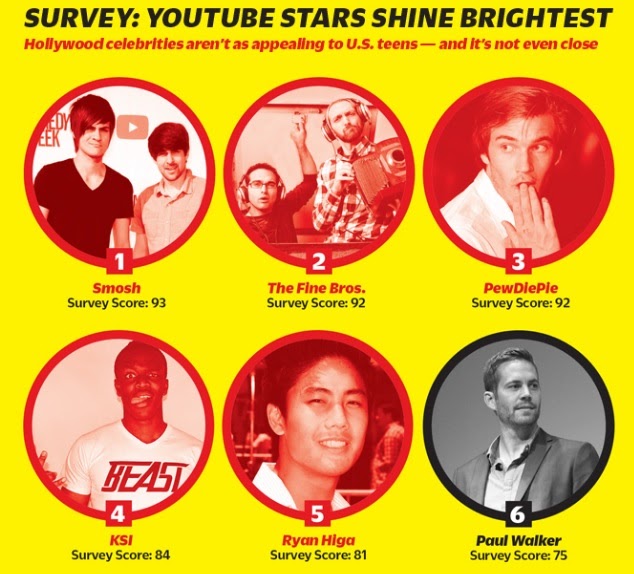 source: Vanity.
Conclusions
The video games industry is already a market with great value and potential. Additionally, it is still growing at an extraordinary pace. Thus, it's hard to say if there is any stop sign for the industry.
Therefore, it creates enormous opportunities for your marketing team. Getting recognition in the world of gaming and social networking sites is a huge step forward in creating brand awareness. What is more, social networking sites allow you to level up your marketing, as evidenced by the statistics and examples quoted in this article.
FAQ
Do gamers use Instagram?
Yes, gamers use Instagram. Still, the percentage is lower than the number of users of social networks we have included in our guide section.
What social network is most used by gamers?
The best social networks used by gamers are Facebook, Twitter, Discord, Steam, Twitch, Youtube, and Reddit.
What's the next big social media platform 2021?
TikTok may be the future of social media – it is now more popular in apps stores than Facebook or Instagram.
Copyright 2021. All Rights Reserved.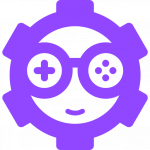 Marketing Director with over six years of experience in the field. Managing teams carefully and out-of-the-box thinking is his main factor in growing businesses through the right marketing practices. His Outreach Specialist background helps him to develop highly converting and organic campaigns.