Do you ask friends for opinions before buying a particular product?
Or maybe you've recently bought something due to friends' recommendations?
We bet everybody does that. People are keener to spend their hard-earned money on something that is verified by a trusted source.
Today, nobody believes in radio or TV commercials. They have simply become too "salesy."
All that comprises the foundation of influencer marketing — a sales strategy that makes use of a genuine influence on our everyday choices.
How can marketers utilize that? How to do influencer marketing? All this has been covered in this guide. Without further ado, let's get straight into it.
What Is Influencer Marketing?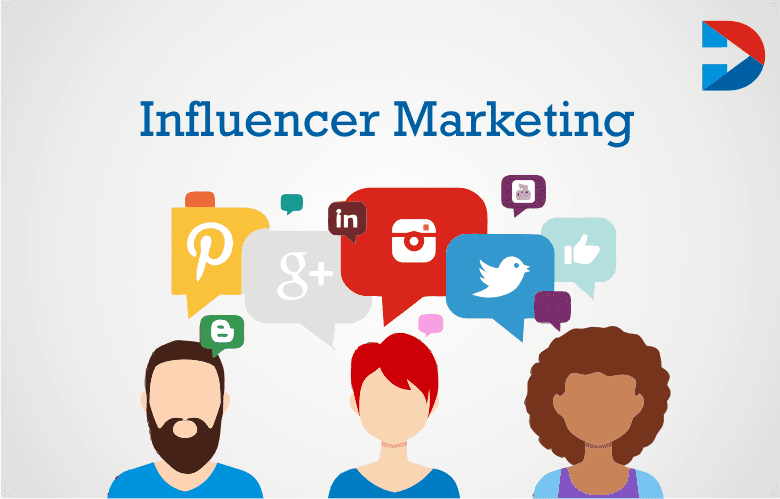 Influencer Marketing is a form of social media marketing, with the so-called influencers playing a crucial role. In the majority, influencers are people who gained popularity via the Internet. However, they may also be TV personalities, movie stars, or famous athletes.
In an influencer marketing strategy, a brand starts collaboration with the influencer (or influencers) in exchange for compensation. Their primary job is to expose their audience to the brand's messaging or content.
In this case, the influencer is an intermediary between a given brand and the target audience.
Why Should You Invest in Influencer Marketing?
Your competition does it. According to the SocialPubli 2019 report, 93% of marketers include influencer marketing as part of their marketing strategy.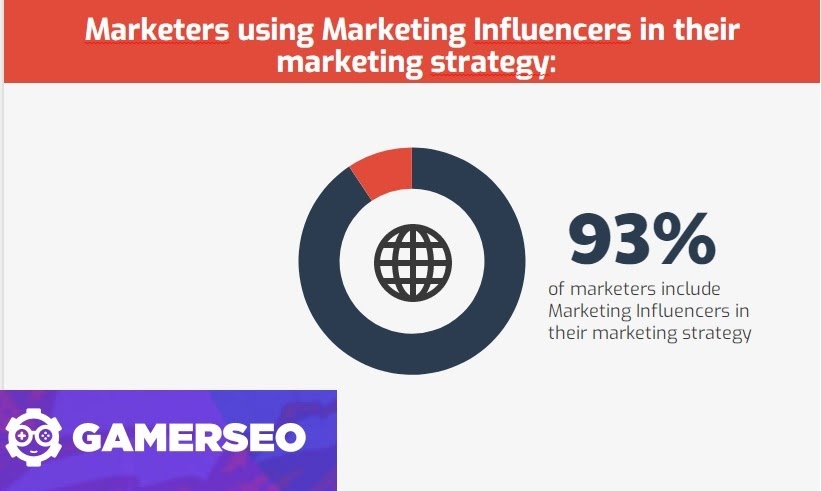 source: SocialPubli 2019
Influencer marketing boosts sales. Influencers are people that a niche community watches, engages with, and trusts on a daily basis. Instead of being skeptical and suspicious of a TV commercial or social media ad, customers think: "My favorite influencer loves the product, I will love it too!"
We like to rely on numbers, so here's a bunch of data to stimulate your imagination:
70% of teens trust influencers more than traditional celebrities,
86% of women use social media while looking for advice concerning purchase decisions,
49% of consumers depend on recommendations from influencers.
Influencer marketing plan builds brand awareness. By using the services of influencers, you can be sure of reaching a large number of recipients. What's more, by choosing the right cooperation, the product will be shown precisely to your target audience.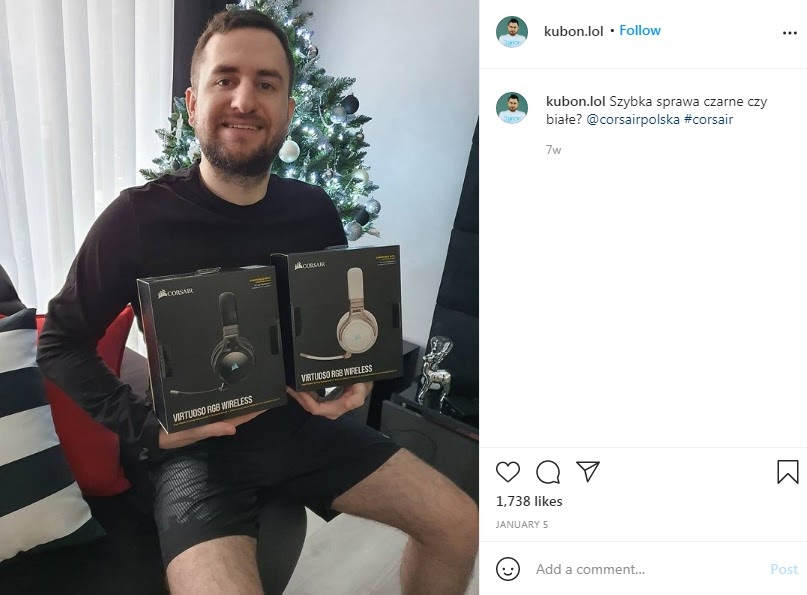 source: Instagram
Having been a part of Gambit Gaming or ASUS ROG Army, Kubon is a former professional League of Legends player. By partnering with influencers, gaming brands like Corsair find the right target with their marketing campaigns.
Influencer marketing works since day one. Compared to other advertising methods, influencers always reach their audience. To compare, YouTube ads are usually skipped, as people use various types of ad blockers. On the other hand, influencers showcase your product from the very first day of cooperation. This gives your brand the certainty of reaching the desired crowd.
Influencer marketing pays off. On average, companies noted a $5.78 return on investment of every 1$ spent on influencer marketing in 2019. What is more, businesses that went deeper gained even more spectacular returns. They noted even up to $18 in earned media value for every dollar spent on influencer marketing.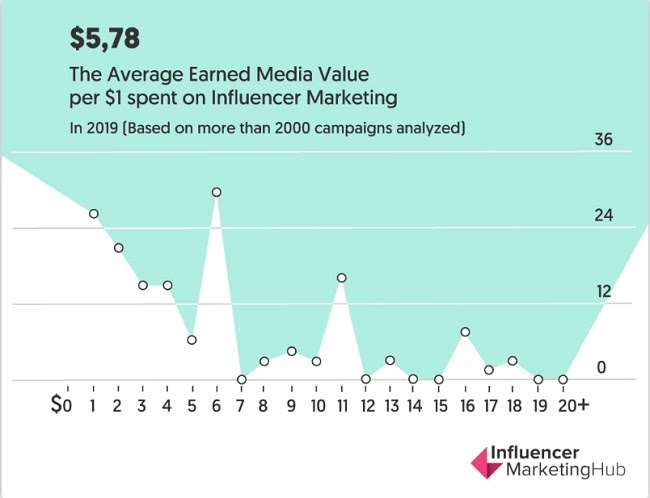 source: The State of Influencer Marketing 2020: Benchmark Report
Types of Influencers
There are several types of influencers, which differ not only in terms of followers number but also in engagement rates. It may seem that influencing giants generate the highest engagement rates. Yet, various research prove it's not necessarily the case.
Let's have an insight into each of the influencer types.
Mega-Influencers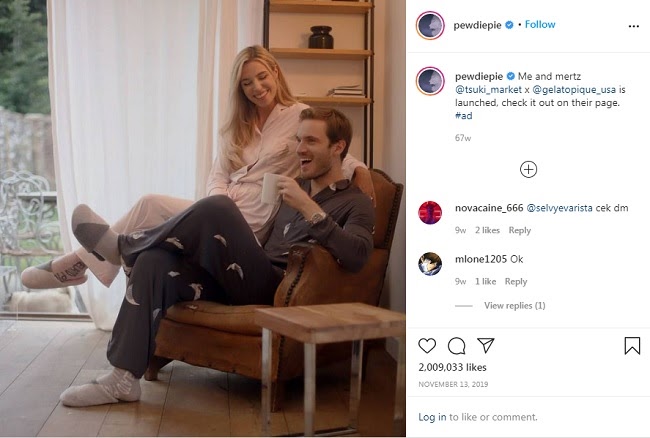 source: Instagram
Mega-influencers are often celebrities or personalities known for their long-term presence on social media. They are the highest-paid ones on the board. A beauty influencer Kylie Jenner charges around $1.2 million for a single Instagram post.
Even though they have more than 1 million followers, this does not always translate into the influence on their recipients.
"Mega-influencers are often more famous than influential. They have a very diverse audience with different topics of interest. Their relationships with the individual members of their followership tend to be more distant. They aren't necessarily subject matter experts but they definitely provide a lot of reach in one hit."

— Gil Eyal, CEO and founder of HYPR Brands.
Even though mega-influencers guarantee great reach, their rate of engagement usually decreases as the total follower count rises. According to markerly.com, Instagram influencers having more than 10 million followers can boast about (or maybe shouldn't?) the engagement rate of only 1.6 percent.
Macro-Influencers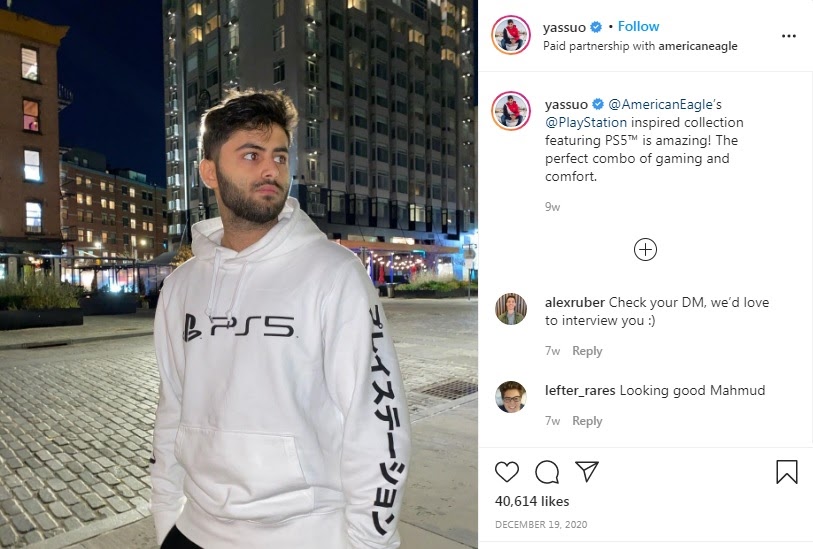 source: Instagram
The main difference between macro-influencers and mega-influencers is the number of followers. That, in turn, translates into their financial demands.
Macro-influencers typically have between 100 thousand and a million followers. These are usually Internet stars — streamers, vloggers, or bloggers. Sometimes, macro-influencers are also reality-show celebrities who didn't get the status of a superstar, yet still have a lot of supporters over the web.
Macro-influencer collaboration is a wise choice for companies that want to find the right way to reach a wide audience. For example, if the target audience of your gaming business is male teenagers, the macro-influencer collab may help you reduce marketing influencer campaign costs.
Micro-Influencers
Cutting long story short, a micro-influencer is an influencer with 10,000-100,000 followers.
Micro-influencers are a great fit for small and medium-sized businesses. Even though they offer higher engagement rates, Their financial demands are way lower than those of macro and mega-influencers,
Despite having a lower reach, a micro-influencer has a deeper connection with his or her followers. Additionally, they are more niche-focused. The audience sees them as experts in a specific field and is more likely to follow their advice.

Let's say your site offers training courses in League of Legends. Then, a great solution is to cooperate with a streamer or YouTuber who has built his popularity on extensive gameplay commentary. Such a person is seen as an authority in this niche, which will positively influence the perception of your product.
Nano-Influencers
Have you heard of 'Instagram-type' pictures?
The most popular social media profiles usually repeat the same pattern. Appropriate posing, perfect lighting, and the interference of graphic software have created the picture-perfect world of SM.
Nano-influencers tend to buck the trend. Having just started, their profiles are neither glamorous nor filter-packed. Posing is not repeated countless times. All that gives a sense of authenticity, the "she's just like us" type of feeling.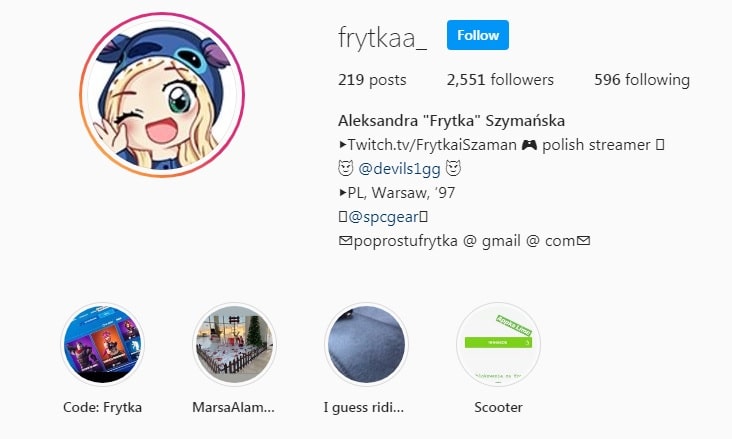 Nano-influencers are the owners of profiles with less than 10k followers.
Viewers appreciate extensive answers to their questions, frequently asking for personal advice. And they are getting it. This makes them feel as if they are listening to a recommendation of a friend.
Are you a low-budget startup or a medium business making the first steps in building a successful influencer marketing campaign? Nano-influencers are a great choice for you. Their services don't cost much. In fact, your company helps them get started by reaching further audiences, giving promotion opportunities.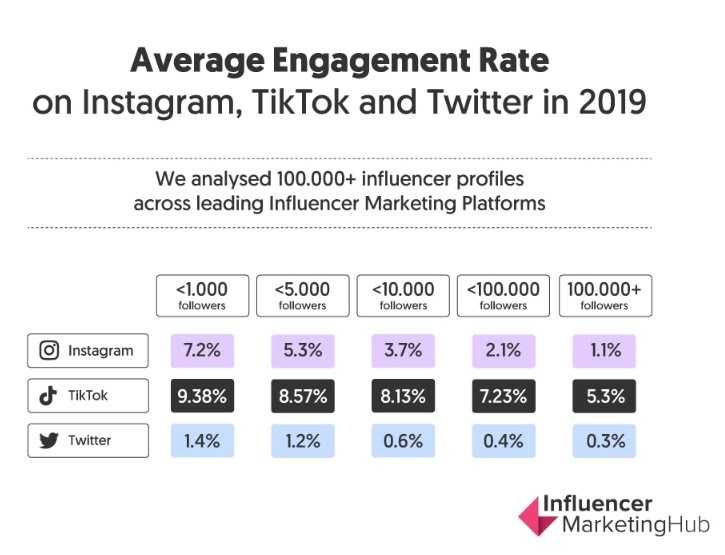 source: The State of Influencer Marketing 2020: Benchmark Report
Have a look at engagement metrics collected by Influencer Marketing Hub. Other types of social media influencers don't generate as much engagement as nano-influencer posts. Thus, think about dividing your budget on a few nano-influencers. This may bring better results than having one micro or macro-influencer on board.
How to Create an Influencer Marketing Strategy?
As GamerSEO, we focus on brands from the gaming industry. However, influencer marketing strategies analyzed in this section of the guide provide universal tips. Are you looking for ideas to increase sales via social media marketing? Let's see how you can this goal.
Let's now go through the most important steps of creating a successful influencer marketing strategy.
Define Your Budget
First, you should define the resources your company is willing to spend on influencer marketing strategy. This will help in choosing the potential influencers you would like to start cooperation with. You'll also need to define the method of settling accounts with a given influencer.
Set Your Goals and Target Audience
Let's take a look at the example of a website browser game, FootballTeam.
One of their goals has been to promote a game strictly related to soccer on the Polish market. Thus, they have started collaborating with a Polish YouTuber who creates content concerning soccer news and trivia. This way, FootballTeam marketers have reached the target market of soccer fans thanks to the right social media influencer.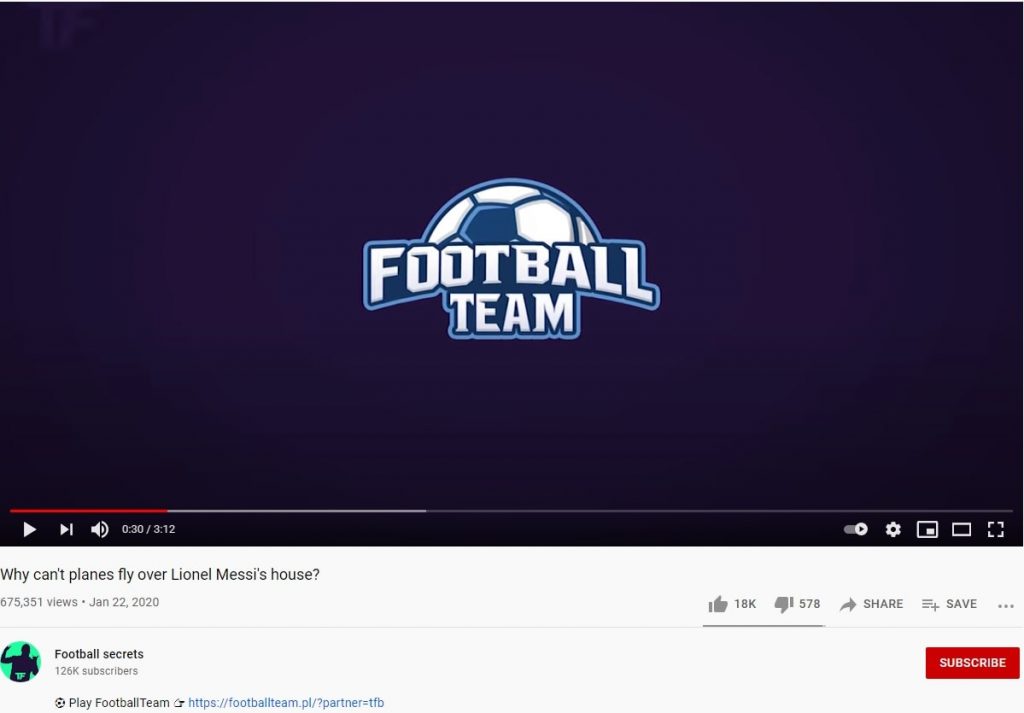 Each video on the channel contains an easy-to-see commercial of the game. It also has a link to the game in the description. This campaign shows FootballTeam's savviness in gaming marketing. Instagram is surely the giant in terms of beauty products or the fitness world. However, video platforms are the most attractive for gamers.
Find Your Influencer
As your budget and target audience have been already defined, now it's time to start looking for influencers. They should allow you to reach desired consumers without exceeding the finances devoted to the influencer marketing campaign.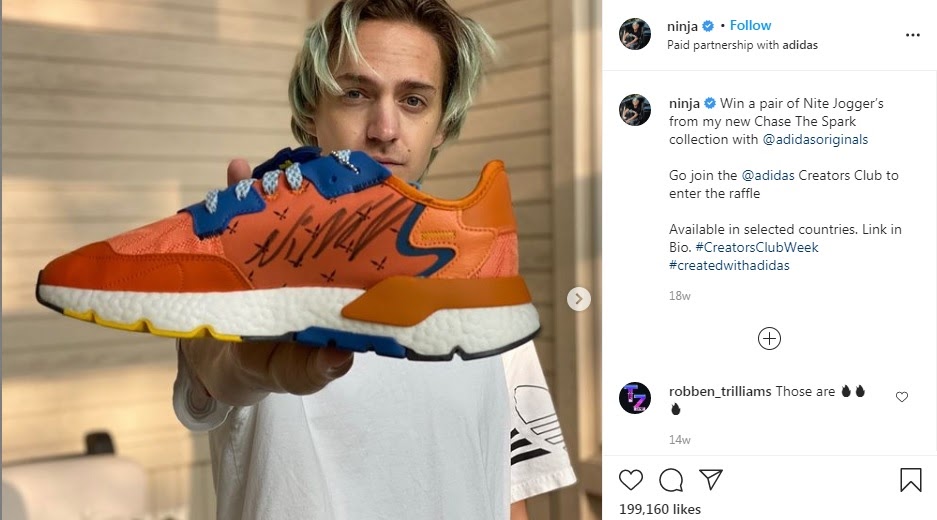 source: Instagram
As the campaigns of giant brands show, influencer marketing strategy doesn't have to be predictable.
At first glance, a professional athlete, fashion influencer, or even someone with fitness influencer content would seem like a natural choice for a sports brand. However, Adidas had invited Ninja, an influencer from the gaming world to collaborate, who then created a personalized collection of shoes.
As you can see, everything depends on the creativity of your marketing department and the influencer's charisma, ideas, and potential.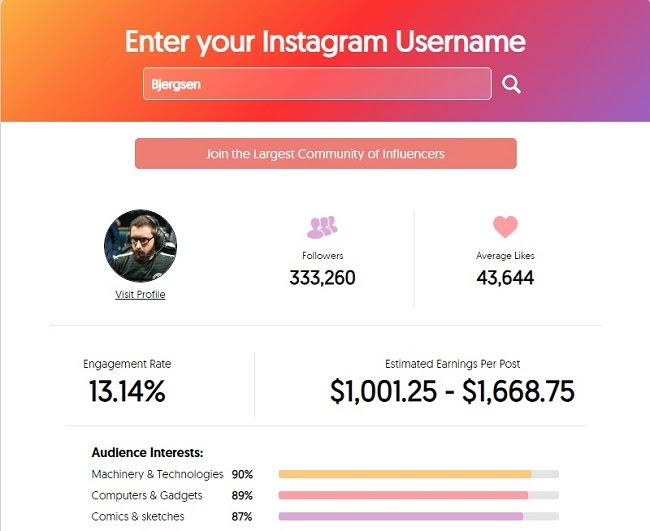 One of the tools that may help you find potential brand influencers is the Instagram Money Calculator. It provides valuable data concerning an Instagram influencer you want to collaborate with. The tool includes the influencer's audience interests as well as his potential financial expectations.
Set the Terms of Collaboration
Let's say you've found the right person for your influencer marketing campaign. Now it's time to set the terms of cooperation. The issues that should be raised in talks with the influencer include:
Compensation Model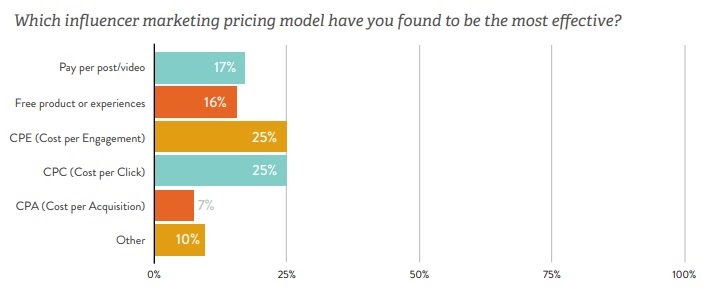 source: The State of Influencer Marketing 2017 Final Report
Cost per engagement. The influencer's remuneration would depend on the number of engagements they drive.
Cost per click. Influencers may get paid regarding the website traffic they generate, i.e the number of clicks they drive to your landing page.
Pay per post/video. Influencers earn a fixed amount for each piece of content they create for your business.
Free products or experiences. Besides (or in addition to) financial compensation, you may offer brand partnerships based on sending the influencer some free products.
Cost per acquisition. Influencer's compensation is based on the number of actions or acquisitions they drive. This relates to lead generation (bringing new audiences). These may be new newsletter subscriptions, new accounts created from their referral link, or new purchases.
Defining the Type of Influencer Collaboration
There are multiple ways that relevant influencers may promote your brand. Here are some of them:
Sponsored Social Media Content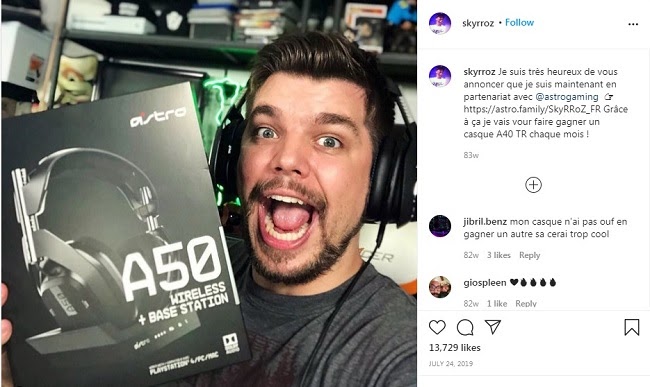 source: Instagram
Partnering with social media influencers who create sponsored social media posts is the most common type of influencer collaboration. An influencer promotes your brand on their social media accounts, through sponsored content that showcases your product or service.
Make sure to supply the social media influencer with instructions and campaign objectives. They have to clearly understand your expectations and campaign message.
Takeover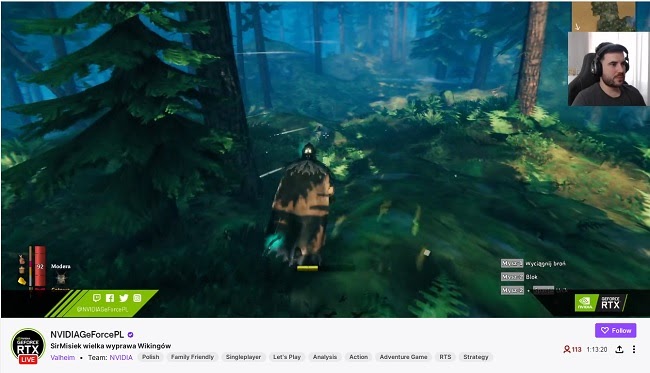 source: Twitch.tv
In this type of collaboration, influencers "take over" your social media accounts. Next, they regularly post engaging content to advertise your brand's products.
This is a popular influencer marketing strategy not only on Instagram but also on YouTube. A particular influencer may create a series of videos presenting your game or stream it live.
On Instagram, influencers become content creators. They may publish Q&A series on Insta Stories any other form of content that engages audience and promotes your brand.
Takeover is also popular on Twitch among brands creating computer software. They love working with influencers from the gaming world, often asking them to broadcast a certain game on their channels.
Giveaways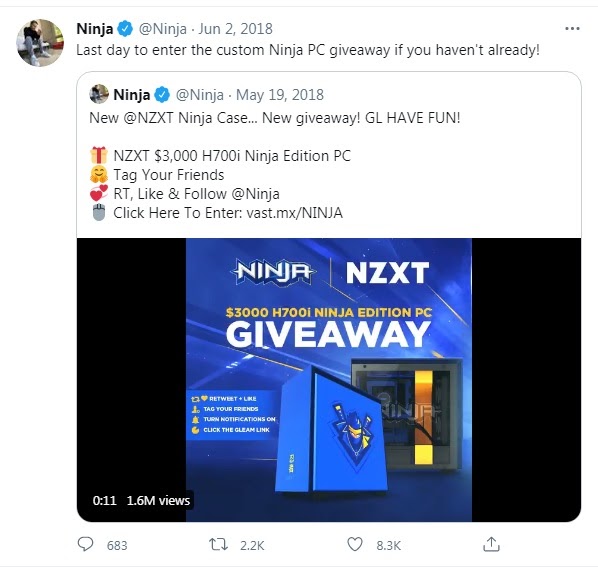 One of the strategies during influencer marketing campaigns may be a giveaway contest. These might include discount codes, free product samples, branded t-shirts. Basically, anything related to your product or service.
Keep in mind that giveaways should engage viewers, which may be done by asking them to:
Like the post,
Comment on it with a certain phrase or hashtag,
Tag a few friends in the comments,
Like your brand's profiles their social media channels,
Post pictures and tag your brand's social media on them.
Honest Product Reviews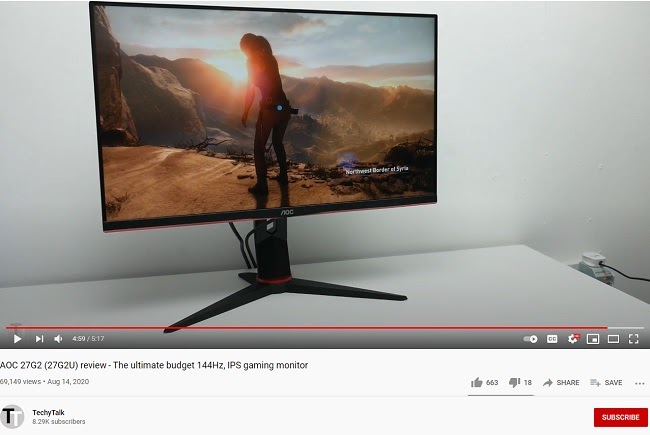 As mentioned before, customers have had enough of the traditional ads, which just praise the product. Many people will therefore appreciate the genuine opinion. This gives a product a sense of authenticity and reduces the "salesy" vibe.
A good example of this is YouTube channels with technological content. Such influencers not only focus on the positives of a given product but also honestly point out its shortcomings.
Banners and Logos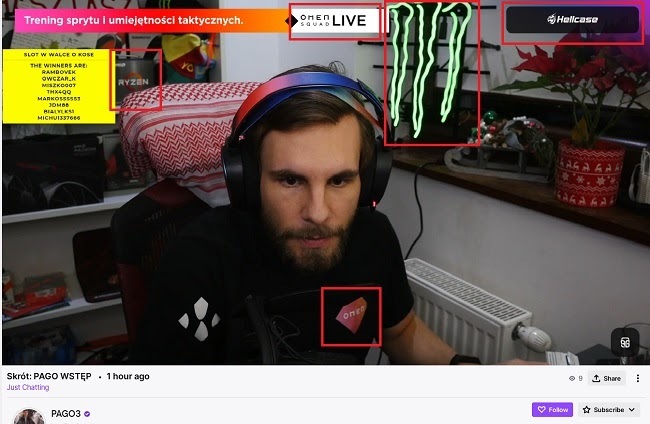 Gamers love watching video content on Youtube, Twitch, or other streaming platforms. Therefore, a great idea is to include the logos of your brand on influencer streams. These may be an element of stream background or an on-screen banner advertising your website, product, or service.
The Type And Amount of Content
It's also significant to arrange how the influencer is going to promote your brand.
Determine the platform. Influencer partners often operate on several social media platforms. Therefore, select the influencer marketing platform your product or service fits best. As a gaming brand, pay attention to Twitch, YouTube, Discord and Facebook.
Define the amount of content. Specify what amount and types of influencer content per week/month your brand would expect. It may be three 15-second Insta Stories a day or two 5-minute promotional videos a week. All that depends on your individual arrangements and needs.
Successful Influencer Campaigns: Examples
We have already discussed the most important theoretical aspects of building an influencer campaign. Let's now check how gaming brands use them in practice.
Apex Legends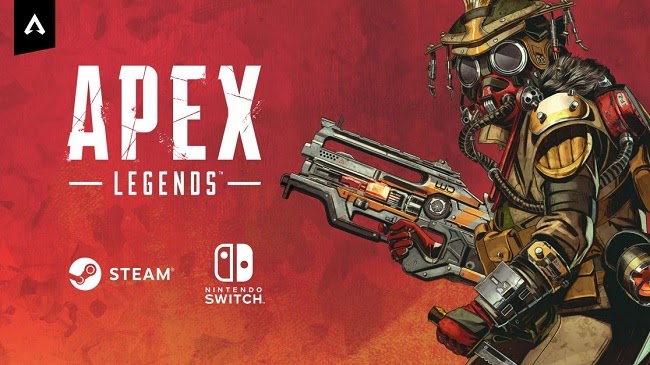 Apex Legends is a free-to-play first-person hero shooter battle royale game developed by Respawn Entertainment. In the first three days, the game had more than 10 million users.
The game did not have any particular promotion before its launch. However, after the release, it was broadcasted by streams from all over the world — LatAm, North America, Korea, and Japan. Interestingly, the promotion activities engaged the gaming star, Ninja.
In the first two weeks, Ninja's Apex Legends streams generated a total number of 1,094,500 views,
Three days after Apex Legends launch, EA's stock price and market value increased by 16 percent ($4 billion),
In one month of availability, the game has generated 50 million players.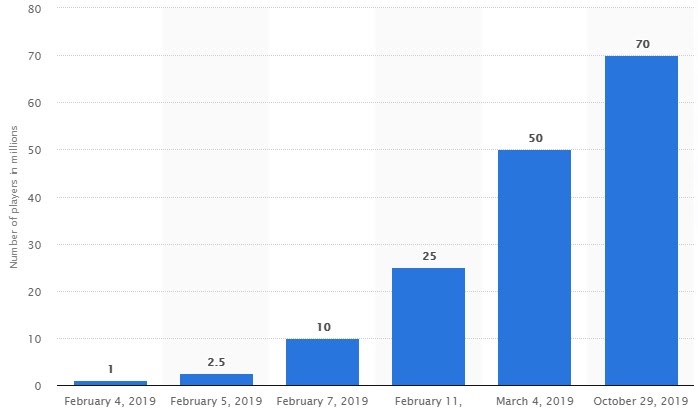 Source: Apex Legends registered users worldwide — Statistica.com
Far Cry 5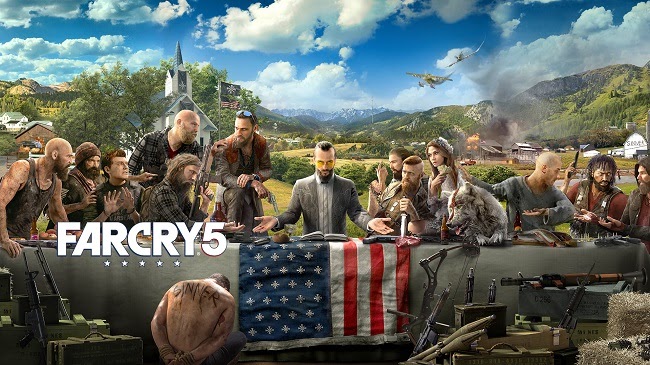 Far Cry 5 is a first-person shooter game published by Ubisoft in 2018. The game action takes place in Hope County, a fictional region of Montana, United States.
To promote the game, Ubisoft made use of a well-planned influencer marketing strategy.
the Far Cry 5 promotion included 19 influencers who created at least one YouTube gameplay video,
YouTuber H2ODelirious published a series of 16 gameplay videos, each generating more than 1 million views,
The game turned out a commercial success, becoming the fastest-selling title in the series;
Having sold 5 million copies, Far Cry 5 generated $310 million in sales in its first week.
Walking Dead: No Man's Land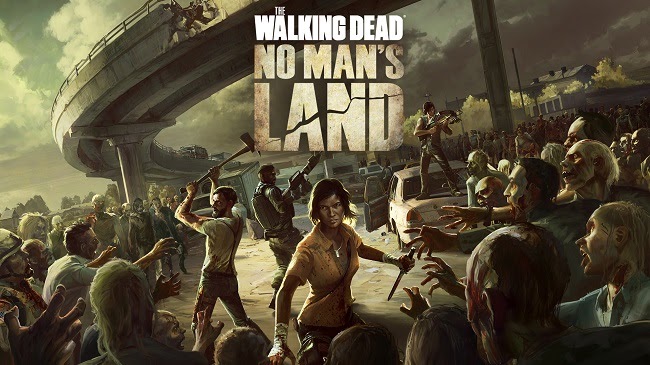 Walking Dead: No Man's Land is a mobile game based on the license of the popular TV series, The Walking Dead. It was created by Next Games Oy studio.
In No Man's Land, players fight zombies in a post-apocalyptic world. The game has been enriched with musical themes, events, and characters from the original series.
Next Games' influencer marketing strategy included 6 popular YouTubers, having more than 18 million total subscribers in total,
Each influencer created one sponsored YouTube video,
The campaign was not limited to the game content. YouTubers Lele Pons and Anwar Jibawi included entertaining real-life scenes in their promotional video, which generated around 14 million views.
In less than one week after launch, the app has been downloaded over 1 million times. This way, it secured #1 position in 12 countries on the App Store's free games chart.
Final word of advice
Think about creating a cross-platform social media campaign. Promoting your brand on a marketing channel like Instagram guarantees good reach. However, gaming customers look for suggestions in various areas. Therefore, it's a good idea to include several marketing channels in your influencer marketing strategy.
Carefully analyze the profile of a potential brand influencer. Some of them have a large number of followers, which does not translate into reach. Sometimes influencers expand the follower base by buying followers. Therefore, the engagement rate is crucial — analyze the number of likes, comments and shares, etc.
Think about splitting your budget among several influencers. Do you know the "don't put all your eggs in one basket" principle? Well, it is a good idea to divide the influencer marketing campaign funds between several influencers. This will allow you to generate higher reach and increase brand awareness among slightly different consumer groups.
Find influencers who are fans of your brand. If your brand already has some recognition, contact influencers who have shown appreciation for your brand. Therefore, you may make them your brand ambassadors. As you already know from this section, you may create an influencer strategy with nano-influencers. According to the statistics, it should be a good fit; perhaps even better than a campaign involving the biggest Internet stars.
Conclusions
When creating an effective influencer marketing strategy, keep in mind that an influencer is not only somebody with millions of Instagram followers. Working with well-known personalities doesn't always translate into the success of your influencer campaign. The key is to find the right influencers that will present your brand, products, and services to your target audience.
Therefore, if you target specific markets, find the right influencer who is perceived as an authority in the field. It will allow you to achieve your marketing goals more effectively.  Collaborating with celebrity endorsements who aren't industry experts is a common mistake. While developing an influencer strategy for their social platforms, brands pay too much attention to the number of followers.
FAQ
How much do Instagram influencers get paid to advertise?
Depending on the number of followers and other statistics, influencers may get paid up to 1.2 million dollars for a single post.
How many followers do you need to be an influencer?
If you have a good engagement rate, you may become an influencer with less than 1,000 followers.
What does an influencer marketer do?
Influencer marketers advertise a certain brand, its products, and services. They also increase brand exposure, promote its voice and message.
Copyright 2021. All Rights Reserved.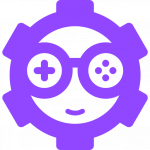 Marketing Director with over six years of experience in the field. Managing teams carefully and out-of-the-box thinking is his main factor in growing businesses through the right marketing practices. His Outreach Specialist background helps him to develop highly converting and organic campaigns.