Today, 91% of millennials trust online reviews as much as friends and family. What's more, influencer marketing generates 11 times as much return on investment (ROI) compared to traditional digital marketing methods. All that proves that social media influencers have already surpassed TV celebrities.
However, to establish successful influencer marketing campaigns, both parties need to know where they stand. Today, a handshake isn't a sufficient confirmation of anything. Thus, it's crucial to draw up clear regulations that will specify the rights and obligations of both sides.
Want to know what should be included in a flawless influencer contract? Read along as today we'll cover:
What Is an Influencer Contract?
An influencer contract is a written legal agreement between the influencer and the brand. It specifies all the necessary terms of collaboration between both parties. The essential elements that such a legal document usually includes are:
Influencer content or product to be created,
Frequency of posts on influencer's social media,
Compensation specifications,
Specification of a social media platform or social media platforms,
Length of collaboration,
Ways of solving disputes,
Legal protection for both parties.
Based on our experience, it's often convenient for brands to make use of an editable template, especially when starting a one-off campaign. Depending on the influencer and the type of campaign, this allows them to quickly perform necessary changes.
Furthermore, brands should keep in mind that Influencer marketing procedures are regulated by the FTC (Federal Trade Commission). Those rules can change over time and, depending on the country where the campaign is being launched; the parties might need to respect different regulations in a formal contract.
Common Sections in Influencer Contracts
Depending on your previous arrangements with the influencer, you might need to adapt the contract to fit all the previously established terms. Below, we have enumerated the standard sections of the influencer contract. However, while collaborating with our clients, we always adjust these to the needs of both parties involved.
Standard Agreement Terms

This section includes the basics of collaboration between a brand and an influencer. It usually contains personal information such as the introduction of the parties' names involved, their addresses, contact details, and how they are referred to in the agreement. What's more, this section usually features a simple description of what the contract is about. Depending on the way the contract is formulated, this part may also include an effective date.
Campaign Timelines
Within this section, parties specify whether the social media influencer contract is just a one-time campaign or the influencer relationship is a long-term collaboration. We also recommend including clauses that define under what circumstances the partnership will (or will not) be prolonged.
Content Requirements & Deliverables
What kind of content is expected from the influencer? Should the influencer create content on Facebook, YouTube channel, or Instagram? How often should the influencer publish content promoting your brand? Are there any penalties for late posting? How much time does the brand have to report any needed adjustments? While collaborating with influencers, we put emphasis on making this section as detailed as possible, and that's what we suggest you do in your influencer agreement.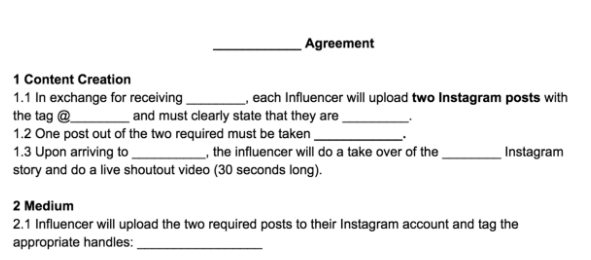 This section should include a detailed scope of work and determine the specific deliverables the influencer must produce to satisfy the agreement. For example, "one 1800-200 word blog post," "15 Instagram stories 10 seconds each," or "one 6,000-word e-book."
Cancellation Policy
In the influencer campaigns we implement, we always make sure that the social media influencer contract specifies the requirements for terminating the agreement by either party. The section often determines what happens when a breach of contract occurs. Normally, cancellation clauses specify that in case of negligence by either party, the injured party may have the right to end or suspend promotional activities prematurely. When it's the influencer that caused harm to a brand's reputation, they may also be obliged to issue a clarifying statement within a specific period.
List of Things to Avoid
As a brand that signs a social media influencer agreement, you want to include a list of things that the influencer should avoid in their content. These could involve mentioning specific phrases, inappropriate language, or names of brands you compete with.
Approval Process
Brands want all the content that's published by the influencer to meet the standards of the company. Thus, they usually want to have an influence on content creation and review it before it goes live. The results we have achieved for our clients show that this approach is beneficial for content creators and the overall success of the campaign.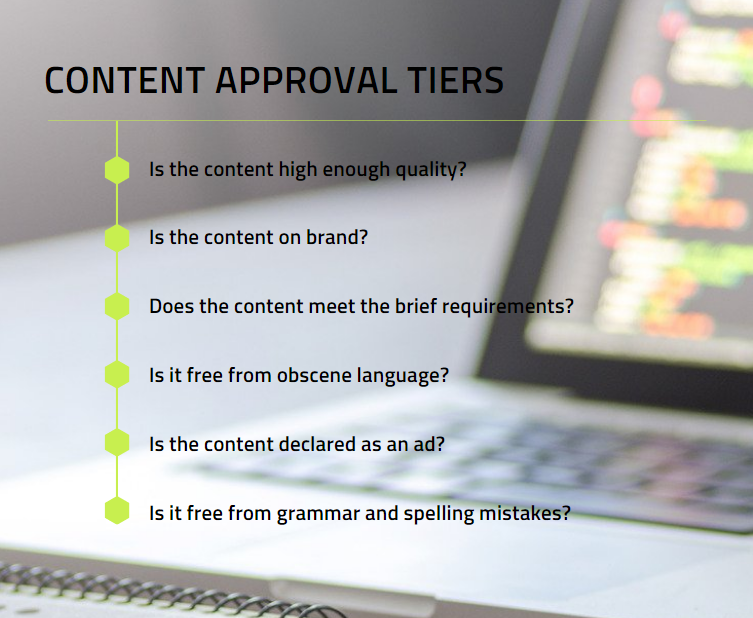 A well-planned checking process will eliminate all the errors and raise the overall standard of the campaign. Have you already started planning your next marketing campaign? Make sure the influencer marketing agreement contains a section regulating all the date frames and general rules regarding the approval process.
Among other details, you should verify whether the content: Making use of our experience, we would also say that
contains branding elements,
meets brief requirements,
is free from obscene and offensive language,
It is marked as sponsored content,
Is grammatically and stylistically correct.
With many years in the business, we have seen numerous influencer collaborations which neglected the approval process. In addition to the above tips, remember to always pay attention to how the influencer presents your brand or product. To make the business partnership authentic, the promotional content has to match the voice and values of your brand. If your company promotes equality, you shouldn't let influencers say that your product will help the buyers feel superior to others.
Confidentiality and Exclusivity
During the campaign, influencers may receive access to the company's confidential information. That's why a brand-influencer contract should contain entries that forbid sharing relatively sensitive and relevant information. Make sure that the influencer marketing contract contains such a non-disclosure agreement.
When signing an influencer contract, the content creator becomes your brand ambassador. Therefore, you need to make sure that an influencer doesn't work with your competition during the duration of the contract.
We have already had the possibility to work with influencers of various sizes. We have noticed that especially smaller influencers aren't very selective when it comes to brand collaborations. That said, we suggest securing your company's interests with appropriate contractual provisions.
For example, if an influencer works for Nvidia, it would be typical to include a non-compete exclusivity clause. In this case, it would probably say that they couldn't work for other companies from the industry such as AMD, Qualcomm, Dell Technologies, Samsung, or Intel Corporation. The non-compete clause should be valid during the agreement and a few months after it's terminated.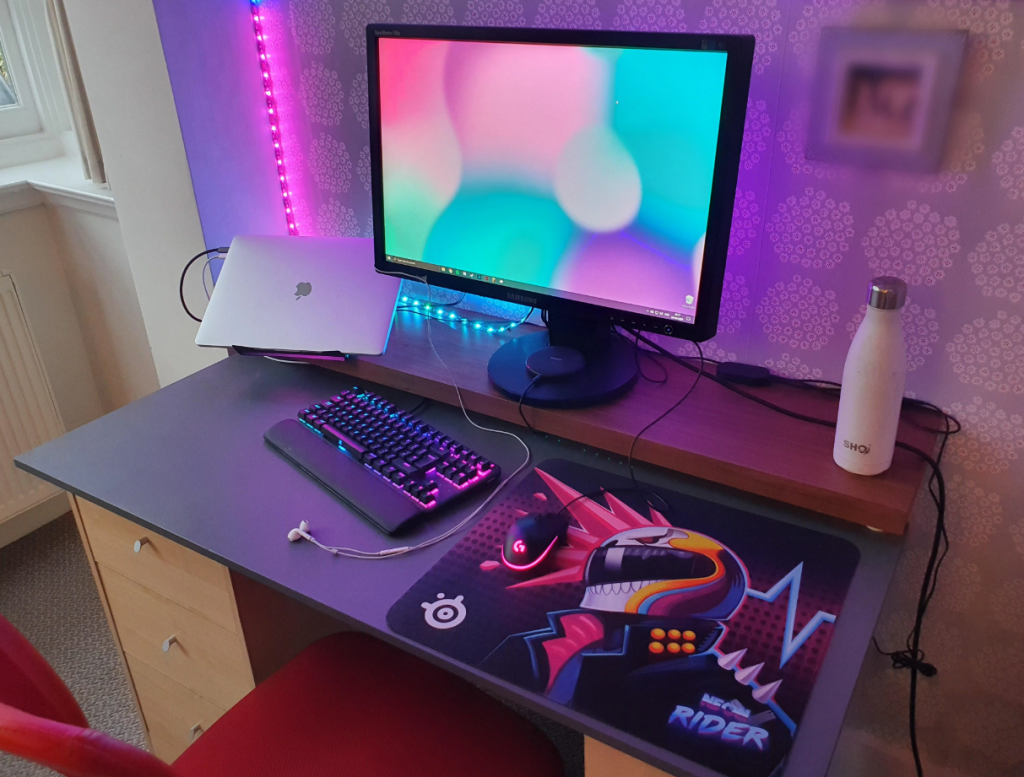 Here's another example. When gaming influencers post photos on social media as a result of a brand partnership, it happens that the pictures feature logos of multiple brands. For instance, it could be a photo of a gaming set consisting of hardware of different brands. There is always a chance that one of those brands could be a potential competitor of the client.
Compensation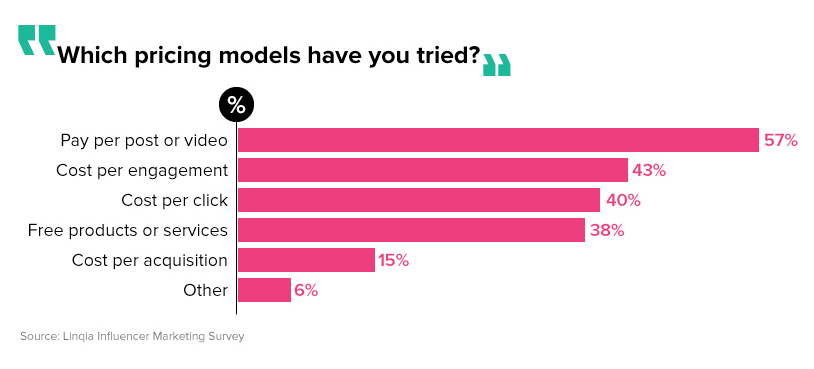 As collaborations with influencers are specific, you need to clearly communicate the payment terms for the influencer's work (whether it's flat fee, commission, pay per click, or other). If the influencer agrees, brands at times pay them with their products or discounts rather than with money. Thus, if you send a product as compensation, be sure to include the value and amount of it in this section. However, from our expertise, we can say that today not only top influencers expect payments for a post or video.
When it comes to payment details, don't forget to include the time, frequency of payments, and currency used. You should also specify an exact timeline of when the influencer will get compensation for their work. If both parties agree on products as the payment form, specify how long it will take for the products to arrive.
Furthermore, you may include a phrase that would motivate your brand ambassadors to get highly engaged in the campaign. Thus, they may receive bonus incentives for good results, for example, "if you get X users referred, you'll get additional <amount>."
FTC Responsibility
The Federal Trade Commission (FTC) has recently gotten interested in influencer marketing. Now, it's up to the influencer to ensure they stick to specific guidelines. Therefore, your contract should highlight that content creators must comply with applicable laws, including the FTC guidelines.
The FTC requirements state that influencers have to reveal their relationships with brands within their posts or videos. Thus, followers need to be informed whether the content they're consuming is an organic or sponsored post.

In 2014, the FTC had started legal action against Sony and its advertising agency, Deutsch LA. In this case, a member of Deutsch LA had asked employees to tweet about the PS Vita using the hashtag #GAMECHANGER. However, the tweets didn't contain a mention regarding their relationship with Deutsch LA or Sony. Ultimately, the case was settled, with Sony agreeing to give their customer base $25 in cash or $50 in merchandise credits as compensation.
To avoid such issues, instruct your influencers to disclose the partnership in the content they post. Testing various solutions in many campaigns, we came to the conclusion that using hashtags such as #sponsored, #paid or #ads is the most transparent way to inform consumers about an influencer's "material connection" with your or other brands. However, it's not necessary. Even though the influencer has to include mention of sponsorship or paid promotion within the text of the content's caption, hashtags aren't required.
The text disclosures should be clearly visible. Thus, make sure they are not "hidden" among hundreds of other hashtags or noticeable only after clicking the "more" button. If the influencer campaign includes video content, the disclosures such as "This video is sponsored by brand X" ideally should be included within the first 30 seconds.
To avoid confusion regarding influencer's responsibilities, our advice is always to send them the FTC guidelines. Then, request them to confirm via email that they read and understand their legal obligations. If anything remains unclear, make sure to provide them with explanations or ask for legal advice from an attorney or a law firm.
Anything Else
There may be extra conditions you want to add to your contract. These may include things like:
Force Majeure clause. It regulates unforeseeable circumstances that may prevent any of the sides from fulfilling a contract. There may be some Act of God situations out of the parties' control that would impact, for example, agreed on deadlines. Suppose there's a hurricane in Florida, where the influencer resides. In such circumstances, they would be unlikely to produce videos or make a live stream promoting your services.
You might also think about highlighting that an influencer is an independent contractor and not an employee.
It happens that the parties operate in different states or countries, thus it's reasonable to specify how you will handle communication across different time zones. This section also clarifies what would happen if a dispute escalates to the point you need legal counsel. The contract should also include clarification of which governing law would be used to solve the issue.
Social Media Influencer Agreement Templates
If you are looking for ready-made agreement templates for your influencer marketing campaign, here are several options that you may find useful:
Conclusions
In today's digitalized world, working with influencers is one of the best ways to market your products, engage your target audience, develop brand awareness, or boost conversions and sales.
However, having a legally binding agreement is a must in any business relationship. You need to protect your company's interests against potential mistakes made by the other party, define the working relationship, establish termination terms and specify other critical issues.
The legally binding contract clarifies the expectations of both parties, therefore minimizing the risk of any miscommunication. Additionally, the influencer marketing agreement is a sort of legal protection for both parties in case one of the parties fails to fulfill the terms of the contract.
FAQ
How do you write an influencer contract?
Each influencer contract should be individually tailored to the needs of a given campaign. This way, the advertiser and influencer can be confident that everyone's on the same page and know exactly what both parties expect. However, as we have run numerous influencer campaigns for our clients, we are confident to say that some common sections and specific terms should find a place in every agreement. These are:
Campaign timelines,
Content requirements and deliverables,
Cancellation policy,
Things that the influencer should avoid in their content,
Approval process,
Confidentiality and exclusivity,
Compensation,
FTC responsibility,
Additional sections.
All of these sections have been extensively explained in our article, in common sections.
Do influencers have to sign a contract?
As our clients invest a lot of resources into the campaign, our job is to protect their business with a thoughtful influencer agreement. They can't be sure if the influencer will create original content, promote the brand with expected engagement, and meet the overall requirements of the campaign. Thus, no matter if it's a short campaign or a long-term relationship, there should be an agreement signed by both parties.
Firstly, Influencer agreements are highly important because they specify the compensation model. When the brands collaborate with not-so-popular content creators, a common method is to compensate them with products instead of monetary compensation. If that's the case, it has to be specified in the agreement.
Secondly, an influencer contract regulates the frequency, form, and amount of content expected from the influencer. Furthermore, it makes it easier to manage any disputes that may occur during the collaboration. It also regulates all the legal issues regarding intellectual property, ownership rights of the uploaded media, and many other key terms.
How much should you pay someone to post on Instagram?
While there isn't one-size-fits-all pricing, many digital marketers stick to the $100 per 10,000 followers rule. However, it is only a starting point for the calculation, as many other factors should be considered.
As a marketer, you have to be careful! While researching suitable content creators for our clients, we come across numerous influencers with fake follower numbers. The influencer may have bought the "audience" from any website that offers such a service. In fact, they can not only harm your campaign but also your brand reputation and drain your marketing budget.
Therefore, while drawing up a contract with an influencer, analyze engagement rates of Instagram posts, campaign length, and other partnership specifics. Additionally, make sure always to compare the engagement rates to the number of followers. You may use the infographic below: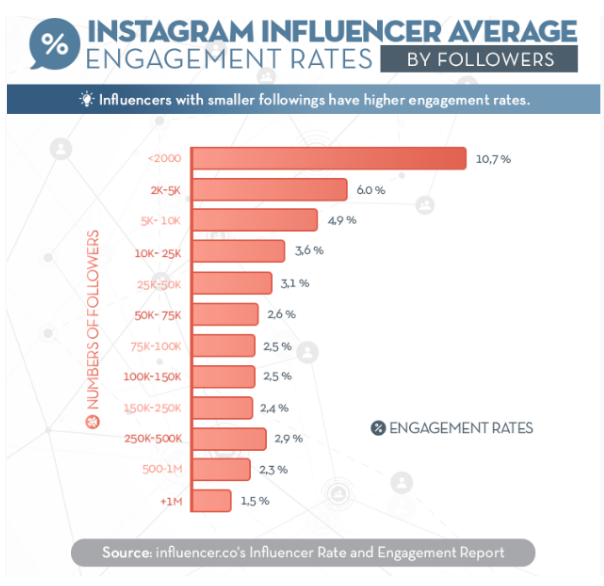 Nevertheless, Influencer Marketing Hub has provided the following average influencer earnings per post on Instagram:
Nano-influencers (1-10k followers): $10–$100 per post.
Micro-influencers (10-50k followers): $100–$500 per post.
Mid-tier influencers (50-500k followers): $500–$5,000 per post.
Macro-influencers (500k-1mln followers): $5,000–$10,000 per post.
Mega-influencers (1,000,000+ followers): $10,000+ per post.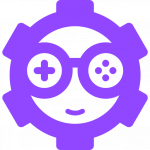 Marketing Director with over six years of experience in the field. Managing teams carefully and out-of-the-box thinking is his main factor in growing businesses through the right marketing practices. His Outreach Specialist background helps him to develop highly converting and organic campaigns.