82% of people have bought a company's products or services because of content marketing. Still, this is only one of the endless facts that show the power of great content.
But how do you create a copy that will go viral instead of landing in the dumpster? Read through to find out, as this article will teach you:
What is eCommerce content marketing?
What are the benefits of eCommerce content marketing?
What content is the best for an eCommerce website?
What is eCommerce Content Marketing?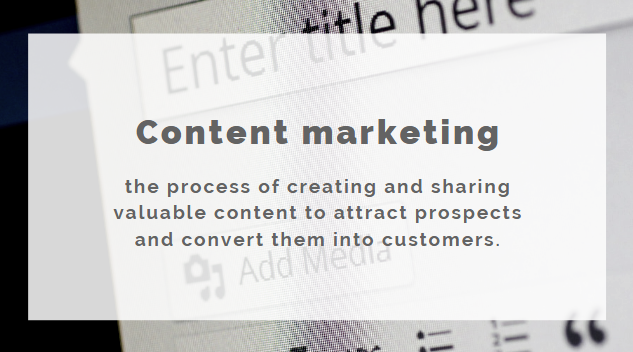 According to the definition, content marketing is the line connecting consumers and business owners. Depending on the stage of the funnel, consumers look for specific pieces of information. And to satisfy their needs, business owners may use an eCommerce content marketing strategy. With content, they provide the answers to the consumers' questions at each step of the funnel.
Depending on the type of your business and your target audience, you could choose from the following types of content. However, not all of the examples may fit into your eCommerce content strategy. Still, if you need help in this matter, feel free to contact our experts.

Source: e2msolutions
The Benefits of Content Marketing for eCommerce Websites
If you still haven't utilized engaging content in your marketing strategy, this may be the missing puzzle piece. A high-quality content:
increases sales or conversion rates; 
improves your brand's credibility;
has a positive impact on your position in the Google search rankings. 
In the sections below, we have explained the key advantages of content marketing.
However, to learn even more about the power of content marketing, we highly recommend also checking out the article Why Invest in Content Marketing: 8 Data-Supported Reasons
Content Drives Traffic
According to Tech Client, websites with blogs have 434% more indexed pages than those that don't publish content regularly.
What's more, your eCommerce store can benefit from content marketing by getting qualified organic traffic. It means that only people that are genuinely interested in your products land on your eCommerce site.
Content Marketing Moves People Down the Funnel
Even if your online store visitors are just at the research stage, an effective content marketing strategy gives the tools to spark their interest in your products or services. As web users start following your brand, at some point, they might land on your product pages and convert.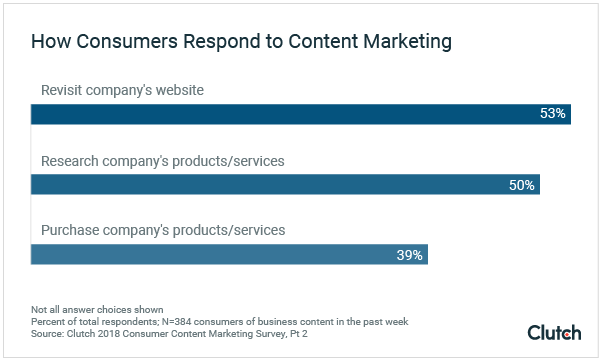 According to a Clutch 2018 study, 53% of people who consume a company's content are more likely to revisit their website. What's more, 50% are more likely to research the company's products.
Content Marketing Builds Trust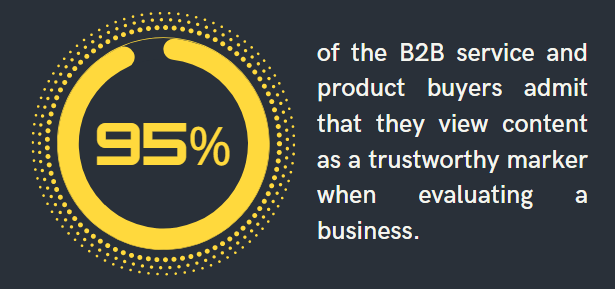 With proper content strategy, you show your industry expertise and let the target audience get to know your brand. According to Demand Gen Report, 95% of the B2B service and product buyers admit that they view content as a reliable marker when evaluating a business.
Content Affects SEO
Compelling content improves the authority of your eCommerce website. Moreover, when it complies with SEO principles, your website ranks higher in the search engines, making it easier to find your business online and drive new traffic. With that in mind, choose the keywords you want to rank for and place them in the title, meta description, and content.
Content Fits Various Marketing Platforms
By applying several forms of eCommerce content marketing at the same time, you can achieve better results. With a newsletter campaign or a free ebook, you can build a strong mailing list.
Through content from influencer collaborations, you reach a new audience and build brand awareness. Visual content and written content are also highly useful on social media platforms such as Facebook, Instagram, or LinkedIn.
Read More: What is Multi-Channel Marketing: Use it Efficiently
Best Content for an eCommerce Website
We already know how content can help eCommerce sites. In this part of the article, we will focus on which forms of content to choose to maximize the effects of your content marketing campaign.
Product Videos
Video is a helpful tool to turn heads and attract your website visitors. With product videos, you get a chance to convey your brand story, present the benefits of your product or service, and awaken customers' curiosity by showing what they may expect. Additionally, product videos give more of a real-life experience than pure images.
Amy Onorato, a contributor at IdeaRocket, shared her perspective, saying the following:
"Product videos allow your business to showcase (and show off) what your company can do visually. In some cases, this can make your product more accessible and engaging to viewers. As they say, seeing is believing, and a strong product video will help your customers do just that."
On their product pages, Steam includes a series of video content presenting fragments of gameplay. This way, they draw the prospect into the whirlwind of action before the potential customer even buys the game.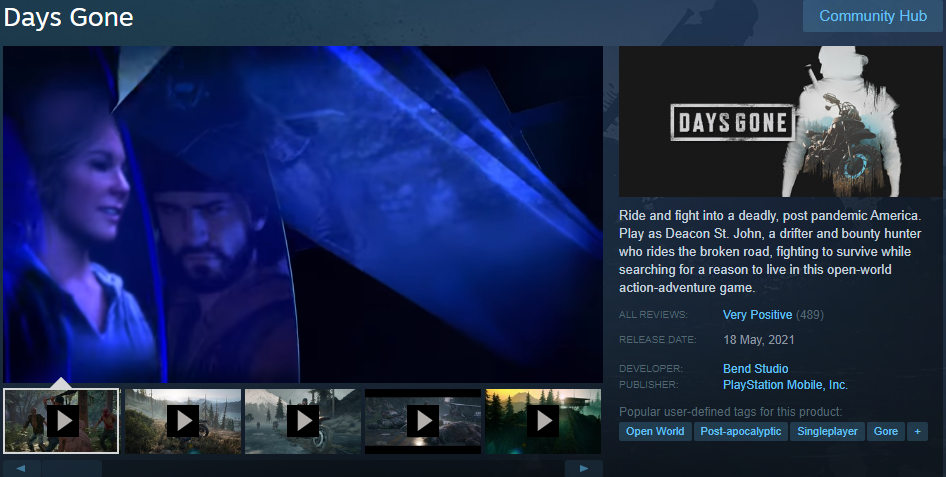 Blogging
There are so many benefits to having a corporate blog that we've devoted a separate post to this topic. Cutting a long story short, however, the key advantages of blogging are as following:
Higher organic search traffic;
Increased social media presence (blog posts can be shared not only by readers but also brands themselves);
Additional platform to communicate with customers;
Opportunity to show the company's "human face."
When writing a blog, it is advisable to focus on educational content. The main task of our blogging efforts is to present the brand as a field specialist and share the company's values. Therefore, think about different formats of content. Don't focus solely on your products and the promotion of your brand name. Instead, share content that brings real value to your community.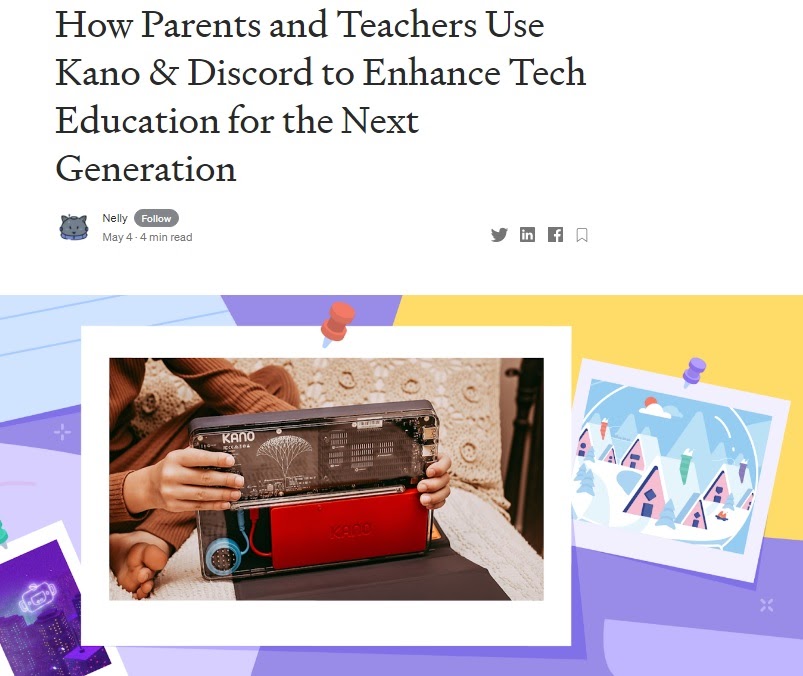 One of the blog posts on the Discord page shares how technology can facilitate the education of youngsters. The post shows how it helps parents and teachers in their mission of bringing the most out of schoolchildren's natural curiosity and creativity. However, it does also indirectly promote Discord as a product.
How-To Content
Ecommerce companies can use how-to guides as a very effective way of targeting customers at the bottom of the marketing funnel. By giving them extensive knowledge sources, a brand wins their loyalty and encourages them to return when they're ready to make a purchase.
When it comes to secondary effects, How-To content may also receive social shares – and a few links leading to your page through word-of-mouth marketing are never a bad thing.
The How-To guide should be concise, quality content that gives the visitors the information they need in the shortest time possible. Such articles may also include internal linking to help with page navigation and make customers aware of your product pages.
An excellent way to structure the guide is to number each stage that clients have to go through. You may also highlight the most important steps or information in bold and include videos, pictures, or gifs to illustrate the process.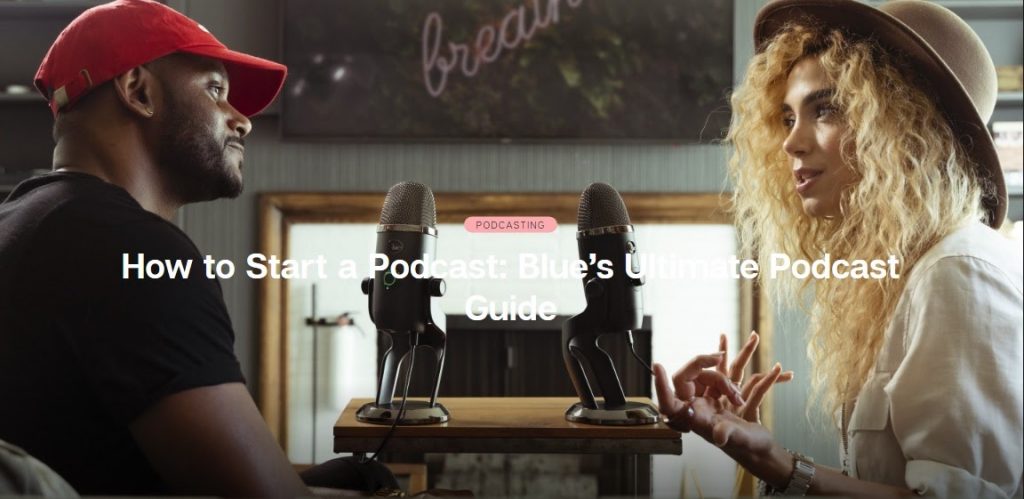 Bluemic Blog features a blog post teaching their audience how to start a podcast. What's worth noting is that the choice of topic perfectly blends with the company's top-selling products. This way, Bluemic content creators can share knowledge and market their most popular items at the same time.
Personalized Newsletters
Once the customer's loyalty has been won, email marketing in the form of individual newsletters can be the next step to take. However, to make email campaigns function properly, marketers should keep in mind one thing. The content included in the newsletters should be tailored to customers' needs, interests and requirements.
To make sure that the newsletter content is relevant and therefore personalized, remember to include the consumer's first name. Additionally, choose recommendations based on the product pages they have recently browsed in your eCommerce shop.
Think about this: if someone has recently bought a gaming PC, he most likely wouldn't be interested in buying games for gaming consoles. However, recommending a list of great PC titles with an additional 10% discount code could encourage the customer to make another purchase and increase your store's conversions.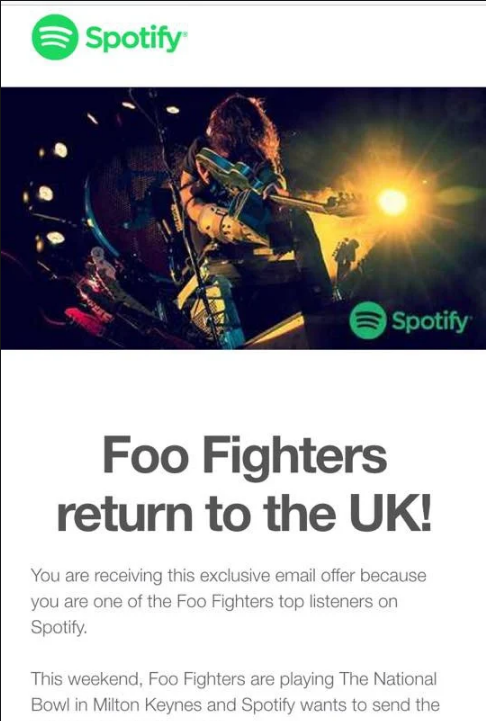 The picture above is an excellent example of how Spotify utilizes personalization strategies to reach its fans. With vocabulary choices such as "exclusive email" and "top listeners," they give their recipients a sense of uniqueness. However, thanks to information regarding a concert show they might like, Spotify customers may additionally feel valued and appreciated.
Research the Latest Trends
Even though evergreen content provides invaluable benefits, a fresh breeze of trending news may also be highly supportive for content marketing campaigns.
Such content ideas may utilize viral topics, seasonal events, and more. Even though the purpose is to create trending content, you should prepare the ideas in advance. This way, you'll be able to strike precisely while the iron is hot.
Make use of creativity to create new content that's not only a written word. You may think about recording video reports about what's happening in your industry. However, always keep in mind how this could allow you to sell products.
Do you recognize this picture?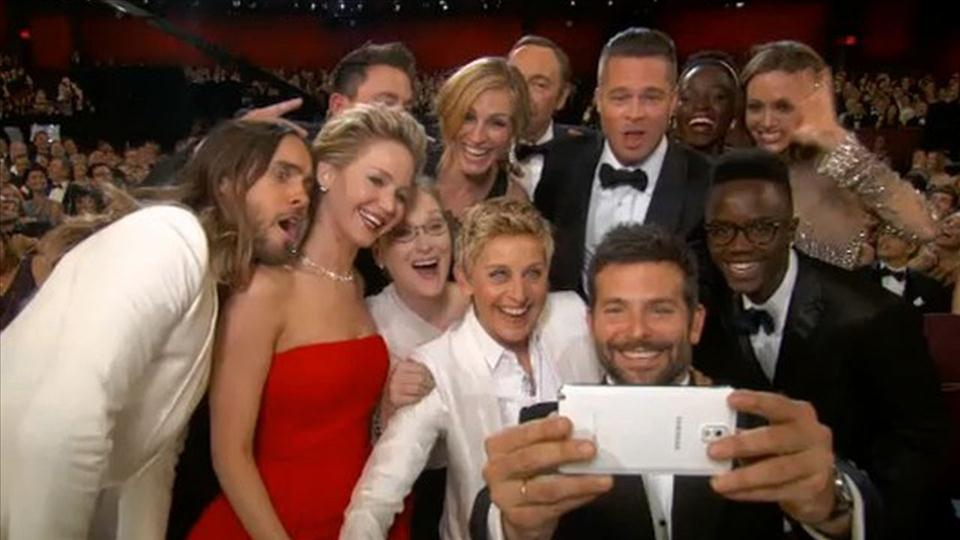 It might have looked like all these A-listers were caught up by a refreshing moment of spontaneity. And this time, there's nothing wrong with being misled – after all, almost every person in this picture is a Hollywood-class actor. In reality, the viral photo was part of a Samsung advertising campaign designed to promote the Galaxy Note 3, the phone that took the picture.
According to estimates, Samsung spent nearly $20 million on advertising during the Oscars' television commercial breaks. However, more publicity was provided by Ellen DeGeneres, who was using the white Galaxy Note 3 during the broadcast.
By making a deal with ABC TV, both parties agreed that Samsung's product – the Galaxy smartphone – would be part of the show. According to the information from "The Wall Street Journal," the contract between the event organizer and Samsung assumed that the smartphone would get its airtime during the TV broadcast from the gala.
Customer Testimonials and Product Reviews
Online shoppers are more likely to trust your brand if other customers are satisfied as well.
Khalid Saleh, the CEO and co-founder of Invesp, has shared the following numbers concerning customer reviews:
90% of consumers read online reviews before visiting a business;
88% of consumers trust online reviews as much as personal recommendations.
That being said, online visitors are more likely to consider your brand if other customers are satisfied as well. This quells much of the skepticism associated with an online business.
A way to bolster your shoppers' trust is by incorporating reviews into your content. Posting success stories and comments from happy customers adds positivity to your site while also validating your product to viewers.

One of the possible solutions is also to include product reviews on the main page. This has been done by WordPress site owners, who start building trust towards their services from first sight.
Summary
Content has been a crucial factor for the digital marketing of web pages for years, and it doesn't seem it'll change anytime soon. As the possibilities that creating content provides for a business owner are endless, we'll have an insight into a summary of the key advantages:
When you create educational and valuable content, it positively affects the online presence of your eCommerce brand in search engine results.
Content brings more traffic from people who are genuinely interested in your products. What it means is that the path to increased conversions is way shorter;
However, even if a potential consumer visits your landing pages without the intent to make a purchase, well-written content may move them down the sales funnel.
Content is universal and does wonders on various platforms, regardless if you want to concentrate your efforts on social media channels, newsletter campaigns, or tutorials such as a step-by-step guide or buying guides.
A good content strategy for eCommerce website may increase trust towards your business. With content creation, including customer stories, product reviews, or sharing user content on social platforms, you increase customer engagement and give new customers a reason to trust you.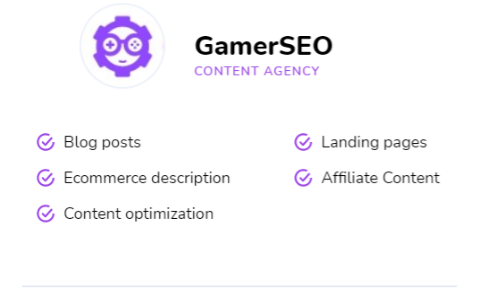 If you are looking for expert advice or more information regarding content creation, our specialists would be more than happy to answer. That being said, let us help you achieve all the benefits we have mentioned in the article. Feel free to contact us and subscribe to our newsletter for more fresh content.
FAQ
How to Choose Content for Ecommerce Content Marketing Strategy?
Identify who your target audience is.
Find out what content your potential customers consume the most.
Create content yourself or hire professionals.
Measure results of the campaign – monitor how the audience interacts with content pages.
Ask for feedback.
What Should Good eCommerce Content Strategy Include?
Make sure to create unique content that matches your target audience.
Create content that fits different search queries and user intent.
To generate leads, offer something in exchange for personal information.
Mark your presence on social media.
Develop personalized newsletters.
Encourage customers to repurchase with appropriate incentives, such as discount codes.
What Are the Two Main Categories of E-commerce?
B2B (Business-to-Business) and B2C (Business-to-Customer) are the two essential types of e-Commerce in the world today.
B2B transaction example: The purchases occur between two separate businesses, e.g., when online stores hire a copywriting agency to write compelling descriptions for their niche products.
B2C sale example: Customer buys resources directly from a company, e.g., people purchase Netflix license directly from Netflix page.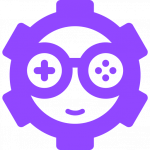 Full-time workaholic with four years of experience in Content Writing and Copywriting. Creating texts that bring sales, content that's worth reading, and paying attention to detail is his key to provide quality and results. On-page SEO enthusiast and voice-over in his spare time.