Many businesses still wonder whether it's worth having a company blog or not.
Well, you have arrived on this page somehow. That means you may be one of them, right?
To begin with, we'd like to say that having a business blog may be beneficial regardless of business size. And as you may already know, text ranks best in Google.
Therefore, if you're an owner of a budding company, you may find this text useful, too.
Why Have A Company Blog? – let's have a look at the biggest assets of having a special place for your piece of content.
Blogging Increases Website Traffic
As you should know, getting traffic to your website is the first step to leads and conversions.
To show the benefits of blogging regarding website traffic, let's start with some statistics.
Some time ago, HubSpot conducted interesting research concerning their clients. They analyzed data from 1,531 customers (mostly small- and medium-sized businesses).
795 of the businesses in their sample blogged, 736 didn't, which means the groups were pretty similar in numbers. However, were the numbers so similar concerning marketing results?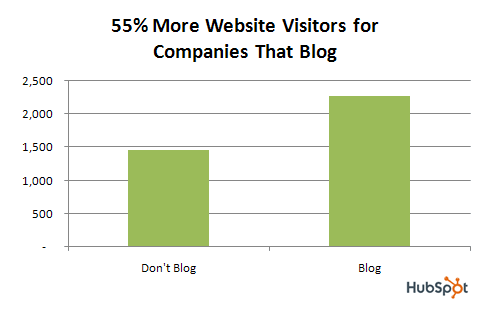 Source: HubSpot Blog
As shown in the diagram, companies with blogging efforts generated 55% more website traffic than the sample that didn't blog at all.
Another great example is the case of Ahrefs. With blogging, they managed to get 1,136% traffic growth in three years (starting from 15,000 monthly visitors). During two years, they were posting two blog articles per week and then minimized the efforts to just one text a week.
Blog Articles Facilitate Social Media Exposure
According to the Content Marketing Institute 2020 Report, the top 3 types of content B2B companies use are social media content (95%), blog posts/short articles (89%), and email newsletters (81%). It goes without saying that these online marketing activities bring numerous benefits.
Besides social media presence, every time you create well-written, high-quality blog content, you generate customer engagement. The blog posts can be shared on various social platforms, increasing brand awareness and giving you free exposure to potential new customers. But that's not everything.
When it comes to social platforms, blogging can also save you time and money. Instead of hiring a social media content creator, you may post a lead of your fresh blog post and then support it with a link to a full article.
This strategy is used by SellersAndFriends, one of the top websites offering goods in MMO games. And it helps them generate pretty good engagement rates. 
Blog Posts Personify Your Company
The official brand websites usually provide customers with raw information regarding updates, company news, discounts and so on.
Business blogs, however, are more flexible and make space for creativity.
Through blogging, you may not only educate customers but also show them your brand's personality, that is who you are and what values you'd like to share.
To do that, your writing may include some humorous elements, such as memes, wordplays, or pop culture references. That way, your content will receive a human face and become more relatable and approachable.
Blog Establishes You As An Industry Expert
By creating educational content on your blog, you boost your position on the market, heading towards the title of an industry expert. At a certain point, readers seeking knowledge and advice will be coming back to your website for industry expertise.
Making your blog a reliable information source should be one of the top priorities in the digital content marketing strategy.
Think this way – if customers trust you, they also trust your product. That being said, becoming an industry expert will increase brand loyalty and convert into sales – why should customers look for goods somewhere else if they have confidence in the quality of your services?
Additionally, having the opinion of an industry authority translates into even more traffic on your website. Other companies will link to your blog posts, increasing your visibility on Google and other search engines.
Blogs Are Cost-Effective
According to HubSpot's research, marketers who put blogging as their priority are 13x more likely to enjoy a positive return on investment.
Blogging isn't free, as you have to hire copywriters and SEO specialists to get that organic traffic going. However, it's still relatively cheap when compared to other marketing channels.
We have already analyzed the example of Ahrefs blog in one of the previous blog posts. Ahrefs revealed the amount of traffic their blog generates from organic results and calculated the costs needed to generate the same traffic through PPC campaigns.
See also: Best Blog Examples for Business
Perhaps unsurprisingly, It turned out that hiring a copywriting team was far more cost-effective than if they wanted to get the same results with PPC.
Additionally, texts containing universal information, advice and tips are timeproof. Therefore, an evergreen content helps to increase conversions and engagement of both existing and new customers for days, months and even years.
For details, check the section "What Are The Benefits Of SEO" in our text Is SEO Worth It For Small Business? We Believe So.
Blogging Boosts Your SEO
Google notes more than 3.5 billion searches every day. And that's the good news.
Well, the bad news is that…there are 1.2 billion websites across the world competing for users' attention.
Your business needs SEO to make yourself stand out from this huge crowd. And blogging is a fantastic SEO booster, as it does the following:
ensures that your website has fresh content;
increases time on site;
creates opportunities for long-tail keywords;
is great for internal linking.
Blogging is also a great SEO opportunity for every small business out there. Having your landing page optimized for specific keywords may not be enough. Your competitors with higher domain authority aim at the same keywords most likely. With blogging, you may focus on less popular keywords, still attracting the desired target audience.
Blogging Is Another Channel Of Communication
Blogging provides opportunities not only to write about your products or services but also to collect feedback directly from people.
Let's say that you have created a blog post about the best gaming keyboards available on the market. If the readers share your opinion, they will show that in the comments, by saying: Hey, I have had a great experience with keyboard X so far, good job!
However, some readers may disagree with your choices, and that's fine. It gives them even more reasons for commitment, as they'd like to tell you why they have a different point of view.
The Guardian Gaming Blog contains a post titled "The Six Best Retro Consoles For Modern Gamers". Below the text, we may see two-sided comments, generating extra on-site engagement. Here's an example:
Final Thoughts
Having a company blog can undoubtedly increase the power of your marketing tactic. It will not only help you establish better relationships with your audience, but also boost your authority and improve your website's position in search engines. However, keep in mind that blogging requires time and consistency, which is worth its time.
If you are looking for experienced specialists to help you with blog posts or any other form of content, feel free to hit us via the contact form on our website.
FAQ
How Can Companies Benefit From Blogs?
Blogs help companies in various ways, including:
Increasing traffic;
Boosting social media presence;
Supporting SEO strategies;
Connecting the brand with customers;
Personifying the brand.
Do Bloggers Earn Money?
Bloggers earn money from various sources, namely:
Ads in articles;
Affiliate links;
Memberships;
Guest blogging;
Conversions that come from traffic, and more.
What Is A Good Blog?
In short, a good blog is one that skillfully combines the frequency of posting with the quality of content.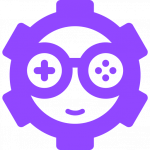 Full-time workaholic with four years of experience in Content Writing and Copywriting. Creating texts that bring sales, content that's worth reading, and paying attention to detail is his key to provide quality and results. On-page SEO enthusiast and voice-over in his spare time.