763.5 million people were using Ad-blocking software in 2019, according to Statistica.com.
It may seem irrelevant from the customer's perspective, but…what does it mean for marketers?
In 2020, the loss of revenue due to ad blockers amounted to 12.12 billion in the United States only.
That's why content marketing is currently in demand. Not only is it more cost-efficient but also brings much better results.
Why invest in content marketing? What benefits can it bring to your brand? Read through to find out.
What Is Content Marketing?
There is a difference between content marketing and other forms of advertisement.
Traditionally, ads want to get the customer's attention and persuade them to buy the product.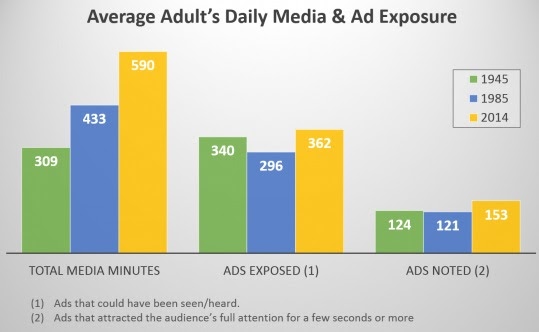 Source: New Research Sheds Light on Daily Ad Exposures
And even though the time spent on various media increases, the effectiveness of grabbing users' attention leaves a lot to be desired.
As the stats illustrate, consumers ignore more than half of the ads they see on a daily basis. However, we think it's safe to say that the exposure to the majority of remaining ads ends at a single eye glance.
That's why content marketers adopted a different approach – they want to answer the questions.
Focusing on what the audience is looking for, companies provide the most effective way to deliver the solution to a problem.
"Content marketing is educational, not promotional" – says Michele Linn from Content Marketing Institute.
If your content marketing strategy focuses on sharing reliable knowledge, you will become a magnet for your target audience. They will thank you with brand loyalty and trust – the foundation of success in any industry.
The Effects Of Content Marketing
According to Neil Patel, text ranks better than any form of content on Google.
But does content marketing bring results immediately?
As with all good things in life – some time and patience are required.
Neil discusses the case of his blog neilpatel.com, which needed two years to grow from 9,000 to over 400,000 monthly visitors. It's because Google needs time to check various factors, such as how many shares it gets, how detailed the content is, etc.
Now, it's time to look at why the results are worth waiting for.
The Benefits Of Content Marketing
Content Marketing Is Cost-Efficient
You may have heard the claim that content marketing requires a lot of financial contribution. The amount of investment obviously varies depending on your business size, goals, and content marketing budget.
However, DemandMetric shared an interesting data:
As the research shows, content marketing costs about 62% less than traditional marketing strategies. Additionally, it generates about 3 times as many leads, which usually translates into positive ROI.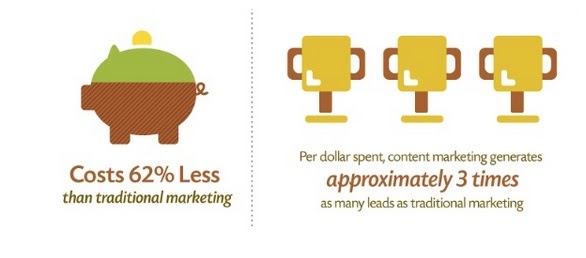 That being said, content marketing may level up the marketing game of businesses on different stages of development, even the ones with limited financial resources.
Content Marketing Improves Your Search Rankings
According to Lyfe Marketing, business sites that consistently post blog content have on average 434% more pages indexed by search engines.
The thing is that blog content may be enriched with various SEO strategies – appropriate keywords or headings make blogs visible for a larger number of visitors.
Moreover, consumers perceive highly-ranked websites as reliable information resource. As a result, your brand will not only be more recognizable but also seen as an authority in the industry.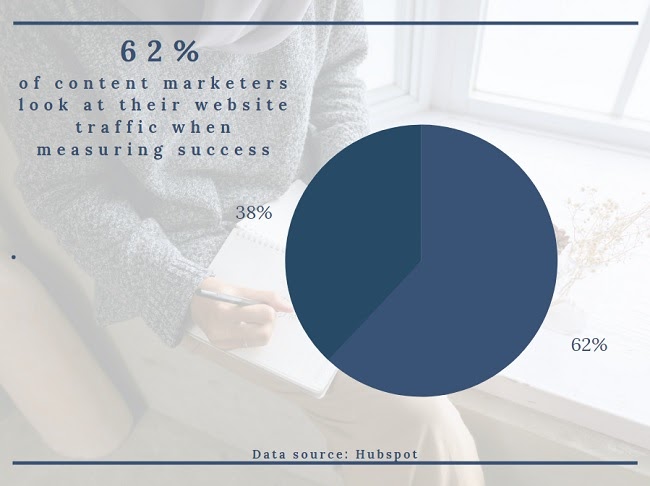 According to Hubspot statistics, 62% of respondents – content marketers – analyze their website traffic when measuring seo success. Even though traffic shouldn't be a crucial factor while analyzing content marketing efficiency, it's something worth paying attention to.
Content Marketing Builds Trust
As we have mentioned before, people shift away from traditional ads in part due to their salesy vibe. This is not the case with content marketing.
On the contrary, content marketing creates a perfect opportunity to gain trust and build a long-term relationship with your audience.
By producing content based on reliable sources and research data, the potential consumer sees you as a thought leader in the field.
It is simple – if you manage to gain the trust of your potential new customers, they will be more likely to follow your recommendations.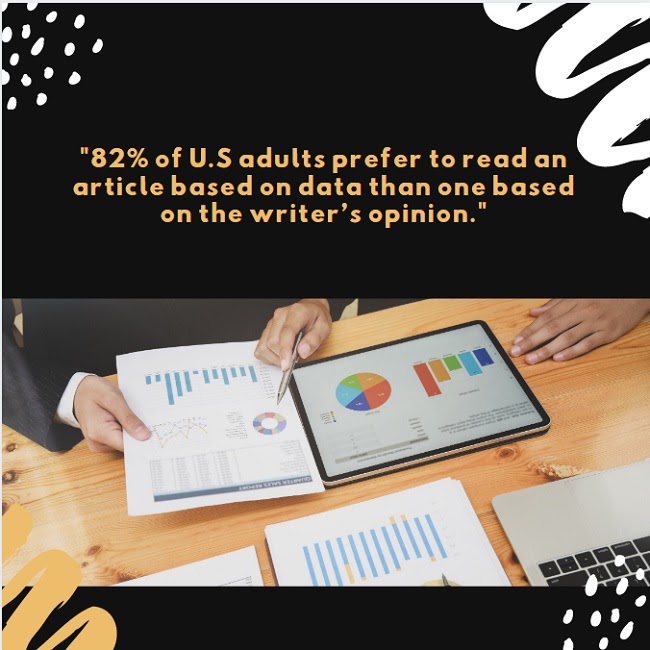 Source: Content Marketing Institute
When you build trust via creating content, make sure to find the balance between frequency and quality of publishing.
Obviously, the content should be as entertaining and engaging as possible. However, if posts appear sporadically, audiences won't have the reason to enter your page, which will result in a lower position in the Google search results.
Content Marketing Boosts Social Media Presence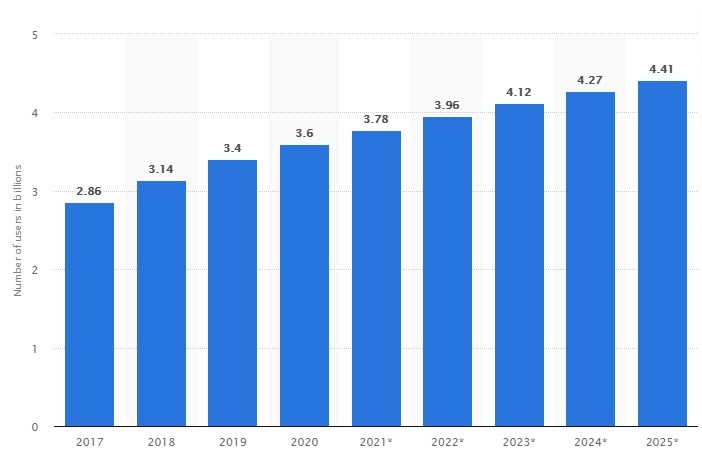 Number of Social Network Users Worldwide From 2017 To 2025 – Statistica.com
According to the data, there were 3.6 billion users of social network channels in 2020. Unsurprisingly, the number will have grown to 4.41 billion by 2025.
What is more – on average, internet users spend 144 minutes daily on social media and messaging apps – that is half an hour more than in 2015.
Therefore, an active presence on social media pages is a must for success-oriented brands.
Creating social media posts is a great tool to improve brand visibility. However, everyone should keep in mind the following points:
Create valuable and unique content – Yes, content creation requires extensive research. However, your readers expect a specialty of the house, not an old chestnut. Therefore, treat competition articles as an inspiration, not a copy point;
Build relationships, not a follower base – in social media, a smaller number of followers usually generates higher engagement rates – therefore, focus on building social media bonds rather than generating clicks. That decision will pay off over the long haul;
Attract attention using visuals – even if you produce quality content, it may not reach potential viewers – nowadays consumers tend to scan text – especially on social media, which is flooded with tons of content. Thus, visuals are a great way to attract attention.
Content Marketing Supports Other Strategies
Content created for your company's blog can also help with other strategies.
You may use the blog post lead on your social media profiles like Facebook, and then include a link to the full article. It will generate more website traffic, new leads as well as save some effort regarding social media post creation.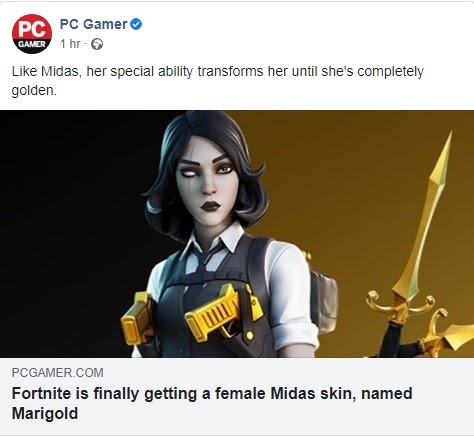 As PC Gamer wants to increase traffic on their website, they make use of this content strategy, taking advantage of almost 4 million Facebook followers.
Some of the blog's content can also be used to create an email marketing campaign for lead nurturing.
Quality content included in a newsletter may encourage potential customers to take action, engage with your business, and help you acquire more marketing leads and sales.
Content Marketing Builds Brand Identity
Content marketing is the perfect tool for sharing your company's values.
Of course – a catchy slogan or a well-designed logo are also important elements of the company's image.
However, the best players in each industry know how to inspire others with their perception of the world, allowing them to stay ahead of competitors.
Read also: How to Beat the Competition in Google
Airbnb is an online platform for short-term rental accommodation from private individuals. The website was established in 2008 when two designers hosted three travelers looking for accommodation in their apartment.
"At the end of the day, what we're trying to do is bring the world together. You're not getting a room, you're getting a sense of belonging,"
Brian Chesky, co-founder of Airbnb
With their core message – "Belong Anywhere" – Airbnb shares the vision of the brand in every element of its content plan, commercial campaigns, services, and marketing efforts.
Content Marketing Improves Conversions
Let's assume that a potential customer is looking for a gaming mouse. They finally found two online stores, both selling gaming gear.
Store A offers nothing besides basic product description, including specifications and purchase prices.
However, Store B has enriched its website with educational value.
They included insights regarding mouse choice, informing how to pick out a mouse according to the hand size and preferred grip style. Additionally, the articles comprised examples of products matching individual preferences.
Using that knowledge, the customer may easily find the piece of gear they need and finish their shopping journey. As you may see, educational blogging generates higher traffic on the site of Store B, which then translates into customer acquisition.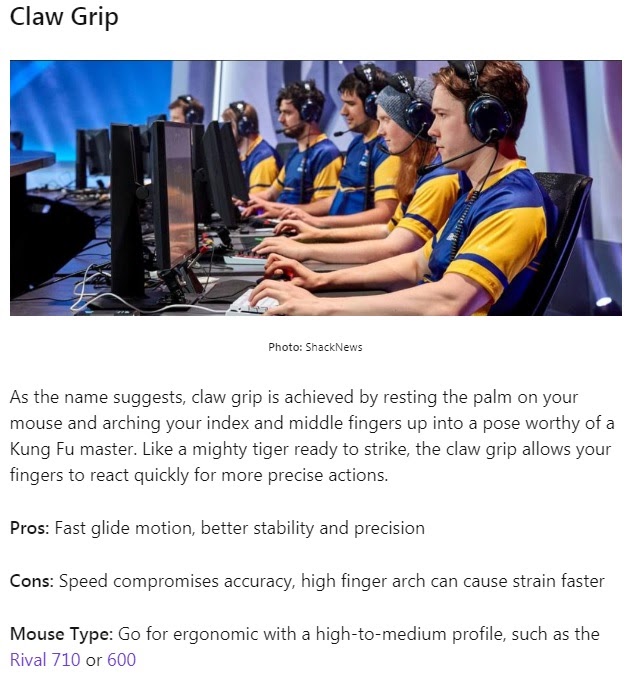 Source: Which Mouse Grip is Best for You? – Steelseries Blog
The post author has used this content marketing strategy on the Steelseries gaming blog, describing each grip style and giving links to specific examples.
Read also: Best Blog Examples for Business
Content Marketing Fits Any Business
Of course, it's way easier to create engaging content about viral topics such as fitness, gaming, music, etc.
However, content marketing may do much good even for dull industries.
Actually, boring industries don't exist – their marketing team just isn't creative enough.
The content should serve an educational purpose, yet enriching it with humorous elements may turn out to be a standout.
The company Blendtec has been fully aware that content marketing is a mighty tool. However, they also know that raw blender-related content may not work in terms of attracting attention.
Therefore, they created a humorous series of YouTube videos presenting how powerful their blenders are:
As you may have guessed, the things they throw into the blender are, to put it mildly, extraordinary. However, the series has existed on the channel for 14 years, which suggests it's bringing Blendtec the expected outcome.
Conclusions
Content marketing methods can successfully promote your company, product or service.
However, content marketing functions on different principles than traditional advertising.
It is primarily the art of understanding and satisfying our customers' needs. Therefore, it requires monitoring, listening to the community's response, establishing a communication flow with consumers on social networking sites, then drawing conclusions and providing the best possible user experience.
Every company which wants to create a successful marketing strategy should invest in content marketing – besides higher conversion rates, it carries other numerous growth opportunities, the most important of which can be found here.
FAQ
Why Is Content Marketing The Best?
Content marketing is in fact king because it can help any company, regardless of its industry or budget. What is more, it offers many different tools, creating space for creativity and unconventional methods.
What Is The Benefit Of Content Marketing?
Among other benefits, content marketing boosts brand awareness and authenticity, supports other marketing strategies, improves conversions, and builds customer relationships.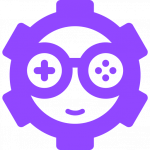 Full-time workaholic with four years of experience in Content Writing and Copywriting. Creating texts that bring sales, content that's worth reading, and paying attention to detail is his key to provide quality and results. On-page SEO enthusiast and voice-over in his spare time.