Whether you're a game developer or casino site owner, having a strong digital presence should be a key component of your inbound marketing strategy. Hence, implementing a fruitful SEO strategy is a surefire way to boost your website's visibility, grow qualified organic traffic, and attract new customers.
However, creating an SEO strategy and implementing it is just the beginning. To be sure it's effective, you need to keep tracking the results. In this guide, we'll cover the basic metrics that marketers can use to measure SEO performance and its results.
Which Page Metrics Should I Track?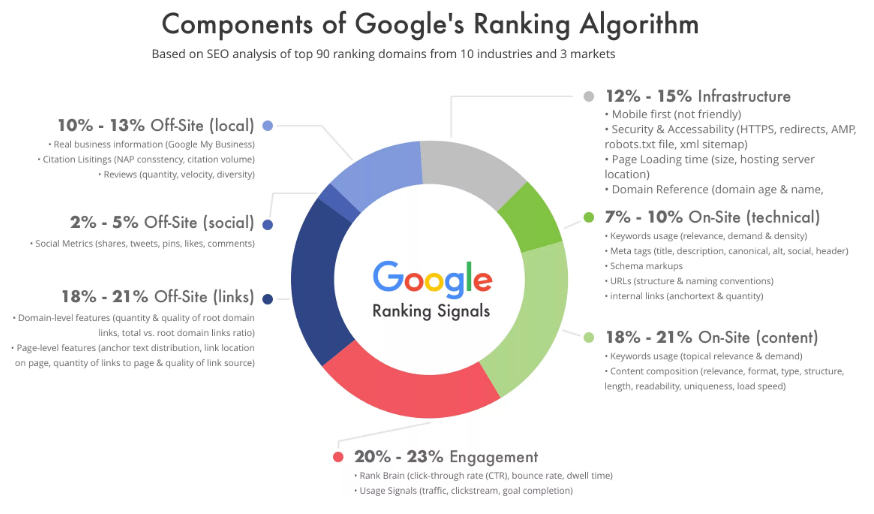 With Google using over 200 ranking factors in its algorithm, there are numerous metrics you can track. So, successful campaigns rely on a specific control system to ensure the work undertaken delivers results.
Focusing on the SEO metrics, you'll find below can be your starting point. Depending on your goals, establish which key performance indicators are the most critical for your business and track those metrics regularly.
Organic Search Traffic
If your company aims at boosting brand awareness or obtaining leads, measuring organic search traffic is a great KPI to keep an eye on. Organic search results are displayed because they are relevant to search terms, not simply because an ad was purchased and placed in the paid search results.
When your website's content contains keywords that match what users are searching for, your page is likely to appear in more search engine results pages (SERPs) than your competitors. Thus, if you're constantly noting an organic traffic increase from Google or other search engines, you're doing a good job with your SEO.
You can measure organic search traffic with Google Analytics:
open the Acquisition menu,
select All Traffic,
then, select Source/Medium.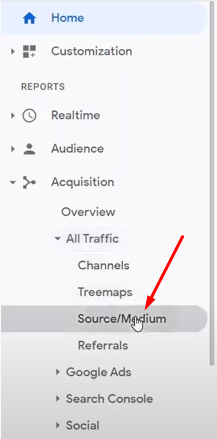 There, you'll see your website's sorted sources of traffic. To get a report on the number of visitors coming from organic traffic, select the "google/organic" channel.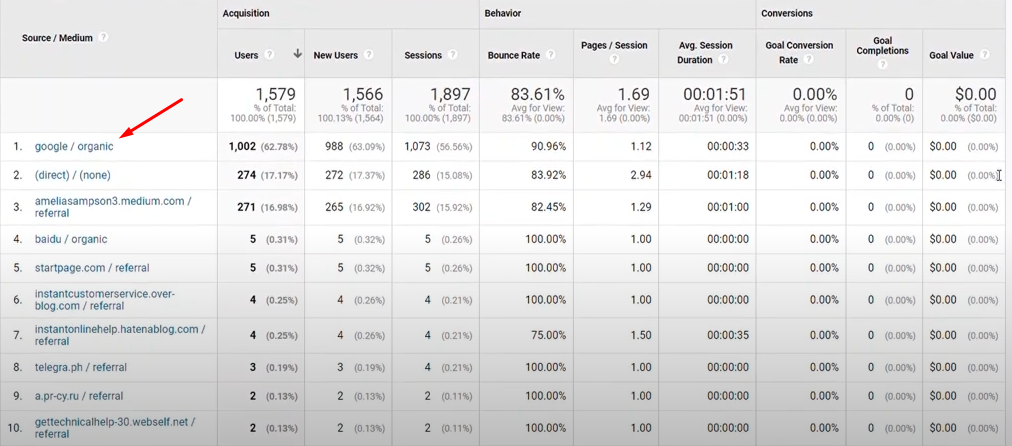 With this full report, you'll be able to dig deeper and find critical information regarding your page, such as:
Which landing pages attract the highest number of website visits,
Which keywords are the most effective in bringing traffic,
Which are your top-performing pages,
Which pages have the highest bounce rates,
And many other crucial statistics.
Your organic search traffic isn't satisfying even though your website is featured as a search result for a given keyword among competitors? You might need to work on another important metric, which is your click-through rates. Pay attention to your title tags and meta descriptions first. Improving them doesn't require much effort and usually is enough to see an upward trend in your traffic.
If you need more detailed expert advice regarding CTR, we've got you covered. Read our article on organic SEO CTR as it has everything you need.
Keyword Rankings
According to Backlinko, the #1 result in Google gets 31.7% of all clicks. That's why having high keyword rankings for essential keywords is so crucial. Furthermore, less than 1% of Google users click on something from the second-page results. That's why ranking on the first page is the ultimate goal. This allows you to significantly increase your organic click-through rate and the number of organic visits.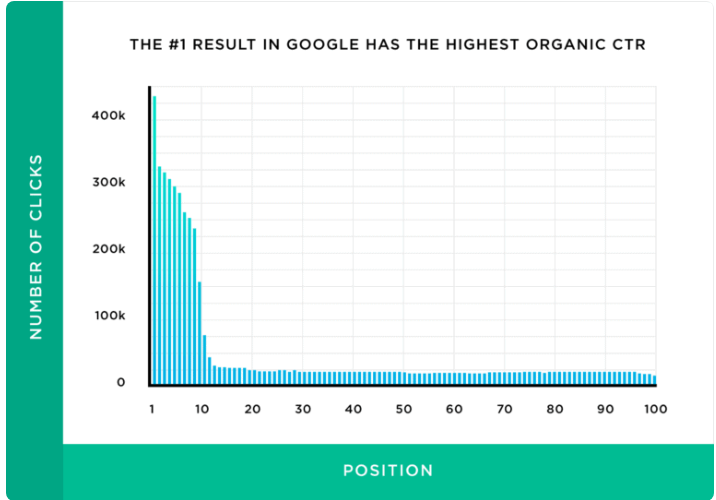 That's why tracking keyword rankings should find a place in your KPIs. The keywords will provide you with answers to many questions, for example:
Am I targeting the right keywords? If your website is nowhere to be found while typing in your target keywords, you might need to research new keywords. Then, select keywords with lower keyword difficulty but still satisfying search volume. As a new website, your domain doesn't have enough power to compete with other websites that have tons of inbound links and strong domain authority. Thus, you might try to target less competitive keywords, at least for some time, and constantly monitor your keyword performance.
Is my site growing? Search engine optimization isn't an overnight process. However, with time, your website should rank for more and more keywords. If your keyword positions and numbers continually improve, your site gains strength. And the stronger the website gets, the easier it is to rank for more competitive keywords.
Conversion Rate
Whenever a visitor to your website completes a desired goal, marketers call it conversion. That's how visitors "convert" to leads or, if they make a purchase, to customers. Therefore, a conversion happens when somebody transitions from a passive visitor to an active, interested visitor or customer.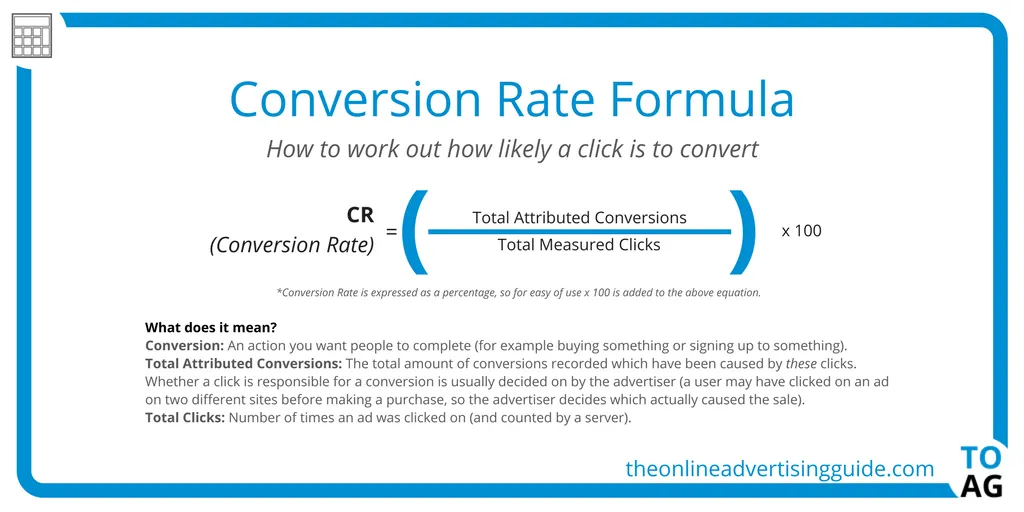 To calculate the conversion rate, follow the formula above. A conversion rate can be applied to anything, from email signups to newly registered accounts.
Knowing your conversion rate can help determine the return on investment (ROI) your website traffic might deliver. The global average website conversion rate is 4.31% so that, you may use it as a point of reference. If it's lower, it may be an early warning system. Thus, you should start thinking about implementing conversion rate optimization techniques. To find out more on how you can increase conversions, read this section of our website.
Bounce Rate
The bounce rate of your website is one of the crucial engagement metrics. It represents the percentage of visitors that land on your website but "bounce" without further interaction. Google Analytics counts a visit as an interaction if the user clicks on more than one page. Therefore, we can say that bounce rate is a metric that measures the overall quality of a visit.
To check the bounce rates of your pages, go to Google Analytics. Then, select the menu "Behavior" > "Site Content" > "All Pages."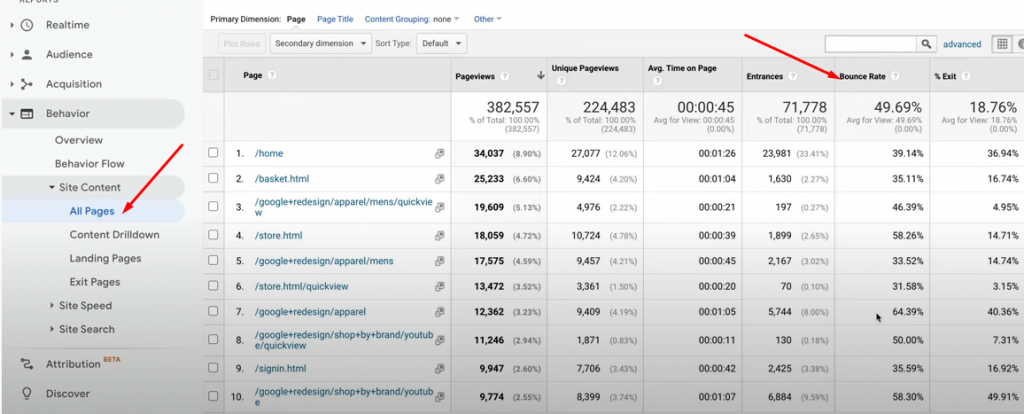 Different types of websites have different benchmark bounce rates. You can see them in the table below: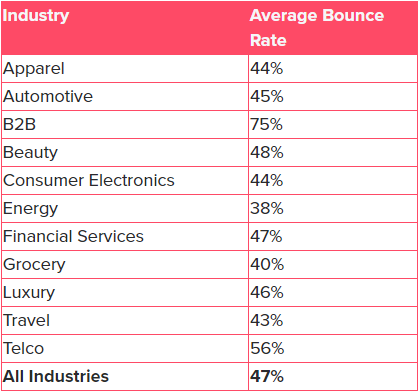 If the bounce rate of your pages is high, it may be a common SEO mistake that:
leads of your blog content don't spark readers' interest,
you aren't hitting user intent,
your lead magnet isn't attractive for your target audience,
your page layout isn't visually compelling,
users may have navigation issues,
the page takes too long to load or isn't mobile-friendly.
Time on Page
Time on page for a website is calculated by the time difference between the point when a person lands on the page and when they go to the next one. Clicking a link to go to another page triggers the calculation of time spent on the earlier page.
Suppose your page features a blog post about the best games of 2020. It probably would contain at least 2,000 words, right? So, if the average time visitors spend on this page is 10 seconds, chances are slim that this content is actually being read.
However, low time on page doesn't have to necessarily mean something bad. For example, it's typical for pages with precisely defined intent to have low average time spent on-page. Consider, for example, "Contact Us" pages, which are usually visited just to copy a phone number or an email address.
Page Speed
Page speed should be one of the top priorities of every company's SEO efforts. Have a look at the data below. According to Google's report, every second of delay in page speed causes you to lose the interest of potential customers who then head to competitors' websites instead. That, in turn, translates into your website's ranking, conversion rates, and sales.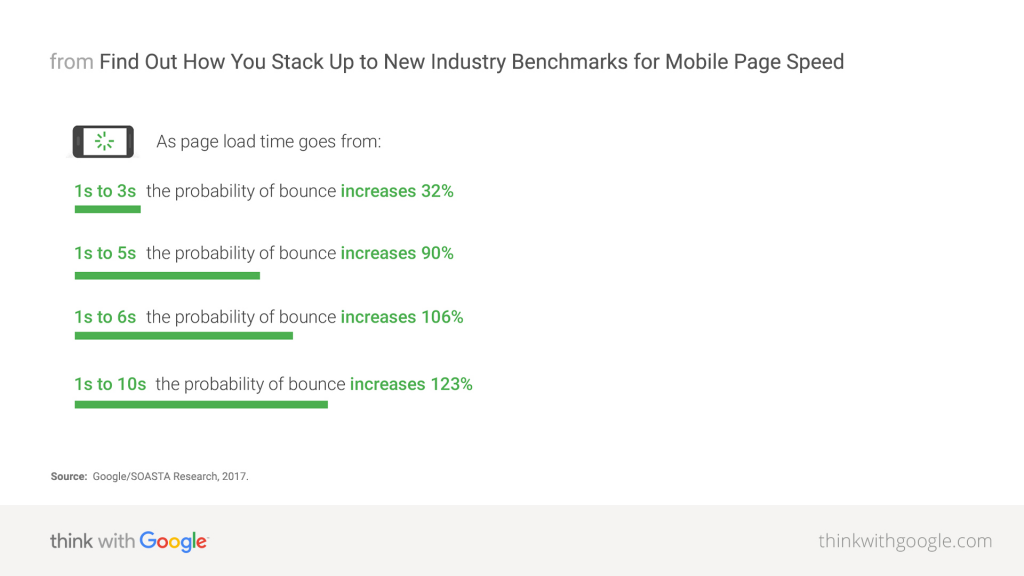 To identify your page's speed, run your website through Google's PageSpeed Insights. A score of 90 or above is considered good. If your website ranges from 50 to 90, you should put some SEO work into fixing that. A score of 50% or below is considered poor.
If your website has issues with loading time, working on technical SEO should be one of your top SEO goals. If you need help on that matter, have a look at our extensive article that's entirely devoted to page load speed issues.
Backlink Volume
Backlinks are links to your website that come from different websites over the web. They are used to measure the authority, strength, and popularity of your website.
The process of acquiring backlinks is called link building. It should find a place in every long-term SEO campaign because Google's algorithm looks at link volume to judge the importance and relevance of a website.
| | |
| --- | --- |
| | Link building can be a highly challenging aspect of SEO. If you feel like you need a helping hand in getting SEO progress, check out what we can do for you. |
Usually, websites with a larger number of strong backlinks rank higher for particular keywords. Thus, if you can't find your website on Google's SERPs after typing in a keyword that's important for you, it may mean your content lacks enough backlinks.

The philosophy behind building links is that if many authoritative websites are linking to your site, then the content on your site most likely brings some unique value. And if your page provides top-notch content for searchers, that's a signal to Google to give it a priority on SERPs.
However, remember that building new backlinks from strong, authoritative websites is more valuable than having hundreds of backlinks from irrelevant referring domains. Google algorithms are intelligent and know when you are trying to fool them. In this case, backlinks are kind of similar to keywords. It's not about how many keywords your page ranks for; it's about their relevance. Consequently, the saying that "the more pages link to you, the better" isn't true. Building new links that are low quality is a waste of time, so you'd better spend that time on writing an extensive guest blog post. This will give you way more referral traffic, and if your content turns out to be valuable, you'll also obtain returning visitors.
To see the number of pages that are linking to your website, go to Google Search Console>Links. There, you'll see a header called "External links," which is Google's way of saying "backlinks."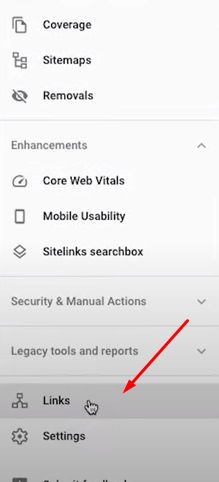 ROI of SEO Efforts
Like any other form of marketing, it's critical to understand whether your SEO campaigns bring expected results.
Whether you're doing SEO activities yourself or outsourcing them, it's critical to calculate how much you're investing vs. how much return you're getting. We often hear that inefficient SEO done in-house is "not a big deal" because it doesn't require any investment.
Well, what about your time? Think this way. Most likely, other checked marketing initiatives bring you revenue. Why don't you invest time into them and later devote part of the profit to SEO outsourcing?
Instead of doing SEO tasks that aren't propelling your rankings forward, think about hiring experienced SEO experts to create a successful campaign. They will use the marketing budget to fix errors on your pages, implement effective link-building strategies, increase organic traffic, and develop new content ideas. This way, you'd still come on top with a positive ROI.
To determine the ROI of your SEO, you can use the formula provided by Ryan Stewart.

However, keep in mind that SEO is a long-term strategy. Thus, if your SEO campaign lasts for one month, the only way to check ROI properly is to be patient. You should be able to see the first SEO results after six months. These may be:
more visitors coming from an organic traffic source,
more phone calls or emails,
increased leads,
higher position for a given keyword,
or an increase of other metrics.
Conclusions
When it comes to measuring SEO success, it's crucial to choose the metrics that fit your predefined business goals. The goals, however, should be selected according to the development stage of your company. Then, measure them regularly to make more informed strategic decisions regarding the development of your eCommerce website.
As a relatively new website, you won't be getting crowds of customers instantly. Thus, your primary goal should be to spread brand awareness and build a website's domain authority. In this case, it's worth monitoring such SEO metrics as organic search traffic, keyword ranking, or backlink volume. However, if you already have a particular position in the market and are sales-oriented, it's worth keeping track of conversion rates or SEO ROI.
Do you need a helping hand in your SEO efforts? At GamerSEO, we would be more than happy to help you obtain the best results for your business. Let us guide you through the world of SEO and digital marketing. Don't hesitate and contact us via this form.
FAQ
How Effective Is SEO?
SEO is one of the most effective marketing strategies because it targets users who are already looking for your products and services. Suppose that you're a game development agency with an eCommerce website.
Proper SEO optimization will present its content to users that type in queries like "game development services," "game development company," "QA testing," and so on. When it comes to cost-effectiveness, the average ROI of eCommerce SEO is around $2.75 for every $1 invested.
How Do I Know if SEO Is Working?
To know if your SEO is working, you should measure KPIs that are adequate to your specific goals and business type. However, the most common SEO key performance indicators are:
Organic Search Traffic – informs you how much traffic of your website comes from Google results that aren't pay-per-click ads.
Keyword Rankings – rank tracking helps you find out the number of specific keywords your website ranks for. This, in turn, translates into total traffic quality.
Conversion Rate is the effective indicator showing the percentage of visitors to your website who complete a desired goal out of total visits.
Bounce Rate – the percentage of all sessions on your site in which unique visitors viewed only a single page of your website.
Time on Page – the time difference between the point when a visitor lands on a particular page and when they move on to the next one.
Page Speed – the time it takes before the visitor views the content of your page.
Backlink Volume – the number of other pages that link to your website.
ROI of SEO Efforts – performance measure used to evaluate the efficiency or profitability of an investment into an SEO campaign.
How Can I Monitor SEO Performance?
Today, there are many great SEO tools available. All of them can help you accurately measure and evaluate the most critical metrics of your SEO performance. We'd like to recommend the weapons that we use in our everyday work. We can safely say that they bring extra value to creating successful SEO strategies.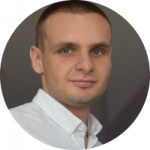 SEO specialist with over six years of professional experience. A/B test and Data-Driven SEO enthusiast. In his work, he focuses on the development and implementation of a strategy that achieves predetermined, specific goals. Privately, a fan of mountain biking.