According to data from Backlinko.com, the number 1 search result achieves an organic CTR of 31,7%.
Almost 1/3 of searchers will click the top result. It is 10x more likely to be clicked than a number 10 result. It means 10 times more traffic.
High organic rankings are crucial for CTR. Moving up by 1 spot from any given position increases the CTR by more than 30%! It is something worth fighting for, and we'll tell you how to win that fight.
Improving your CTR from merely 1% to 2% is just a one p.p. which doubles your traffic. With a 1% CTR, you get ten clicks from 1000 impressions. With 2% – you have 20.
From this article, you will learn:
What is Organic Click-Through Rate;
How to measure and improve organic CTR;
What are the most important elements of your web page that influence CTR.
What is Organic Click-Through-Rate and How to Check It?
Organic Click-Through Rate (CTR) is a rate at which your search results are clicked on search results pages to the total number of impressions.
In other words, let's say that your blog post appears among organic listings 100 times for a particular keyword and 10 people click it.
It gives you a 10% organic CTR.
The average organic CTR for non-branded searches on the first page of Google looks like this: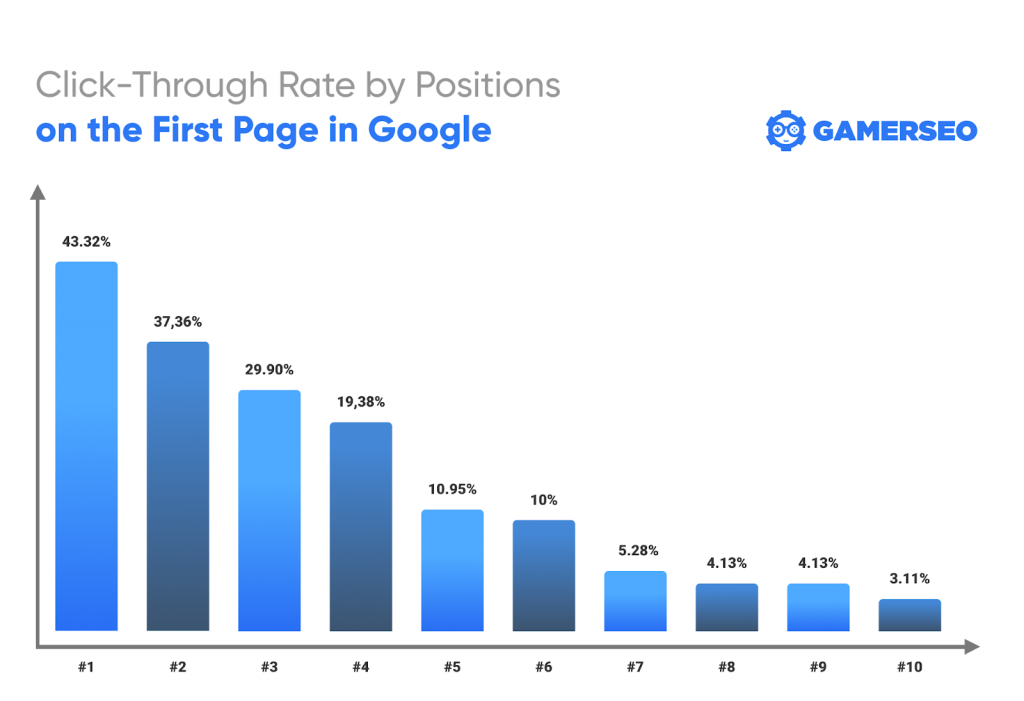 Analyzing CTR data makes sense only for unbranded searches. Fighting for branded search queries is a Sisyphean task. How is your MMORPG currency store supposed to rank for the branded phrase "WoW Gold G2G"?
Organic CTR is one of the ranking factors. Larry Kim, a co-founder in MobileMonkey, found out that CTR and search rankings are codependent variables. He said:
"By only looking at the extent by which a keyword beats or is beaten by the predicted CTR, you are essentially isolating the natural relationship between CTR and ranking in order to get a better picture of what's going on." – Larry Kim.
He also introduced the term "Expected CTR," saying that "failing to beat the expected CTR makes it more probable for you to land in the positions 6-10 on SERP.
Here is a quick guide for collecting CTR data if you don't know how to measure CTR.
Google Search Console
Checking the organic Google CTR of your website is easy. All you need to do is access your Google Search Console and find the "Performance" report.
Once there, click the "Average CTR" button. It will look like this.

Below, you can see your website's performance for select search queries.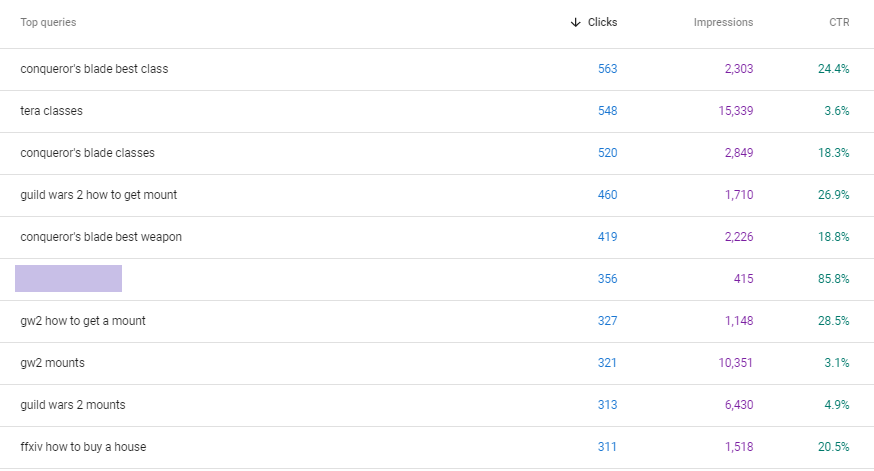 Also, you can check it for a given organic position.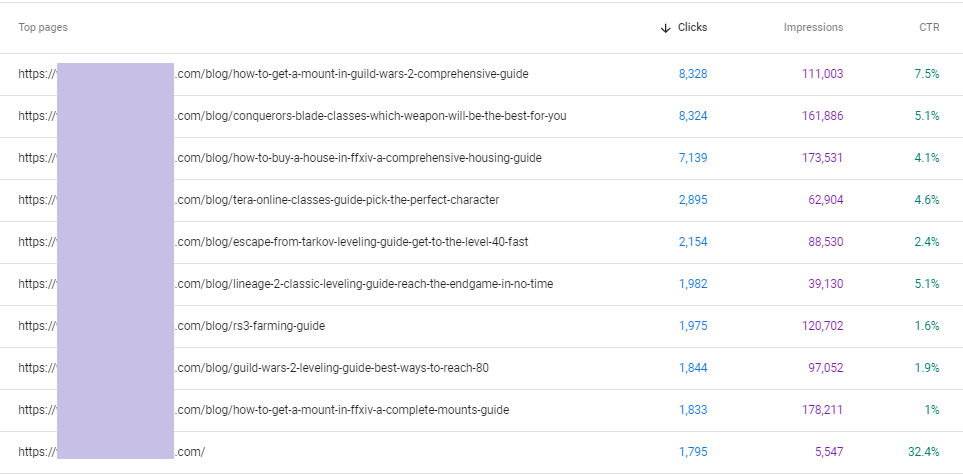 The Performance reports can also appear as one of the SERP features.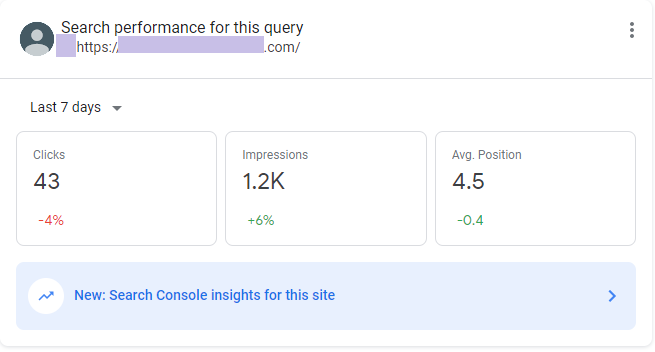 However, in this case, you need to keep in mind that it shows you only the search result for that particular keyword. There may be more keywords that this web page is ranking for.
You can download a report in a .xls file for easier use.
This data comes straight from Google, so it's the most reliable source of knowledge.
On top of that, Google Search Console provides you with a Links report, where you can see if your competition is pulling Negative SEO practices on you with maleficent backlinks.
Google Analytics
You can integrate your Google Analytics with Google Search Console. The report will deliver a little bit more search query data.

Google Analytics will not only show the organic click-through rates but Google Ads CTR too.
How is Click-Through Rate Related to SEO?
Experts from Senuto observed organic search CTR for 8,452,951 keywords.
Why is SEO CTR important?
Click-Through Rate is a primary metric in search engine optimization and a crucial ranking factor. Pleasing Google Bots is one thing, but satisfying the user is a different pair of shoes.
High CTR means that your content attracts people. This, along with a low Bounce Rate, means that users find what they're looking for on your website.
In exchange for delivering the best-tailored, relevant content, Google rewards you by moving you up in search engine results pages.
The most important part is appearing on the first page of SERP results. The CTR for the second page drops by a considerable margin which you can see on the following graph.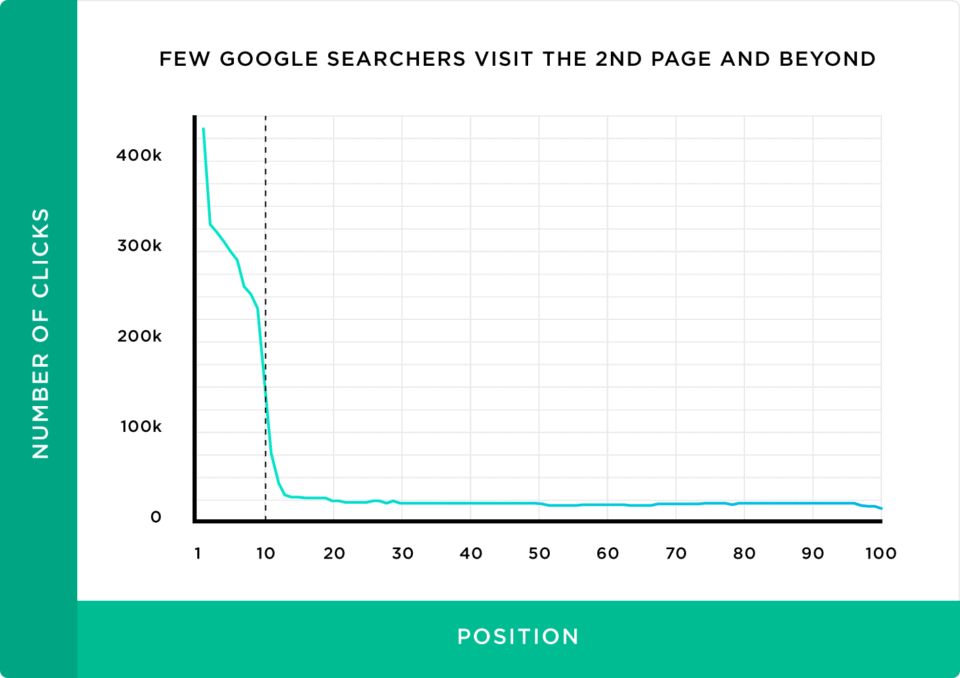 Source: backlinko.com
Higher CTR = More Traffic
The more people visit your website, the higher the chances for gaining a lead or a sale are. It's a natural relationship.
Is organic traffic better than the traffic from paid ads?
It depends.
We are living in an ad-filled reality. Ads are everywhere. Many of us use AdBlock or similar software. In 2020 763 mln people used AdBlock. It's 20% of all Internet users. Adobe's study shows that it generates a $40 bln revenue loss each year.
Not to mention that we've learned to ignore ads.
Organic results are what people are looking for. Paid ads are just passing by. People do not search for ads.
Contrary to paid search, organic traffic is free in a way. Sure, you have to pay for the keyword research, the content, uploading and indexing an article, and optimizing it for SEO.
But once you have all this done, your content earns for itself. Paid search is always an expense, a constant one.
Higher CTR = Higher Ranking Position
In effect, it will bring more traffic according to what we said earlier. Landing on the first position will give your company more than 30% of the whole traffic for a specific keyword.
Keeping your CTR high is among the Google suggestions.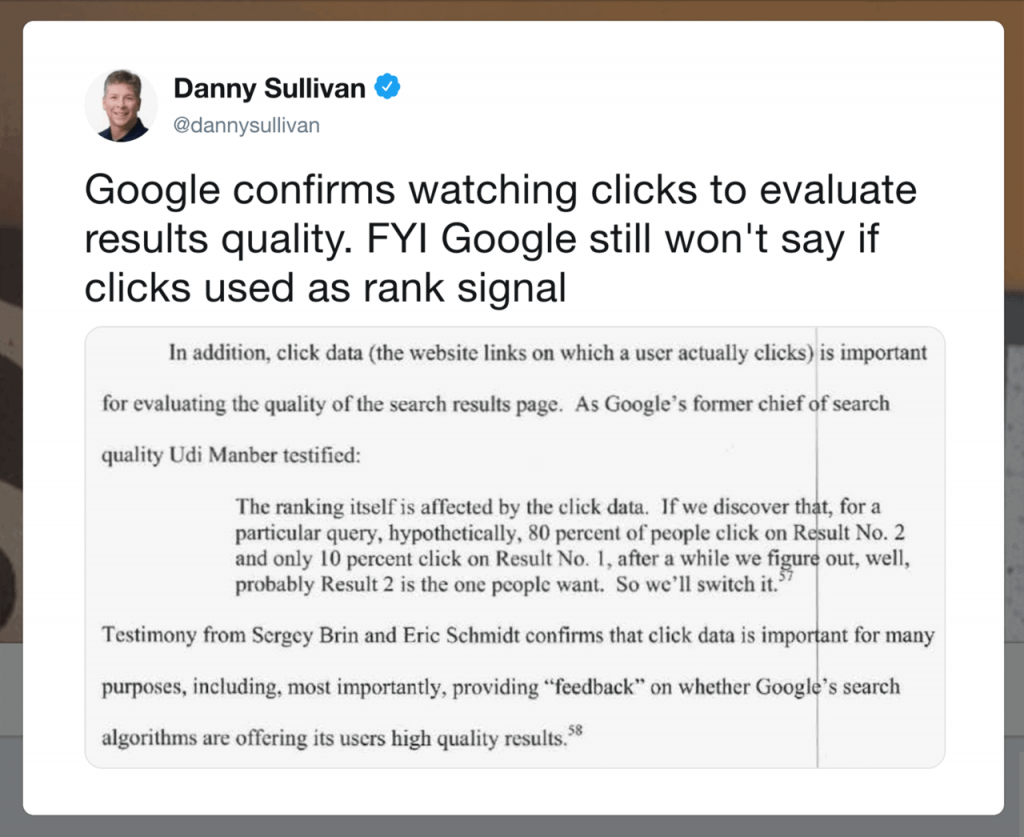 Not only that! Another Google engineer admitted that their algorithm uses CTR in the analysis to figure out which search results serve their purpose best.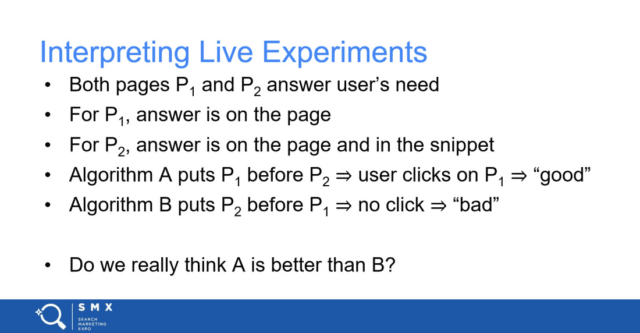 Source: backlinko.com
It shouldn't be a surprise. When people are coming to your real-world location store, it means they think you have what they're searching for. A point for you.
How Often Get Clicked On > How Often You Show Up
"Impressions" in Google Search Console is a vanity metric. It doesn't matter how many times your content appears on SERP. What really matters is how many people visit your website and convert.
We will go even further than this, stating that having tons of impressions may be detrimental for your websites.
Having lots of organic impressions with a low number of organic clicks means lower CTR.
Protip: you should not go too far with graphics in your articles, as some of them may appear in Google Images for unrelated search queries. It will only ruin your organic CTR and average position.
How Can We Improve Organic Click-Through-Rate?
Higher CTR is important for your domain; we know that already. You can improve your website's Click-Through Rate in many different ways.
Certain types of posts have better predicted CTR than others. In modern SEO, these types of posts are known to have the best conversion rates:
"How to" posts;
Numbered lists;
"Best of ___" posts;
"Top XX of ___ " posts;
"XX things to avoid" posts;
If your site loads fast without any problems, and your content is perfect, but your organic CTR graph takes a huge decline, you have to make amends.
Use Emotions
What is the most powerful drive for people? What makes them take action?
The answer is – emotions.
Gerald Zaltman of Harvard Business School said that 95% of our transactional decisions are made subconsciously. 
With your title and meta description, you've got to convince searchers that your products or services are the best things in the world. Searchers need to know that:
You have a solution to their problems;
You will improve their life;
Your brand is their friend.
Don't say: "I have the answers." in your title tags. People don't want JUST answers. They want to know what it means for them. Instead, you could create something like: "We have information that will improve the comfort of your life."
You can use the Headline Analyzer (like EMV from AmInstitute) to check if your headlines are attractive enough. 

Optimize Your Titles
It is shocking that even in 2021, lots of websites don't have proper title tags.
According to many SEO experts, the title tag of a page should fit within a certain pixel limit.
You can use a tool like Portent SERP Preview to check it.
It needs to contain the exact keyword you are trying to rank for.
Protip: Title tags display is based on pixels. Some letters like "I," "l," "t," are thinner than, for instance, "W," "m," or "D." Lowercase letters are also thinner in general than uppercase letters. The same way the Separator "|" is thinner than the hyphen "-."
Most people read from right to left. The exceptions are Asians, who read from top to bottom, and languages that read from right to left, namely:
Arabic.
Aramaic.
Azeri.
Dhivehi/Maldivian.
Hebrew.
Kurdish (Sorani)
Persian/Farsi.
Urdu.
But there's more!
The title's optimization does not end after fitting within the pixel limit. Your title must be attractive.
Your page's title is the very first thing people will see on the search results page. It's like your appearance when going on a date.
It has to scream from Google's search result page: "I am what you are looking for!"
You should also use brackets. Research by HubSpot found that using brackets in headlines had 40% higher CTRs.
Optimize Your Meta Descriptions
If the title tag is your appearance on a date, the meta description is the first sentence you say. You do not want your date to run away.
The meta description follows the same rules as the title. It needs to:
contain the exact keyword;
have the keyword the closest possible to the left-hand side;
bring emotions;
be descriptive, but not in a spoiler way.
However, it's subordinate to the title.
Protip: Writing the meta description down is only a hint for Google. Sometimes it will choose a piece of text from the body of an article. It is worth it to write the meta description nonetheless.
Use Long-Tail Terms
Long-tail keywords are search terms containing 4 or more words. Although they have noticeably lower search volume than head keywords, they generate 70% of all search queries.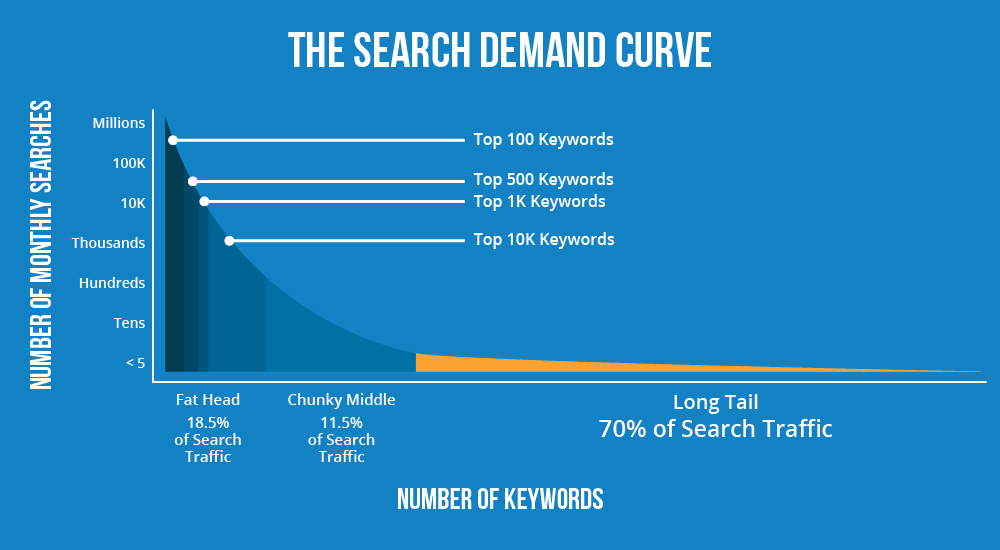 You should use them for two reasons:
They offer better conversion rates;
They're easier to rank for.
Most of them require pro tools to find, but the good news is that we can do it for you!
More on that in our article.
Optimize pages with low "Organic Quality Scores."
Rand Fishkin from MOZ claims that there is something similar to Google AdWords Quality Score but related to the content.
To fix the quality score of your pages, you may follow the guidelines below
Identify and Optimize Pages with Low-Quality Score – We advise you to optimize those created for the most attractive keywords.
Remove the ones you and your users don't need anymore – We recommend you simply use a "no index" tag, but the best way will be to 301 redirect it to a similar product or page.
Optimize Your URLs
To put it simply, your URL can be pretty or ugly. What's the difference?
Here you have an example of a pretty one:
https://gamerseo.com/blog/how-much-do-blogs-cost-avoid-spending-too-much/
And the bad one:
https://gamerseo.com/blog/category/22-04-2021/index.php?=5754225=t44=?p=928
Generally, you want to have the main keyword in the URL.
Not many people even look at the URL address, but you want to have it clear and in order for those who do.
Optimize for Featured Snippets
You can make your pages look more attractive in search results pages by adding structured data. A study by Search Engine Land shows that structured markup can increase CTR by 30%!
Do you remember our date metaphor? Structured markup is like make-up. It doesn't affect SEO that much per se, but it can give you an edge in any organic listing.
It's excellent for transactional search intent. People will see the product, rating, price range, availability, and other SERP features right in front of them.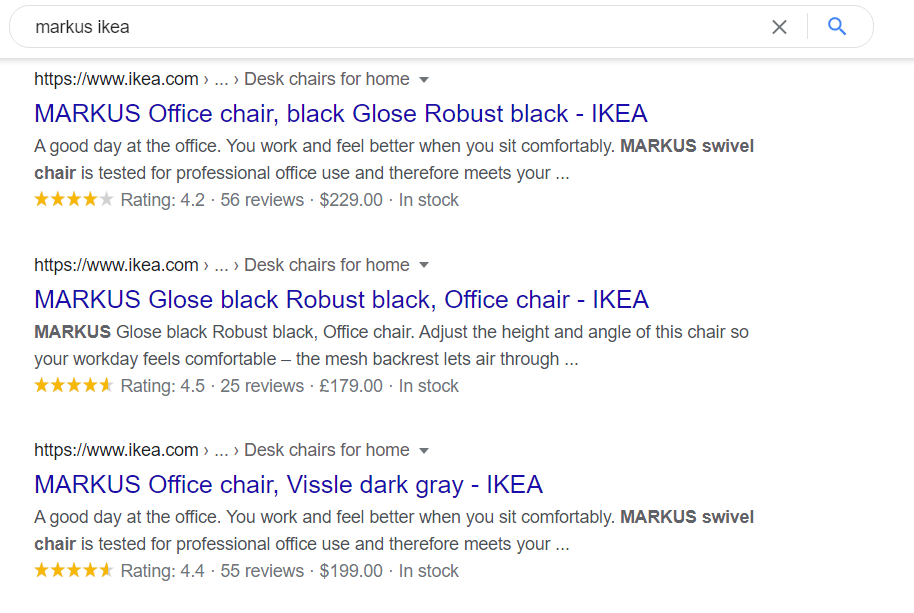 However, it's not that great for informational intent. Essentially, what happens is that people are getting their answers in the infobox instead of visiting your website. You have your impression, but no click. Thus, your CTR drops despite high rankings and the fact that users got what they wanted.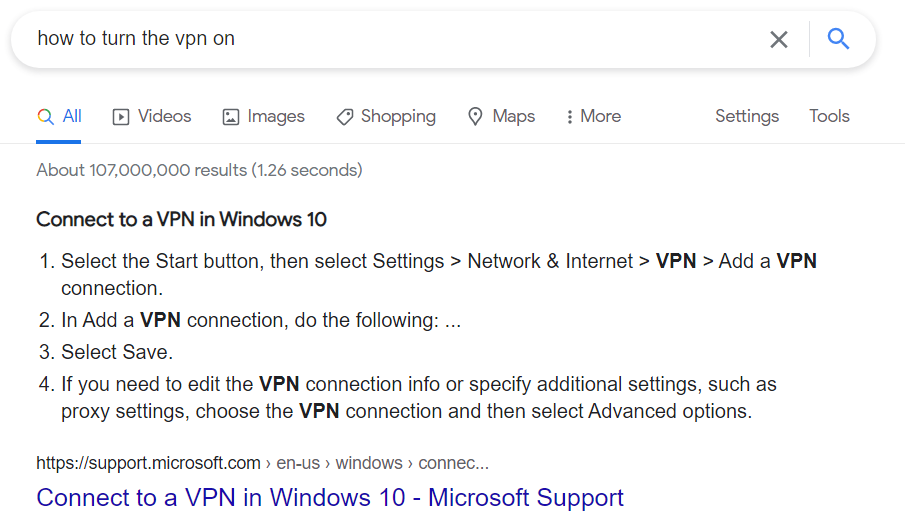 Featured Snippet for a given keyword beats the top 1 result. In general, it is better to have than not.
You will not believe our findings! – Avoid Click Baits
We increased our organic CTR by [put a random 5-figure here] with this simple trick.
Just kidding. We don't do that here.
Click Baits are a big no-no in terms of organic CTR.
Clickbait will give you more clicks. However, if you trick people into clicking your link, they will be displeased with it. They will bounce back to the SERP result page.
However, people are not falling for clickbaits that much now.
Summary
High Google rankings are the Holy Grail of search engines optimization. The world's giants in many different industries fight for more prominent positions on the search results page. The struggle never ends, just like SEO never ends.
You want to dominate the search engine result page for the same keywords your competitors are trying to rank for. Occupying more prominent organic positions in SERP rankings will provide you tons of traffic to convert to sales.
Does organic CTR matter? No doubt.
We know that now your CTR curves will go sky-high.
If you wish to entrust your Click-Through Rate, organic traffic, and conversion to professionals, head to our live chat and book a call.
We'll help you improve your rankings, boost your traffic, and make your pages beat the competition.
Do you want to rank higher and have more clicks? Are you interested in having more income? Put our skills to the test! Lower positions will be just a memory, and you will dominate SERPs in your niche.
FAQ
Why is having a high CTR percentage important?
There are few reasons:
It is a ranking signal;
It means more traffic;
More traffic means more conversions;
Better usage of resources.
What is a "Good" Click-Through Rate?
If it's above the expected organic CTR, it's good. You should compare your search results with the expected Average CTR we posted earlier. If it's lower than this despite relatively high
How to improve the Organic CTR?
If you have a low CTR, there are some elements you could improve.
What about Social Ads like Facebook or LinkedIn?
We are talking about the organic CTR here. For Ads CTR, you need to choose our ADS CTR article.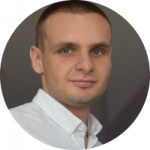 SEO specialist with over four years of professional experience. A/B test and Data-Driven SEO enthusiast. In his work, he focuses on the development and implementation of a strategy that achieves predetermined, specific goals. Privately, a fan of mountain biking.