On average, Google handles 3.8 million searches per minute. That's 5.6 billion searches per day.
When we had searched for those numbers, Google provided us with about 205,000,000 results in 1.27 seconds. Some of them were highly informative, whereas others failed to give us what we wanted.
Those that managed to satisfy our needs have guessed our search intent accurately. These were the pages with top positions in Google search results.
Thus, the correlation is easily noticeable – the better you understand user's needs, the higher your position in Google.
And that's what we'd like to help you with today. In this article, we are covering the following topics:
What Is Search Intent?
Search Intent is the reason or purpose for which users enter a given phrase or query in Google and search for specific data about it.
Let's take a look at some examples:
'What is digital marketing' – users with such search queries want to find out what's digital marketing.
'The best keyword research tools' – this query suggests that searchers already have a basic understanding of keyword research tools. Yet, they are looking for the best ones. Therefore, the intent is slightly different than in the example above.
'Buy CS: GO keys' – such a query informs that users want to perform an action. Thus, it signals the difference between this and previous queries.
Steelseries blog – the goal of users typing in this query is to find a specific page. In this case, the user most likely wants to read Steelseries blog posts.
Even though such examples are endless, 99% of them can be grouped into just four categories. These are called the types of search intent.
What Are the Types of Search Intent?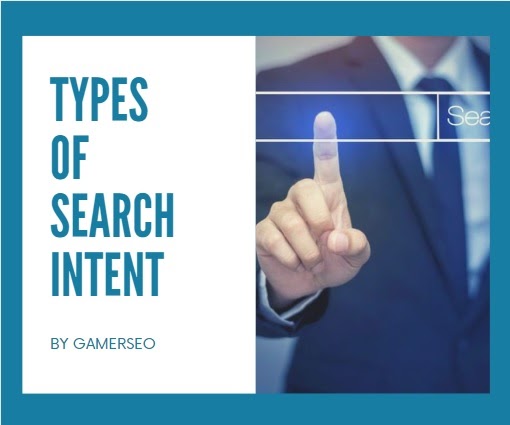 Informational Intent
The queries suggesting users want to learn something have informational intent. These may be, for example:
How to fix a washing machine?
Recipe for pizza
What are backlinks?
Such search terms are the majority of queries performed on Google. And even though they don't aim at making a purchase directly – you can't afford to ignore them.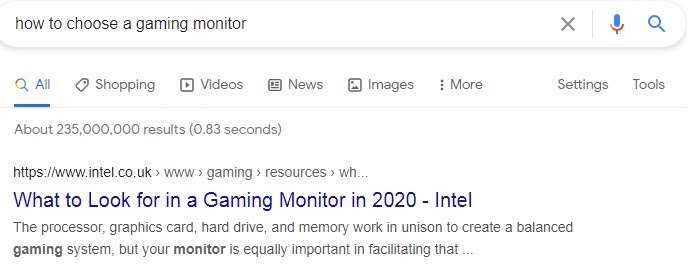 Intel creates educational content to cover informational searches such as 'how to choose a gaming monitor.' While providing users with helpful information, Intel can subtly recommend its products.
Therefore, consider queries with informational intent as the opportunity to make a good impression.
Rome wasn't built in a day – people looking for information can convert in the future. At this point, focus your efforts on building your brand's authority and make visitors aware of your services.
Navigational Intent
These queries suggest that the user wants to land on a specific website. That being said, queries like 'Google Search Console' or 'Google Analytics' suggest that the user wants to use Google tools.

However, the query 'Buy OSRS Gold Sellers And Friends' also has a navigational intent. Even though a user undoubtedly wishes to make a purchase, they already have made a decision whose service to use. In this case, it's Sellers and Friends.
Transactional Intent
The queries with a transactional intent suggest that users are ready to take action in no time. This might relate to buying something, downloading a program, signing up for a webinar, etc. Results on such queries usually are accompanied by paid shopping ads, shopping results, and shopping carousels.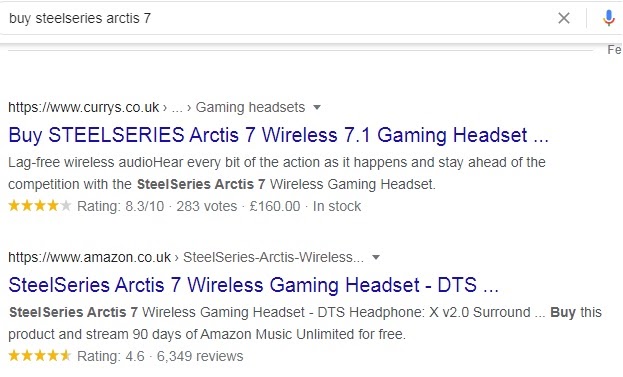 An example of a query with transactional intent would be 'buy SteelSeries Arctis 7'. It shows that the author is ready to spend some sweet dollars on a specific product. However, in contrast to the example from the previous section, they haven't yet decided where to go.
Commercial Investigation
Users who are researching a particular product – looking for advice or suggestions – usually are on the stage of a commercial investigation. A certain product or service has sparked their interest, yet they still have certain doubts.
Users at this stage may type in queries such as:
Apple Airpods Pro Review,
Best keyboards for gamers,
Top free backlink checker tools.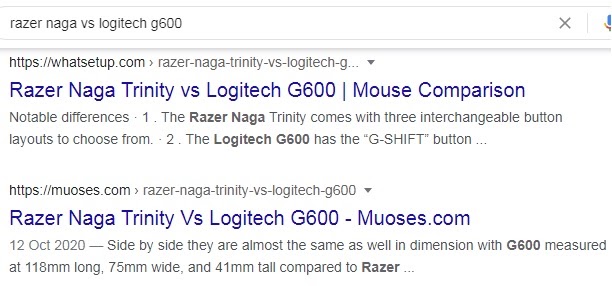 Users looking for the comparison of Razer Naga Trinity vs. Logitech G600 might be thinking about buying a gaming mouse soon. However, they are yet not sure which product's right for them.
Let's say that your content convincingly shows the advantage of one mouse over another. Then, the user might change the intent to transactional and purchase from your store.
How to Identify Search Intent?
Imagine someone visits Google and types in seed keywords like "PS4 controller". Can you guess what they are up to?
That's a difficult question, as we can have multiple interpretations. In fact, the searcher may be looking for:
the list of best PS4 controllers,
a store that sells PS4 controllers,
the price of PS4 controller,
the types of PS4 controllers.
And probably even more.
It may be tricky to identify the search intent straight away. However, usually, it doesn't pose a problem for Google.
Therefore, what helps guess the potential user intent is the search engine. When choosing the content type, head to Google and pay attention to the following stuff.
Analyze Search Intent Markers
Search intent markers are characteristic words for specific search intents. They surround the target keyword in the page titles in SERPs.
Let's take a look at the search term 'SEO strategy.'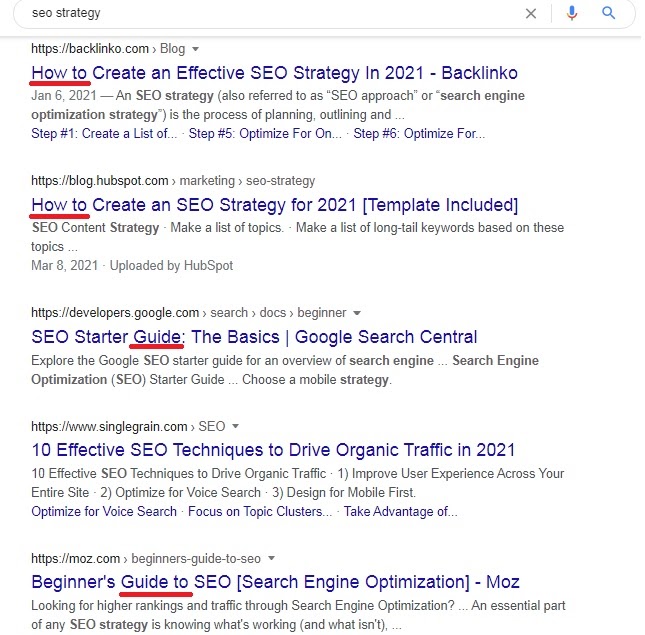 As it turns out, users with such a query usually look for information on creating an SEO strategy.  Therefore, SERPs suggest that your piece of content should focus on sharing knowledge rather than advertising your services.
Check People Also Ask and Relates Searches
Every search query is accompanied by a 'People also ask' box and a list of related searches at the bottom of the page.
Suppose you are an online store owner with MMORPG goods, such as accounts, items, or other services. You want to rank for the keyword "WoW classic warrior."
Let's take a look at 'People also ask' and 'Related searches' regarding this keyword.


As you can see, the results should effectively discourage you from optimizing your product pages for this keyword. In this case, you have two options:
drop the idea, add some keyword modifiers and choose a more long-tail keyword instead,
create an informative blog post covering the query – it would bring traffic to your site and, with a bit of luck, could positively affect conversion rate.
Check Featured Snippets
Featured snippets are short snippets of text that contain quick answers to users' queries. They appear at the top of Google's search results.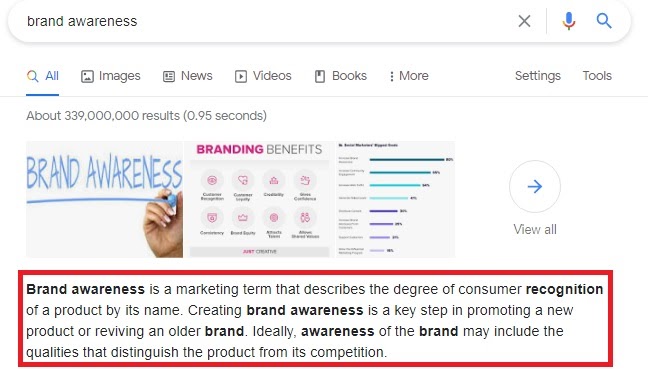 Featured snippets can pop up as:
a definition,
a table,
a list post,
a recipe.
Oftentimes, the query needs to be more long-tail for the featured snippets to pop up. Still, they may be treated as a confirmation of the search intent.
How to Optimize for Each Search Intent
We already know the types of search intent. However, for users to find our website, we need to know what steps to take during the optimization process.
You should make sure that the landing page targets the search intent of your visitors. If people search for information, putting a product page in front of their eyes may scare them away. On the other hand, if they want to buy something, don't send them to sleep with long articles. Instead, lead them to your product pages.
With that in mind, let's see what content optimization and SEO tips can be launched to answer each type of search intent correctly.
Optimizing for Informational Intent
You want to put the query in a place that's visible for readers. That way, users will easily see where they can find the essential information. In the majority, users don't read. They scan the text. Therefore, make sure to place the question in the most strategic positions like headings, subheadings, title, and description.
When you answer the questions, insert the body copy containing the answer directly below the header.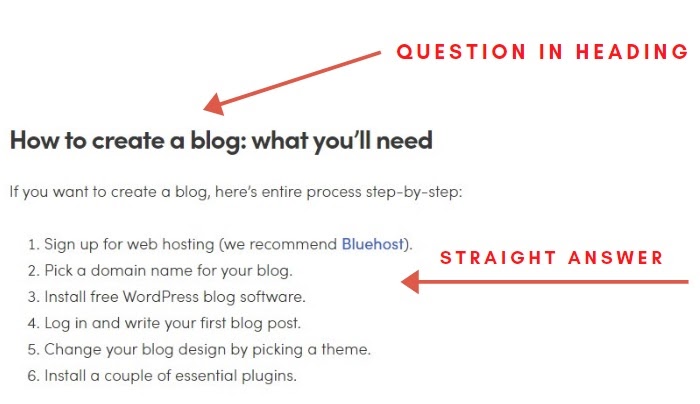 Use statistics and specific examples if it's appropriate – according to SurveyMonkey, people are more likely to follow the content backed up by specific data.

Optimizing for Transactional Intent
Transactional searches should usually take a person to your product or registration page.
Therefore, optimizing your product pages for more commercial-driven keywords should be your go-to. If you sell CS: GO keys, you could optimize a product page for the keyword 'buy CS: GO keys.'
Make sure the product name and description are clearly stated in the title and elsewhere on the page.



You don't want your product pages to contain unnecessary information. Focus on the following:

Call-to-Action – make it clear and obvious. What is more, CTA should be the first thing that grabs the user's attention. The good idea is to mark the 'buy now' or 'add to cart' button with eye-catching colors.

Clear design – potential customers make their opinion about a website quickly. One of the factors that influence the first impression is visual design. That's why your page should have limited wording and no distractions but contain tempting visuals (not only images but also videos).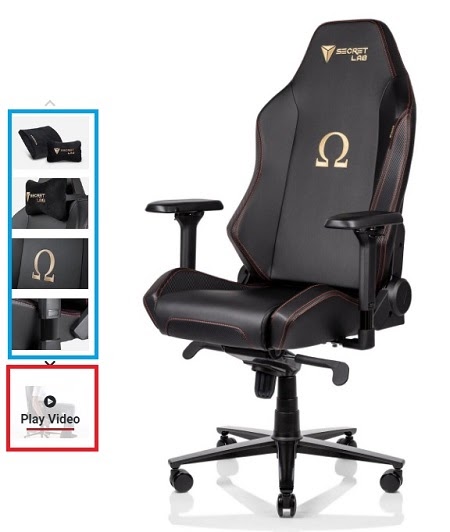 Product descriptions should be specific and scannable. A good idea is to point out the product features in bullet points and mark the most appealing words in bold.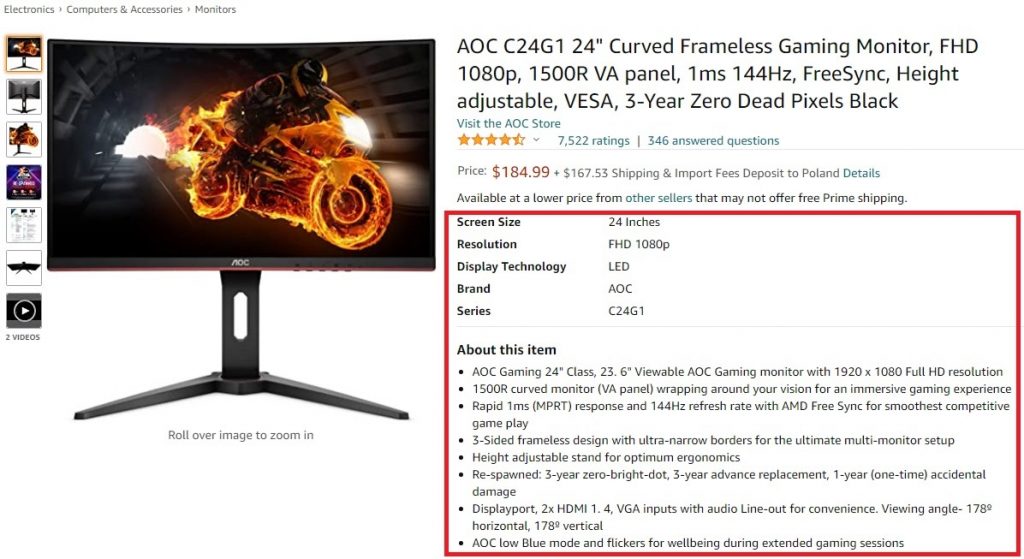 Show verified user reviews – genuine user reviews on a website help to build trust in your company and your products. Consequently, customers are more likely to make a purchase.

Optimizing for Commercial Intent
In commercial intent, the most important thing is to understand what kind of text a particular user needs. It can be a review, comparison of services, list of the best products of a particular category, etc.
Therefore, you need to carefully examine what's surrounding target keywords regarding the search query. The commercial intent usually includes words such as: 'best,' 'top,' 'review,' 'vs.,' 'comparison,' 'list,' 'cost,' etc. Make sure to include them in the page title and/or headings.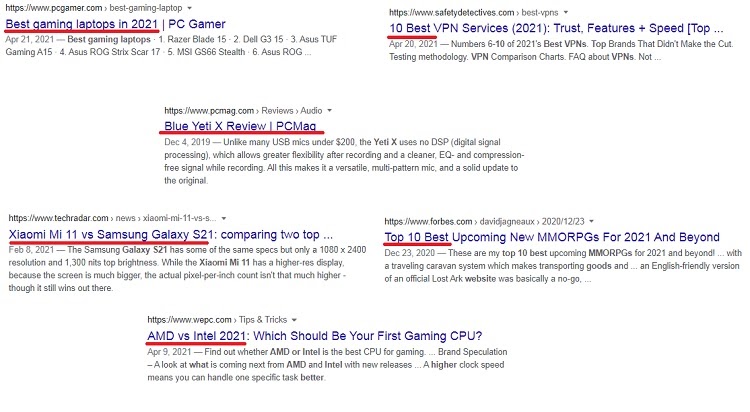 The good idea is to show the advantages of your services over the competition. However, pointing out the benefits should be specific and clear, but not intrusive. It may be done by, for example, presenting the history of a case study of your current or previous clients.
Users with commercial intent have doubts regarding the purchase. Thus, your main task is to subtly encourage them to take the next step into the funnel. To do that, you may offer a smaller transaction with a lower commitment. It may be leaving an email address for a newsletter or downloading free versions of your product. 
Optimizing for Navigational Intent
When optimizing for navigational intent, make sure you have fixed your homepage and the landing pages of your products and services.
Note that each page should contain your product or brand names in strategic places, such as the page title, subheadings, URLs, and meta descriptions.
Include detailed information about your company, services, and field of expertise.

Roccat has included their brand name in the URL, page name, and meta description, being aware of navigational intent.
Their landing page contains further information about their field of expertise, again emphasizing the brand name.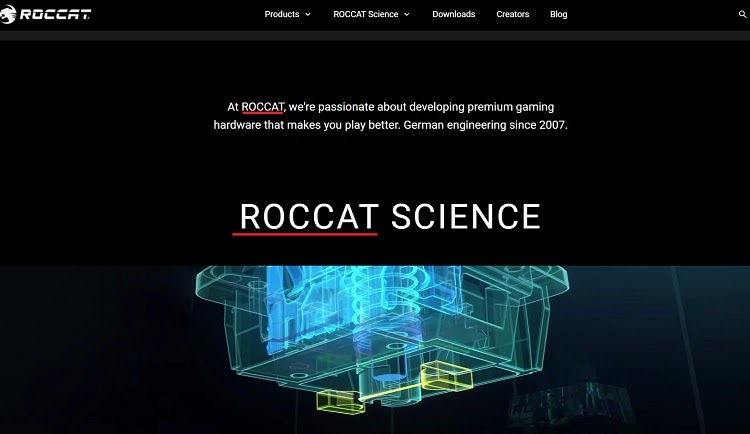 SEO Benefits of Intent Targeting
Intent targeting is not only about users. Give visitors what they expect to receive, and it will reflect in the success of your SEO. Here's a list of benefits that you might obtain.
Higher Conversion Rates and Revenue
 If your product pages are optimized for transactional intent, they will attract users at the last stage of the sales funnel. 
Better User Experience
When users don't have to dig through your website looking for this specific piece of content, their satisfaction increases, and as we know – this is what Google puts first.
Position of Brand Authority
You want your website content to be relevant and match users' needs. In turn, Google will boost your position in SERPs, which builds your brand as an industry authority.
Lower Bounce Rate and More Organic Traffic
Website visitors look for the content that you've got. That translates into more relevant and qualified traffic to your website.  
It's simple – when everyone is landing on the pages of their choice, there's no reason to part ways with your website. If users like what they see, bounce rates and pogo-sticking decrease.
Targeting Multiple Stages of the Marketing Funnel
With intent targeting, you are reaching customers at every stage of the marketing funnel. What's more, well-designed content may convince them to take the next step, which can result in new leads for your business.
More Answer Boxes
If your content is selected for Google's featured snippets, it allows your pages to rank in position 0 above the first search result.
Wider Audience Reach
Google is smart enough to see various queries as having the same topic and intent. That means your intent-optimized page will be listed for other similar queries as well.
Search Intent Types – the Conclusion
There are four main types of search intent:
Informational intent
Navigational intent
Transactional intent
Commercial investigation
Each of them poses slightly different challenges for website optimization. Yet, working on them should be included in your content marketing strategy. If you don't optimize for search intent, you fail to give users what they expect. And that usually leads to a drastic fall in your ranking chances.
FAQ
What Is Keyword Intent?
The concept of keyword intent reveals the user's purpose for the search. It informs what action the user will most likely take while searching for a particular term.
Why Is Search Intent Important?
Optimizing for different types of search intents is of high importance because it helps understand user needs and delivers them what they want to get. If the website fails to satisfy users' needs, its ranking goes down.
How to Determine Search Intent in Search Results?
To determine the intent behind the user's query, have a look at:
Intent markers in the titles (terms like 'buy,' 'how to,' 'review,' etc),
'People also ask,' and 'Related searches,'
The content of top10 websites in SERP (what the competitors write about),
Featured snippets and knowledge panels.
What's the Biggest Search Engine Apart From Google?
Speaking about Internet browsers, the biggest search engine apart from Google is Bing. In China, it's Baidu, and in Russia, it's Yandex.
However, the biggest search engines overall are Google, Youtube, and Amazon.
Copyright 2021. All Rights Reserved.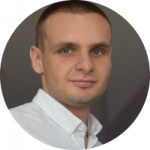 SEO specialist with over six years of professional experience. A/B test and Data-Driven SEO enthusiast. In his work, he focuses on the development and implementation of a strategy that achieves predetermined, specific goals. Privately, a fan of mountain biking.