There's no doubt that we live in an era of digitalization. However, this doesn't mean customers are fine with being treated as yet another number in a spreadsheet. Today, they are in demand of not only quality products but also memorable user experience. And as a business owner, your main goal is to meet their expectations.
Would you like to know how to create a great user experience for your website visitors? Good news – that's exactly why we are here. So, without further ado, let's see:
What exactly UX is,
How UX impacts SEO,
Which user engagement metrics can be affected by UX,
Which UX design factors can help us keep the audience engaged and happy.
What is UX?
In 2021 what Google cares about the most is if users genuinely like your website and engage with your content. In other words, they may ask: have you done a good job with your UX?
UX stands for user experience. Simply put, it focuses on making your audience have a good time on your website. To stay in your eCommerce store and move through the marketing funnel, they should enjoy the content, page design, and many other factors that we'll cover further in this article.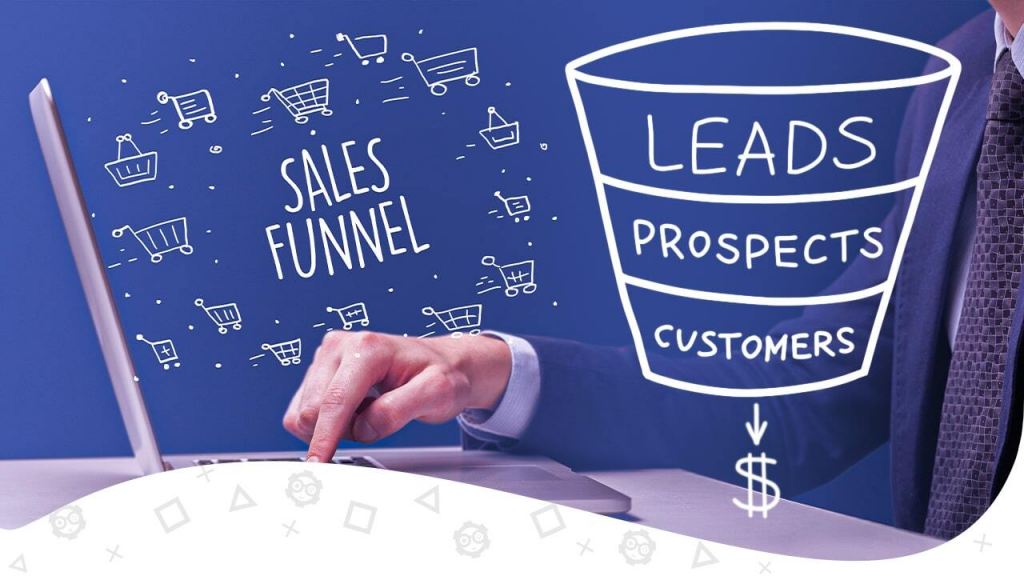 UX is also crucial for helping your business with conversions. Yes, getting more leads on your site is important. Still, keeping web users interested and engaged on your page is exactly what you need to boost your sales. If you don't put in the effort to make each user happy and interested in your products or services, you'll lose leads.
What's more, proper UX design activities keep visitors on your site for longer and help them get to know your brand and offer. And when people become more familiar with your vision, they are more likely to choose you over the competition.
User Engagement Metrics That Matter
A common misconception says that SEO simply involves link building and including relevant keywords in the content. However, this couldn't be further from the truth. That being said, let's have a look at how positive user experience can affect search algorithms and translate into your position in search engines.
Due to multiple algorithm updates, Google measures this information by collecting data on various user engagement metrics. This way, they can determine if your website engages visitors, check if the content is topic-related to a particular search query, and get insights if the users can comfortably browse through the page. Based on this information, they rank websites according to their relevance, authority, and quality.
1. Bounce Rate
Your website's bounce rate is the percentage of users who leave your website after viewing only one page – usually your homepage or a landing page. A high bounce rate can mean that your users couldn't find what they were searching for or that the website was too difficult to use.
There are various reasons why your website may suffer from high bounce rates, but some of the most common ones are:
slow page speed,
poor web design,
lack of mobile optimization,
irrelevant content.
Having a high bounce rate can be a problem since it is an important factor in Google's search ranking algorithm.According to Custom Media Labs, different types of websites have different average bounce rates. Below you can see a summary of their findings: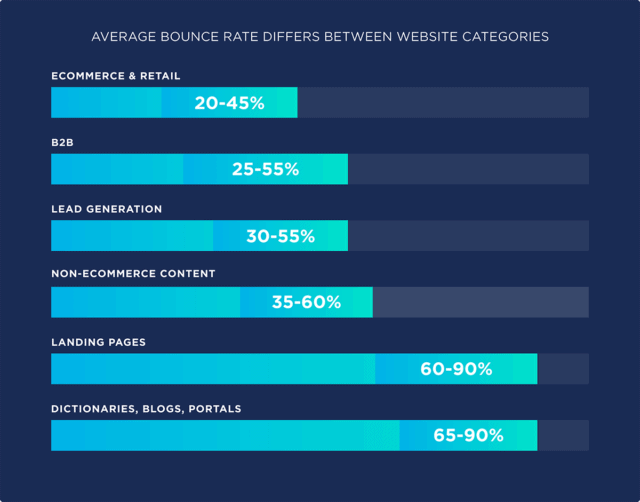 You can check bounce rates of particular subpages in the Behavior > Site Content > All Pages report in Google Analytics.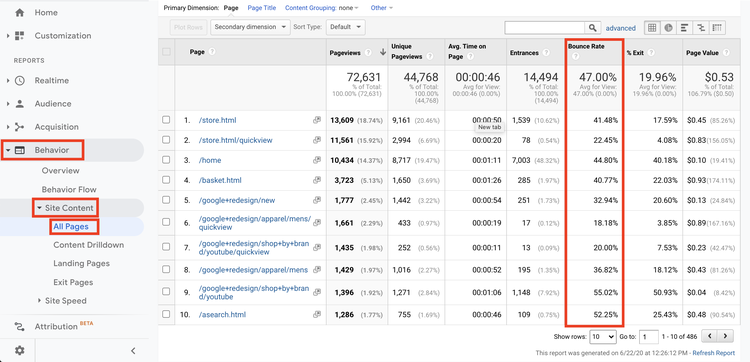 2. Page Dwell Time
Another metric that Google considers is the number of time users spends on a certain page, known as dwell time.
Dwell time is the time a person spends looking at a webpage after they've clicked a link on a SERP page but before clicking back to the SERP results.
If users spend much time on your website, Google sees this as a positive signal. On the contrary, if the page dwell time is short, Google may perceive the page as irrelevant to the search query.
The best idea to make users stay on your site longer is to:
focus on providing compelling content that matches users' search intent,
make a good first impression – users perceive a website as attractive when it contains pleasing design and visuals,
build strong internal links.
Your visitors become engaged, spending more time on your website. This improves your metrics, which in turn influences your overall search rankings.
3. Feedback
Feedback is yet another aspect that lets Google see if a particular website offers an excellent user experience. As you can see in the screenshot below, Google has included featured snippets in its search results. This box gives a short but precise answer to a particular query and lets users decide whether the information is relevant or not via the "Feedback" button.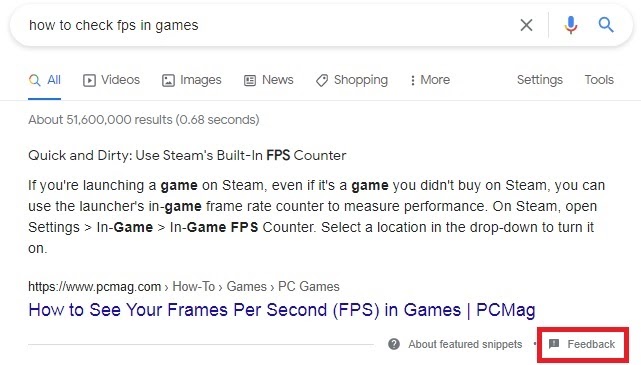 After clicking on the caption marked in red, users see the following options: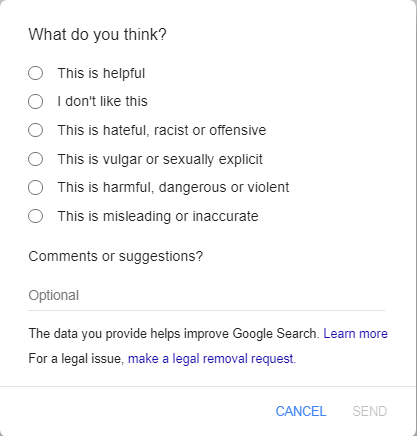 When it comes to SEO, you may already guess what would happen if a particular snippet receives too many negative reviews. You are right – if users don't respond well to the site, then Google may decrease its rankings. That being said, user experience affects SEO big time.
4. Repeated Search
Yet another aspect that may be indirectly correlated with UX is repeated search. It reflects the relevancy of your content, that is, how well it corresponds to the user's search query. Here's how it works in practice:
Suppose any user searches for a digital marketing strategy, and the search engine provides them with the results. Then, they click on your website in SERPs. After spending some time there, they return to the search result page to scroll through the results again.
What does that mean? Probably your content was not valuable enough, or maybe there was a missing piece that the user was looking for. Whenever a user repeats their searches, the search engine considers that as a sign that your content was not appropriate. That's why search results change constantly. If a particular site is considered to be irrelevant, the search engine decreases its rankings.
UX Design Factors
Now that we've covered some of the primary user metrics that can affect SEO rankings, let's look at how we can avoid poor user experience and impact SEO rankings by improving those metrics through proper UX design activities.
Page Speed
Site load is a metric that can't be missed when creating effective UX design. A page that's ready to use in a heartbeat positively affects the user's experience. This, in turn, tells Google that it should rank higher than most websites that neglect such factors as load speed.
The most common mistakes from a design point of view are not optimizing images, including too many animations and visual effects in key landing pages, which add a lot of JavaScript and CSS snippets.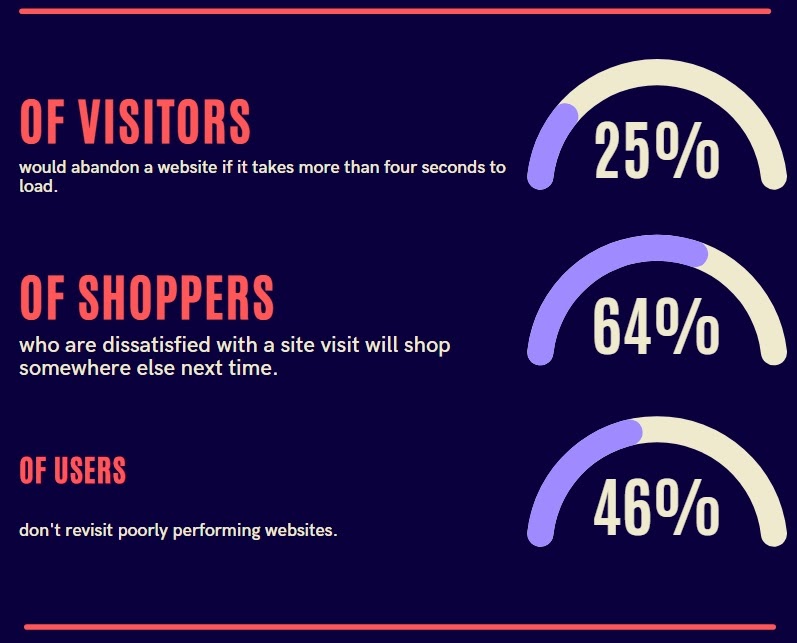 Sources: LoadStorm, Econsultancy
Ideally, your website should load within three seconds or two seconds if it's an eCommerce site. This is the turning point when bounce rates tend to skyrocket. Then, customers lose their "patience" and start looking for other relevant websites. Another study found that even 40% of consumers will leave if the site takes more than three seconds to load. 
Key takeaway: Having relevant content on your website won't suffice if the users bounce because of too long load time.
Want to fix your site speed? Focus on minifying your HTML, CSS, and JavaScript, reducing file sizes, and implementing all website's speed test results from PageSpeed Insights. Read this ultimate guide on page speed to get extensive tips on how to reduce loading time!
User-Friendly URL Structure
SEO-friendly design of URLs is another element that's worth paying attention to while designing for great UX. With proper URL optimization, your users can easily find out where they are on your website and what to expect when they encounter your page in SERPs.
Let's now take a look at two different URLs.
Have you ever seen URLs like the one below? We bet you did.
https://www.g2g.com › gold-27816-27825
Can you guess what this page is about?
Gold? That's pretty clear. But what game does it refer to? What server? Is the page about selling or buying goods?
Such an example of a URL structure irritates users and confuses search engines. Like humans, search engines use keywords in the URL to understand what a page is about and subsequently index it. Therefore, when the main keywords are missing, it can negatively affect your SEO rankings.
Instead, implement URL structures that both users and search engines can understand. For example, the link below shows a good URL structure:
https://www.eldorado.gg › wow-classic-gold-for-sale
Thanks to the well-designed URL structure, users can quickly tell that it's a page with gold from World of Warcraft Classic, and it contains "for sale" offers.
Navigation
Website navigation is one of the core factors that contribute to a user-friendly page layout. It's the road map your website visitors use to find relevant pages. Your navigation also affects how search engines crawl your site and find information.
People will enter your website from different pages. If you want to have a positive impact on users' experience, simplify navigation to let them jump from one page to another with an intuitive design.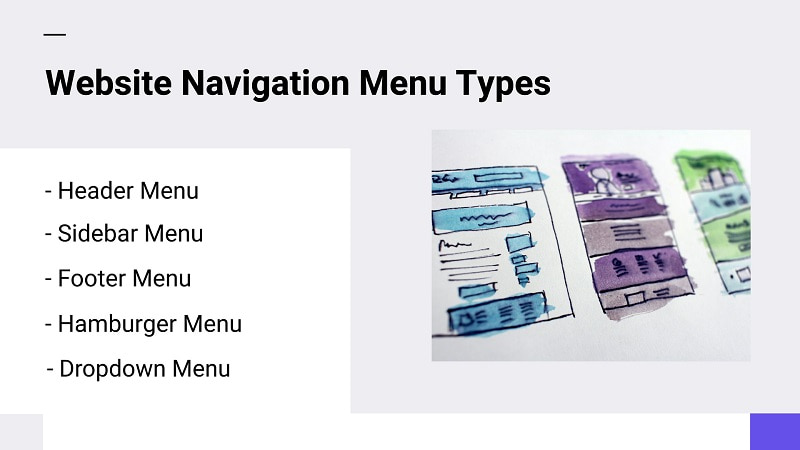 Poor UX design scares people away. The same goes for too complicated or confusing navigation. With so many other search results to choose from, they won't struggle to find what they need on your pages. To prevent this from happening, having menu items with clear and concise titles as well as good information architecture is a must.
When designing navigation for your website, start with the general rule of thumb. Get rid of confusing UX design by implementing a website navigation structure that lets users find any page on your site within 3 clicks.
Mobile Optimization
Today, more than half of web traffic comes from mobile devices. With that in mind, SEO experts agree that developers must optimize websites to provide mobile users with a positive experience, regardless if they are using a desktop PC, mobile phone, or tablet.
The mobile optimization plays a vital role in technical SEO as the mobile experience differs from the desktop experience because:
The mobile screens are smaller. That's why mobile responsiveness is so important. With a mobile responsive web design, your site adapts to different sizes of screens, providing users with a comfortable experience.
Users may be browsing through the web while on the go. We can't do much about user's slow internet connection, but having a mobile site that loads as fast as possible is a must in today's mobile-first world.
Mobile optimization requires effort concerning many elements, such as your design, navigation, text, and image size. All of these should look presentable on a mobile device. A good mobile experience will keep leads engaged on your site, which will improve your site's ranking.
While taking care of proper mobile experience, you might want to understand the difference between three concepts:
Mobile-friendly website,
Responsive design.
Even though many web developers use them interchangeably, we have found it helpful to explain the differences. Have a look at the infographics below.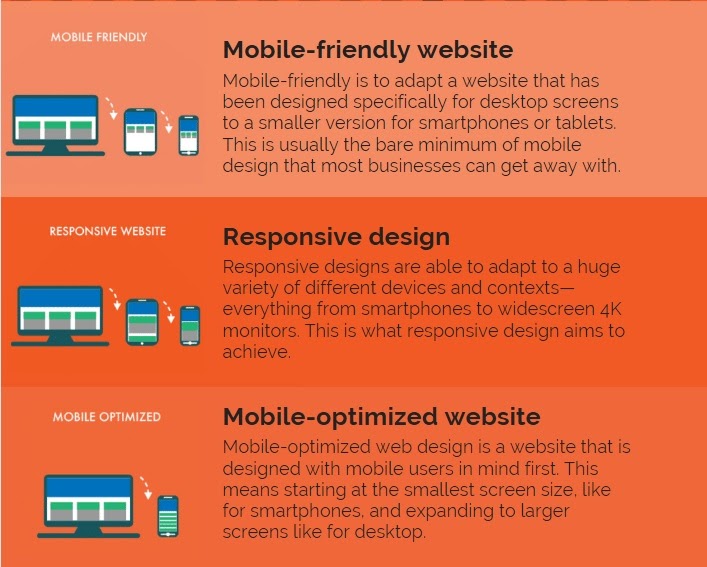 Quality Content
When it comes to on-page SEO, content is among the most important factors that positively impact UX. Creating content that keeps the audience interested and engaged is an integral part of building an SEO-friendly website and fully optimized in terms of user experience design.
Before you create content, perform appropriate keyword research. This will allow you to not only boost your chances of ranking on Google's first page but also address users' pain points. As you want to answer user search queries as precisely as possible, try to target keywords that help you decide what the user is looking for. You may do so by choosing long-tail keywords and performing a competitor analysis.
However, avoid black hat techniques such as keyword stuffing as it may negatively affect both SEO and UX. The text becomes of little value in terms of content, which can cause search engine algorithms to lower your position on Google.
How to Make Content Visually Attractive?
Still, creating content that carries educational value may not be enough. A great blog post is not only about writing itself but also about presenting the information to users. Your website visitors are looking for specific answers; thus, your text should have a scannable structure. This can be achieved through:
using attention-grabbing headings,
dividing the text into shorter paragraphs,
Adding videos, images, tables, bullet points, or infographics to break walls of text.
Nevertheless, for users to have a chance to read your content at all, you need to give them a form of incentive. When it comes to organic traffic, the best SEO practices that increase the click-through rate are creating compelling title tags and meta descriptions as well as optimizing for featured snippets.

Final Thoughts
Of course, quality backlinks and content containing keywords with high search volume are still crucial to improve SEO. Nevertheless, building a position in today's e-Commerce world requires not only implementing an SEO strategy in terms of search engine positioning but also ensuring user comfort. Therefore, user experience design is a critical factor that should be included in the process of developing every SEO campaign.
To summarize, the key elements whose improvement will affect UX and SEO optimization are site speed, effective URL structure, mobile optimization, and content that's both well-written and well-designed.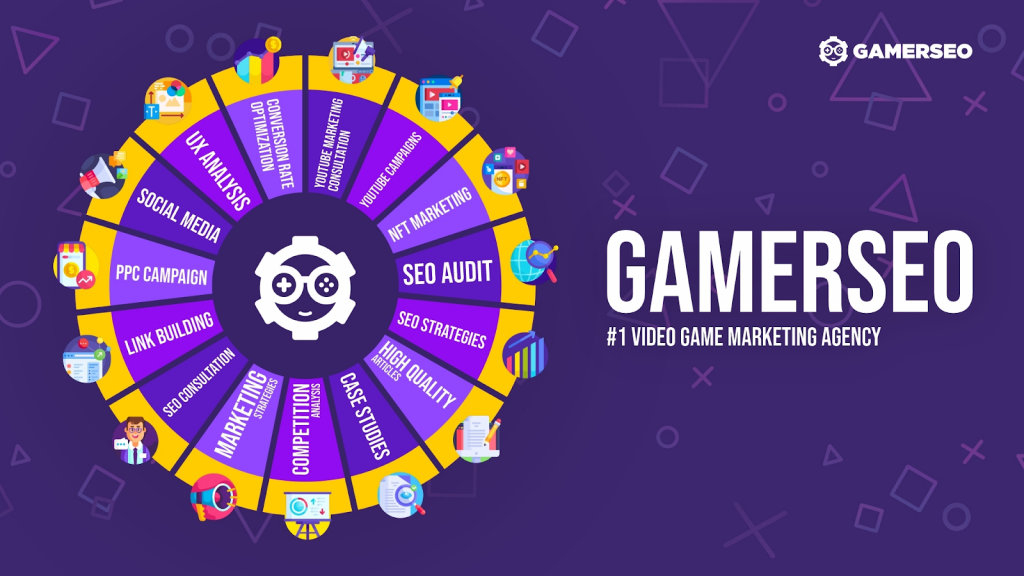 Are you looking for a helping hand in designing SEO strategies? Our digital marketing agency will be more than happy to help you diagnose all the issues regarding both the UX and SEO of your website! We will gladly use our expertise and answer all your questions via our contact form. Let's achieve the best possible results in terms of organic SEO performance and good UX together!
FAQ
How does UX affect SEO (Search Engine Optimization)?
UX design affects SEO rankings as it has an impact on the various metrics that search engines use to track user engagement.
How can I improve my website UX?
To improve a website's user experience, UX designers should take care of the following elements affecting site's performance:
page speed,
simple navigation,
mobile optimization
great content.
Why is user experience important for search engines?
User experience is important as it's been Google's main priority for years. They seek to provide searchers with information that extensively and precisely answers their queries. Then, Google algorithms rank sites according to their usability for users.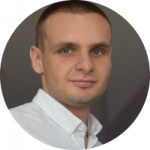 SEO specialist with over six years of professional experience. A/B test and Data-Driven SEO enthusiast. In his work, he focuses on the development and implementation of a strategy that achieves predetermined, specific goals. Privately, a fan of mountain biking.