Every website would love to appear in the top 1 spot in Google for search phrases with high volume. All of them dream of millions of visitors, thousands of prospects and sales, and a never-ending stream of income.
It's not that easy anymore. Top spots are occupied by websites with high domain authority that built their position over decades.
It is where long-tail terms come into play.
What are those? How to find them? How to use them to increase your visitor count and conversion rate?
In this blog post, we'll take a look at:
what are long-tail keywords;
how to find them;
what are the best free and paid tools to do it.
SEO and keyword research are time-consuming processes, so waste no more time and enjoy the article!
READ ALSO: How to Choose SEO Agency – 6 Things You Must Know About
What are long-tail keywords?
In modern SEO, keywords are divided into two groups based on the number of words.
Head keywords – These are short search terms, usually one-word or two-word keywords;
Mid-tail keywords – Mid-tail keywords are longer than head and shorter than long-tail keywords. They contain 2-4 words;
Long-tail keywords – These are long, specific keywords, 4 or more words.
Look at this search demand curve: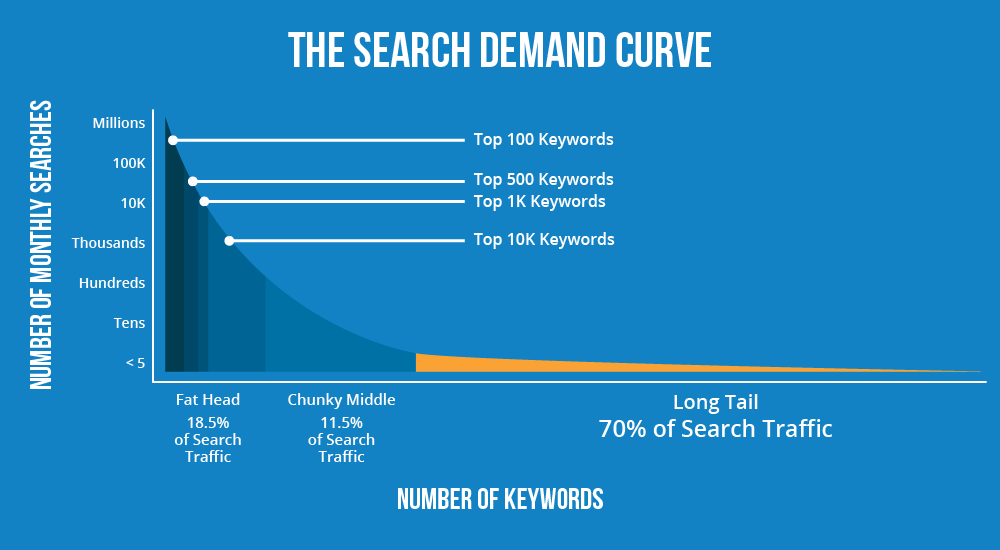 Source: https://blog.leonardo.com/
Here's an example of a head term: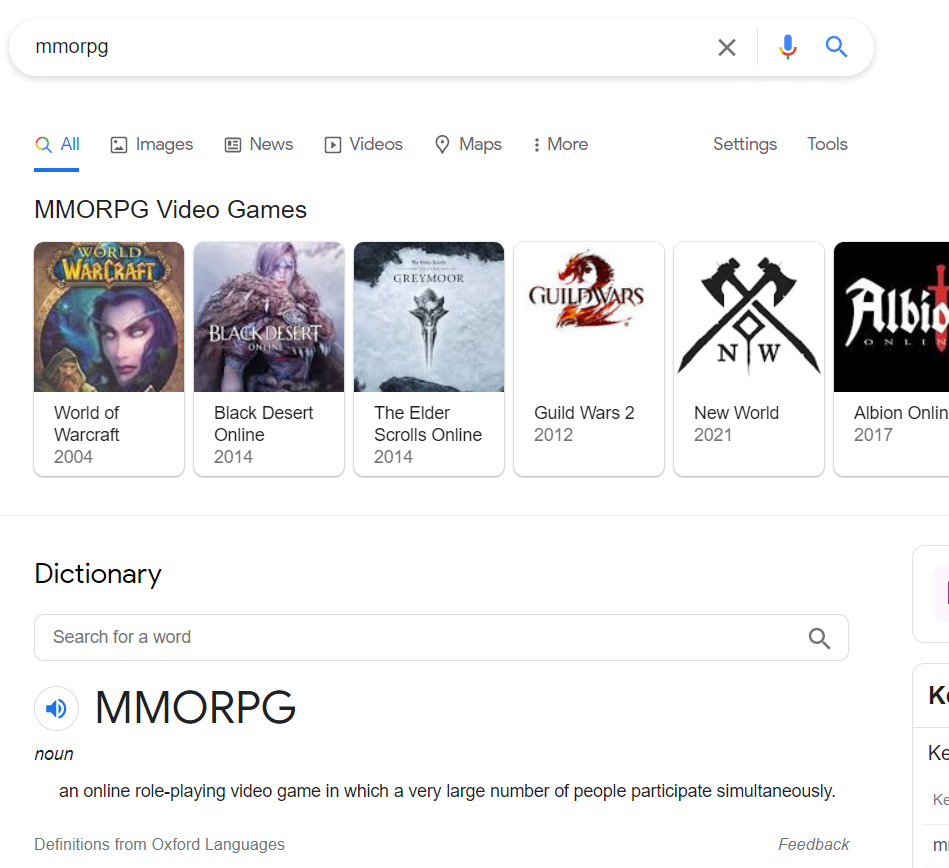 It has almost a million people looking for it each month.

But what are they looking for?
Would you rather have a million random visitors or 100 potential clients?
At first glance, head terms look like an attractive target for your business. Hundreds of thousands of searches on the Y-axis look tempting. They have a high search volume, meaning crowds of potential customers are looking for them.
It's a common misconception. Look at the X-axis. 70% of all search queries are long-tail keywords. It's double the number of head searches.
What's more, Ahrefs analyzed almost 2 billion keywords from their database. They've found out that 94,2% of them have 10 searches per month or less.
The domination of long-tail keywords happens for two main reasons:
People seek precise information;
The providers and website owners have begun to use longtail phrases to win top positions.
The long-tail term comes from a book named 'The long-tail' by Chris Anderson, an English-American author, and entrepreneur.
The author shows you can have more traffic and a better position in search results if you make your "product" more specific.
Look at the search demand graph once again. Keywords with a higher number of words look like a long tail of an animal.
Reasons to use Longtail Keywords
We know what long-tail keywords are. Now let's talk about why it is worth using in your website, blog posts, categories, and the whole content strategy.
A Long-tail Keyword is Easier to Rank For
A few years ago, SEO experts realized head terms are noticeably harder to rank for with a young website. Experts from Singlegrain.com say that it takes more than a year for a new website to be visible on Google.
Long-tail keywords offer more accessible keyword opportunities.
For example, there is a nifty trick for checking the competition.
If we type our keyword in the search box normally, Google will return 101 million results.
But if we place your keyword in between quotation marks, it will look different.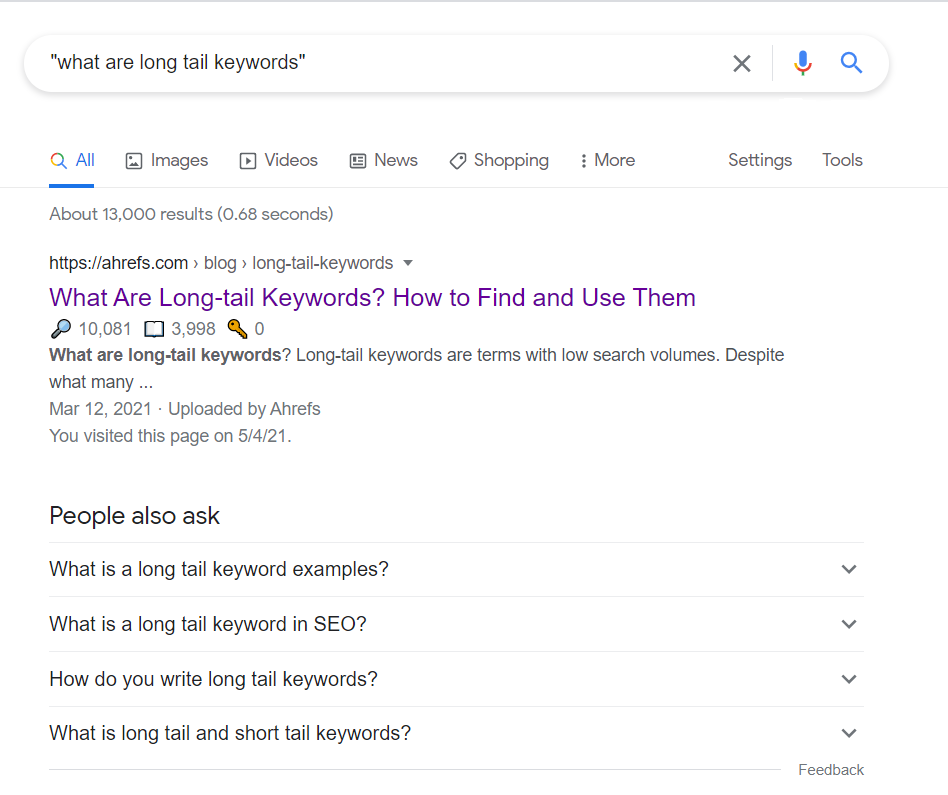 Now it returns 13,000 results.
Even the top 1 result changed.
The quotation mark is a command telling Google to look for the exact keyword.
Search Engines "want" to deliver the most relevant content, right?
Thus, your blog post with an exact keyword in the title and H1 is more likely to do better in keyword rankings.
Long-tail terms make your website more specific
Let's say your website's main keyword is "coach."
Is it about a bus, a carriage, or a list of top League of Legends coaches?
On the other hand, let's look at: "The best coach for a long trip."
Now we know exactly what the website is about. It's about a bus. Thus, people looking for coaching services in League of Legends realize it's not for them.
You can also fit the user's search intent better.
A Long-Tail Keyword guarantees Higher Conversion and More Sales
Long-tail keywords convert 2,5 times better than head keywords, according to ProfitWorks.
You are not running your business out of a kind heart, right? You want to make money.
Having lots of organic traffic is a vanity metric. Hordes of visitors look good in Google Analytics, but sales look better.
You can have all the traffic in the world – if it doesn't convert, you've got nothing.
A wise man said: "Do not confuse popularity with success."
Being specific is crucial for your company in terms of an actual conversion. It's better to bring 10 people interested in your product rather than 1000 random ones.
Also, having a more precise keyword allows you to fit into the buying cycle better.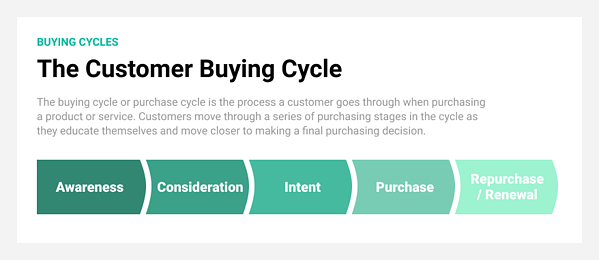 Source: https://www.profitwell.com/recur/all/buying-cycle-stages
Different stages of the buying cycle mean a different type of search intent. Therefore, they require different content and different keywords. A long-tail keyword is the best way to put context onto the search query.
For example, this is an investigational search intent: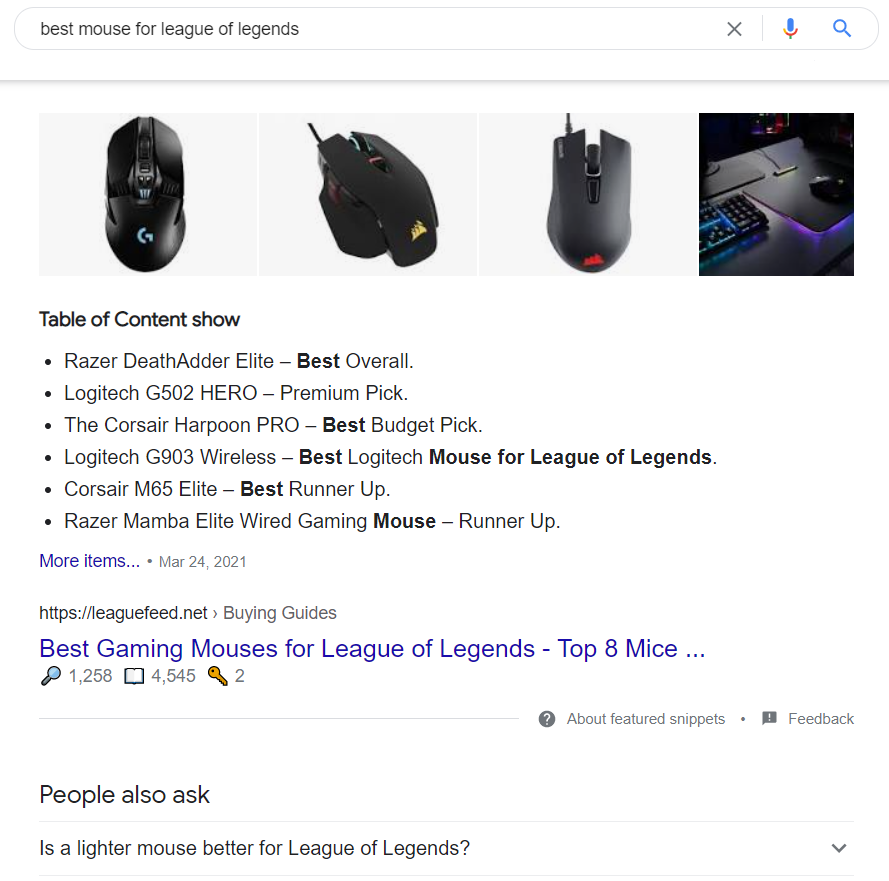 But this one is transactional: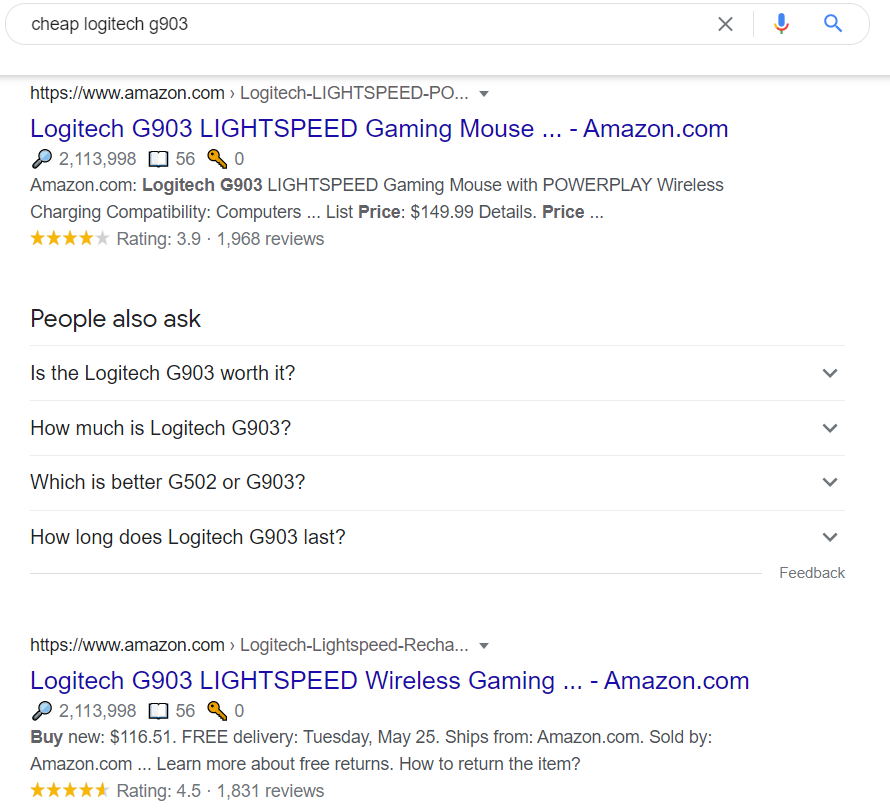 It means the user made the decision, and they're ready to buy.
Reading the user's intent (and adjusting content) would be impossible with only one word.
Long-tail Keywords appear more often on Mobile Search
More than 50% of the whole Internet traffic comes from mobile devices.
More and more search queries come from voice search. These are usually long questions. According to a study on voice search by Adobe Analytics, most searchers look for:
Asking for music – 70%;
Weather forecast – 64%;
Fun questions – 53%;
News – 46%;
Asking directions – 34%;
Other – 47%.
Google gets smarter each year. It means there is a chance to land a correct result just by saying "weather" to the speaker. The search engine most likely knows your location through GPS, and this way, it'll be able to provide you with matching results.
Although, the chances are higher if you say: "What is the weather in San Francisco today."
Long-tail keywords are cheaper in terms of paid traffic
The price of PPC keywords is based on competition. The more competitive the industry, the higher the CPC. You can see it on the chart below: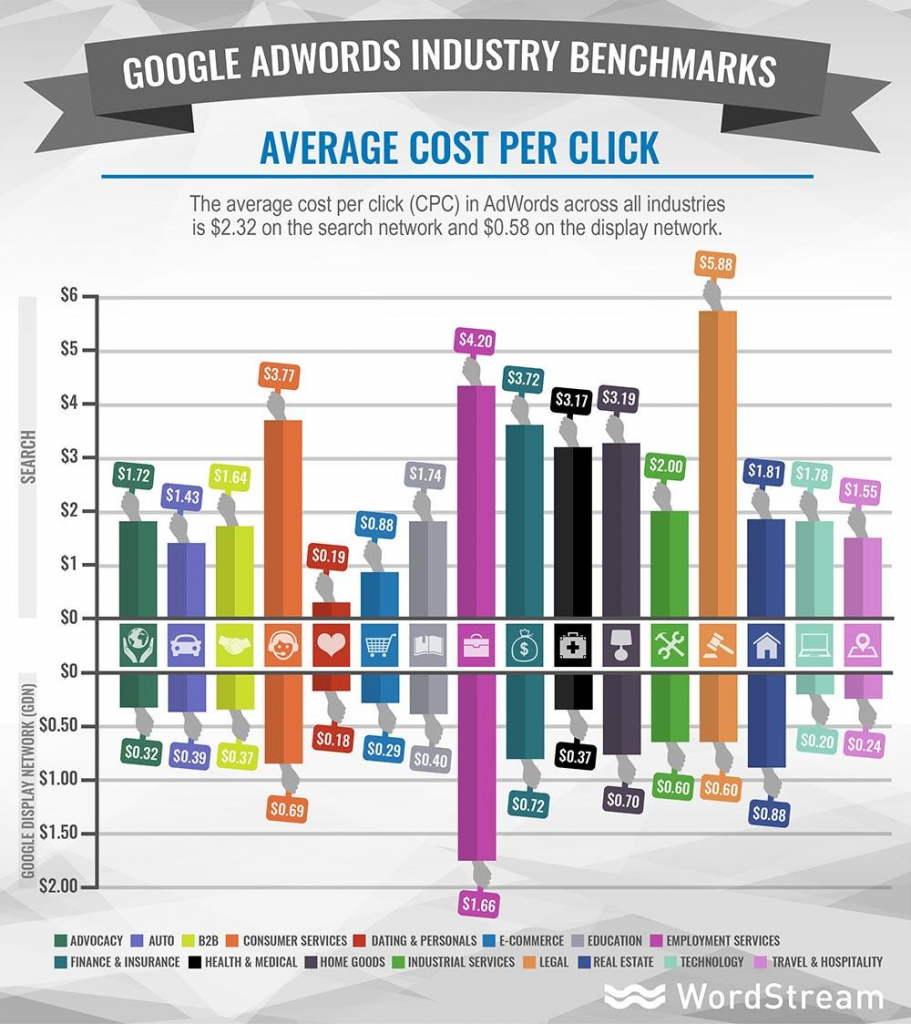 Source: Wordstream
You can lower your CPC by improving your Quality Score in the eyes of Google. Three main factors influencing the Quality Score are:
Click-Through Rate – High CTR means that your ad is relevant and attractive.
Keyword Relevance – Optimizing your ads around relevant keywords is key if you want to have a High-Quality Score.
Ad and Landing Page Quality – Let's be honest, if you are paying for sending people onto a website with poor UX, something is wrong. It will be indicated by a high bounce rate metric.
As you can see, keyword relevance is one of them. You can achieve higher keyword relevance with a specific keyword, namely a long-tail keyword.
Pros and cons of long-tail keywords
| | |
| --- | --- |
| Pros | Cons |
| Easier to skip the competition and reach top positions in Google, even for highly competitive searches | Lower search volume |
| Higher probability of matching the user's search intent | It takes more time to find good long-tail keywords |
| They bring less organic search traffic, but it's a meaningful one | Usually, it requires having a paid tool and practical knowledge |
| Higher conversion rates despite lower monthly searches | Top competitors know about them too |
| They're less competitive in terms of PPC | You still need a proper link building strategy to rank high |
How to find long-tail keywords – step by step
Now you know how beneficial long-tail keywords are for your website. How to find them?
1. Define the Goal.
This step is common for all stages and parts of SEO strategy. What you do is based on what you need.
And what do you need for your website?
Do you need more traffic?
Perhaps people are coming to your website, but they're leaving right after?
Maybe higher conversion is what you could use the most?
Different goals require different keywords. It is easier to specify the goals with keywords that contain more than three words.
Also, what is your focus keyword? What is the seed keyword for your money pages?
2. Choose the executor.
Now that you know what to do, you have to define who will do it.
You've got two options:
Do it yourself;
Hire a professional.
Let's talk about them.
Doing the keyword research on your own might be a tall task if you have no SEO knowledge. Also, it may require using some paid tools. And even then, you won't know if the keywords of your choice are the right ones.
You can learn how to do it. There are more than enough keyword research guides on the Internet.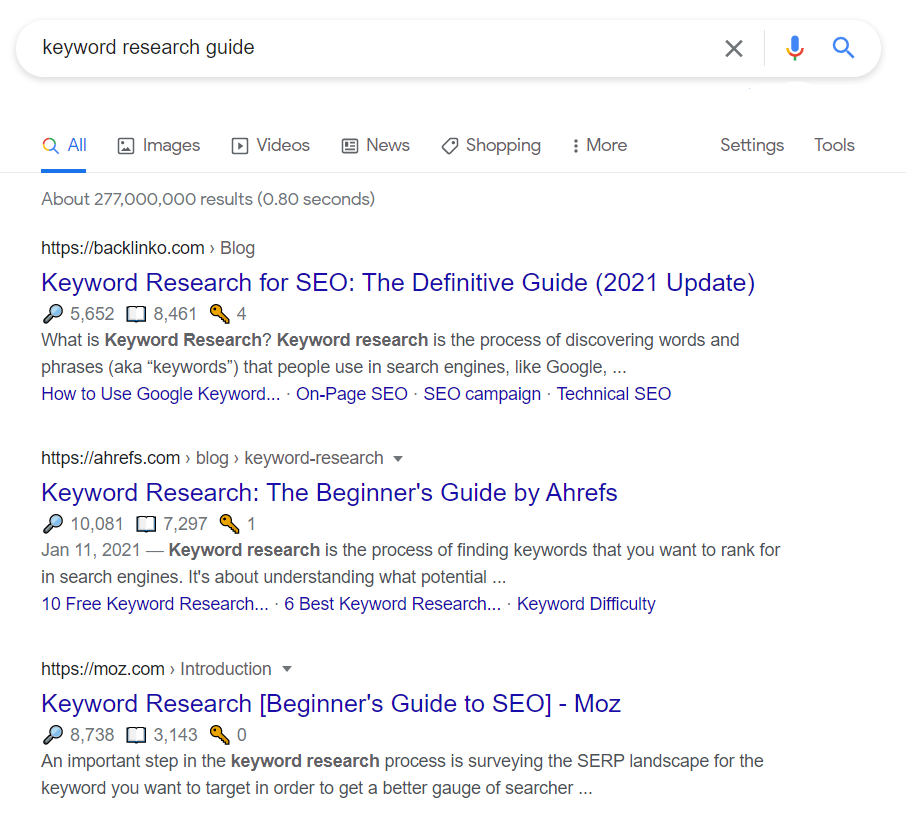 The same goes for YouTube: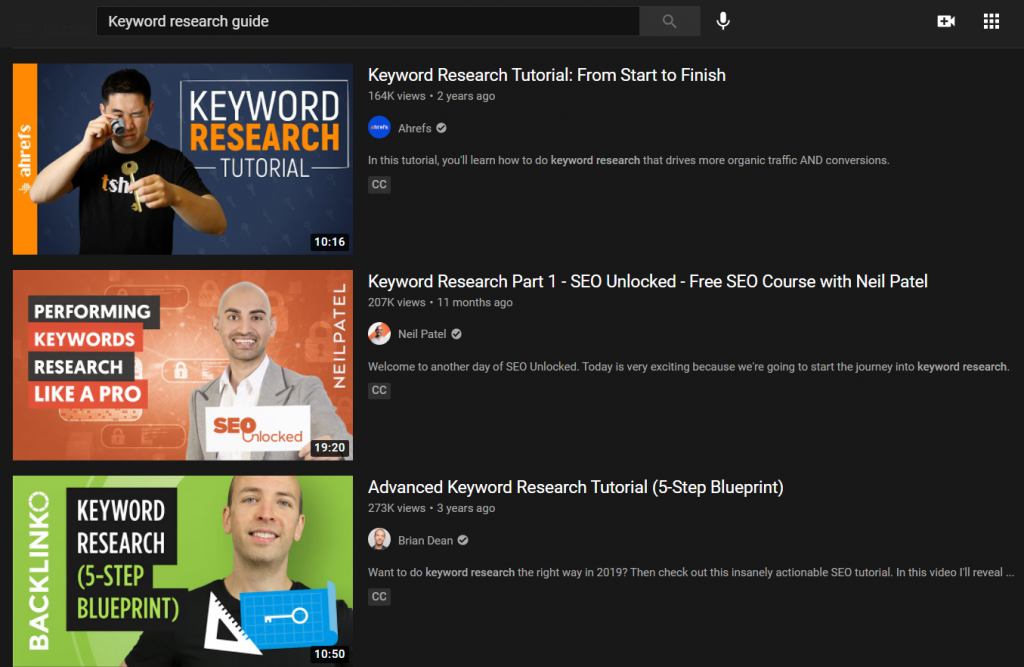 It will take some time to learn the keyword research and even more time to master it.
But it's the cheapest way if you don't consider your time a currency.
Alternatively, you can hire an SEO expert to do the keyword research. Here you have a list of benefits of hiring a professional:
You are paying for knowledge and experience;
It saves you time;
You don't have to purchase expensive online tools;
You get correct keywords;
You can ask questions – a good SEO specialist will answer them;
What about the cons? Well, SEO costs.
Also, you should hire someone tried, tested, and trusted. Many self-proclaimed SEOs claim to know what they're doing, but they're unreliable.
If you are interested in hiring an SEO agency but still have certain doubts, feel free to check our article How to choose an SEO agency.
3. Look for specific search phrases with four words or more
Use your seed keyword to find attractive long-tail keywords.
Usually, just by typing in one word in the Google search box, the search engine will show you a couple of viable long-tail keywords.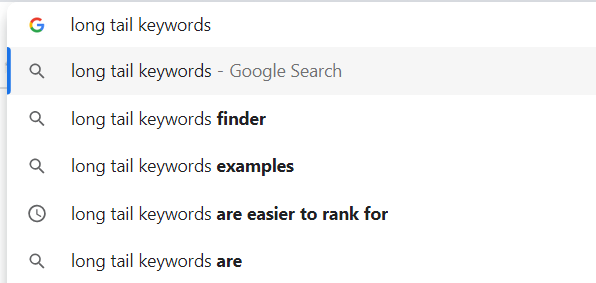 Later in this article, we list a few more free tools for researching keywords.
Now, you need to know your target audience. You need to identify who you want to sell your product to.
This is the process of creating a persona. Persona is your prospect, a person that you want to talk to directly.
You should also create an antipersona. You should do it even before creating a persona.
Antipersona is a person that will never buy your product. Having an antipersona created will allow you to avoid selecting worthless keywords.
So let's say your business revolves around real estate. Who is your client? Who is not? Sit down and think about it before you type your first keyword.
4. Create content and monitor its rankings
When you have your long-tails all in one place, all you have to do is prepare suitable content.
Again, just like with keyword research, you can create content yourself or buy it.
Read also:
There are pros and cons to both of these methods.
We'll be honest here – if you don't run a content marketing or SEO business, it will be better for you to hire a professional writer.
After the content is published and indexed in the Google database, you will only need to check its score. There are few ways of doing it.
Google Search Console – Google's tool shows the total number of impressions, clicks, CTR, and average position.
Google Analytics – You can synchronize it with Google Search Console. Google Analytics can provide you with more detailed stats, although learning its ins and outs can take some time.
SERP – Simply type your desired keyword into the Google search box, and look for your result. We suggest you use the incognito mode for more precise results.
Rank Tracking Tools – These are usually paid ones. Thus, we suggest you turn to an SEO specialist.
The best SEO tools for selecting long-tail keywords
Choosing proper long-tail keywords for your industry can be an arduous job. It requires knowledge, time, and some intuition. Best SEOs will not conduct worthy keyword research without proper tools.
What are those? How to use these tools? Do you need all of them?
Free Keyword Research Tools
This chapter is dedicated to small business owners who want to do SEO on their own and bloggers.
Not everyone can afford $50 monthly for an SEO tool, especially that they may not need it at all.
Here you have a list of the best tools for free keyword research.
Google Search Box.
"People also look for" section in search results.
Paid Keyword Research Tools
It is the domain of SEO professionals who rely on the best software in their work. SEO efforts usually mean necessary expenses. The price of an average pro keyword research tool can go up from around $20-30, even up to several hundred dollars per month!
An SEO agency can help you find keyword ideas with decent overall search volumes without you having to pay for a keyword research tool.
The Importance of Long-tail Keyword Phrases
What is your business' focus keyword?
Is it a head or long-tail keyword?
Are you ranking high or not?
If you're dominating the competition, well, congratulations. It means you did everything right.
However, we'll take a wild guess that you're on the other side of SERP. Otherwise, you wouldn't come here looking for a way to outsmart your competitors.
Now you know that long-tail keywords might be your way to the top.
Wait no more! Allow us to find them for you and boost your business to the sky.
Reach the sales level you deserve. Improve conversion. Start making money, finally! Or make more money.
We say that there is never enough income. What's your take?
FAQ
What are Long-tail Keywords?
Long-tail keywords are search queries that contain 4 words or more. In general, long-tail keywords have less search volume, but they're more specific.
Why should I use long-tail keywords?
Reasons to use long-tail keywords:
Easier to rank for in search engines;
They bring less search traffic, but it's more meaningful one;
Higher quality traffic means more conversion;
They fit for search intent on different stages of the customer journey better;
They allow you to be more specific;
Can decrease your PPC costs.
Does my site need to use long-tail keywords?
Does your business need more leads, sales, and income? The answer is the same. You need long-tail keywords to bring prospects to your site, and therefore have a chance to convert them into leads or purchases.
A well-thought content plan with smart long-tail keywords can generate tons of quality traffic over the years.
How can I find long-tail keywords?
To find long-tail keywords, you can:
hire an SEO specialist;
Purchase Premium SEO software and learn how to use it;
Perform keyword research with free tools.
What is a head term?
It is a general keyword that usually contains less than two words.
All rights reserved 2021.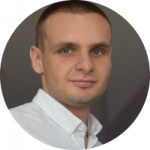 SEO specialist with over six years of professional experience. A/B test and Data-Driven SEO enthusiast. In his work, he focuses on the development and implementation of a strategy that achieves predetermined, specific goals. Privately, a fan of mountain biking.