Due to the overwhelming number of SEO agencies on the market, business owners can have a serious headache while choosing one.
The truth is that no SEO agency is a perfect match for every business. Depending on goals and expectations, a poor choice for one brand may be a life-saver for somebody else.
We're trying to say that you shouldn't search for the best SEO company in the world. Search for the one that's best for you.
Today, we'll tell you how to choose SEO agency that will perfectly fit the needs of your business. From this blog post, you'll learn:
How to define your SEO goals?
Which questions to ask during the talks with SEO agencies?
What should be avoided while hiring an SEO company?
Read Also:
Define Your SEO Goals
Before you start choosing an SEO company, you should precisely define your expectations and goals regarding cooperation with an SEO partner. Ranking high for specific keywords just to rank high isn't a well-designed plan. You need to know what your business model needs and how you'd like to achieve that.
Let's assume that your website doesn't rank high due to a lack of traffic. Therefore, you need a form of incentive that would encourage potential customers to visit the page. Creating a valuable educational blog covering interesting topics related to your branch may be helpful in this case.
In this scenario, you need an SEO agency that specializes in building content marketing strategies.
However, your team may already include savvy copywriters creating high-quality content on your page.  If your website still doesn't rank high, you may need to work on your domain authority. 
Getting trust in the eyes of Google is one of the key SEO components, which can also be targeted as your goal. In this case, you should search for backlinking specialists who will help you with building authority over the web.
How to Choose the Right SEO Agency for your Business?
When choosing SEO companies, it is worth mentioning a few issues that will help you determine the level of professionalism of your potential associate. You should also know how a given SEO agency intends to help you achieve your goals.
That being said, in the sections below you can find GamerSEO tips for choosing the best digital marketing agency for your business. Keep in mind to pay attention to those aspects of cooperation during the conversations with SEO agencies.
Industry Experience
While having business tasks, ask the SEO agency representatives to provide you with actual performance results they've generated for businesses similar to yours. Suppose you are operating in the gaming industry, and the SEO agency you are negotiating with has no data-evidenced experience in that field. In that case, you should think twice before making the final decision about the investment.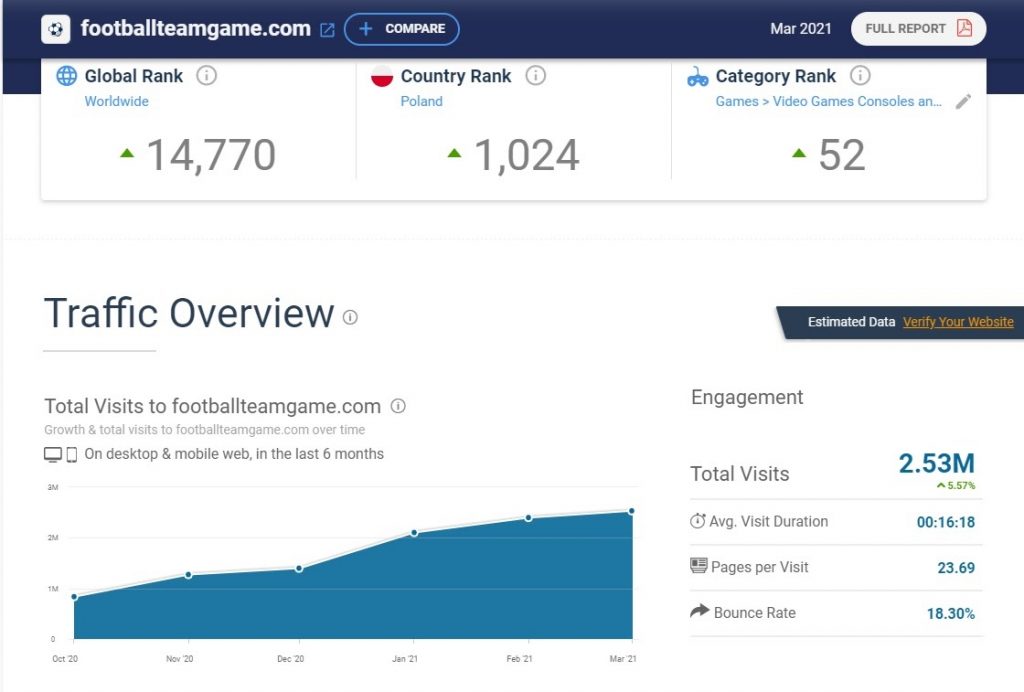 At GamerSEO, we have been working solely with gaming companies. One of our clients is a football web browser game FootballTeamgame.com, which has constantly been noting internet traffic increase since we have been taking care of their SEO.
Client Portfolio
If a particular SEO agency knows what they are doing, they should have numerous clients who can tell about their professionalism and skills. As a responsible business owner, you certainly don't want to risk becoming someone's guinea pig.
We understand that everyone had to start somewhere.
Let's have a look at OuterBox – a company providing professional eCommerce website design, web development, and SEO services. In the picture below, you can see the portfolio of OuterBox along with their products.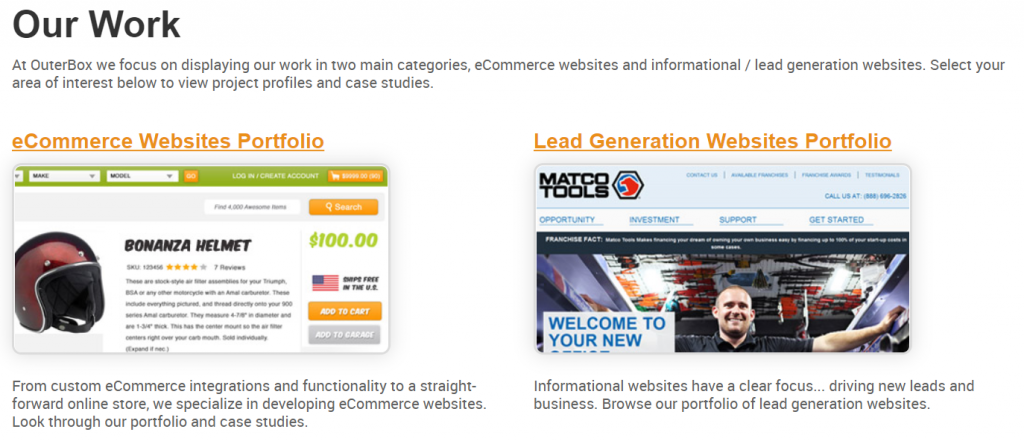 Therefore, if your budget allows you to hire experienced professionals, don't opt for half measures. Additionally, asking about a client portfolio seems a reasonable thing to do during the first business meetings or phone calls.
Case Studies
Presenting an impressive portfolio and documented experience is not enough. You should understand how the SEO agency in question achieves the goals set by their clients.
A good way to know the SEO agency's working methods is to ask about case studies. Thanks to it, you will learn about the actions undertaken by a given SEO agency and the time in which you can expect results.
We encourage you to look at a few detailed case studies performed by GamerSEO in the 'Case Studies' tab on our website.
Get To Know The SEO Company Better
Before you decide to work with a given SEO company, it is worth getting acquainted with their philosophy, ethics, and values. Pay attention to how the company conducts its digital marketing. Thanks to this, you'll see their idea to stand out from hundreds or even thousands of competitors. You might consider subscribing to their blog or following them on social media.  
That way, you will not only see their 'human face' but also check their knowledge about your industry.
The market of new technologies and video games is highly dynamic. Therefore, a given company has to keep up not only with the SEO industry news but also with the latest gaming trends.
If they regularly publish content on this topic, you can be sure they are in the industry because of passion and extensive knowledge.
Ask Who's Going To Work For You
No one knows everything about every SEO indicator. That's why good SEO companies second individual employees to effectively meet consumer expectations. If you are clear about your goals, you should find an SEO company that can provide you with an experienced SEO specialist who deals with similar matters daily.
Imagine the following situation: Your website gets satisfactory traffic, but it struggles with the bounce rate. Instead of watching flashy and generalized presentations, set up a phone call to ask what SEO tactics their team members would use to fix this particular issue, for example: What steps would you take to decrease the bounce rate of my website?

Things To Avoid When Choosing an SEO Company
Once you decide to talk to a specific SEO vendor, you should not only know what issues to raise. It is also worth knowing what responses from SEO agencies should raise your doubts. Some of them can even be seen as a clear signal to end the contract talks as soon as possible.
Always Ask What Is Included in the Price
It happens that SEO agencies tempt customers with potentially cost-effective offers. However, after some time, it turns out that the actions undertaken by the employed SEO agency do not meet the expected results.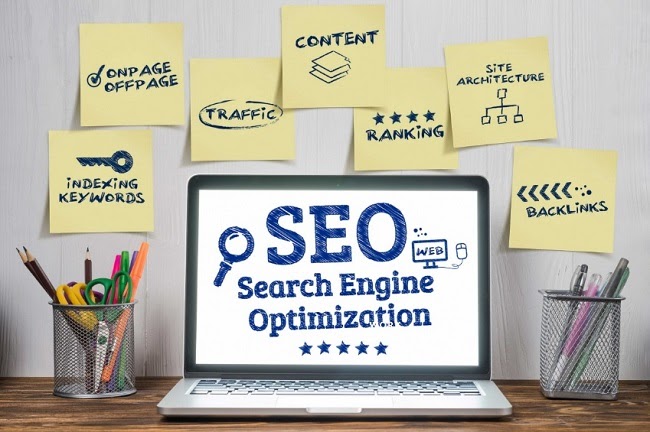 Why? Website positioning is a series of activities that contribute to the final success. Each stage of building the website's position in search engines and customers' eyes requires an appropriate financial outlay.
SEO efforts involve many people – link building specialists, marketing team, experts responsible for keyword research, etc. Each of these people's services costs money, so you shouldn't aim at choosing an SEO service at cost. It may result in overlooking some important aspects of the SEO process.
Before you start conversations with an SEO agency, it's advisable to define your SEO budget. Then you could ask a particular agency for an assessment of specific efforts aiming at improving your website's search engine rankings. This will allow you to compare several offers and finally choose the one that best suits your predefined goals and budget.
Watch Out for Guarantees
As you should know, SEO takes time, and it requires patience. A proper AB testing in Google AdSense takes at least 90 days.
You need to wait from three to six months for the implementation of new solutions to take effect. That's the speed at which Google crawls the whole indexable Internet.
Time is a crucial factor here.
With a proper SEO strategy, you may expect to see results after a few months. After all, building your position as one of the industry authorities requires time. Google is like a suspicious and careful partner who won't trust you immediately.
Therefore, SEO agencies which spam your email address with promises of a top spot in the search engines after a few days or weeks won't help you at best. What's more, they can even make it worse.
Avoid contracts and SEO campaigns that promise results from the get-go.
SEO is not something that you can easily define. It's a trial and error activity.
Don't Trust 'Best SEO Companies' Lists
While looking for a Search Engine Optimization company, you might encounter websites with a list of, according to them, the most trusted SEO companies in the business. However, the majority of such websites shouldn't be perceived as reliable sources of information.
Such websites may offer particular SEO agencies to buy a spot on the list, guaranteeing a specific amount of traffic or conversions. That being said, SEO companies included on the lists aren't always the best in the business. They are often in need of clients and are forced to do some shady stuff to get recognition finally.
Another side is that all the listings, catalogs, and databases were a legit link-building method.
15 years ago. Or more.
Are you looking for a verified ranking of SEO agencies?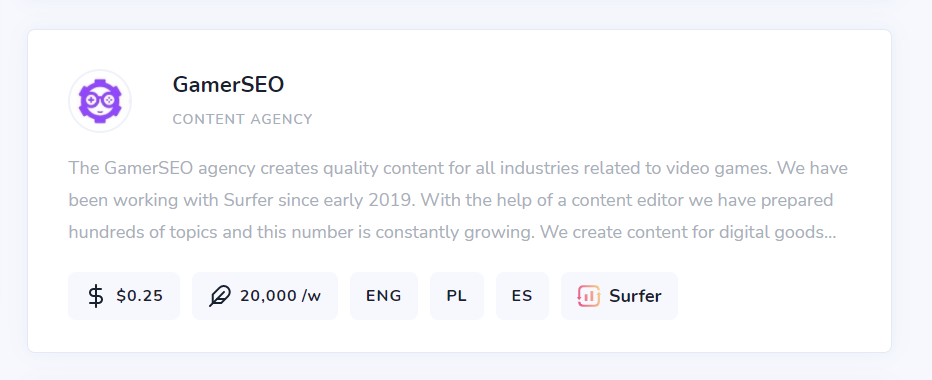 Have a look at SurferSEO Recommended List of trusted marketing consultants, firms & agencies. The great aspect of this listing is that no SEO company can pay to earn a spot there.
Don't Rely on Google Only
When you choose an SEO company, browsing the Google search results only may not bring expected results. What we recommend is using the word of mouth method. Some of the SEO companies have made a name for themselves through client recommendations.
You may ask friendly business owners which SEO agencies have been doing the job for them. That way, you'll make sure that the SEO firm has the experience, positive reviews, and knows effective SEO strategies.
Many top SEO agencies don't have to focus on their web presence and marketing plan because they are already busy providing SEO services or other marketing services for their clients. They usually rely on long-term cooperation and gain new clients thanks to the position of business leaders in their industry.
Watch Out For Black Hat SEO
Black Hat SEO is unethical activities, which, however, allows sites to achieve high positions in a short time. They consist in creating a website for search engines, not to boost user experience, which is Google's priority.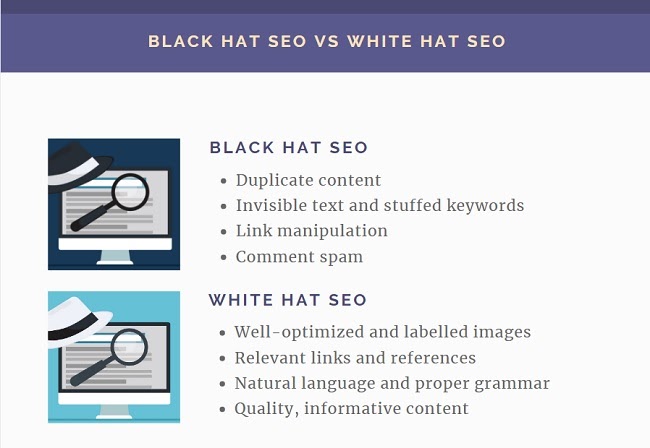 "If Google detects that your site is using black hat SEO, they may issue a penalty. Receiving a penalty from Google will trigger an update to its PageRank algorithm such that your website's ranking performance will be downgraded or, in worst-case scenarios, entirely delisted by the search engine." – Forbes.
Therefore, if an SEO company offers you tons of organic traffic or conversion rate increase in no time, chances are they might be using black hat SEO practices. It's always important to ask how they are going to bring you such results. If their answer sounds like: "We are sorry, but we can't reveal our working techniques," it's yet another sign that you should pack your things and leave.
Wrapping Up
When you choose an SEO company, you entrust somebody with your business which has consumed a lot of your time and possibly money. Therefore, if you want to find the right business partner for you, it's necessary to do detailed research as a part of your homework.
However, before choosing between SEO firms, you should consider what goals you would like to achieve through this cooperation.
During the selection process of the right company for SEO partnership, it's worth paying attention to the following aspects step by step:
Does this SEO agency have knowledge about your industry?
Can they present a detailed plan for your company?
Do they have a dedicated group of specialists?
Are their business methods characterized by an individual approach to the client?
FAQ
How To Choose An SEO Company?
As choosing an SEO company is a challenging task, you should first define your goals and budget devoted to SEO costs. While having a consultation with an SEO agency, you should ask about:
industry expertise,
client portfolio,
case studies,
online reviews,
team specialists;
price range.
Why You Need An SEO Agency?
With a well-designed SEO campaign, an SEO agency can bring the following benefits for your business:
building recognition with local SEO,
conversion rate optimization (more leads and sales),
building brand awareness,
reaching the desired target audience,
keyword rankings.
How Much Does SEO Cost?
SEO pricing varies depending on various factors. However, most businesses pay between $1,000 and $2,500 per month for digital marketing services.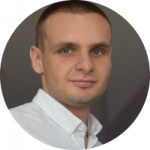 SEO specialist with over six years of professional experience. A/B test and Data-Driven SEO enthusiast. In his work, he focuses on the development and implementation of a strategy that achieves predetermined, specific goals. Privately, a fan of mountain biking.