Search Engine Optimization brings results. This has been proven over and over again for different companies regardless of the brand industry.
Digital marketing is more than just having nice landing pages, creating content for social media profiles, and executing lead generation campaigns.
Nonetheless, improving the SEO performance of a company is not a linear process: there are many factors we need to consider so we can prioritize our intensive effort based on realistic SEO goals.
If you don't know exactly what to do when setting goals, then you have arrived at the right place.
In this blog post, we will talk about how search engines work, conversion rate optimization (we know you want to increase your revenue!), and the positive impact of well-crafted actionable SEO goals.
What Is an SEO Strategy and How Does SEO Work?
As experienced SEO professionals, in different articles, we have extensively covered everything you need to know about our SEO services.
But, this time, we will explain to our SEO clients what Search Engine Optimization is in simple words.
Imagine that you want to bring more traffic to your website. Websites of other companies are obviously getting more organic traffic than you, so what's happening?
Apparently, you are doing things "right," but still, your competition is better at driving traffic,
obtaining more financial transactions and organic conversions.
Obviously, they have a clear understanding of what are the right SEO practices to achieve all of this.
SEO puts you where you need to be: on the top of search rankings.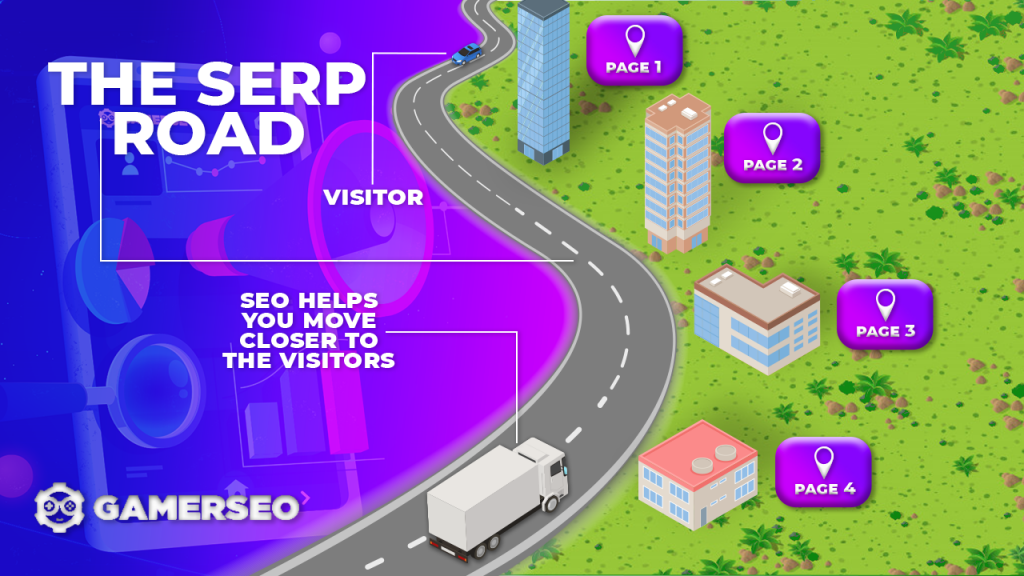 Think of search results as a highway. Website visitors don't want to spend hours "driving," they want to do a quick research and get answers as soon as possible.
Therefore, an SEO program is the best way to boost the position of your business online.
Having an SEO team to develop an online marketing strategy for you will certainly bring you enormous potential in ROI (return of investment) over the long haul.
So, what's your choice?
Do you want to be one step ahead of your competition, or will you let them get your potential customers?
The answer is clear, right? Now, let's understand the importance of comprehending our end goal.
Determine Realistic Objectives for Your Website
For the well-being of our users, our available resources, and our businesses, we must set realistic goals.
We all want to experience outstanding organic traffic growth, get more qualified leads, and have better conversion rates.
But one thing is dreaming big, and another thing is setting smart goals.
Take a look at the following screenshot: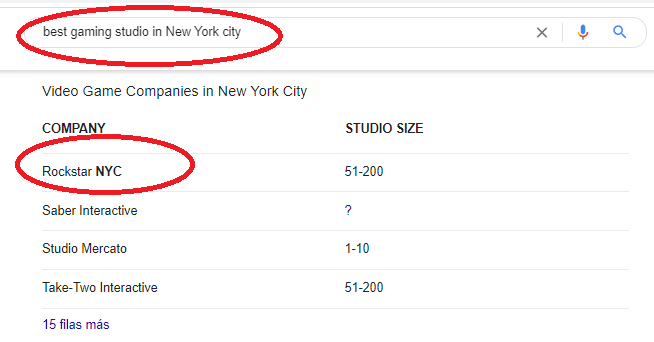 This is a good example. In this hypothetical scenario, you run a gaming studio based in New York City.
Imagine that during the process of setting SEO goals, you or your marketing team think that it is a good idea to rank your studio for a particular keyword: "best gaming studio in New York City."
Now, the top results of this query lead people to find "Rockstar Games."
Who doesn't know Rockstar?! They are one of the most successful companies in the market.
They have over 20 years creating quality and valuable games for their target audience, and, don't doubt it – they also target keywords as part of a local SEO strategy.
So do you think it is a realistic SEO goal for your hypothetical studio?
Outranking industry giants doesn't seem like a reachable objective. In this case, it is better to aim for long-tail keywords with more precise search intent.
Site owners need to identify the difference between a smart goal and nonsense in order to achieve success through a helpful strategy.
Main SEO Objectives to Consider
Now that you have determined your marketing goals, it is time to discover how SEO can provide you with solutions.
SEO campaigns bring versatile results if we base our strategy on our business objectives.
Before starting, be sure to consider these three important points:
Your competition: it is crucial to battle competitive pressures so we can have a bigger picture of our business needs.
Your budget: SEO will help you monetize traffic, but knowing your budget is a must before starting.
Your search demand and benchmarks: search volumes are vital. You can't expect three million organic search visits if there are not enough people directly tied to your industry.
Increase Organic Traffic
There are different ways to measure SEO success, and one of them is achieving your organic traffic goals.
Generating qualified traffic will undoubtedly help you get new customers and, thus, better conversion levels.
So, what's your starting point? Obviously, you want to generate traffic to get more leads and to finally get to the first page of Google. But in order to do this, we need to get measurable metrics.
And we are back again to having a realistic marketing goal.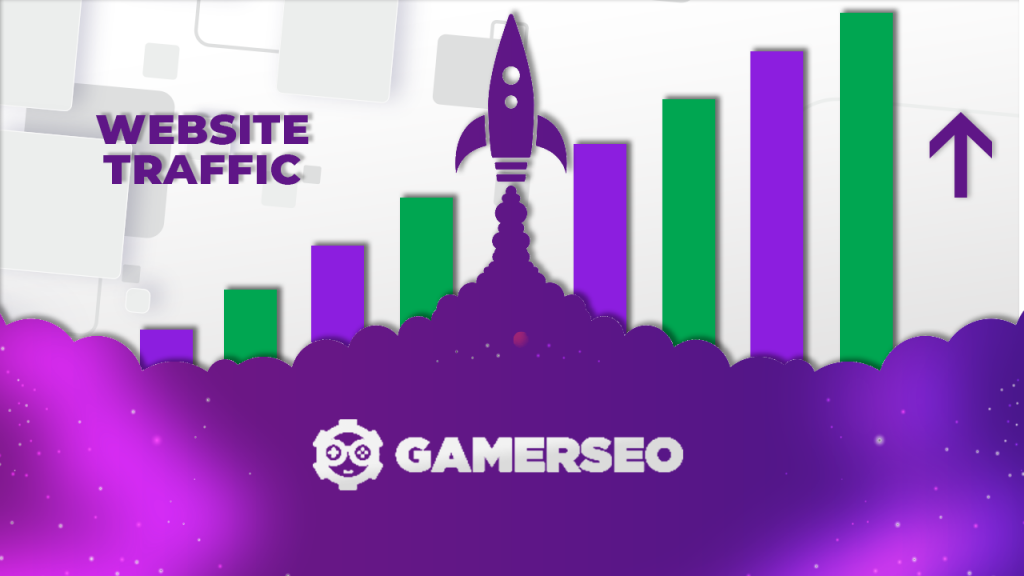 It is unrealistic to expect a 200% website traffic increase in just one month.
On the other hand, a monthly 10% or 20% search traffic increase can allow you to produce more results than you imagine.
Either way, to earn traffic, it is utterly necessary to have a high ranking. If people can't find you, they won't reach you!
Let professional marketers tell you how to drive traffic to your website with strategies specially adapted to your business.
Improve E-Commerce Sales
If you have an online store, it is time to focus on boosting your transactional sales.
Global E-commerce sales are growing more than ever in the last few years.
This creates fierce competition among e-commerce sites all over the world. That's why we need to pay attention not only to our product pages or image optimization inside our store but also to leveraging our SEO.
It is fundamental to make people buy in our store, but how can we combine SEO to increase sales?
First of all, it is fundamental to put visitors on top of the funnel. Basically, this means that getting them to know your brand name is the first step for improving the rankings of your store.
Therefore, keyword research must be performed in order to understand what people are looking for on a specific page.
READ ALSO: What Is a Sales Funnel, and How Does It Work?
Use Google Analytics to Know Your Audience
It is easy to see your customers if you own a physical store, but how do you understand your audience if you have an online store?
Google Analytics is the answer.
There are different tools to understand the behavior and needs of your customers, but Google Analytics is definitely the best one for this.
For instance, let's take a look at the Acquisition Report generated by this tool: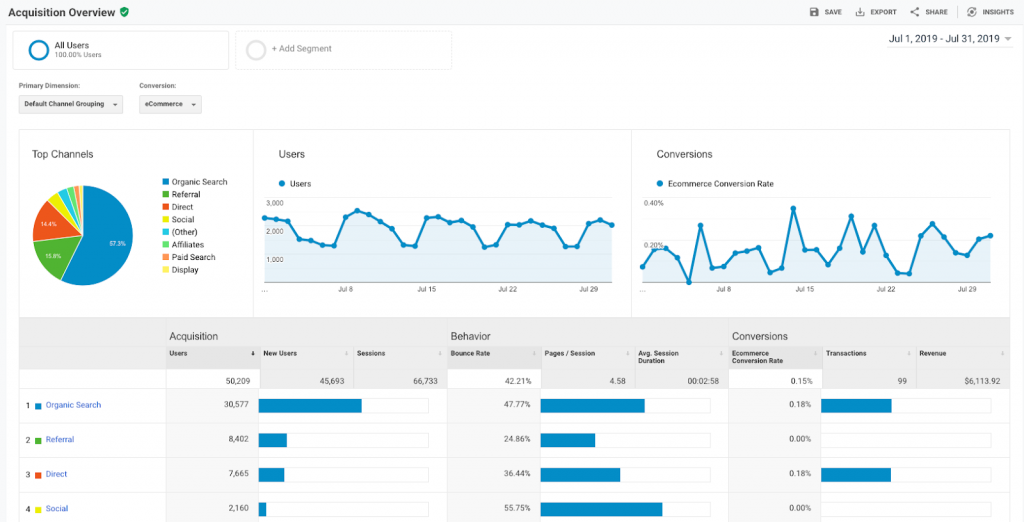 This overview can show you which channels are driving the most traffic to your business and how people are finding your company and purchasing products from it.
This information will help you with conversion rate optimization and improve the efficiency of your SEO strategy. 
Google Analytics has unlimited potential. Don't hesitate to use it!
Strengthen Your Domain Authority
Domain Authority, commonly known as DA, is a search engine ranking score created by Moz. The higher is the score (on a scale from 1 to 100), the greater is the likelihood for ranking.
Therefore, increasing the strength of your domain will certainly help your website rank higher.
To calculate the Domain Authority, it is important to take a look at these critical factors: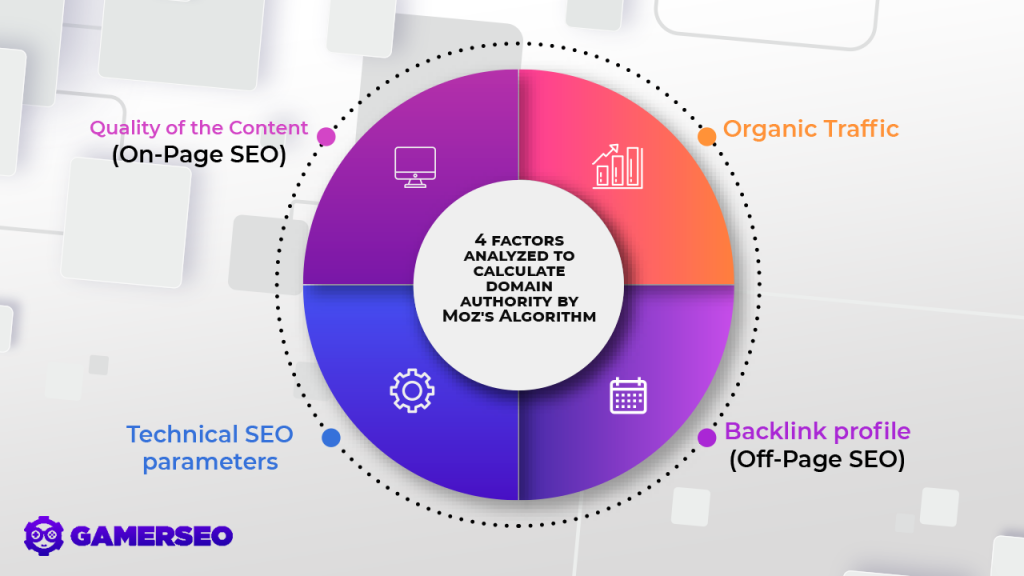 The more people interact with your content, the higher are your chances of increasing your DA.
That being said, it is fundamental to pay attention to On-Page SEO. How do we do this, you ask? Two words: content creation.
Creating Relevant Content is not Optional
If you create great content, the positive impact of this will reflect in your Domain Authority.
Blog posts, articles with valuable tips, press releases, and other content formats are great to get more visitors, more leads, and, as a consequence, more sales.
Paid search is not the only way to get results! Of course, you will need professionals with outstanding skill levels to provide your website with content worth reading.
For this, keyword research is vital. Search intent and search volume of long-tail keywords help us identify content gaps to create content of value for our readers.
Besides, this will help you gain rich featured snippets in the future, such as this one: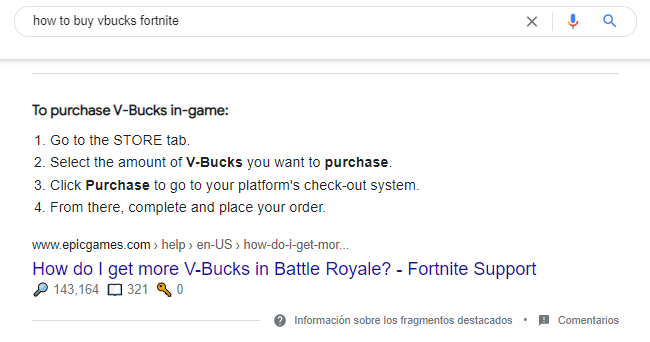 In fact, this is directly tied to the next point of our list.
Decrease Your Bounce Rate
If someone enters your website and leaves quickly, analytic providers will count that as a bounce.
This is interpreted by search engines like your website is not catching the attention of your visitors.
Thus, not matching the search intent means that your content is not relevant to your audience.
How can we improve this?
Then again, content is king.
READ ALSO: Why Have a Company Blog: 7 Fact-Based Reasons
SEO can help you decrease your bounce rate if you match your on-page content with what users are really expecting to find.
Optimizing your meta descriptions, headlines, and general content is the first step to show what you offer to the public.
Maximize Page Speed
This is the primary technical SEO goal for most people. Suppose your page speed is not good enough. In that case, users will leave, it will be more difficult for Google Crawlers to check it, and, therefore, the overall website experience will be negatively affected.
You can use tools like PageSpeed Insights by Google to see what can be improved through actionable suggestions.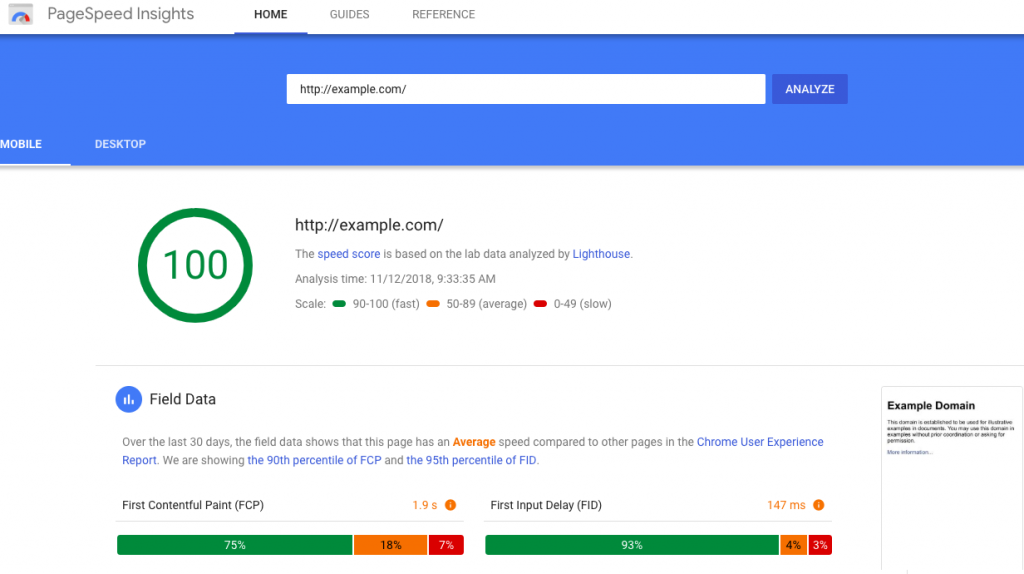 A technical SEO analysis will tell you how to increase page speed. Sometimes, it will be necessary to restructure your content.
Definitely, it is better to leave technical SEO audits to skilled professionals.
Consider Your Links Profile
Obtaining high-quality backlinks to your site is one of the pillars of an SEO strategy.
Your websites' backlink profile is one of the most important things to boost your business, but remember that link building is about quality, not quantity.
To have a good link structure, it is vital to analyze which links will refer to the most inbound traffic and provide authoritative link equity.
Last but not least, internal linking is useful for both your ranking and your visitors.
The structure of your site should be improved as a whole. Crawlers can collect more positive information about your website if your internal linking is optimal.
In fact, we have been doing internal linking since we launched our blog! Look at the following example: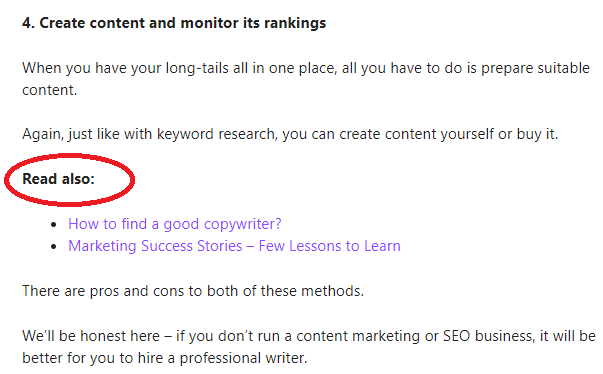 This is a screenshot for our What are Long-Tail Keywords blog post.
So, what are the benefits of doing this?
Improved crawlability and site structure.
Users reading about content creation can directly jump to a valuable source of information to learn how to find a good copywriter to create stunning blog posts.
GamerSEO's conversion rates are more likely to increase because a solution to a problem (content creation) is being directly offered in the form of optimized content.
The better your interlinking is, the easier it will be for your potential customers to go deeper into your website.
How to Choose the Right Goals to Improve Our Search Engine Rankings?
Now that you know what the most common SEO goals are, it is time to decide which one of them applies better to your business.
It is not a secret to anyone that an SEO strategy requires money.
Hence, carefully consider your budget to determine the best course of action that will bring you the best results.
We can safely say that there are four main questions to ask yourself before deciding the course of your SEO strategy: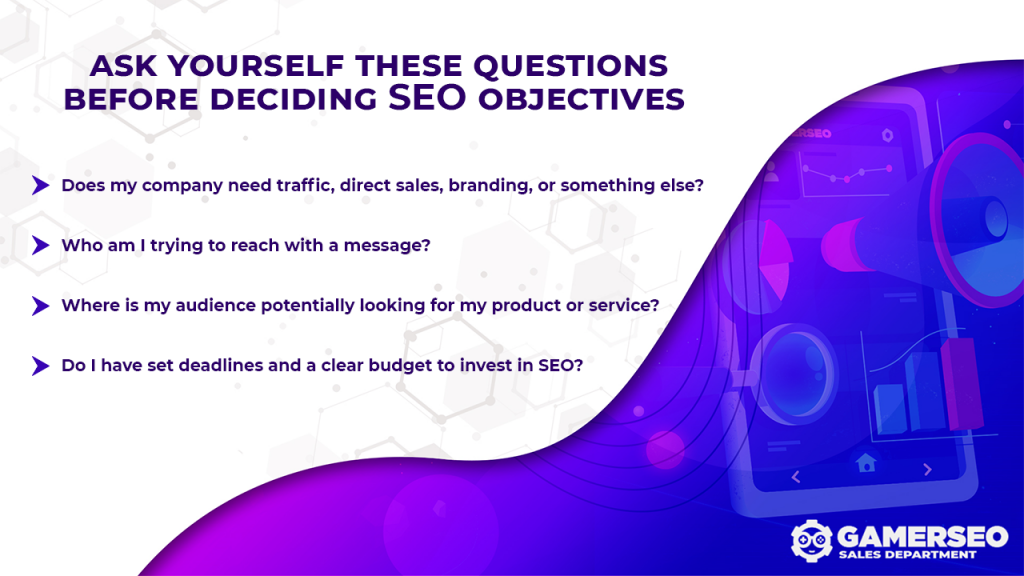 Conclusions
At this point, it is clear that attacking SEO with the right list of goals is not optional.
If we want to make a difference in this modern, competitive, and fierce digital marketing world, we need to push ourselves.
Our SEO agency knows how to create a marketing strategy to fulfill each one of your business goals.
Driving relevant traffic with the best SEO practices is an art, and we, GamerSEO, are the artists.
Search Engine Optimization has proven to be one of the most essential tasks that website owners need to perform.
This also applies to companies in the gaming industry. So if you are looking for gaming marketing geniuses to help you with it, just contact us and you'll eventually appreciate the results of a personalized SEO campaign tailored to your needs.
FAQ
How do I Choose Keywords for SEO?
Keyword research is one of the most important factors in SEO. It is fundamental to think like a customer, understand the competition, and determine your audience's search intentions to find proper keywords to accomplish your goals.
What Skills are Needed for SEO?
An SEO professional should have critical thinking, analytic skills, and a comprehensive understanding of different digital marketing strategies. Our team has all three!
What Should Your SEO Goals Be?
The first goal of an SEO campaign is boosting your presence and growing your online business. Then, the other goals will be determined by your company's needs.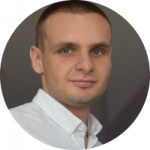 SEO specialist with over four years of professional experience. A/B test and Data-Driven SEO enthusiast. In his work, he focuses on the development and implementation of a strategy that achieves predetermined, specific goals. Privately, a fan of mountain biking.