It is not a secret to anyone that YouTube marketing it's a vital decision for businesses these days. As of 2021, YouTube users hit an uncanny mark of 2.3 billion.
Besides, people can still watch YouTube videos without having a Google account, so the total number of individuals actively consuming video content is even bigger.
Do you really want to miss the opportunity to engage with your target audience? We believe you don't.
Of course, having a YouTube channel is the starting point, but applying YouTube marketing strategies is the right way to go.
That's why you are here, and we know it: you need a YouTube marketing agency to bring the results you are looking for.
There are other factors that you should also take care of, such as search engine optimization (SEO) and other social media platforms. Nonetheless, focusing on social video optimization is the key to building an amazing YouTube campaign.
So, after reading this blog post, you will now understand:
What are YouTube marketing agencies, and how can they help you;
all you need to know about YouTube campaigns;
what a YouTube Agency can do for your business.
What is a YouTube Marketing Agency?
Whenever we think about a digital marketing agency, most people focus on social media campaigns on platforms such as Facebook or Instagram.
Obviously, a full-service agency can cover most social networks with a proper creative strategy.
In the case of a YouTube strategy, the marketing efforts should be solely focused on executing, developing, reporting, and performing effective YouTube marketing services.
Thus, a YouTube marketing agency must comprehend the YouTube platform in its entirety in order to achieve the business goals and appeal to a specific target audience.
Of course, this expertise is achieved through a team with good communication, excellent campaign management, and outstanding ideas to develop brand recognition and achieve success.
It is not easy at all, but the importance of having a presence in social networks, especially YouTube, is greater than ever before.
Nowadays, most companies understand that YouTube agencies are the perfect solution when it comes to building brand awareness through creative services.
How does a YouTube Marketing Strategy Work?
We all know that online video production and social media marketing are not easy tasks to perform.
Still, there's an overall imperative need to use digital marketing services for problem-solving situations.
But a YouTube strategy is way more than creating popular videos and general YouTube management.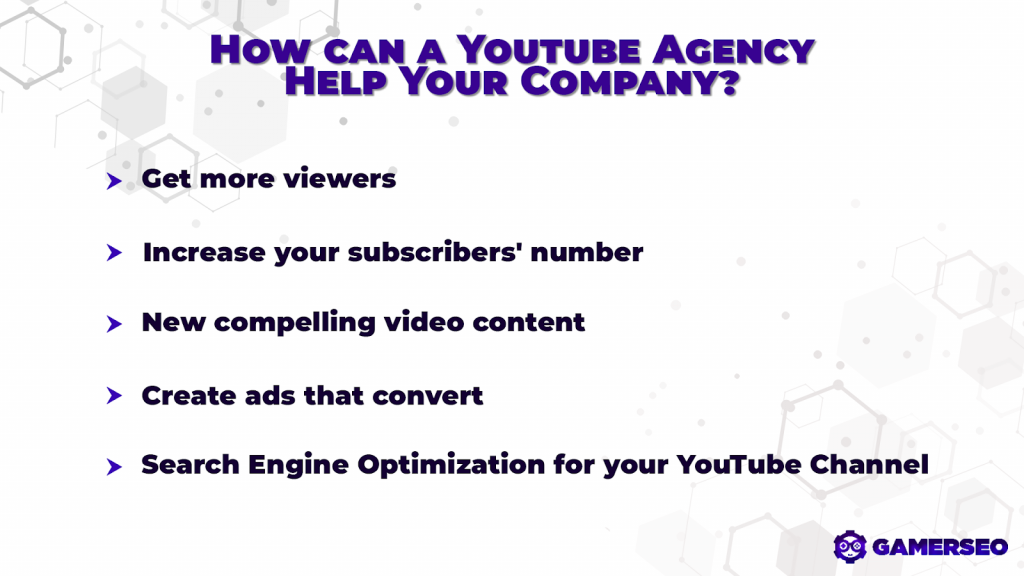 A YouTube Agency must analyze a company's core audience to craft a unique approach during the whole process.
All the audiences are different from each other, which is why comprehending what a particular niche wants to receive is vital.
So, there's not a "linear procedure" for a YouTube strategy. It's all about carefully comprehending what's best for brand presence and potential customers.
Unique content production is just the result of deep research and efficient targeting based on data. It's an art that a YouTube Agency can perform better than anyone else.
How Can YouTube Advertising Help Your Business?
As we mentioned before, YouTube advertising is more than creating social media videos and video ads.
YouTube agencies work closely with key influencers in your niche so a brands' message can be adequately spread.
Probably, other channels are willing to build awareness and bring traffic to their website by collaborating with relevant people in your industry.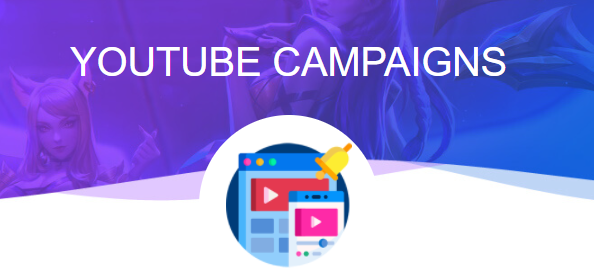 This creates the need to be one step ahead of the competition and manage our campaigns to obtain more leads and more clients over the long haul.
Here is when a YouTube marketing agency comes into the scene: they know what's the best course of action for your business.
Hence, if you are wondering how YouTube online marketing campaigns can help you, these are four of their main advantages for your business:
Budget establishing: the first starting point is not YouTube channel management or lead generation – it is having a clear budget for the strategy. Once the budget has been established with the agency's help, then the magic can start to happen.
Key Performance Indicators: KPI's are one of the most important things when it comes to social media management. By using the right tools, an agency can understand and analyze advertisements' metrics to define what is working and what isn't.
Connect you with influencers: influencer outreach is crucial to crafting an effective campaign. In this case, agencies curate and select certain channels to ensure the ones you work with are the best option when it comes to reputation management.
Improve click-through rates: we all need to have a clear call-to-action in our videos to gain new customers. An agency will provide you with the best ideas to achieve a positive CTR through paid media, catchy titles, creative thumbnails, and much more.
If you are interested in improving your results, then it's time to advertise with the best.
The following graphic shows the five pillars of a good YouTube strategy: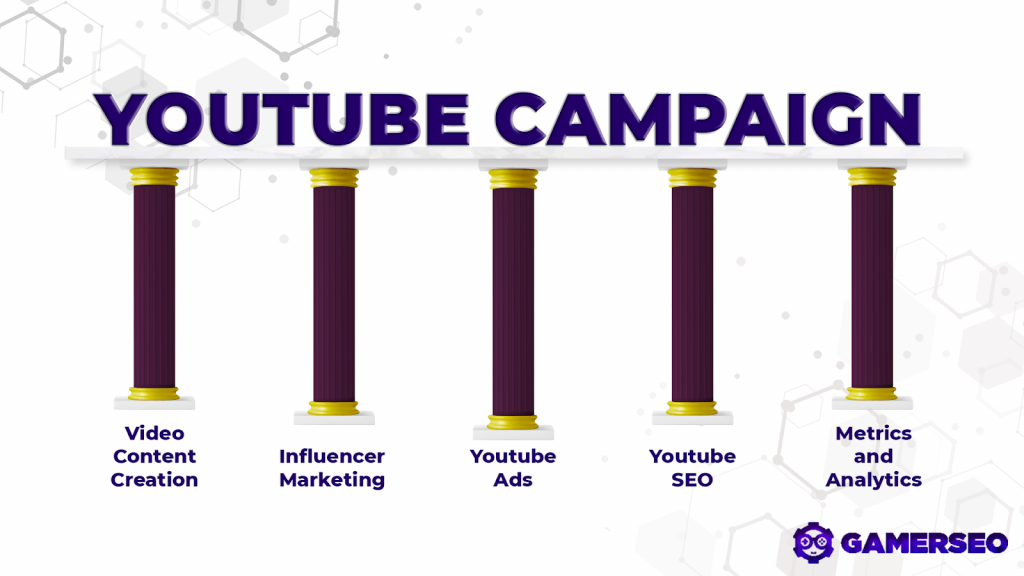 As you can see, video content is not the only thing you need to focus on. Either way, we'll discuss in detail all of these parameters right now.
5 Things a YouTube advertising Agency can do for You
The professionals on a YouTube agency are more than just social media managers. They make more than simply ads – they also focus on creating unique content that has a tangible impact on the business' objectives.
Needless to say, a good YouTube strategy is a marketing mix between the best practices to achieve a certain goal.
So, there's not only one way to go if you are looking to create and optimize a new YouTube campaign – there are lots of things to take into account before proceeding.
Still, if we would need to mention the most important aspects of a YouTube strategy, you for sure can't miss the following five factors.
YouTube Ads
It is obvious that YouTube is one of the biggest advertising platforms in the whole world. Other social networks are also good to increase conversion levels, but we cannot leave out the amazing performance that a YouTube ad can bring.
In fact, 90% of YouTube ads increase brand recall, which is an astonishing number that will undoubtedly continue to increase. On top of that, 70% of viewers bought from a company after seeing a YouTube ad.
Your company's size doesn't matter: if you want to experience authentic results and more sales, you can't avoid implementing this form of video ad. This strategy can also be complemented by Facebook ads, or you can even expand your existing video assets to improve engagement.
YouTube SEO
YouTube is the second largest search engine of them all. It's only surpassed, evidently, by Google. Optimizing for search engines is our specialty, but in order to have a proper starting point, an SEO consultancy must be performed.
Keyword targeting is one of the most important things that all YouTube channels should aim for. At the end of the day, if people can't find your content, they'll just watch other videos.
As you might guess, search engine bots and crawlers cannot watch videos. So, the optimization of a YouTube channel is not the same as optimizing a web site. Therefore, you will need copywriting services in the post-production stage, so the subtitles, closed captions, and transcripts of each video are optimized enough.
As you can see in the graphic below, taking into account all of these parameters is the key to developing an amazing YouTube SEO strategy.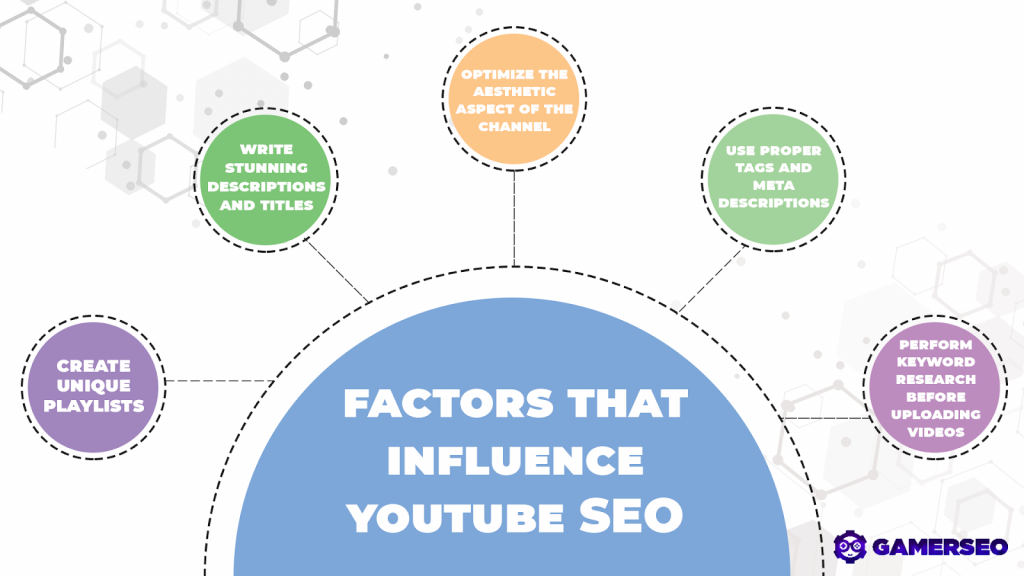 Keep in mind that SEO is more than just thinking about metrics and analytics. An organic campaign will for sure bring more results related to user-generated content and engagement. Besides, remember that most YouTube users watch social media content on mobile devices, so it's fundamental to optimize for every device.
YouTube Influencer Marketing
YouTube is full of outstanding people who have enormous audiences in your specific niche. The problem is that probably your competition wants to work with them too.
It is extremely difficult to grow on YouTube without hiring influencers to spread our word. Influencer outreach is a task that requires a complete understanding of a brand's needs in order to find the best YouTubers for a marketing strategy.
Besides, the influencers need to create content that goes with your brand. Having a purpose behind a video is the goal, but this needs to be done in such an organic way that the audience can believe that the influencer enjoys our product or service.
There's a reason why influencer marketing is so used in the gaming industry: it brings impressive results. Take a look at the following example: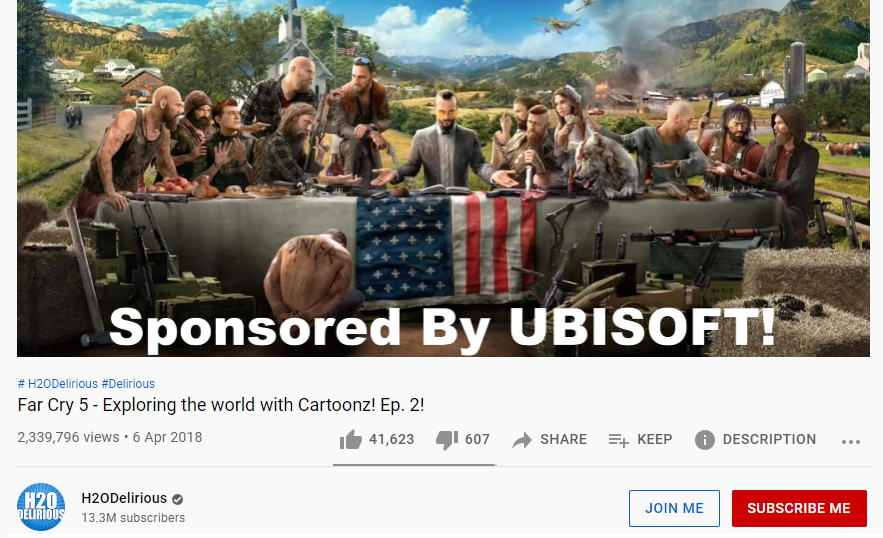 In this particular case, Ubisoft partnered with the popular YouTuber H2ODelirious to show their new game, Far Cry 5.
The reception of the promotion was highly positive. The video got millions of views and engagement with the audience.
Pro-Tip: Do you want to know how to craft an amazing Influencer Marketing campaign for the gaming industry? We have covered this topic before, so take a look at our "How to do influencer marketing" post!
YouTube Video Content Creation
What would YouTube be without exciting videos? Nothing. Quality content is what makes people go to YouTube and watch entertaining pieces of multimedia.
Besides, what makes top gaming YouTubers stand out from the rest is their creativity and uniqueness.
Hence, an agency knows best what type of content is the ideal one for a certain business. Needless to say, gaming video content produced 9.3 billion dollars in revenue just in 2020. Just take a look at the following graphic: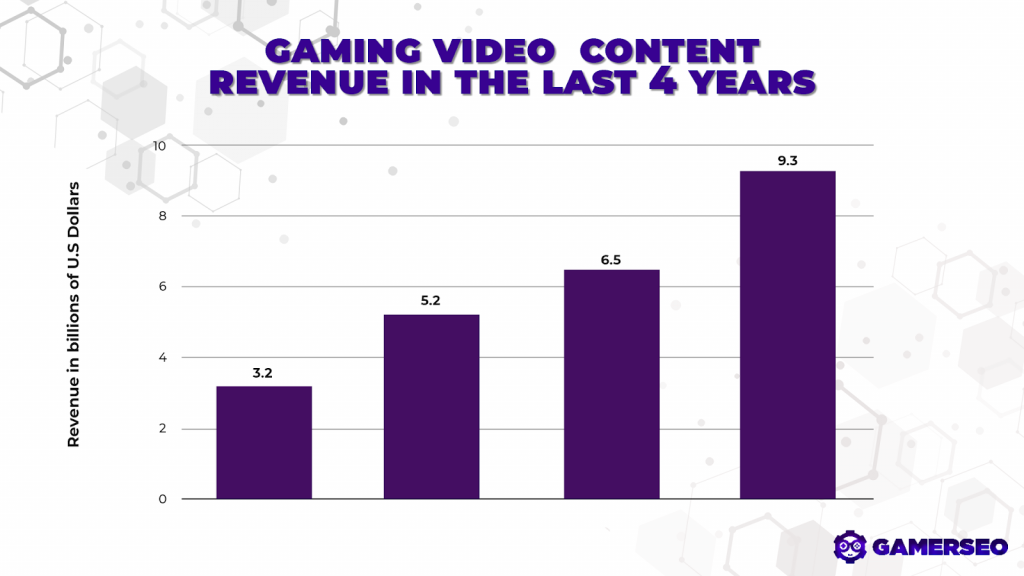 So, nobody wants to miss the opportunity of experiencing results like these in their campaigns.
YouTube Channels Analytics
Every marketing campaign should have its results measured so the agency can identify what's working and what's not.
Nonetheless, it's the agency's duty to create a successful campaign, but this wouldn't be possible without understanding vital metrics that, luckily, YouTube provides.
But one thing is to just "read" the metrics, and another thing is to interpret them.
The interpretation of YouTube analytics is the best way to focus marketing efforts on new goals, such as increasing video views or growing subscribers.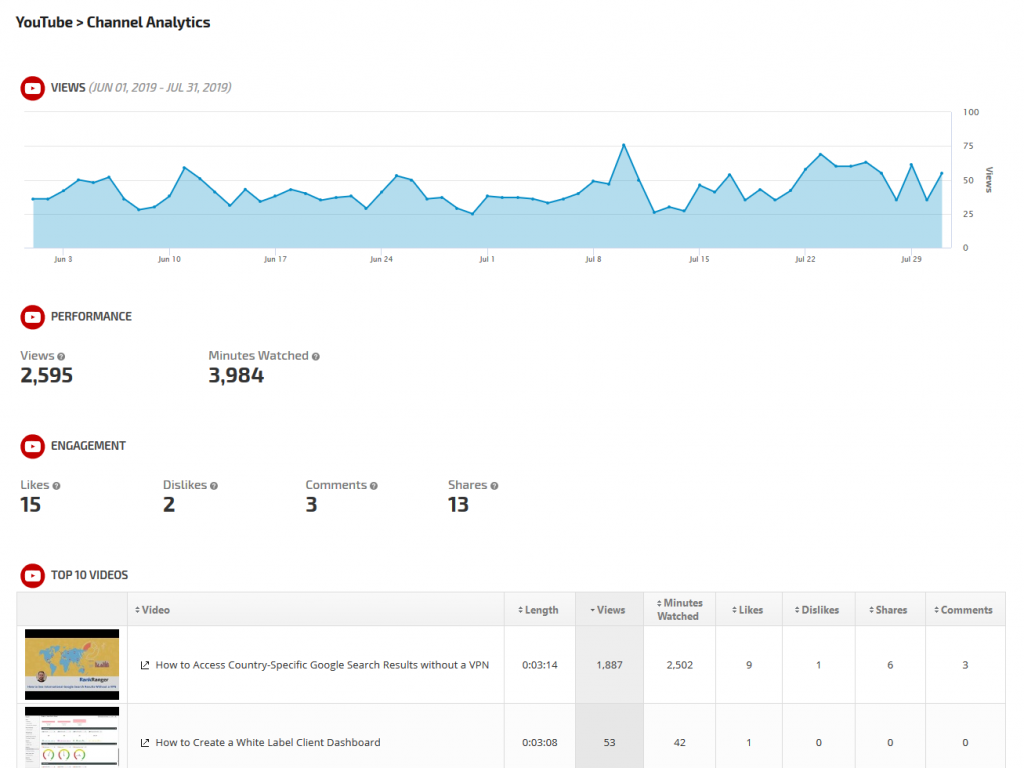 As you can see on the screenshot above, there are many metrics to look for. Be sure to receive the help of a professional before making a decision regarding these analytics!
Does Your Brand Need a YouTube Video Marketing Agency?
Gamers are on YouTube. Platforms like Twitch and YouTube are the king platforms for gamers all around the world.
Besides, it's no secret that quarantine gave a significant boost to these platforms to grow even more than in previous years.
Video games are a digital product that needs to be placed right in front of the eyes of your audience. YouTube is undoubtedly one of the best mediums to achieve this objective. Nowadays, working with influencers and YouTube agencies is an integral part of every single gaming marketing strategy out there.
At the end of the day, YouTube is and will continue to be the absolute best point of sale for the gaming industry. If you want us to create sensational YouTube Campaigns, just contact us and let our marketing genies be your "player two!"
FAQ
Why should you pay attention to your channel name?
Your channel name is the way in which viewers will find you. Of course, your channel can also be optimized in other aspects, but having a catchy and easy-to-remember name is a big advantage.
How do I get YouTube views?
First and foremost, creating compelling content is the best way to attract viewers to your channel. Then, it is fundamental to have a well-designed YouTube marketing campaign to understand the best course of action to increase a channel's views.
How do I increase my SEO ranking on YouTube?
A YouTube SEO strategy needs to focus on parameters such as subtitles, video titles, video descriptions, captions, meta descriptions, and more. The objective is to make your video be more easily found by users.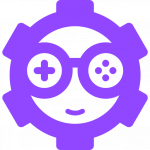 Marketing Director with over six years of experience in the field. Managing teams carefully and out-of-the-box thinking is his main factor in growing businesses through the right marketing practices. His Outreach Specialist background helps him to develop highly converting and organic campaigns.