Today, setting up a business is probably easier than ever. Even though this brings many advantages, it also translates into an astonishing number of competitors.
Such a conjuncture creates critical business issues: How to gain the competitive edge? What would help me outperform competitors?
Choosing the right strategies is not easy to do, yet it is undoubtedly feasible. Instead of wandering blindly, utilize methods that have proven their effectiveness in your industry. And the best way to find out which strategies work and which don't is to investigate your competitors' strategic moves.
That's precisely what we are going to discuss in today's article. Read through to find out:
Who should you spy on?
Which techniques that let you spy on competitors are the most effective?
What tools can help you monitor your competitors' moves?
How to Find Who Should I Spy On?
While starting competitive analysis, first, you should aim at defining your real competitors. It's crucial to say that you should focus on companies that operate exactly in the same niche as you do.
For example, it may seem that the SEO world industry giants like Moz, Ahrefs, or SEMrush are our fierce competitors. However, that's not necessarily true. We are specializing in the video game industry. That's why we pay close attention to the marketing efforts of agencies from this segment rather than the companies mentioned in the first line.
Google Search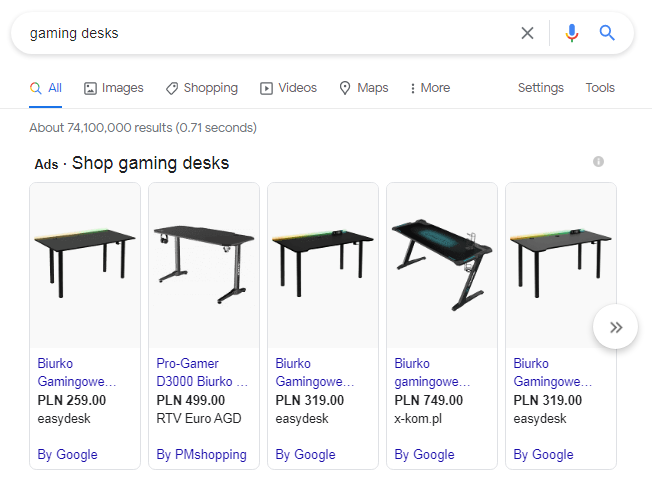 The easiest way to determine your top competitors is to simply type in the main sales keyword your site ranks for in Google search results. Then, browse through the SERPs and see if the results contain your competitor websites.
Alternativeto.net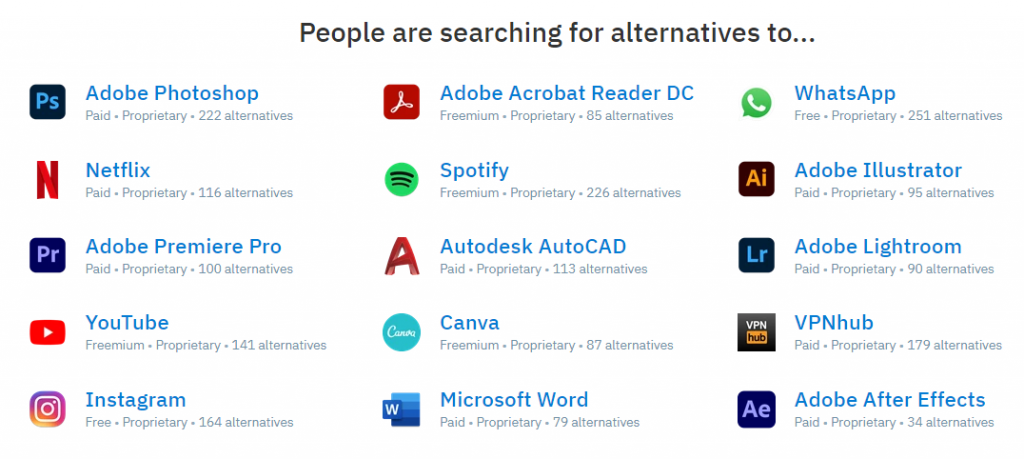 On the other hand, you can visit alternativeto.net and check who's listed as an alternative to your product. Then, have a look at what pops up and decide whether these products are a real alternative that your target audience could be interested in.
Quora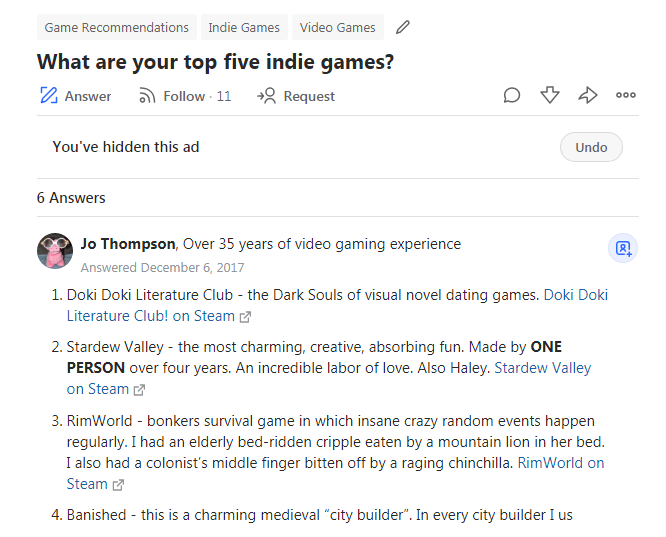 To find new competitors, you can also register at Quora. This question-and-answer website contains answers to thousands of queries, including "what's the best app for …", "the best company in…", and similar. It's a great way to find out what products people describe or advertise there.
What's more, presence on Quora lets you build brand awareness, boost page authority, bring traffic to your website, and find out what your target audience needs or expects.
Techniques on How to Spy on the Competition
After you have managed to create a list of the biggest competitors, it's important to know which aspects of their marketing activity you should monitor. The best approach is to focus on those elements where your competition has the greatest advantage over you.
READ ALSO: Why is Competitor Analysis Important? Stay One Step Ahead
In other words:
Does their marketing strategy generate much more organic traffic? Analyze their SEO.
Are their social media profiles driving more engagement, shares, and likes? Check out how they build social media campaigns.
Are their Facebook ads targeting better than yours? Go to the Facebook ad library and analyze their advertising on the Facebook page.
Of course, there are many more possibilities. And below, we have enumerated some actions you can take up during competitor analysis.
Check the Keywords Your Competitors Buy
Your competitors may acquire customers not only via organic search traffic or social media platforms but also from Google ads. Monitoring ads and being aware of keyword rankings your competitors find valuable will let you estimate costs and find cheaper niche keywords. This also gives information on how your competitors position themselves on the market.
While performing competitors' paid ads analysis, pay close attention to: How much your competitor spends on PPC ads or a specific keyword. What top keywords they are using in their advertisements. How profitable their campaigns are.
Check Competitors' SEO
Even if your competitors found profitable keywords for their AdWords campaigns, their traffic strategy most likely doesn't rely solely on PPC campaigns. You should know that organic search is the channel that delivers more than 50% of trackable traffic to websites. Thus, chances are that your competitors drive the majority of customers thanks to a well-designed SEO strategy.
However, even two companies providing similar products or services can position themselves in the industry via different strategies, thus not focusing on the same keywords.
Are your competitors ranking higher in organic results? Similarly to paid keywords, you should analyze their traffic stats. Look at their top pages and find keywords with high search volume that bring your competitors the most traffic.
Here's a list of five tools you could use in SEO competitor analysis (we'll describe some of them in the final section).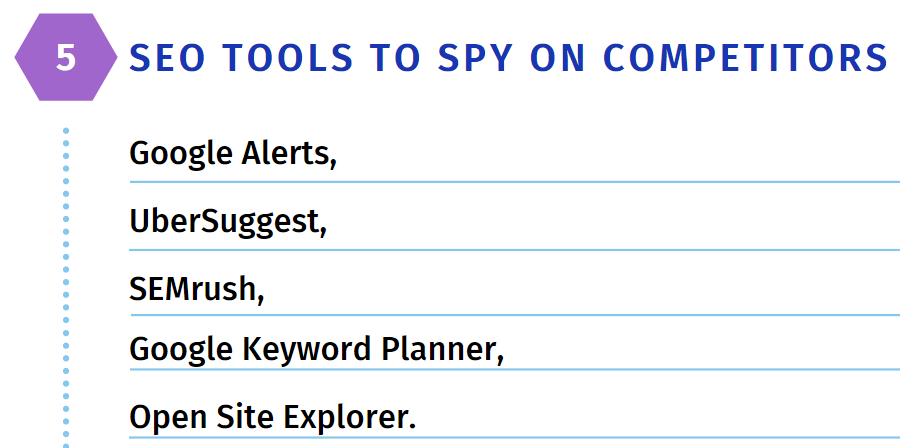 Analyze Tools They Use
As we have already mentioned, there are probably aspects that work better for your competitors than for you. Say you visited their website, and this one specific ad follows you everywhere you go. Additionally, their ads' graphic format is so visually attractive that you'll like to copy this pattern.
They might be the masters of Google Remarketing and Facebook Retargeting, but you feel it's probably something more.
Do they have a whole department of savvy marketers who spent their career learning about retargeting? No way, they are a small business with just a few people on board. Maybe this "magic" wasn't cast by a human? That's close to the proper conclusion – most likely, there's some software involved.
With the use of the right tools, you can check what technologies the website uses. Then, you can try them out for your own strategy or look for even better alternatives.
Monitor Competitors' Social Media Presence
Having great relationships with customers is one of the key factors in today's eCommerce. And it's crucial to know that the majority of interaction between brands and customers is happening on social media platforms.
While performing the analysis of your competitors' social platforms, you may find asking the following questions helpful:
How often do they publish posts?
What feedback do they get through comments, number of shares, and likes?
What kind of posts are their most shared content?
Do they respond and conversate with their audience in the comment section?
Which platform do competitors place most emphasis on (which one has
the largest follower counts and engagement rate?)
With so many social listening tools out there, they let you have an eye on not just social networks but also blogs, forums, and other places online.
The Best Tools to Spy on Competitors
We have already discussed how to find your biggest competitors. We also know which competitive factors we should consider when monitoring competitors' web performance. Let's now move to the tools that will help us perform the activities mentioned in the previous section.
Google Keyword Planner
Formerly the Google Keyword Tool and Traffic Estimator, this tool can be used for a variety of purposes. Even though it's not strictly about competitor analysis (it's more focused on your own website), finding competitor data is one of the features.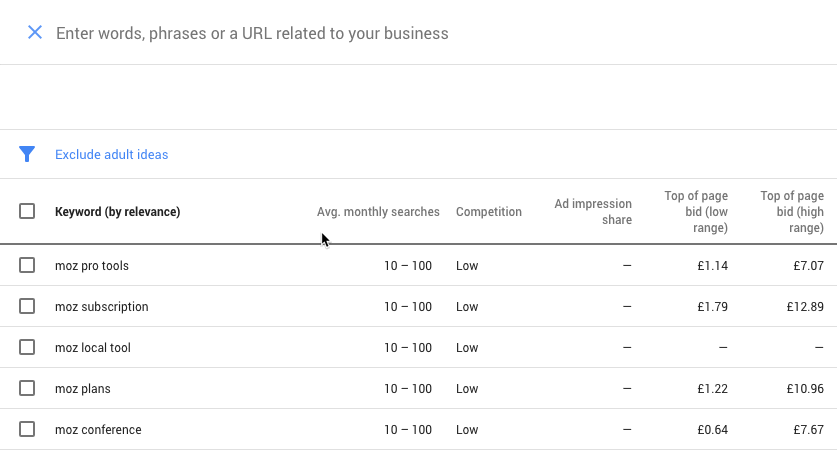 Google Keyword Planner is a great tool to monitor your competitors' keywords (both paid and organic). Additionally, you can get deeper insights into the website of your own business and competitors' websites. The reason why it's one of our favorite tools is that it comes directly from Google and is completely free. Therefore, it can be used as an alternative to other competitive analysis tools. To use it, you need to sign up for a free AdWords account.
Mention
Mention is a competitor analysis tool that helps you monitor your rivals' social media activities and industry trends. With proper social media monitoring, you'll see exactly where your social media strategy stands, compared to your competitors.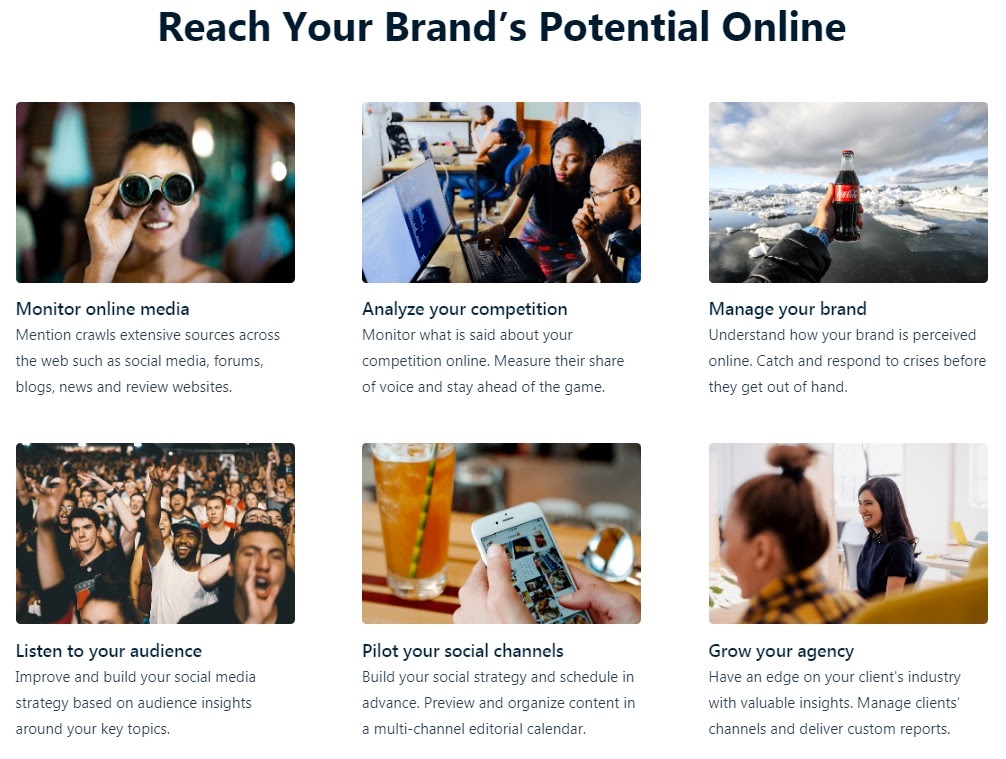 Here are the key points on how Mention can turn out beneficial for your brand:
Determine your brand's position. By looking at how often competitors are mentioned, you'll be able to define your brand's market share. This will help measure the success of your social media strategy over time.
Identify industry influencers. You can find the most prominent industry influencers to work with on future social media and marketing campaigns.
Look for campaign inspiration: See if a certain social campaign led your competitor's company to a noticeable boost in engagement and mentions.
Find a window of opportunity. Maybe there's something that your competitor's not doing? That provides space for you. Focusing on that can help your brand stand out.
SEMrush
Even though there are multiple SEO tools on the market, SEMrush is one of the best when it comes to competitor analysis and getting access to data points. This is an invaluable tool for understanding who your competition is from a strictly SEO perspective.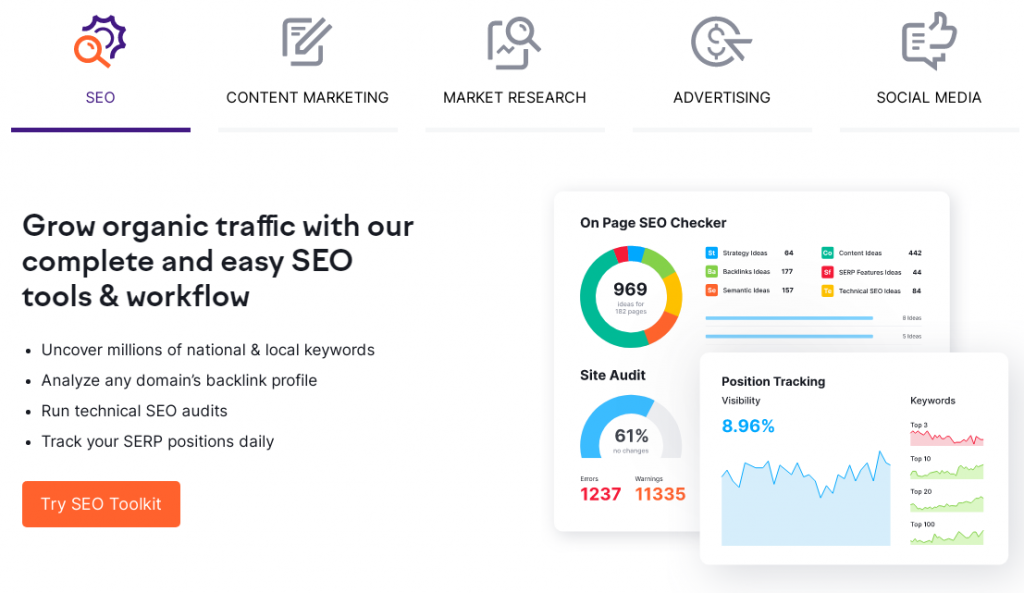 Here are some of the opportunities that you could utilize with SEMrush:
Find competitors' target keywords you've overlooked and implement them into your own content strategy,
Perform in-depth analysis of your backlinks leading to your competitors' domain,
Compare your backlink profile against your competitors,
Monitor the performance of your competitors' articles across the main social networks.
BuzzSumo
BuzzSumo is a content marketing tool that helps you with content ideas for your niche, finding top influencers, and analyzing competitor content. What's great about BuzzSumo is that it not only offers a free plan with 10 free searches a month but also a 30-day free trial. Feel free to check it out! Then, you can decide whether to buy the professional plan or maybe try some other tools.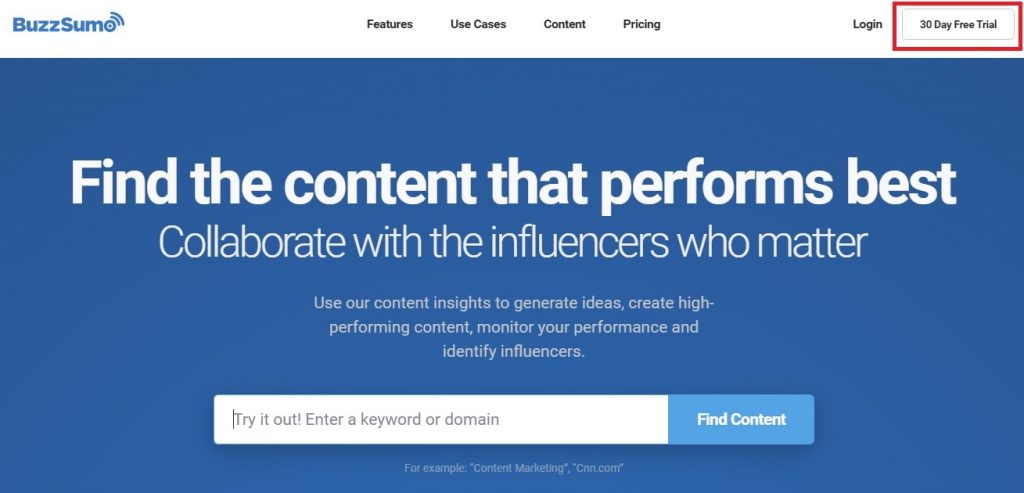 With BuzzSumo, you can uncover your competitors' top-performing posts, track all the key metrics around these posts, and determine which social networks perform the best.
Looking for an idea to deliver a new and fresh blog article? You can always bet on BuzzSumo to deliver new ideas for a blog post. Just enter a competitor's domain name and browse through a lot of unique content ideas with just one tool.
MailCharts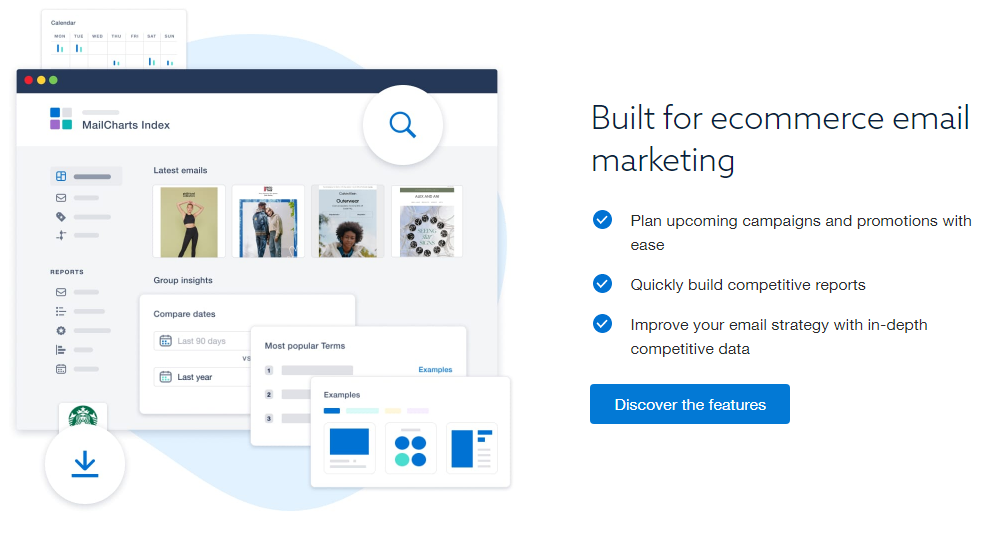 MailCharts is a competitor email monitoring tool that helps you understand your competitors' discount strategy, email frequency, email segmentation, and so on. With MailCharts data, you can stay ahead of the competition and:
build and optimize your email strategy,
look into campaigns of competitors and peers, and
gain eCommerce insights and trends for brands and industry groups.
Pricing: The basic plan is free, whereas their paid plans amount to $99/mo, with the most advanced plan for large companies starting at $999/mo.
SimilarWeb
SimilarWeb is a tool that estimates the total amount of traffic different websites get. It gives insights into competitors' top traffic sources, divided into six main categories. These include referring sites, social traffic, and top paid and organic keywords.

Does your competition constantly drive more traffic? SimilarWeb is one of the best competitive analysis tools when it comes to not only keyword research but also traffic analysis. Here's what data can be obtained thanks to their traffic estimator:
Organic vs. paid traffic. How much traffic is generated by organic search compared to paid search,
Search traffic by channel. Breakdown of search website traffic by search channel, such as regular search, news, image, video, and others,
Search traffic by source. Breakdown of search traffic by source (or traffic from various search engines), such as Google, Yahoo, Bing, etc.
OpenLinkProfiler
Knowing your competitors' external links is of top priority. Even though more advanced tools allow to compare link data, perform backlink analysis, and have insights into link-building opportunities, they may be too expensive for many companies.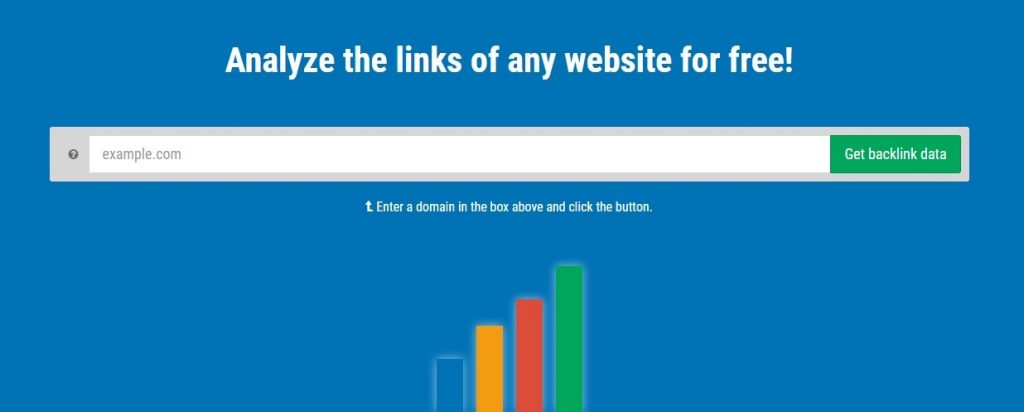 Great news: Open Link Profiler doesn't require a paid plan as it's an excellent resource with unlimited searches that is simple and free to use. In addition to the analysis of competitors' backlinks, with the free version, you can:
See which pages have the most unique links,
See which industries are linking most often to your competitors' sites,
Identify the types of links (e.g., links from content formats such as blogs, ebooks, interviews, and reviews),
View the top anchor text used by those inbound links.
Summary
A well-prepared competition analysis may bring various advantages for your company. However, before you proceed to monitor the individual elements of your competitors' strategy, you must conduct appropriate competitor research. Thanks to this, you will learn which industry eCommerce companies are your direct competition. Then, you need to diagnose in which marketing areas your competition performs better than your company. Next, track their activity, which can be facilitated by using advanced tools.
However, if you need help in performing a professional competitor analysis or improving your website's position in Google search results, we would be happy to create an individual SEO strategy for your brand. Feel free to contact us via this form!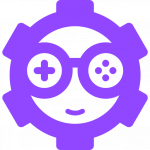 Marketing Director with over six years of experience in the field. Managing teams carefully and out-of-the-box thinking is his main factor in growing businesses through the right marketing practices. His Outreach Specialist background helps him to develop highly converting and organic campaigns.