If your ad placement strategy fails to create engagement, then your business will be long forgotten in a sea full of other alternatives.
We all want our website to have visibility, but the digital marketing world is now more competitive than ever before.
Consumers are constantly bombarded with ads by businesses. Naturally, we all want to create an effective strategy, so our product or service reaches its target audience as well as possible.
But with so many options in the market, it's easy for consumers to lose interest while surfing the Internet or browsing their social media.
This creates the need to go one step further. Therefore, the implementation of sponsored content and native advertising could be the right solution for you.
In this post, we will show you:
What's sponsored content and its benefits;
What's native advertising, and why you should implement it;
Native Advertising vs. Sponsored content: which one is better for your business;
Sponsored Content and Native Advertising practical examples.
READ ALSO: Why Invest In Content Marketing: 8 Data-Supported Reasons
Let's Learn What Native Advertising Is
Imagine that you are browsing through your social media as you constantly do.
At this point, advertising content is something people are used to experiencing on a daily basis.
But then you see something on your feed that catches your attention. It is not a traditional ad; it is more like knowing what products you are interested in.
After all, you were just yesterday looking for PlayStation 5 prices on different shopping websites.
How convenient is it that the product or service you want is shown to you in your timeline?
It's almost like the ad belongs natively to the website like it was intended to be there.
Is this magic? Is it your phone or your PC reading your mind?
Marketers' dream is to read the mind of their audience, but (so far) this is impossible to achieve (so far).
This, basically, is the concept of native advertising: sponsored content disguised as organic content. Native ads are just one of the many content formats that we can find in the world of content marketing.
Branded Content that Blends Perfectly on a Website
The main goal of native advertising is to catch potential consumers' attention by covering a topic of their interest.
Native ads usually look like a piece of content that perfectly belongs to the current site.
Basically, the content distribution is performed to match the website's quality, function, and form.
Take a look at the following image: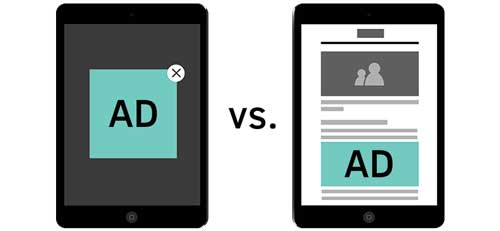 If you log into websites that display ads like the first one, you'll probably think of getting ad blockers as soon as possible.
It's intrusive, it's invasive, it's annoying. This is the most significant difference between native advertising and trash content.
Don't let brands fool you – they are still paying for having their piece of content sponsored.
You are part of their audience, and they want to reach you. Companies want to make native ads look like it's part of a website's editorial content.
Benefits of Using Native Advertising in Your Marketing Strategy
Let's say that you are surfing through websites or social networks, and then you find a post that looks really interesting. It turns out that piece of content was actually part of a content marketing strategy to make you buy some product.
You identified it, and you are not being fooled – you understand that's just brand journalism trying to sell you something.
Either way, you still found the content interesting, which leads you to interact with it. Would you have done the same if it was a piece of paid media that doesn't mean something relevant to you? We bet you wouldn't.
That's why native advertising brings so many benefits for the brands: it's targeted so well to a specific audience that it actually works.
You can see in this infographic the effectiveness of native advertising: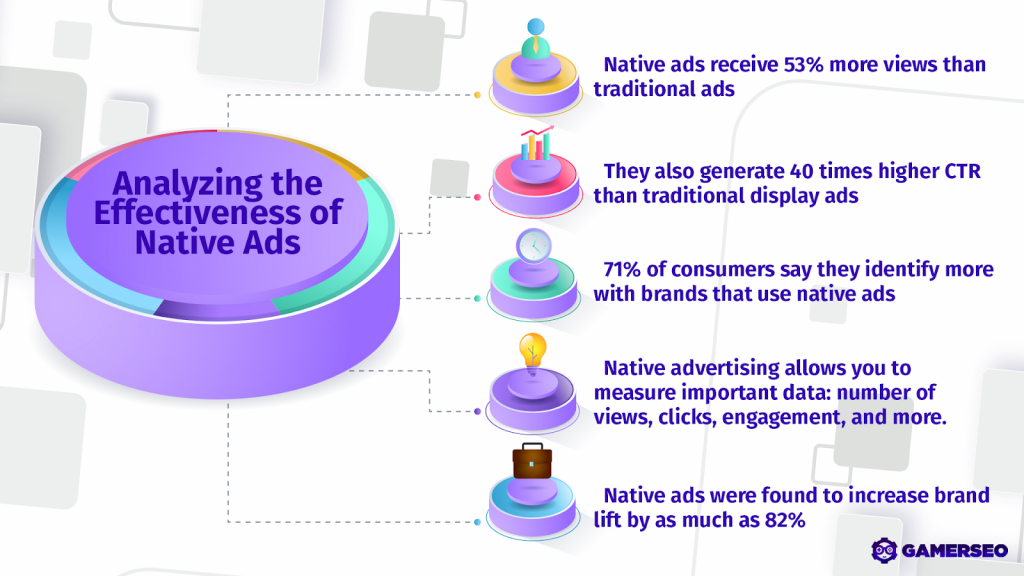 Examples of Native Advertising
Paid search ads that we look at first on our search results are among the most common ways of native content. We can see paid search ads whenever we use Google, so at this point, it is normal for most of us.
Have you ever looked for specific products on Amazon or eBay and, all of a sudden, you see other search results related to your query? Promoted listings are also a common form of native ads.
The same happens with recommendation widgets, social media ads, recommended content, and promoted products on E-commerce websites.
Recommendation widgets are often provided by third-party companies such as Taboola, based in New York, or Outbrain.
Native Ads in the Gaming Industry
There's a significant advantage in the gaming industry when it comes to using native advertising.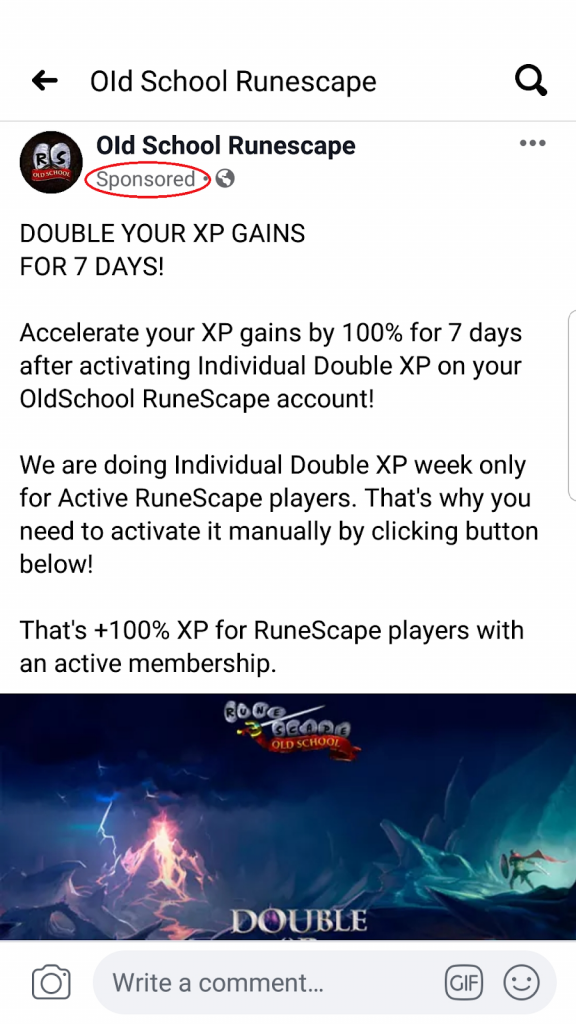 Here we can see how Jagex, the developers of Old School RuneScape, implement a native ad in social media.
If a user has shown interest in PC gaming, there's a chance that this ad shows to them when scrolling down their feed.
The purpose of this type of ad is to take their audience directly to their game, which can be done with just a click.
Sponsored Content – What is It?
Even though some marketers might think that paid content and native advertising are synonymous, you must know that they are not the same.
We understand that native advertising has the purpose of using the distribution channels available to sell a product or service, right?
Well, sponsored content is created to be useful, valuable, original. We can safely say that paid content is like a media placement.
Even though these definitions are very similar, sponsored content is a type of native advertising, but not every native advertising is sponsored content.
These two advertising techniques are often used in the content marketing world. Nonetheless, the main difference between native advertising and paid content is the fact that the second one is actually a sponsored partnership between two companies looking to build brand awareness.
Advertising that You Would Actually Be Glad to Read
Most times, sponsored content is presented as a piece of branded content created by a publisher for media sites. This can be either video content made by an influencer or any other form of paid media aiming to have a long-term impact on the audience.
Take a close look at the following screenshot:

If you have kids, you know how vital playtime is to them. You love your children and, naturally, you would like to know the mind-blowing benefits of playtime.
So you see this article on a news website. These are exciting things to you, but, as you can see, there's a company promoting this article: Hot Wheels.
Does that mean that the website is going to turn into E-commerce sites? Will the ad be intrusive and annoying?
No. It will be useful. If it's about a topic relevant to you, you'll enjoy it for sure. Yes, a publisher is promoting their product, but they are still telling a story. This is the key to this type of paid content: it's engaging, educating, entertaining.
Benefits of Using Sponsored Content
At this point, the benefits for a company of implementing this type of content are pretty straightforward.
If your article or piece of media is good enough, consumers will experience enjoyment when reading or watching your branded content.
It is crucial to building positive feelings about your brand to achieve conversion and loyalty.
Having helpful information is not only good for you. It's also an excellent way to create a long-term relationship where your services or products have an authentic voice in the field.
But this doesn't stop here. Content marketing is an art, and just like every form of art, it's necessary to appeal to the audience.
This infographic perfectly shows why a brand can get benefits from sponsored content.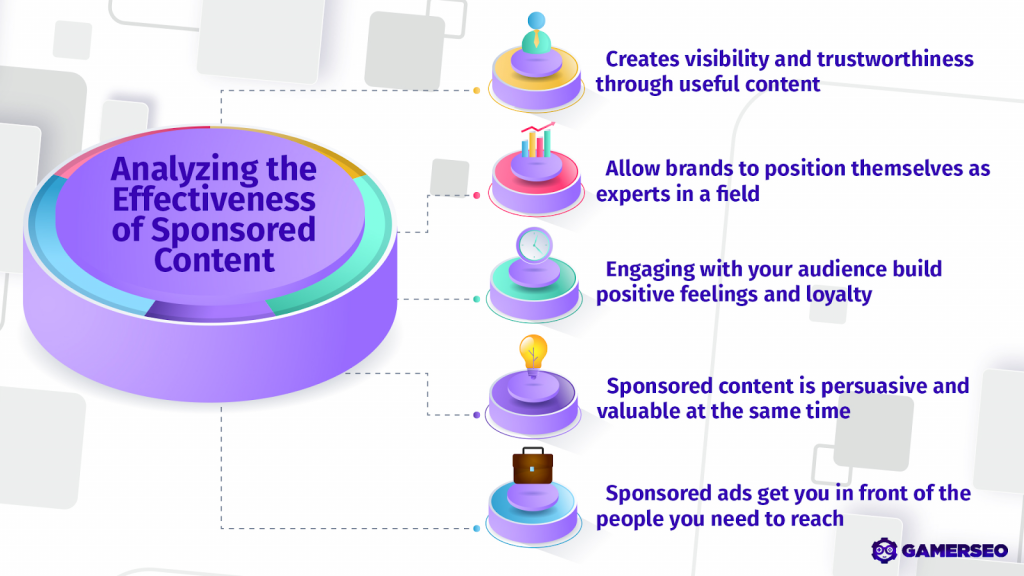 Examples of Sponsored Content
Making a blog post on news websites or media sites is a wonderful way to catch a reader's attention.
At this point, we know that writing valuable articles is a fantastic way to perform a good content strategy for your business.
READ ALSO: How to find a good copywriter? Get the best content for your business
Sponsored content offers a comparative approach to an audience that is tired of seeing the same traditional ads over and over again.
You can also get your brand in front of the right people by creating videos. Be careful – there's a difference between videos with a commercial purpose and paid content media.
Sponsored Content is Growing a lot Inside the Gaming Industry
Over the course of 2020, the gaming industry generated over 2 million sponsored posts. This number tells us something: sponsored content really works for your content marketing strategy.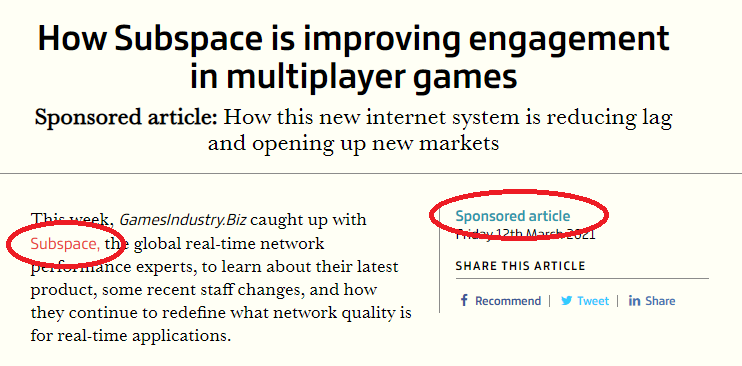 In this screenshot, we can see a sponsored article created by Subspace.
It's clearly identified as branded content, so there's no confusion among the readers.
Either way, the article's topic goes along with the websites' niche, meaning that it can be helpful for the audience.
Even though a third-party brand creates this content, it still follows the guidelines of the place where it's posted.
It's interesting, helpful and it blends perfectly to catch a user's attention.
Native Advertising vs Paid Content: Which is the Right One for You?
The answer to this question is subjective. Some factors determine what's best for your business, such as competition analysis and knowing your goals.
Do you want to reach the right audience and persuade them to buy your product? Go for native advertising.
Are you looking to create fidelity and relevance by offering quality, useful content? Go for sponsored content.
Fortunately, we are here to help you out. We have a team of highly specialized professionals ready to guide you through your new content marketing strategy.
Finally, here you can see the pros and cons of Sponsored Content and Native Advertising.
Native Advertising
Pros
Cons
– They are great to catch your audience's attention

– Native ads provide higher credibility.

– You will get the most relevant audience to achieve your goals.

– More engagement, better performance
– It takes time to produce effective native ads.

– Measuring ROI on native ads can be troublesome.

– It's challenging to make a final choice with so many platform options.
Sponsored Content
Pros
Cons
– Sponsored Content receive higher engagement rates

– Customers trust sponsored content more than other types of ads.

– Sponsored content leads to conversion.
– Creating sponsored content is a long and expensive process.

– Most times, Google doesn't like sponsored content.

– If you don't create a good piece of sponsored content, it can be deceiving for users.
FAQ
Is Native Advertising the same as Sponsored Content?
Sponsored content is just one type of native ad. Both of them have differences when it comes to executing the strategy.
Is Sponsored Content Effective?
Sponsored ads are a great way to create engagement and loyalty with your brand. It certainly is effective.
Do you Have to Disclose Sponsored Content?
Yes, whenever a brand plans to work with sponsored content to endorse a product, it's necessary to disclose the partnership.
Is Native Advertising Controversial?
It might be for some, but the truth is that it is less invasive than most forms of traditional ads.
Can you Make Money with Native Ads?
If you manage to reach your target audience, the results will come. It's a matter of knowing how to proceed with your ads.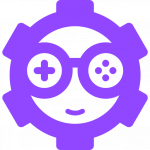 Marketing Director with over six years of experience in the field. Managing teams carefully and out-of-the-box thinking is his main factor in growing businesses through the right marketing practices. His Outreach Specialist background helps him to develop highly converting and organic campaigns.