Today, organic search drives more than 50 percent of all website traffic. That's more than paid and social combined.
What does it mean? Well, have a look at the screenshot below.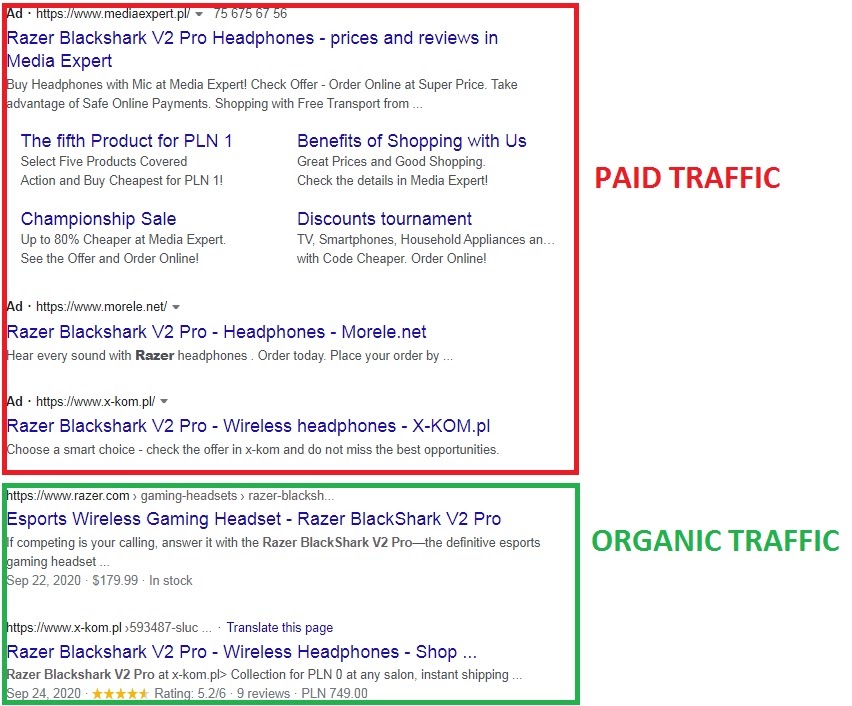 More than half of visitors arrive at a certain website because they have found it in the "organic part" of search engine results.
That's why making your website visible in search engines is so crucial. Thanks to it, you get more traffic, sales, and leads that you don't have to pay for.
We hear you asking: What should I do to make this happen?
That's the central theme of this article! To expose your business website to potential customers in the organic results, make sure that it is appropriately SEO-optimized. And to check this, you need to perform an SEO audit.
Today, we will answer the following questions:
What is an SEO audit?
Which SEO factors are important in terms of an SEO audit?
What is an SEO Audit?
SEO audit is an analysis of your website and its subpages in terms of the elements that determine its visibility in the Google search engine. The purpose of the audit is to find and indicate those elements that need to be changed, corrected, or removed. As a result, your website will have an easier way to the highest positions in Google search results.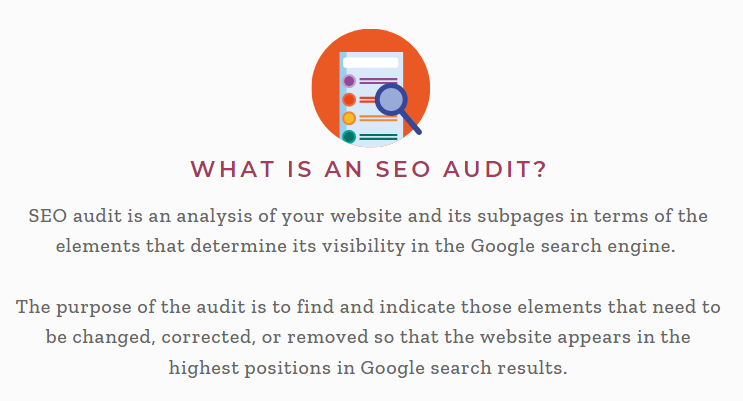 A properly done SEO audit gives you knowledge of your website's performance. At some point, many web pages notice a stagnation or drop in traffic. If you are a site owner with such issues, a timely SEO website audit will help you discover the root of the problem.
Another thing is that site audit needs to be conducted on a regular basis, making sure that your page performs well in search engine results. Such an audit provides an evaluation of your website's technical infrastructure, off-page essentials, and on-page elements to boost its search engine visibility, functionality, and user experience.
Types of SEO Audits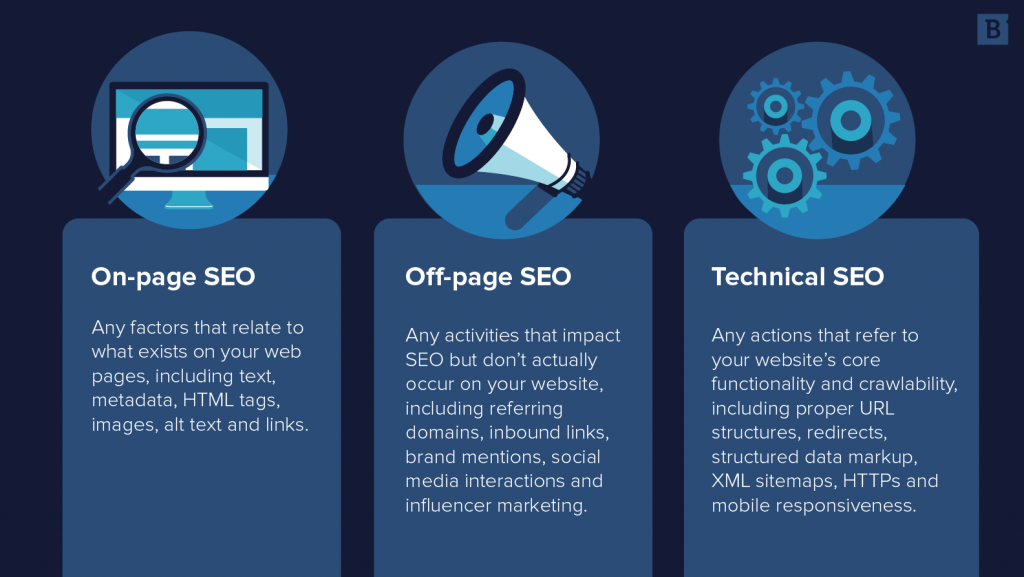 Website audits may include an implementation of different SEO strategies. Some SEO specialists combine them in one SEO audit proposal, while others categorize their findings into different types of audits.
Most often, however, activities aimed at solving SEO issues are divided into three main parts:
optimization of the website content (On-Page SEO),
optimization of technical matters (Technical SEO),
relations with other websites (Off-Page SEO).
We won't dig deep into details, as today we are focusing on explaining the ideas behind SEO Audit. Fixing some of these search performance issues requires experience, so we recommend consulting an SEO expert while performing your first audit.
Technical SEO Audit
Taking care of technical SEO should be your starting point. You need to make sure that the search engines can access and index your pages without any issues.
Let's now briefly go through each SEO factor on the technical SEO audit list.
Step 1 – Optimize Your Robots.txt File
Robots.txt is a simple text file that's located within the root directory of your website. It informs the search engine robots which pages to crawl and which to overlook.
Optimizing this file lets you present your website to Google the way you want them to see it. Robots.txt, when utilized correctly, can improve crawl frequency, which may impact your SEO success. You have to be careful when using your robots.txt file. Competitors can access it easily.
Step 2 – Make Your URLs SEO-Friendly
A URL (Uniform Resource Locator) is the address of your website. A page's URL is visible and used in web browsers. However, its crucial role is played when your website is shared on social media or displayed on a list of search engine results.

Here are five tips that you should follow to make your URLs SEO-friendly:
Use the target keyword in the URL – as you can see on the screenshot above, we have included the keyword "advergaming examples" in the URL.
Use only safe special characters. They cause links to break, so don't use unchecked characters in your URLs.
Make the title of the page and the URL structure similar.
Cut out unnecessary words. Shorter URLs look better and are easier to share, so keep your URL length to less than 100 characters.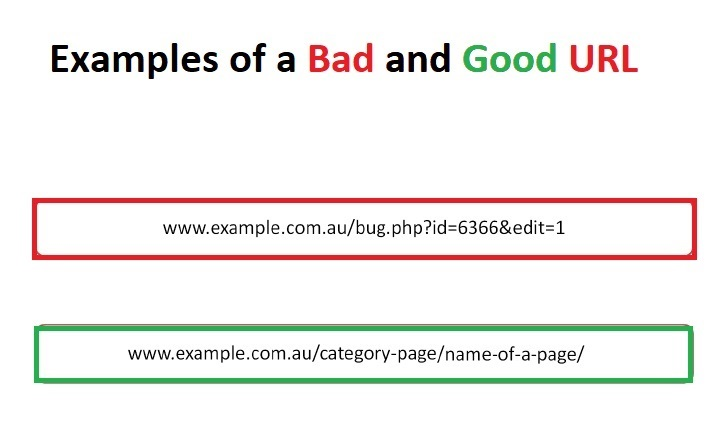 Avoid automated numeric labels. Some content management systems generate URLs that include numeric and awkward labeling, which can appear messy or confusing.
Step 3 – Enable Structured Data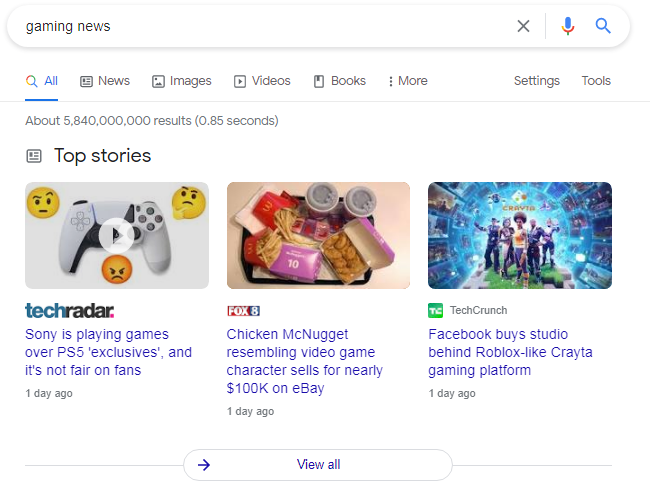 Compare these "Top stories" to search results that you normally see on search engine results pages. Don't you think that they are more attractive to click on?
Well, they are called rich results. And to get them, you need to add structured data to your website.
Structured data, also called schema markup, is a type of code that makes it easier for search engines to crawl, organize, and display your content. It's a great way to get a serious SEO boost and increase your rankings.
Structured data also explains to search engines what your data means. Without schema markup, search engines can only tell what your data says, and they have to work harder to determine why it's there.
From an SEO perspective, you should check that you have structured data enabled for the following website areas:
homepage (logo, website, and company),
breadcrumb menus,
articles,
product or service pages.
Step 4 – Set a Canonical URL

Pay attention to the example above. Even though humans see each of these URLs as the same page, it's not the case for search crawlers.
Many sites or content management systems (CMS) automatically add tags and create multiple paths (and URLs) to the same content. You may have thousands of duplicate URLs on your site and not even realize it, which leads to indexation issues.
When search engines crawl many URLs with almost identical (or even identical) content, it can cause several SEO problems. First, if search crawlers have to go through too much duplicate content, they may miss some of your unique content. Second, large-scale duplication may negatively affect your ranking opportunities. To avoid these problems, you should set a canonical URL.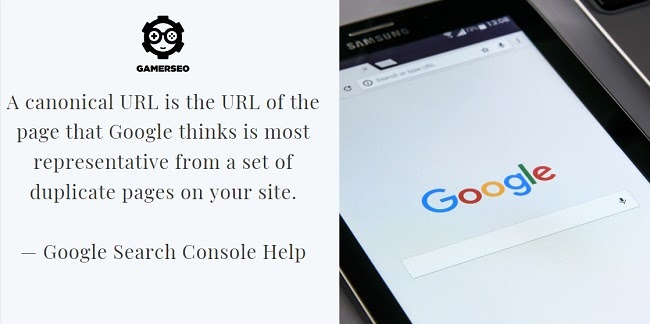 Selecting a proper canonical URL for every set of similar URLs improves the SEO of your site as it lets the search engine know which version is the right one. Then, it can count all the links pointing at the different versions as links to the canonical version.
Step 5 – Optimize your XML Sitemap
In simple terms, XML sitemaps are files that contain all the important pages of your website that search engine crawlers should know about.
Even if you don't have a sitemap, crawlers are still able to index your website.
However, having it makes their job easier, and also it allows you to let them know about pages on your site and website content they may not discover easily.
What's more, the XML sitemap gives search engines a better idea of the website's information architecture, the hierarchy of its pages, and the frequency of updates that happen on the website.
Step 6 – Test your Page Load Speed
The time each page of a website needs to load fully is called page load time. Different pages can have different load times due to numerous factors, including images, used scripts, etc.
Page speed is also crucial for user experience. Pages with a longer load time have higher bounce rates and lower average on-page time. Longer load times have also been shown to negatively affect conversions.
According to Google guidelines, proper page load time is 1-2 seconds, whereas 80% of the websites take longer than 10 seconds to load.
Nevertheless, site speed is a complex topic. Good news: we have devoted a separate blog post covering this notion. If you are interested in how page speed affects SEO, we highly recommend reading it right away!
Step 7 – Check if Your Website Is Mobile-Friendly
According to Search Engine Land, 57% of all web traffic comes from mobile devices. That shows why having a mobile-friendly website in 2021 is a must.
What's more, Google prioritizes mobile-friendly websites. The 2015 Google algorithm change tweaked the way Google displays mobile search results. Simply put, websites that are optimized for mobile rank better than those that don't.
Therefore, your next step is checking mobile-friendliness. Google Search Console offers a free tool that quickly lets you test the mobile-friendliness of your website. You should find out if a visitor using a mobile device can encounter problems on your website. Simply click on the link, enter the URL of the page and go through the results.
Step 8 – Optimize your Website Structure
All the pages on your website should be appropriately grouped into categories so that search engines can understand which topics you want to rank for.
A well-designed site structure helps search engine crawlers with their job. This translates into better indexing and more chances of achieving higher rankings.
Below you can see a well-defined structure for an eCommerce website. Such an architecture allows users to reach any product in less than three clicks. This helps not only with indexing but also with UX, as it's more convenient for users.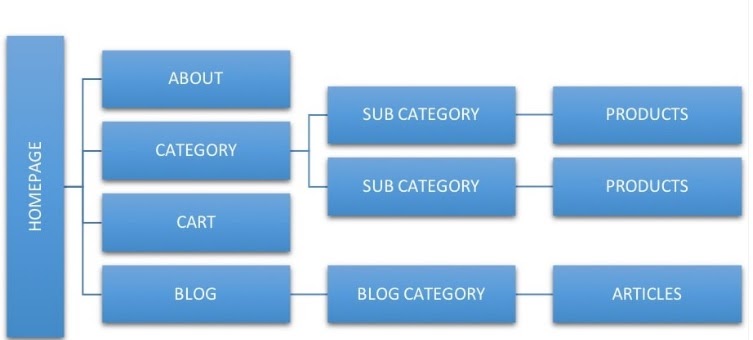 On-Page SEO Audit
As we have gone through the aspects of technical SEO, let's now focus on the content SEO of your website. The part of the SEO audit that deals with content issues is called On-Page SEO and is often seen as the most important part of SEO audit.
In this section, we'll go through the following SEO elements:
Title tags
Meta descriptions
Headings
Alternative text
Keywords
Internal linking
Step 1 – Fix Title Tags
Your title tag (also called meta title tag) serves as a component that summarizes your page's content. Having informative and attention-catching titles helps you stand out in SERPs.

When optimizing your page titles, follow these recommendations:
Check if each title tag on your page is unique,
Make sure if they are between 50-60 characters long,
Include the primary keyword in the title,
A good idea is to include the brand name as well (if the word count allows).
Step 2 – Write Compelling Meta Descriptions

The meta description is the text that appears under the title tags in Google. Even though meta descriptions don't affect SEO directly, having them written compellingly will improve your pages' CTR (click-through rate), which is a ranking signal.
Tips regarding meta descriptions:
Keep their length between 150-160 characters,
Having a primary keyword and company name in meta descriptions won't hurt,
Persuade users to click on your page using a strong CTA.
Step 3 – Optimize Headings
Even though header tags aren't as critically important for rankings as they used to be, they still can indirectly influence your position in SERPs. When your content is well-organized through proper header tags, it's more enjoyable for visitors to read.
Here's how you should deal with headers while optimizing the content on your site:
H1 tag should introduce the topic of your page and include the main keyword. It's like a book of the title, which gives users a hint of the content.
The H2s perform a similar function to book chapters, describing the main topics you'll cover in the sections of a particular article.
Subsequent headers (H3s to H6s) serve as additional subheadings within each section, just as a book chapter may be divided into multiple sub-topics.
Step 4 – Check Alternative Text of Images
Alternative text (also called "alt tags" or "alt descriptions") is a text that appears in place of an image on a webpage if the image fails to load on a user's screen. Firstly, it helps screen-reading tools describe images to visually impaired readers. In addition, it allows search engines to crawl and rank your website better.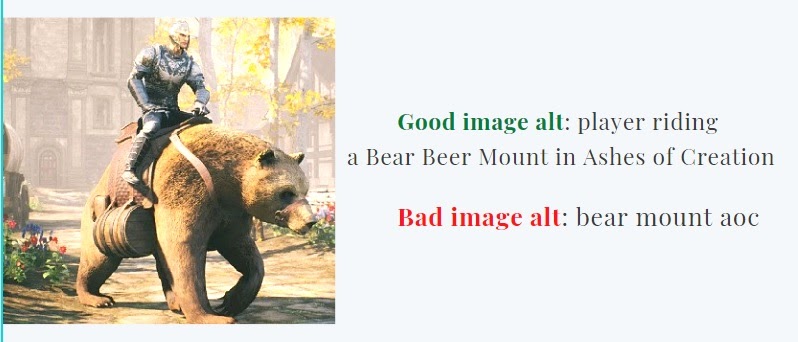 Tips for writing an excellent alternative text:
Describe the image in details,
Keep your alt text shorter than 125 characters. Crawlers no longer read the alt text after it exceeds this limit,
Use keywords wisely – alt tags may contain keywords when it fits. Don't use them to stuff keywords generated by your content creation tool.
Step 5 – Add Keywords
Whenever possible, make sure all your pages are optimized for strategic keywords. This will allow you to match the user's search intent and help your pages show up in the organic search. The first step in doing that is conducting keyword research.
You may do keyword research using the following SEO tools:
Google Keyword Planner,
Majestic,
UberSuggest,
Ahrefs Keyword Explorer,
SEMrush.
Using one of the above SEO products, search for keywords related to your topic that have high intent, high volume (number of monthly search queries), and low difficulty (level of competition in the SERP for that keyword). Below you can see a list of strategic places to put your keywords during content optimization.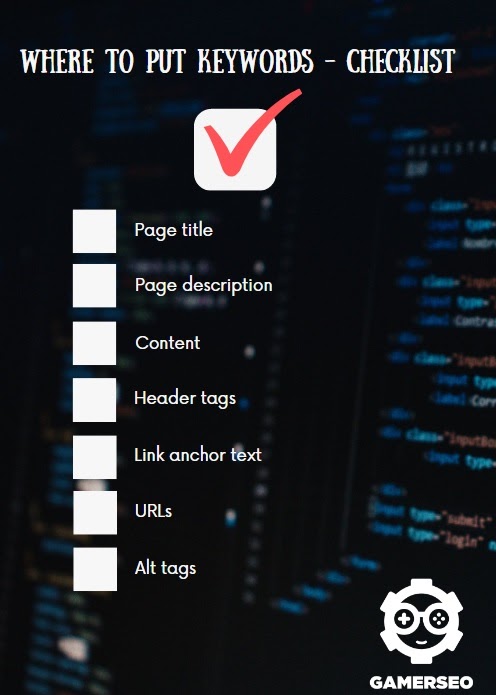 Step 6 – Perform Content Gap Analysis
Content gap analysis is simply a process where you are looking for missing topics that should be covered on your website.
If you operate in a specific niche, don't limit yourself to tools suggesting keywords. What you should do is perform competition analysis. Pay special attention to your competitor's content topics, and then compare the findings to your content plan.
If there are any topics that bring a lot of traffic to their website, think about covering them as well. Still, you should make sure the content you provide brings extra value to users. To do this, expand the topics by giving unique examples or a fresh outlook on a particular subject.
Step 7 – Fix Internal Linking
Internal links are links that go from one page on a domain to a different page on the same domain. Every website has internal links. But what most people don't realize is that — when used strategically — internal link building can significantly boost a site's performance in the search engines. Well-designed internal linking helps spread the link equity across many pages on your website.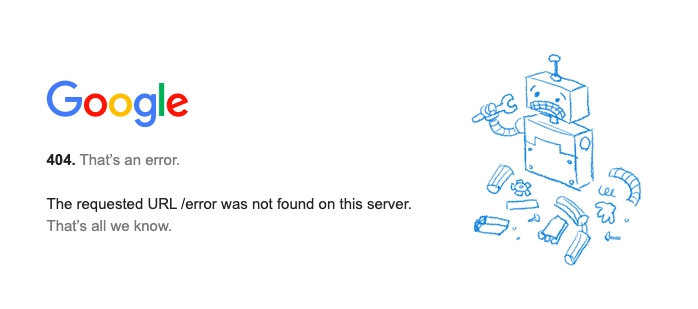 When users are served with a 404 error, it means that you have broken links on your website. This has to be fixed during the SEO audit as it creates a poor user experience. What's more, it sends negative quality signals to search engines.
To learn how to find broken links via SEO tool like Google Analytics, you may find this video useful:
Off-Page SEO Audit
Off-Page SEO refers to actions taken outside of your website that impact your rankings within SERPs.
While optimizing Off-Page aspects, you should work on your site's popularity, relevance, and authority. This can be done by creating valuable content that others (websites, people) would like to share a link to, vouching for the quality of your content.
This section will focus on three things – backlinking, reputation building, and social media presence.
Step 1 – Backlinking
In opposition to internal links, backlinks are links that point to your site from an external website. The number and quality of backlinks are one of the most important ranking factors. They signal that your website is seen as a trusted source with quality content.
If your website isn't new on the web, it has probably acquired some backlinks. However, some of them may be doing more harm than good. It's possible that SEO consultants you've previously worked with used the so-called "black hat SEO techniques," that is, activities violating Google's guidelines.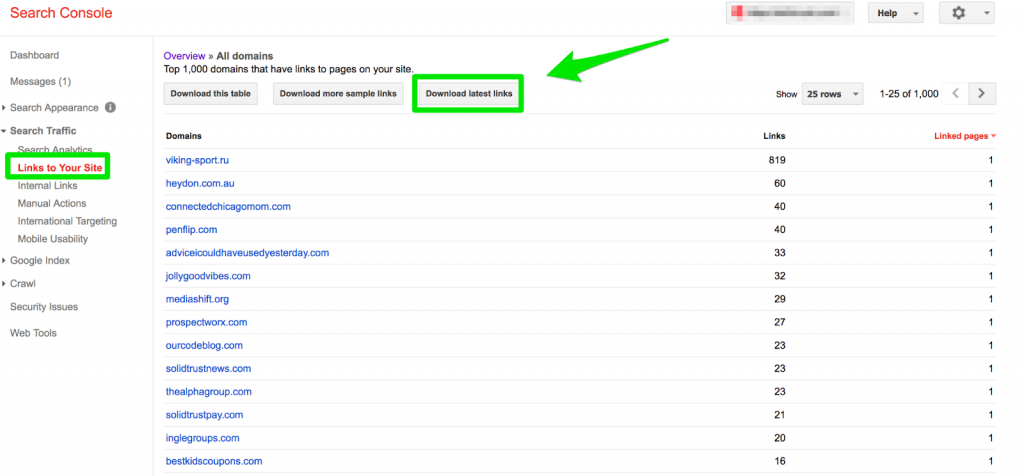 Performing a link audit allows you to spot every page that links to your website, including unwanted or harmful links. You can check the health of your backlink profile in Google Search Console in "Links to Your Site" under the "Search Traffic" tab (as shown above).
When Google sees a link pointing to your web page, they ask questions. For example:
Where does the link come from?
Why does the site owner link to your page?
Is it a quality link? (does it come from an authority site?)
How natural is your link profile?
With that in mind, remember that the number of links isn't the most important. Rather than quantity, focus on obtaining quality links. Interestingly, it happens that reducing the number of links pointing to your internal pages helps your overall SEO.
But… What should I do to obtain quality links?
Focus on building your company's image. Reputation-building activities shape your brand as an industry expert, which translates into trust and authoritativeness. And if you manage to build your online presence successfully, natural backlinks will come automatically.
There's a number of tactics to use while building off-page reputation, with the best ones enumerated below:
become active on industry blogs and forums,
answer users' questions on Quora or Reddit,
build authority with guest blogging,
interact with users on social media.
Step 3 – Social Media Audit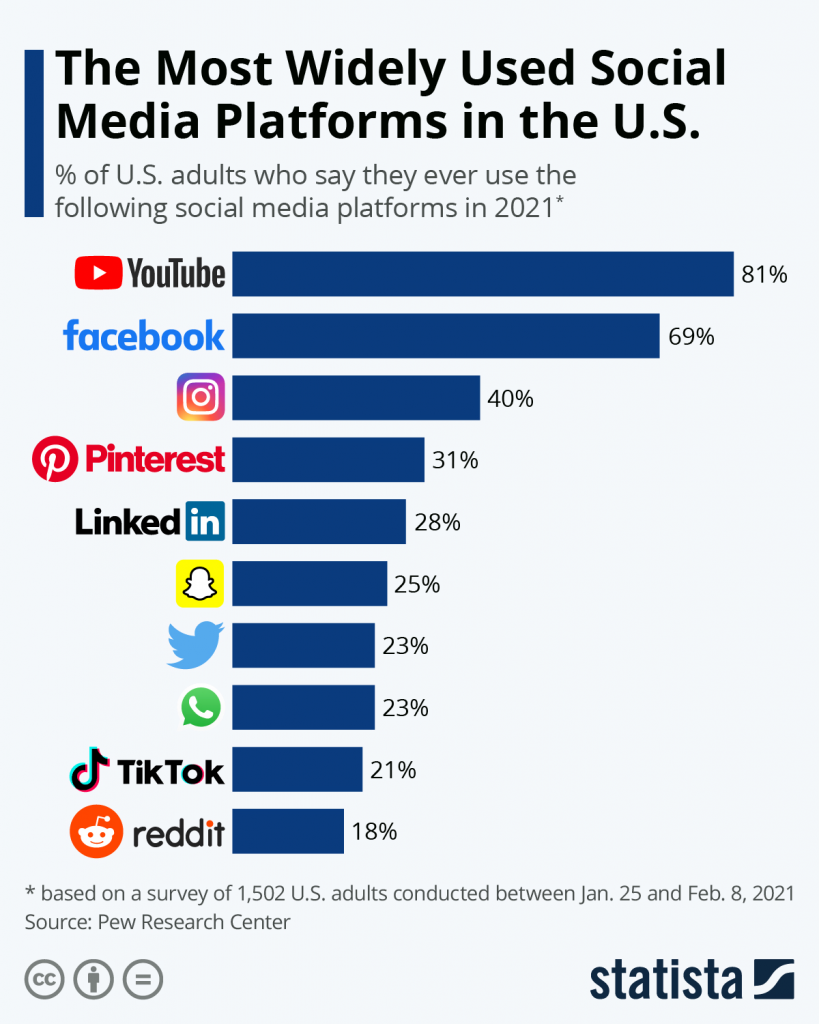 Social media influences your SEO performance directly (in the form of links) and indirectly (more exposure may create more natural links and direct visits).
What you need to check at this stage is whether you have a proper presence in the most important social media channels for your industry. Are there any channels that your competitors receive a lot of attention on? If so, then make sure to hit your target audience up there as well.
Read also: Social Networking for Gamers: Level up your Marketing Game!
Search Experience Optimization
SXO is an abbreviation that was created by combining Search Engine Optimization and User Experience. The assumption of this SXO is to improve the experience of users who arrived at the page from organic search results.
The most important thing regarding SXO is to let users:
find relevant answers to their queries,
see the page's content quickly,
freely navigate through the page.
With that in mind, the search experience optimization plan of your business should include taking care of the following elements:
Improving navigation. Firstly, it should be intuitive, because this is how users browse pages. Secondly, it should allow them to get to any page of the website with just a few clicks.
Providing the right experience on different devices. The times when searchers only used computers are gone forever. That's why it's so important that the website is mobile optimized.
Taking care of the website content and proper keywords. You should anticipate users' intentions by selecting keywords that correspond to the queries and generating valuable traffic.
Fixing page load times. Users tend to be frustrated when a page doesn't load fast enough. Therefore, if you want people to check your services out, you need to ensure the proper loading time of the page.
Conclusions
SEO audit plays a key role in the plan of improving your website's visibility. With this SEO audit guide, we have provided you with a final SEO audit checklist. However, we know that there are a lot of steps to take when diving into the process. It may seem overwhelming, but we've got you covered.
If you need expert help with your business's SEO audit, digital marketing, or content marketing, contact our SEO auditor via this contact form. Our team of marketers will be glad to:
help you achieve your goals and increase conversion rate,
fix potential website issues,
boost your SEO score and elevate your SEO strategy to a higher level.
Feel free to ask about anything regarding our services!

FAQ
Which Are the Best Tools for an SEO Audit of my Site?
The five best SEO audit tools that we can recommend are:
SEMrush
SpyFU
Screaming Frog
Ahrefs
Google Search Console

Why Is SEO Audit Important?
SEO audit is essential for:
improving position in search rankings and keyword rankings,
identifying strengths and weaknesses of your website.

How Much Does SEO Audit Cost?
Firstly, the costs of an SEO audit depend on how deep your website has to go. Secondly, the size of your store also matters. For example, if it has thousands of URLs, the costs will go up.
Whether you're a small-to-midsize business or established enterprise, you can expect costs ranging from just several hundred dollars to $15,000 for an SEO audit, depending on the time required to optimize your website.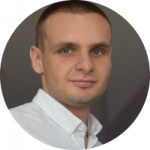 SEO specialist with over four years of professional experience. A/B test and Data-Driven SEO enthusiast. In his work, he focuses on the development and implementation of a strategy that achieves predetermined, specific goals. Privately, a fan of mountain biking.