In online businesses, marketplaces, or stores, the click rate is one of the main aspects when it comes to convertibility and successful sales. Click rate represents the number of potential customers that are interested in purchasing your product or service. In this guide, we are going to address:
What is the click-through rate?
Why is it important?
How to improve Click-Through Rate?
Let's take a look at the different fields in which the Click-Through Rate is situated, making some observations and highlighting the particularities of every case. i.e., in SEO, in Google Adwords, emailing, Youtube, and social media.
What is the Click-Through Rate?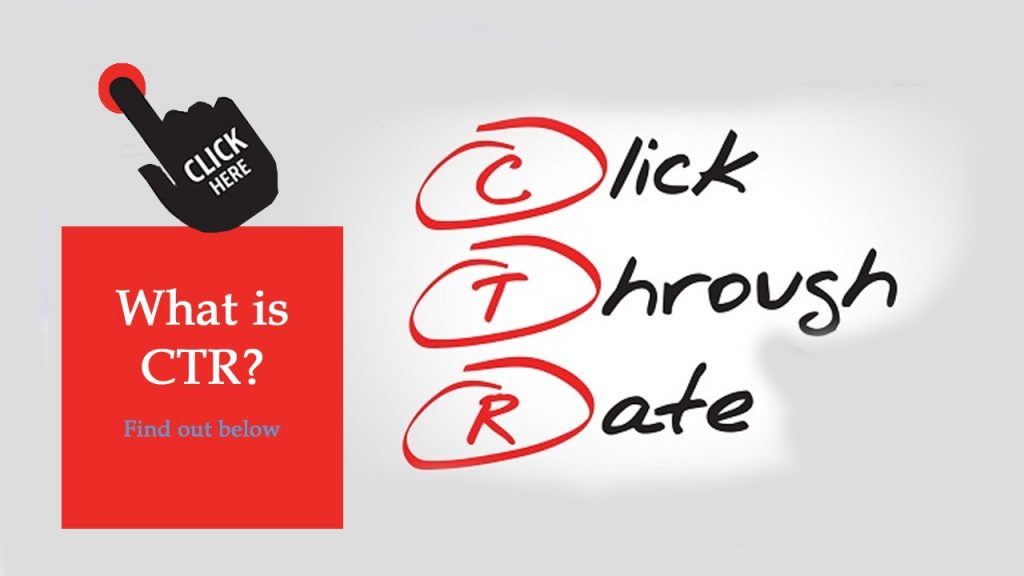 In the Internet business, click-through rate is a metric that measures the number of clicks an advertiser receives on their ads per impressions secured. In simple words, CTR measures how many people click on an advertisement.
Click-through rate is one of the most relevant key performance indicators you can use to determine the mastery of your digital marketing campaigns.
At the same time, CTR is used to establish the effectiveness of the digital ads you pay or the emails you send as a crucial part of your marketing strategy.
This number results from dividing the number of people who click the ad (clicks) by the number of people who view your ad (also called impressions). For example:
The number of people who view your ad: 100.
The number of people who go on to click the ad: 25.
25 / 100 = 0,25 % = click-through rate
When this percentage is low, something is probably wrong with your marketing campaign or the way you are showing your product. This can seriously damage your revenue or lead generation.
Speaking about good CTR (Click-Through Rate), it's difficult to give a universal answer. Keep in mind that a high CTR doesn't always mean that your emails or ads are effective. It's also determined by other factors, such as the email open rate or the number of conversions.
Why Is CTR Important?
Achieving a high CTR is very important for your PPC ads (Pay-per-click) success because this affects directly both how much you pay for every click and the quality score. Regarding this, you have to keep in mind two things:
In general, high-quality scores mean high click-through rates and vice versa.
High-quality scores let you maintain or improve the ad position for lower prices.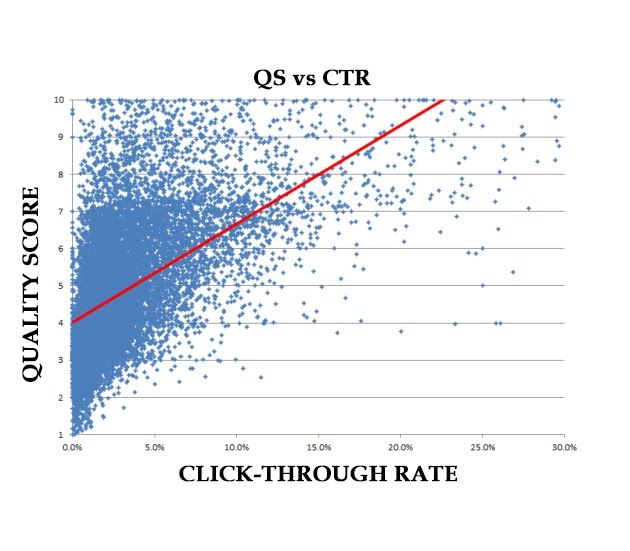 Image alt text: Graph showing the relationship between quality score and CTR.
Besides, this metric helps you understand your potential customers, what they prefer and what works, and what doesn't. A low click-through rate may mean you don't know your target audience, or you are targeting the wrong public. Also, maybe you're not using the proper tone.
Let's take the example of a paid search ad campaign whose goal is to direct people to your e-commerce store or landing page. An online advertisement's CTR allows you to know how effective the ad is at drawing in potential customers. Thanks to this, you can then compare ad copy, ad position, and CTAs to see which has the highest CTR.
What Is a Good CTR?
There is no meeting point when it comes to discussing what a good CTR is. The concession seems to be that the answer is "it depends." It depends on what? Mainly, it depends on the industry. Take a look at Yahoo answer to this question:
"It depends. Click-through rates are naturally going to vary from campaign to campaign, and even from keyword to keyword".
Regarding click-through rate, keep in mind this: there is no magic number. CTR varies by industry, and your CTR expected depends on your google ads position, ad extensions, and other factors.
Below you have a chart of Google Ads Industry Benchmarks across 16 common industries.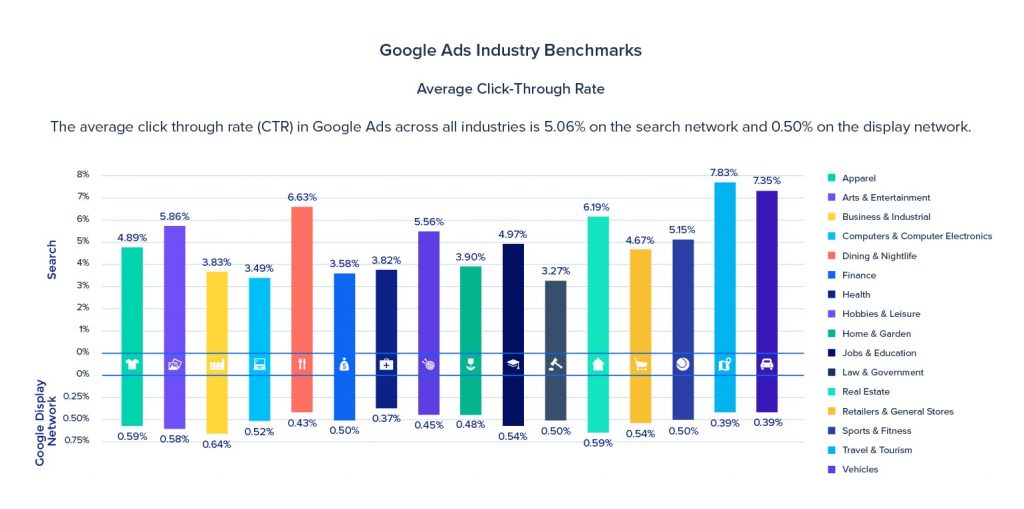 Wordstream reported that the average Adwords click-through rate is 1.91% on the search and 0.35% on display for paid digital ads.
Facebook Ad click-through rates range from 0.5% to 1.6%.
How to Improve Organic Search CTR?
To address this topic, we first have to explain what the organic search CTR is.
This concept defines the ratio of searchers who effectively click on an organic result in the browsers' result pages divided by the total amount of searches or impressions.
To increase click-through rates related to organic search, it's crucial to take into consideration some relevant aspects of SEO, such as using relevant keywords, optimizing descriptions, etc.
1 – Identify Your Lowest Organic Search CTR
Analyzing your website's traffic will provide you information about total impressions, total clicks, and average CTR. Next, you have an example of what you see when you use an analysis of your traffic.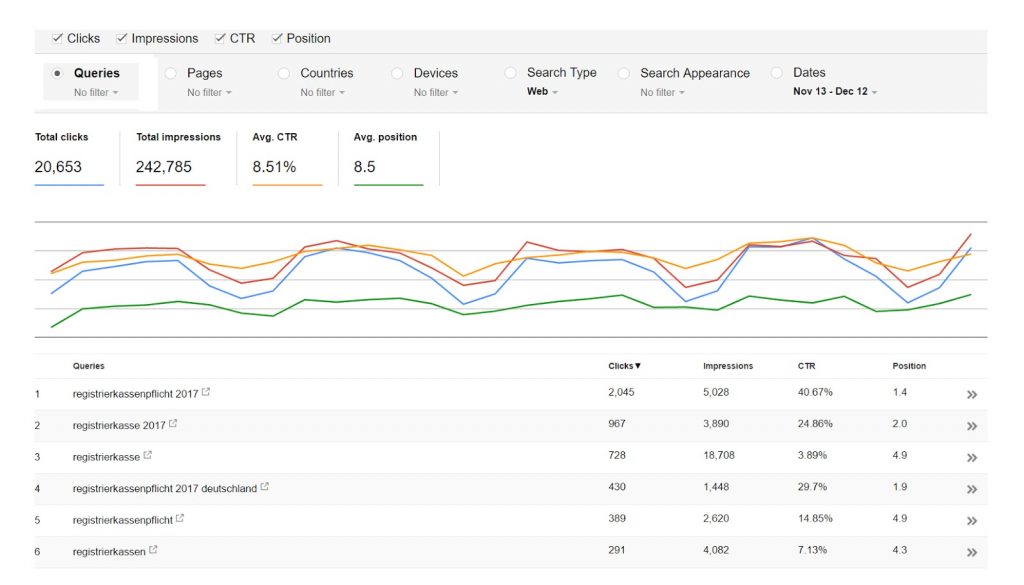 With this information in your hands, you can start noticing which queries have a lower CTR.
2 – Fix Keyword Cannibalization
This is a very common issue on most websites. Most businesses lean towards having lots of landing pages all optimizing for the same keywords, spreading out any organic clicks.
Scan your content (as shown in the previous paragraph) to consider or differentiate the keywords you want to rank. This way, you can adopt a better strategy about which keywords to use on a specific page and which are the most recommendable to use on several pages.
3 – Design Creative Titles
The goal here is to make people click on your site, isn't it? A great and attractive title includes a call to action. Remember, people do not see much more than the title of your content in the SERPs (search engine results pages). Let's have a look at some tips on writing a creative title:
Use brackets in your title. Brackets in titles increase clicks by 40%.
Avoid heavy title tags. This kind of title does not foster many clicks. Even engine bots can figure out when the title is not written for readers.
Test your titles. Using a headline analyzer to test your headlines will provide you information on whether your tags are working correctly. Make sure the length of your title is fixed with the browser engine. Portent.com is a good analyzer for such purposes.
4 – Get emotional
Nothing is more effective than using emotion to capture people's attention. Do not be afraid of using emotional words. However, do not be clickbaity, or your traffic will drop.
According to Time.com, 55 % of readers spent fewer than 15 seconds on a page whose title promises, but the content disappoints.
Let's take a look at some words you can use to make your titles emotional.
Free. In general, people love the word "free," and they respond positively to any title that incorporates it.
Guaranteed. When people read this word in titles, they feel secured and trusted.
Simple/Easy. People are looking for some easy ways to resolve their problems or answers to their questions. The title "Easy ways to improve your business's click-throughs rates" is an excellent example of this.
Words and phrases such as 'huge', 'discover', 'today', 'everything you need', 'save' or 'instant' are very useful too.
5 – Structure Content for Featured Snippets
Featured snippets are short and rich answers that the search engines provide you when you search Google or other browsers.
A featured snippet is a box of information that appears on the top of the page, over the organic results, and below the ads.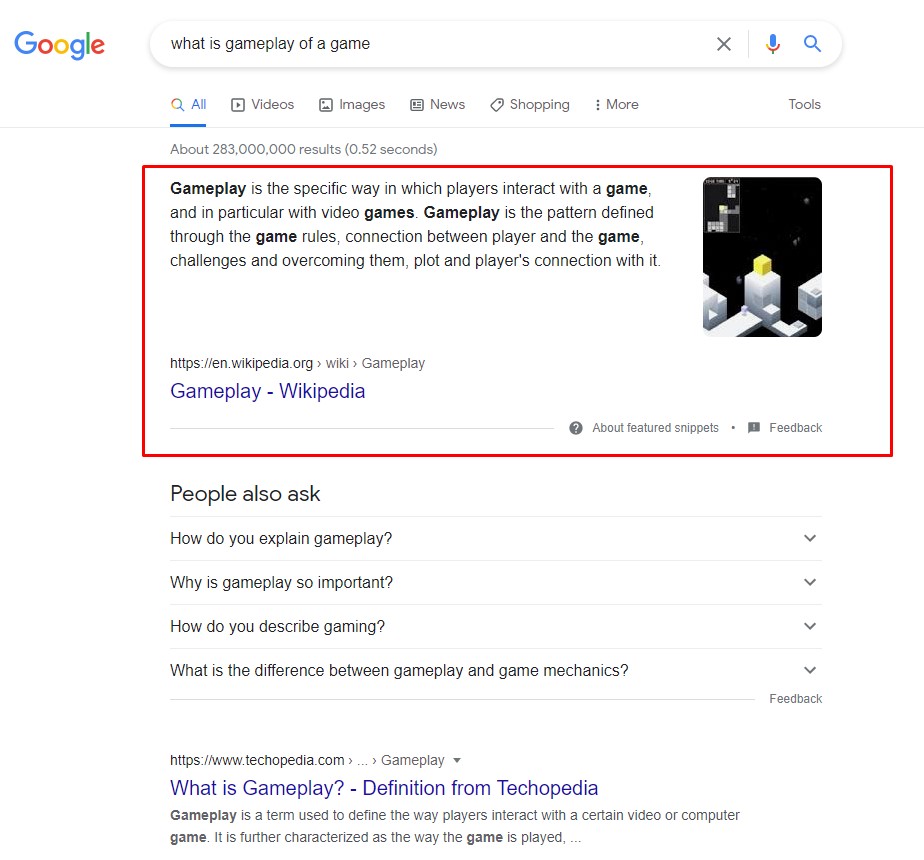 If so, you must structure your content similarly to how the featured snippet is displaying the answer.
How to Improve Google Adwords CTR?
Improving Google Ads CTR is more than just writing your adverts, using keywords, entering card details, and watching the sales start flowing. Nowadays, with Google's recent changes, you must know how to structure your ads. Let's look at some ideas on how to improve your Google Adwords CTR.
1- Improve Your Quality Score
Quality score is, basically, a measure of the relevance of your advertising. In other words, this concept measures the likelihood that Google predicts if some people will click on your Adwords and the level of experience they will have if they go through your website.
You have to know this: high-quality scores help with achieving higher rankings. Additionally, the higher the quality score, the less the cost per click the advertisers have to pay.
Several factors influence the Quality Score, from the topicality of your ad copy, by displaying the main keywords in headlines and URL, to the importance of your PPC landing pages.
2- Put Your Main Keywords Into the Title and Body of Your Ad
The keywords people write in browsers appear in bold when found in search results. People are more likely to click on ads that contain the keywords they have written than ads without them.
3- Use High-Converting Ad Copy
Your headline needs to be persuasive. At the same time, it should contain the most relevant keywords. An excellent idea is to include questions that you believe users might be asking while searching for help. Of course, you must include the answer. Use expressions such as" here you'll learn" or "how it works."
How to Improve Email CTR?
One of the first things you have to know about improving Email CTR is knowing your audience's preferences. When you know what customers expect from your email marketing campaigns, you may get higher CTR or higher emailing click rates. 
Your email CTR is the percentage of people who effectively click via a link in your email. Click-through rate is an important measure of how effectively your emails influence the behavior of your target audience.
1- Have One Clear Objective
Just like in life, having a single clear objective is the key to success in any activity. Conversion rate by Email CTR works in the same way.
Experience dictates that it is much better if each email has its objective.
Too many competing calls to action can confuse readers about what you want them to do next, resulting in them doing nothing.
2- Nail Your Call-to-Action
After deciding what the prospects of your objective are, you must create a compelling and straightforward call to action that helps you reach your goals.
To nail your call to action:
Make the content of your email builds up to a single call to action;
Write compelling copy using language that resonates with your target audience;
Test the design of the button, i.e., style, size, text, and color.
3- Segment Your Database
When you focus on everyone, you focus on no one. A one-size-fits-all approach waters down your message, and, thus, results will suffer.
It is much better if you segment your audience and tailor the content you sent to each segment. It is one of the most important strategies to ensure you send relevant messages to the right people. Next, you have three ways in which you can segment your email list.
Online behavior;
Purchase history;
Demographics.
4- Personalize Your Message
This point is strongly related to the previous one. It is fundamental you increase the relevancy and engagement of each segment by personalizing your email content. This will result in a higher click-through rate.
Now we have some stats concerning personalization you can check for knowledge purposes:
65% of customers mention that personalization influences their brand loyalty.
According to Epsilon, 90% of consumers aged 18-24 mention they find personalization appealing.
According to Infosys, 59% of customers who experienced personalizations mentioned that it significantly influenced the purchase decisions.
According to Deloitte, 22% of customers are happy to share some data in return for a more personalized customer product or service.
According to Experian, the unique click rates for brands that send personalized emails are 27 percent higher than brands that don't personalize.
YouTube Click-Through Rate (CTR)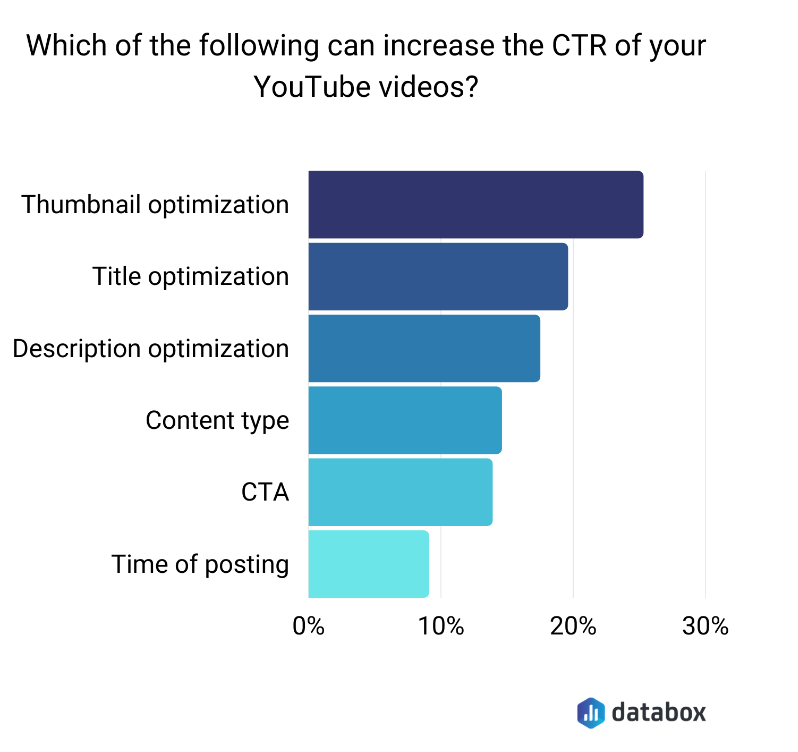 Youtube click-through rate is not different from the previous ones mentioned in this article. In general, the average CTR on Youtube is 4-5%. There are several ways of improving the Youtube Click-through rate.
1- Increase Thumbnail Optimization
Good thumbnails attract the attention of viewers and compel them to watch videos. To Optimize thumbnails, you may do the following:
Add a custom thumbnail. According to Databox, custom thumbnails can increase Youtube CTR by 25%. Regarding this, the SEO expert, Itamar Blauer, says this: "To this day, having eye-catching thumbnails with the right color schemes and fonts go a long way in getting more clicks than other videos on the results page."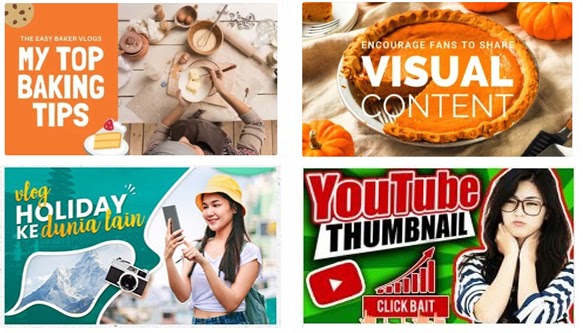 Test different titles and thumbnail combos. If you know your audience, you know exactly what they are expecting about your channel. When you try different title combinations and video thumbnails, you can test which works better for your public.
2- Focus On Title and Description Optimization
Write a very attractive and emotional title optimized with main keywords and a call to action. This is the same when you are writing a title for a marketplace or personal blog.
Besides, make sure that your specific keywords are in the right places, i.e., descriptions, tags, transcripts, and meta descriptions.
3- Pay Special Attention to Content-Type
On Youtube, there are several types of content you can develop to diversify your subject. Keep in mind the following:
Vlogs. Vlogs are equivalent to reality television. People love to watch other people doing funny or exciting things.
Guide or tutorials. People are interested in learning everything about and what is better than learning from a tutorial.
Podcasts. Most people just listen to Youtube videos and do not watch them. Considerate this format for a big part of your content.
Product reviews. People trying to decide if a product is good enough for them will thank all the info you can give you about a product.
Unboxing videos. This is a fascinating 21st Century phenomenon. People love to see how somebody else takes a product out of a box. Take advantage of it!
Educational videos. People are looking on the Internet for ways to learn something specific. Providing that service in your field can be beneficial for both you and your audience.
4.- Focus On Video Engagement
Engaging with users can be done via the number of tweets, shares, posts, and subscriptions you receive.
The more engagement your video gets, the higher its scores related to Youtube's rating factors. It is crucial you encourage fans to like, subscribe and comment on your videos. Besides, to truly optimize the interaction, upload your Youtube videos to other sites, such as blog posts and social media.
How to Improve Social Media CTR?
Together with engagement metrics such as shares, CTR is one of the more important social media metrics (generally more important than impressions). In 2018, the average click-through rate for Facebook paid ads across all industries was 0.90%. For Instagram click-through rates (paid advertising), the average click-through rate sits at about 0.52%.
Give Fans a Reason to Click Through
Every content you create should help you improve the connection with your audience on social media. One way to do this is writing and sharing brilliant stuff on your portal that solves pain points and leads your audience to the next step.
When people find a good piece of content, they want to read more of the same topic or the same creator. Here is when they may sign up for your email list or even consider buying something from you.
Add Visuals to Your Posts
Facebook posts with images achieve 2.3 times more engagement than posts without images, according to BuzzSumo.com.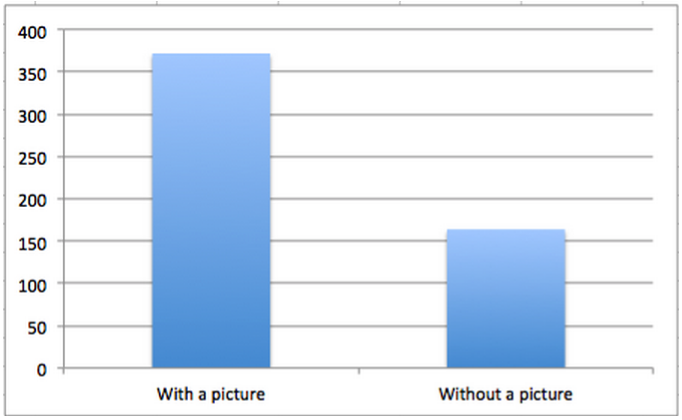 According to the latest research from the 2018 International Conference on Information Management, Facebook images that perform well with engagement are easy to interpret, well-lit, lively, and demonstrate playfulness or ingenuity.
For Instagram, the rules are slightly different. Successful Instagram posts tend to be more artistic than their Facebook counterparts. The recipe is straightforward: they use many white spaces, textures, and bright hues with low saturation on the blue end of the spectrum.
But what about video content? In a simple phrase, video dominates social media engagement in digital marketing. It is better to design your social media videos as a visual narrative, even without sound, since 85% of Facebook videos are now watched without sound.
Edit Your Placements
Facebook recommends automatic placements, but if engagement and CTR are metrics you're aiming for, it is better to edit the placements at your will and stick with feeds, especially on desktop.
Newsfeed ads allow for a larger image and a longer description, making your ad stand out, driving higher CTR and usually conversions too. The win-win combo here!
Conclusions
We have arrived at the end of this article. Let's summarize the most important points you have to keep in mind:
CTR is fundamental for your PPC ad extension types (Pay-per-click) success because this affects quality score and how much you pay every time someone clicks on your ad.
CTR varies by industry, and your CTR expected depends on your google ads position, ad extensions, and other factors.  
To improve Organic Search CTR, you must identify your lowest SEO CTR and create good and emotional titles.
Boost Google Adwords CTR via high-quality score and user higher-converting ad copy. 
Improve email address CTR by having a clear objective, segmenting your database, and personalizing your message.
To improve your Youtube Click-through rate, work on the title and description optimization, pay special attention to content type, and focus on video engagement. 
Improve your social media CTR by giving your fans a reason to click through, adding visuals, and editing your placements. 
FAQ
Why Is My Click-Through Rate So Low?
A low CTR indicates you are focusing on the wrong audience; thus, you are not using the proper language to convince them to click. Besides, this could mean your meta tag, meta description, or the service your business is offering is not engaging enough.
What Is a Good Click-Through Rate?
There is no meeting point when it comes to discussing what a good CTR is. It mainly depends on the industry.
What Affects Click-Through Rate?
CTR is affected by many factors, depending on the platform or method you use.
Youtube CTR. It is affected by title and description optimization.
Social media CTR. It is affected by visuals and edited placements.
Google Adwords CTR. It is affected by the quality of the content and title and description optimization.
Email CTR. It is affected by the personalization of the message and an effective call to action.
What Action Might Improve the Click-Through Rates on Your Ad?
There are three actions you can use to improve your CTR.
Improve your quality score;
Put your main keyword into the title and body of your ad;
Use high-converting ad copy.
All right reserved. GamerSEO copyright 2021.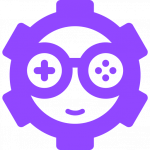 Full-time workaholic with four years of experience in Content Writing and Copywriting. Creating texts that bring sales, content that's worth reading, and paying attention to detail is his key to provide quality and results. On-page SEO enthusiast and voice-over in his spare time.