First-page search results receive almost 95% of web traffic. This shows how important it is to position your business in search engines skillfully.
As a business owner, your task is to cross the path of a customer who's already looking for a place to spend their money. However, you need to make yourself noticeable first.
That's when SEO (Search Engine Optimization) comes in handy.
Nonetheless, small business owners often compare their SEO efforts to a David vs. Goliath story due to significant competition.
Are they right? Is SEO worth it for small business or not? Is SEO worth the time? Let's find out.
How Much Does SEO Cost?
To achieve success with SEO, that is, to get high-quality traffic, you will have to meet specific criteria.
SEO services include copywriting, link building, and website optimization. Unfortunately, all that has a particular cost – and either you'll spend money or time.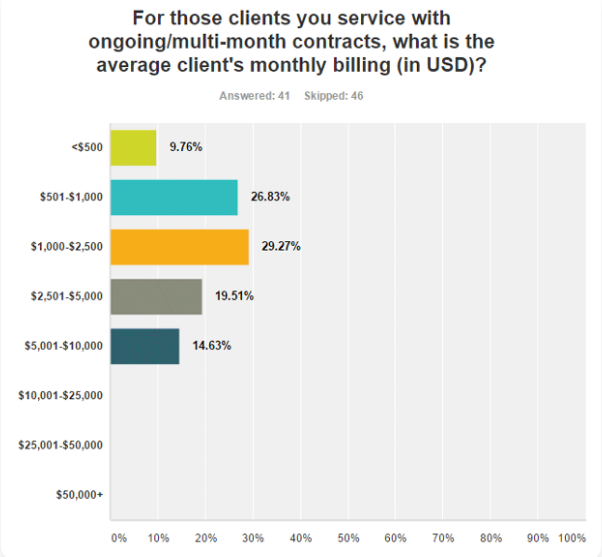 Source: sparktoro.com
Most businesses pay between $1,000 and $2,500 per month for digital marketing services.
However, comparing two different companies' prices is pointless unless you know the scope of activities within these costs.
Let's say you pay for SEO Company A $1000 per month. Their services generate a certain amount of traffic and conversions.
SEO Company B charges $1500 per month yet brings twice as many conversions.
Therefore, hiring SEO Company B turns out to be more profitable for your business.
The entire positioning process is based on the skillful publishing of content and acquiring links to the website. It is the quantity and quality of texts as well as links that determine whether your website will rank high.
Cheap SEO companies cannot deliver that quality because they would have to partly pay out of their pocket. Therefore, five quality texts and ten links for $1000 is simply a scam as such a digital marketing agency aims at the buyer's ignorance.
When Does SEO Bring Results?
The fact that big companies always appear first in search engine results is no coincidence. These brands have usually been working on their market position for decades.
The truth is no SEO agency should promise you immediate results. If they do, they either don't know what they are doing or try to scam you.
Yes, SEO brings results, yet the process requires time and patience – no one will boost your sales in two weeks, nor in two months.
Neil Patel states that if you follow these three essential rules, you should see improvement within 12 months.
However, the bulk of your results will come within the first two years: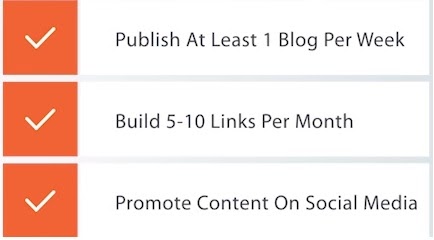 Source: Neil Patel YouTube Channel
SEO Benefits For Small Businesses
User-Friendly Websites
SEO is not only about ranking your website high in the search results.
Appropriate SEO strategies help your potential customers find exactly what they're looking for on your site. Proper web design may decide whether the customer stays on your website or leaves.
Therefore, well-structured websites are more attractive to casual viewers, translating into a lower bounce rate and more web page views.

Thegamingblog.co.uk landing page displays the navigation menu at eye level, improving the website's transparency.
That being said, your website structure should let someone find what they need within three clicks. Obviously, this idea could be applied regardless of business size.
Better Conversion Rates
A modern web user searches for goods not only on a computer but also on mobile devices.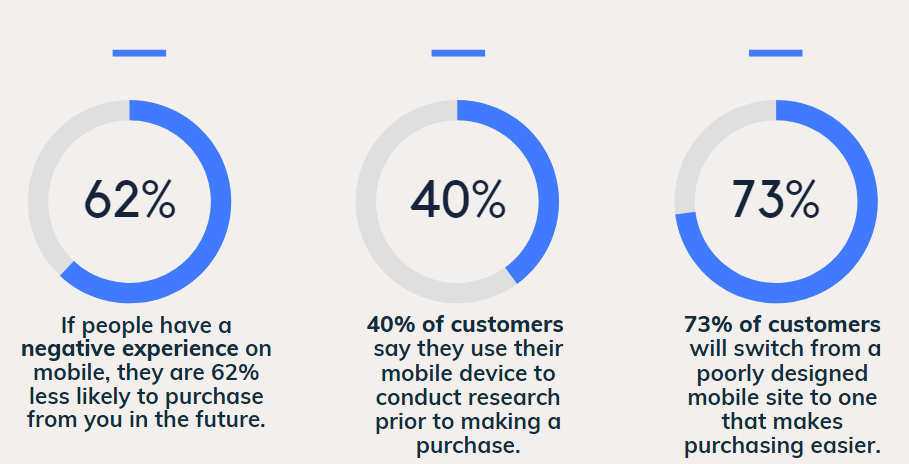 Source: Pixelunion.net
The infographics show how proper mobile optimization leads to better conversion rates.
With skillful SEO optimization, your website loads fast and looks good on all kinds of devices. The convenience of shopping is critical, as customers highly value time – therefore, letting them buy things in a few clicks will significantly increase your revenue.
More Targeted Traffic
According to Search Engine Journal, 53% of all trackable website traffic comes from organic search.
Google users ask questions all the time, whereas the algorithm tries to show them where to find answers.
In this case, keywords serve as a signpost. If properly placed, they will lead the customer to your store.
A new business shouldn't waste time and financial resources on people who will never become your customers. SEO strategies will message those that are actively searching for a product like yours.
Builds Brand Awareness
How should customers buy your products if they don't know your company exists?
How can they find your website on Google if you can't do it yourself?
That's why you need to build brand awareness.
What is more, consumers tend to see top-rated websites as authorities in the industry.
As customers start recognizing your company, other factors such as the brand's trust, loyalty, and customer relationships come into play. From that point, you have an easier way to develop your business further.
SEO vs. PPC: What's Better?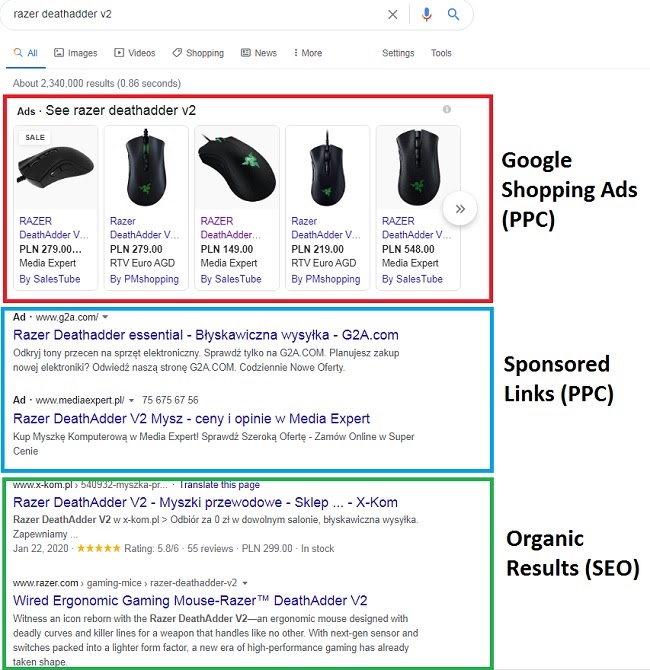 Many small business owners wonder if they should put their efforts and money into SEO or PPC campaigns.
Well, neither of them can guarantee you a spot in Google's top results, but both can help you reach the desired audience.
Search Engine Optimization (SEO) puts the website in the top places of organic search results in SERPs for specific key phrases.
In Pay Per Click (PPC), you pay for ads that appear in the first places of search results. Ads in the PPC model can be profiled to specific recipients and keywords. However, the more frequently a keyword is searched, the more competitors, and thus the higher the price for each click.
Both Search Engine Optimization and Pay Per Click are components of Search Engine Marketing (SEM) – SEO + PPC = SEM.
What Are The Benefits Of SEO?
Besides the pros listed in the previous section, SEO carries benefits that put it in a winning position over PPC.
First of all, Organic traffic is long-lasting — if a website is optimized properly, it can stay at the top for long.
If you aim at long-term success, SEO is cheaper — The Ahrefs copywriting team consists of three to four people. The blog articles get an estimated 240,000+ search visitors a month and rank for over 120,000 keywords.

source: Ahrefs.com blog
If the website owners were to buy the traffic through PPC, they would need to invest around $8.8 million per year.
It is hard to imagine that each copywriter would earn more than $2 million a year. And that's the reason we can safely assume that SEO doesn't eat up such funds.
What Are The Drawbacks Of SEO?
The main difference is that SEO requires time to bring results. Learn more here.
Additionally, SEO doesn't guarantee success. Algorithms frequently introduce changes, so new brands may struggle to meet the new requirements set by Google. In this case, it is worth cooperating with industry-experienced analysts who will create and run SEO campaigns adequate to your type of business.
What Are The Benefits Of PPC?
Compared to SEO, PPC brings faster results. Therefore, PPC will be great for promoting seasonal campaigns, e.g. related to Cyber Monday or Black Friday.
PPC allows you to reach a more specific target audience as you can choose a precise group of recipients who will see your ad, whether they are men/women of a certain age or people interested in real estate.
You can measure and analyze PPC ads accurately and effectively. This gives you insights into details such as traffic numbers and conversions. When pursuing your business goals, you should take the guesswork out and pay attention to the ROI (Return on Investment).
What Are The Drawbacks Of PPC?
If you are a small business owner on a budget, running a PPC campaign will cost you lots of money in the long run. Contrary to SEO, your positions for certain phrases in Google will not improve over time.
Another aspect is price wars with competitors. It occurs when two or more advertisers are vigorously competing for the best position for a given search term. Over time, the ads may become less profitable as a result of the inflated bids.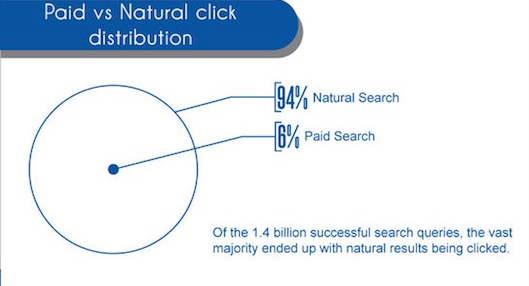 Source: searchenginewatch.com
As the graph shows, people tend to ignore sponsored ads. Although PPC ads appear before organic results, they are usually skipped. 94% of Internet users automatically scroll down to see organic search results concerning a given search query. They are more likely to be trusted than paid advertising.
The next issue that you should be aware of is click fraud – it happens when the competition purposely clicks on your sponsored ads to undermine your advertising budget. Even though Google has implemented the appropriate algorithms, they do not work perfectly. According to Adage.com, for every $5 spent on digital ads, fraud takes $1.
Why Should You Combine SEO And PPC?
Taking everything into consideration, the combination of PPC and SEO service will ensure you the greatest effectiveness. If you build the foundations of your website with good SEO practices, PPC may be the next step in acquiring potential customers.
Control The Campaign
When your website shop or blog posts are optimized for specific keywords, you can implement a PPC campaign that will increase the awareness of those pages by driving direct traffic to them.
Based on the directed traffic from advertisements, you will find out whether the current content is appropriate for the selected target group and how it translates into conversion rates.
Two Links In Top SERPs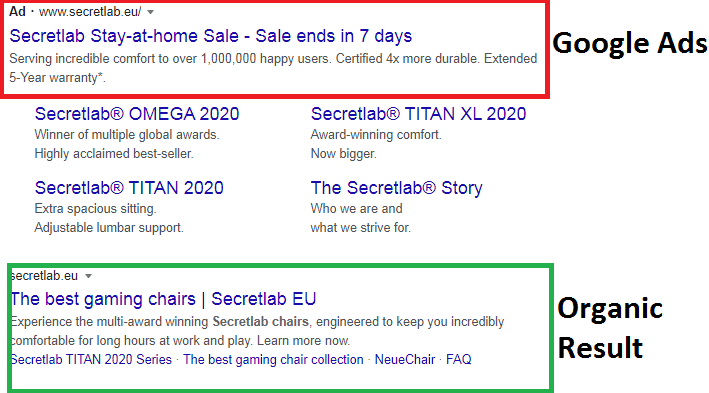 Sponsored links are the first three or four results on the first page of Google Search. Thus, such websites are highly visible to customers.
If additionally, your web page or blog post appears just below these paid ads, a person looking for a specific product sees two links to your page displayed on the first page of Google.
Speaking about Google – If you are the owner of a small local business, something you have to do is to get a listing in Google Maps.
All you have to do is sign up and verify your company in Google My Business. That way, the location of your business will become visible to customers.
The great thing about Google Maps is that it's completely free of charge!
Ad Rank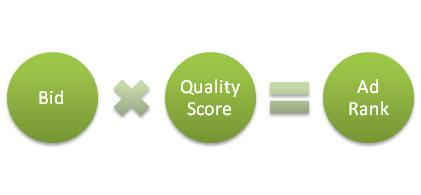 Source: www.seerinteractive.com
A website optimized for SEO positively influences the Ad Rank of PPC ads.
Ad Rank is a factor that determines, among others, the quality of the ad and landing page and their adequacy to the user's search queries.
The higher the Ad Rank is, the lower the pricing when a user clicks on your ad. If your website is properly optimized for SEO, it will also be positively received by the algorithm that determines the Ad Rank of Google Ads.
Remarketing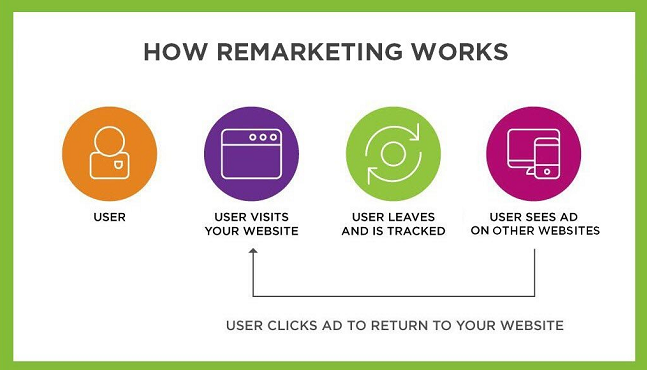 As the image illustrates, the ads are targeted only at users who have previously visited your website. These might be readers who browsed through the site but didn't buy anything from it. Remarketing will help them reconnect by showing them relevant ads on their devices.
Should Small Businesses Invest In Social Media?
The number of users on the most popular social media channels are as following: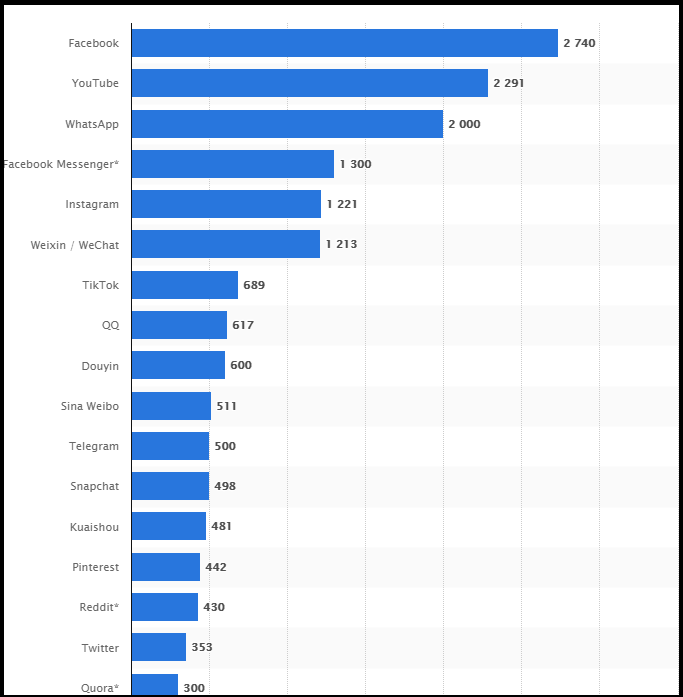 Most popular social media worldwide by active users (in millions) – Statistica 2021.
Therefore, if you want to be visible on the internet, your company has to get exposure to some form of social media!
Social media activities are a great option to get leads through building brand awareness and customer trust.
As a small business owner, focus on the area bringing the most benefits for your type of company – if you are into the gaming industry, pay attention to Facebook and Instagram. However, don't forget about video streaming platforms such as YouTube and Twitch.
For a detailed analysis of Social Media Channels see the article: Social Networking For Gamers: Level Up Your Marketing Game
Can Successful Businesses Stop Doing SEO?
Can you stop doing SEO once you made a name for yourself in Google Results?
Does your position immediately go down in the rankings?
The answer to both of these questions is no.
As we said before, SEO gives long-term results.
In the first few months of inactivity, your position should remain relatively stable meaning the traffic is likely to stay the same.
In fact, you may even continue to gain visitors.
However, a decrease in website rank has to appear soon. If you stop updating the page with new, SEO-optimized content for a few months, the website will start losing authority.
The local-focused companies can note steady traffic for longer simply due to the established position and constant need for their services.
In turn, companies focused globally have to reckon with much higher competition. Other brands will certainly try to use the period of inactivity to take over in the SERP.
Conclusions
Word of mouth marketing in terms of a small business is not enough anymore.
And even though an effective SEO takes longer to see results, it is still worth the time and effort.
Most importantly, SEO is a lot cheaper than PPC and attracts more clicks.
Additionally, Internet users put more trust in organic search results than PPC ads. It's impossible to get top-ranked overnight, but your business will benefit many times in the long run.
The best idea is to combine PPC ads with organic search results. Each tactic has its benefits, and both will help you enjoy more web presence.
Keep in mind that there are many SEO agencies on the market. Before choosing the "one," carefully consider all the options.
Make sure to avoid the mistake of choosing an agency that tempts you with the cheapest offer. Instead, take into account how detailed the strategy is and if the marketing campaign's potential results are transparent.
FAQ
Is SEO still worth it in 2021?
As it carries a number of advantages, SEO is worth including in the business plan of your company. Actually, SEO is the key to long-term visibility on the web.
Can you pay Google for SEO?
The rules concerning SEO strategy are set by Google, yet you can't pay for a higher position in organic results. However, temporary PPC campaigns can boost your brand's visibility and generate more traffic to the website, which later may influence the position on the search engine results page.
Does SEO increase sales?
By driving more traffic to your website, SEO presents your offer to potential customers. Therefore, more people get the chance to know your products. If it's what they are looking for, then the traffic will translate into the conversion rate, increasing the sales of your brand.
Copyright 2021. All Rights Reserved.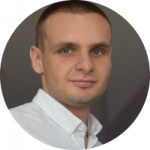 SEO specialist with over four years of professional experience. A/B test and Data-Driven SEO enthusiast. In his work, he focuses on the development and implementation of a strategy that achieves predetermined, specific goals. Privately, a fan of mountain biking.