Crypto Social Media Platforms are new virtual spaces where people worldwide can be part of a vast community of creators, decision-makers, advertisers, and investors. These networks are relatively new but growing by leaps and bounds. In this article, we mention some of the platforms you should try.
What Is a Crypto Social Media Platform?
These platforms boast an internal cryptocurrency with which you can trade goods, both outside and inside the network. It's possible to earn crypto by using the network and being an integral part of the system.
Traditional Social Media Platforms
These platforms correspond to the most common social media platforms you find on the web, i.e., Facebook, Instagram, Youtube, etcetera. These networks have a centralized constitution, where rules and policies emanate from a central vision.
Decentralized Social Media Platforms
Decentralized platforms are open-source and free platforms where you can buy and sell data in an anonymous manner. Decentralized social networks are highly customizable, and most decision-makers are part of the community. Pieces of data you can trade are documents, videos, photos, NFTs, and other digital assets. In the subsequent sections, you'll find many examples of these platforms.
Some Alternatives Crypto Social Media Platforms you Should Check
In this section, you'll find seven alternative crypto social media platforms characterized by a lack of advertisers, end-to-end encryption technology, and significant opportunities to earn money.
Torum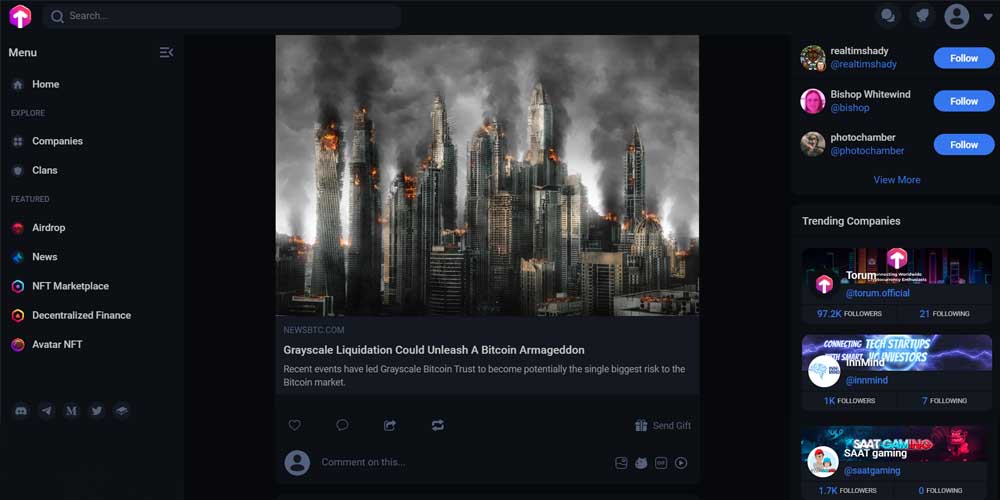 Torum is a new decentralized social network that looks and works like a mix between Twitter and Facebook. This crypto social network has its utility token, XTM BEP-20, to reward users and trade services throughout the platform. In this crypto community, users can give gift coins to users, creators, or influencers to promote high-quality content creation.
Besides, this new social platform allows users and companies to create their pages where they can add employees, participants, and stakeholders. They can post on the company page and share impressions using the same page.
As you see in the header's image, Torum looks very similar to Twitter. The main visual content is in the center column, but you can find all the features you'll need to the left and trending companies to the right.
Many prominent investors have backed Torum since its release. Among these are Consensus Lab, U21, and Huobi Ventures.
Minds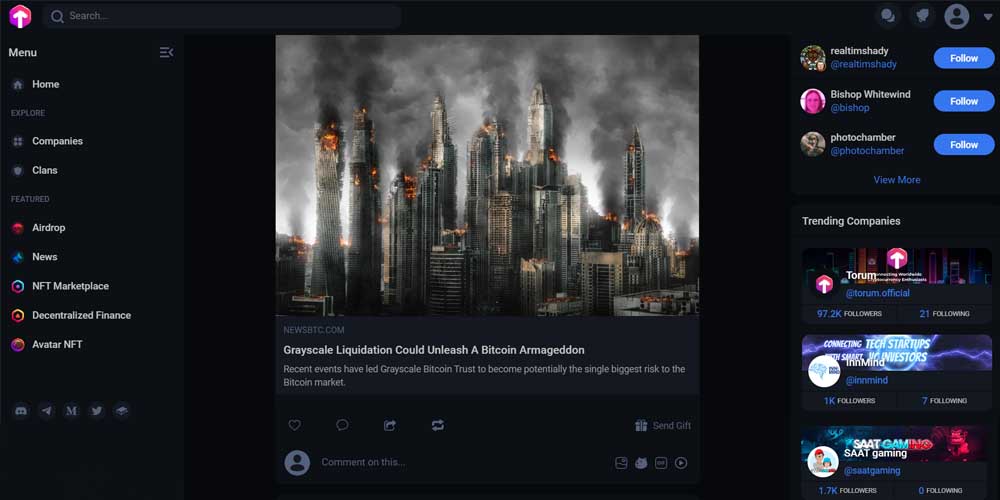 Most social media networks out there apply strong censorship policies. Due to this, many users are leaving these platforms to migrate to other decentralized social media networks where freedom of expression is the cornerstone.
Minds is an open-source network where users can speak freely. This characteristic is its main difference compared to centralized platforms or even common social media industry channels. Still, Minds prevents fake news from spreading and provides real-time access to all the data shared on the network.
Minds network allows users to earn crypto rewards for their contribution to the growth of this crypto network. The money is MINDS tokens and tips you for creating content, referring friends, promoting social interaction, and liquidity.
This platform is one of the few censorship-resistant platforms out there. This final reason is good enough to check and try it.
Subsocial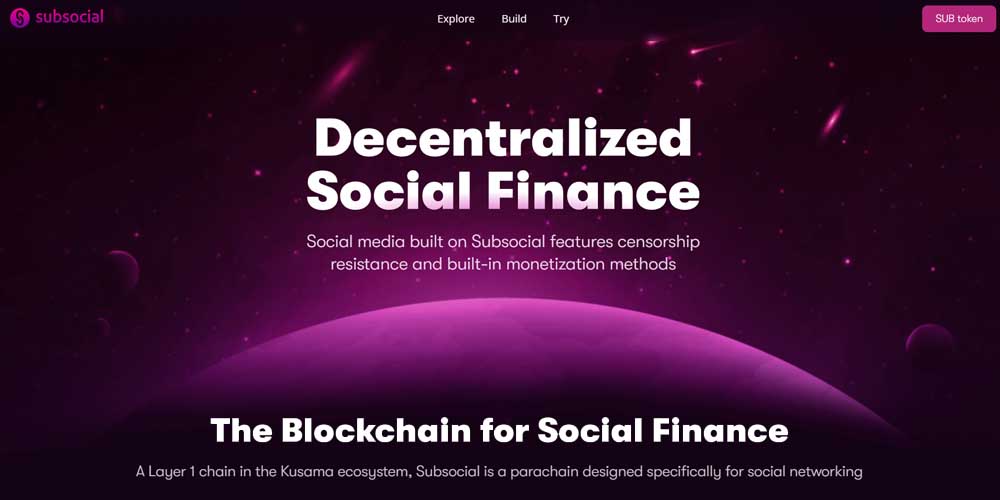 This decentralized social media platform is a network focused on social finance. It is built on Polkadot and features built-in crypto monetization through smart contracts, tipping, ads, etc. This site is the first social network platform to pay special attention to cross-chain interactions and shared data between dapps.
Subsocial introduces certain features that let you create social dapps. The platform takes you through the process and helps you better communicate your ideas with stakeholders.
On the other side, Subsocial lets you gain ownership of your creations in the future via SUB, the native token of the platform. Thanks to this, you can initiate free social interactions, comment on other users' jobs, etcetera. This token gives governance and fuels the infrastructure and economics of the system.
Dtube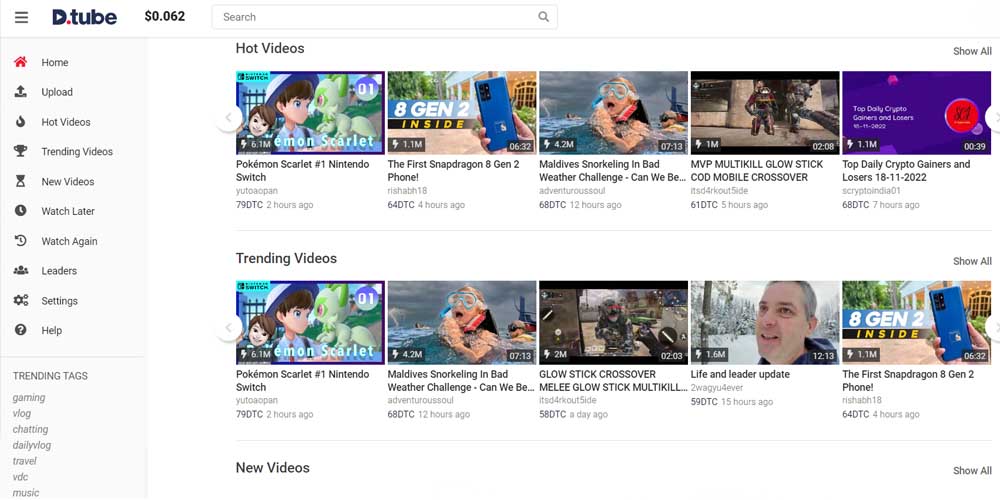 As the image above shows – and when you read the name – Dtube is an alternative platform to Youtube. Contrary to other centralized social media platforms specialized in reproducing videos and streaming, Dtube is a free-advertising platform that allows people to watch their favorite videos without interruptions.
Thanks to this, Dtube feels smoother and cleaner than its centralized counterpart. Besides, the content that Dtube shows are not influenced by algorithms, giving considerable relevance to the query. Unlike Youtube, Dtube is a decentralized search engine with exclusive content.
One of the key features of this alternative network is that users earn rewards for participating and being active on the platform. And just like any other crypto network mentioned above, in Dtube, you'll gain a native token depending on your material's number of likes or comments.
Avoid ads with Dtube and join the censorship resistance by creating great content and fetching new users to the platform. Dtube is one of the most recommended and viable alternatives related to blockchain technology. Some relevant features of Dtube are the following:
No premium subscription;
No advertising revenue;
No censorship.
SocialX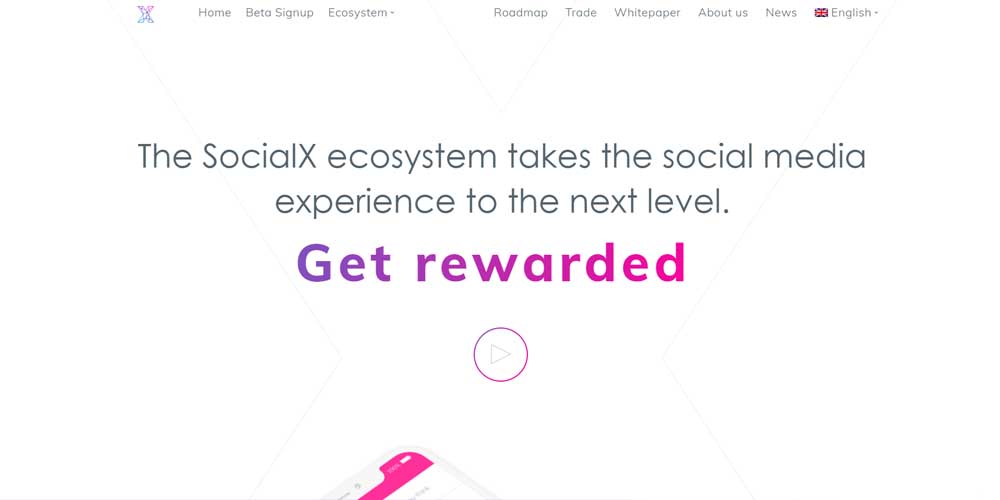 SocialX is a free and open-source platform very similar to Instagram regarding its focus on photo and video content. This social network uses its blockchain currency, SOCX token, which rewards users when they create and distribute content.
As a social blockchain platform, SocialX has remarkable differences compared to other crypto social networks: SocialX features superlikes. Thanks to this, SocialX will reward you with tokens of its pool every time you receive a superlike. This benefit helps to create an increasing community of creators who win power and earn money according to the quality of content.
SocialX plans to launch company pages, allowing users to create unique business pages. This way, the network will create an exciting web of references where users can consume content, interact, and buy and sell goods through tokens.
SocialX network shows extensive engagement and commitment with independent creators, developers, and influencers who want to earn tokens by posting their images and videos. Finally, the network is attempting to release a prepaid credit card. Thanks to these tools, users can spend their resources and rewards using this card in multiple options, just paying small platform fees.
Sapien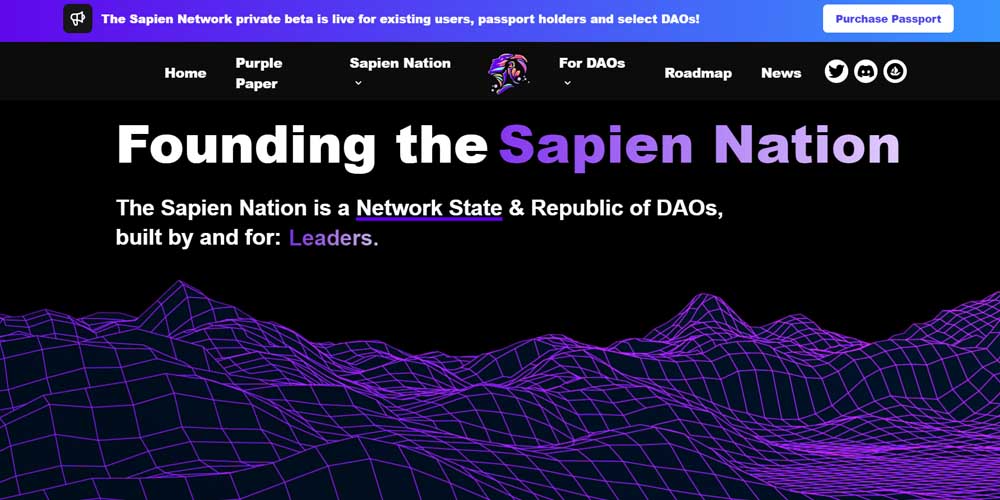 Sapien network is a customizable and democratized social news platform based on the Ethereum blockchain. Sapien describes itself as an alternative to Google or Facebook, an independent nation, network state, and republic.
The main objective of Sapien is to create and empower DAOs through a solid infrastructure based on the monetary value of cryptocurrencies. It is also a community-driven project where sense makers, creators, leaders, advocates, and other members build this republic every day, assuring freedom of speech and free transactions of digital assets.
A digital parliament is one of the most exciting features that the project's founders propose. Users can collaborate in committees and find users and changemakers of their tribe. Users also can submit proposals and participate in discussions, providing posts and leading initiatives to followers who resonate with them.
The Sapien network also allows you to fund your projects and support them via cryptocurrency technology. Control your budget and develop your ideas within a secure environment of reliable participants.
Still, to be part of this tremendous virtual nation, you need an NFT passport. You can purchase the passport directly from the network, after creating your account. The price of the passport is 0.15 ETH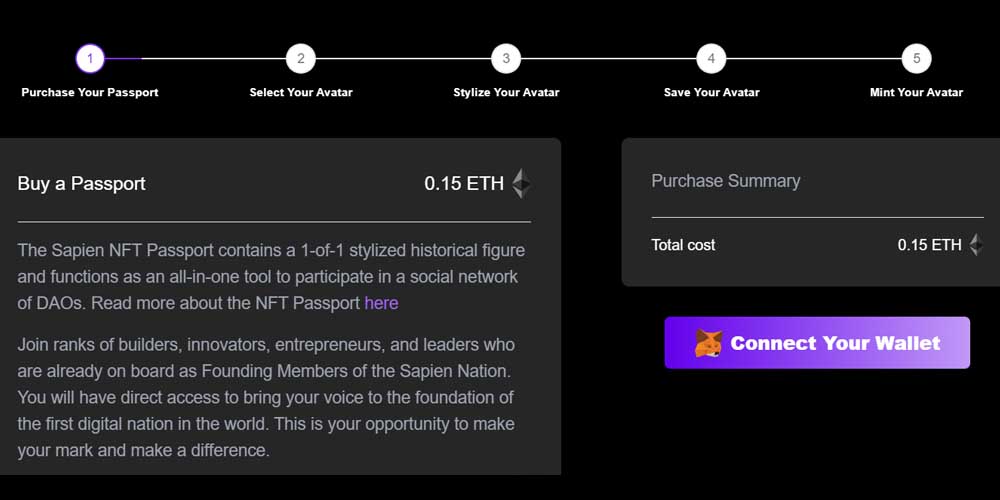 Passports are the pillar of the ecosystem and the foundation of the social layer. Passport money helps to support and fund the project of the nation and have profound control over the Sapien territories. It will also help you to earn SPN tokens, the currency you can use throughout its marketplace.
BitClout DeSo Project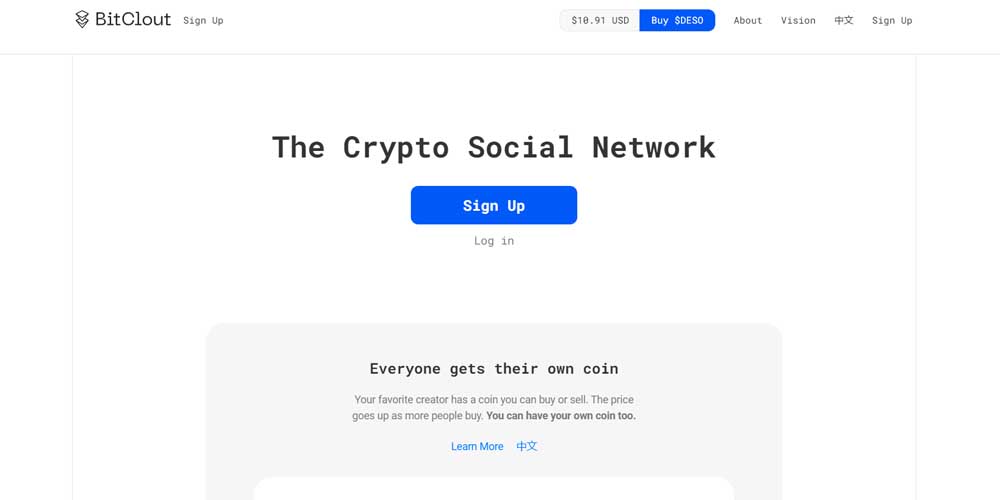 BitClout is built on DeSo, an open-source blockchain like the integrated Bitcoin wallet. From the beginning, BitClout generated a lot of controversies because of its link to famous people, such as Elon Musk. Currently, the platform offers an excellent alternative to the next generation regarding earning cryptocurrencies.
BitCloud encourages users to create and share ever-evolving content, such as music, visual art, NFTs, and work brands on exciting projects.
This platform runs several alternatives to earn DeSo tokens. For instance, you can create and share valuable content, participate in NFT projects, and attract investments to increase the app's token.
You can also earn "founder rewards," a percentage of each user's coin price. The user defines the rewards %. In addition, you can invest in entering promises and speculate on the value of these creator coins. In BitClout, you're free to buy and sell NFTs.
Content sharing also will reward users with diamonds, a new resource that replaces likes in the created content. Thanks to the Diamond app, you can mint NFTs, send tips, buy creator coins, collect founder rewards, and, most importantly, earn millions of dollars if you get millions of likes.
Flote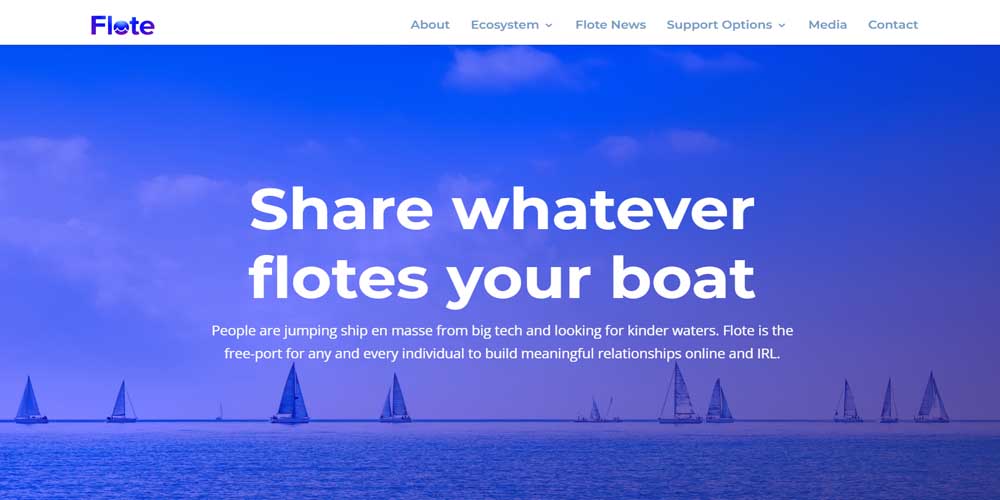 The world and community building are looking for better social media options. A change is necessary since online communities need free-censorship spaces to share everything they want with other users. In this regard, Flote is a free port for individuals who want to build meaningful relationships on the web.
In Flote, users can exchange ideas, buy and sell goods, monetize content through blockchain protocols, etcetera. Flote is also a peer-to-peer network where users can meet each other in virtual environments, which means essential benefits for the Metaverse and other future techs.
This website promotes the exchange of content anonymously. This way, users can exchange ideas without being concerned about having their identity revealed. By keeping free speech and trade, Flote fosters individual liberty, security, and privacy.
Flote policies are summarized in the following:
No privacy concerns;
No moderation practices;
No more silencing people for their opposite views.
These three criteria make Flote one of the best blockchain-based platforms.
GamerSEO Final Thoughts
Building social networks that feature a new perspective of Interactions between participants, investments, and currencies are fashionable on the Internet. Every month, we hear about unique virtual ecosystems that see the light and grow incredibly. Others disappear, like the Prometeus network. But still, those we've mentioned here are the most interesting and some worth exploring. Please check them and join the one you're interested in.
Since in GamerSEO, we know the importance of knowledge, we ask you to share information and what you learned here. Of course, if you want to know more about this topic and other significant, browse our blog. Here you will find additional interesting information about NFTs and cryptocurrencies.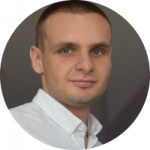 SEO specialist with over four years of professional experience. A/B test and Data-Driven SEO enthusiast. In his work, he focuses on the development and implementation of a strategy that achieves predetermined, specific goals. Privately, a fan of mountain biking.