With the non-stop growth of crypto and blockchain technology, many of the thought leaders in the industry started to gain more recognition not only in the crypto space but also on social media in general.
With many new opportunities that the crypto market is bringing, there are also a lot of new ways to earn or lose money. So, when we need to gain notoriety for our project you should do proper marketing research to avoid such a bad fate.
This mostly goes toward crypto influencers. As tempting it can be to just go for the "biggest name", it is not always the best option. It can even hurt your brand reputation. You need to look for the right people to promote your crypto project.
That's why we bring to you 25 of the best active crypto influencers that you should follow to be always aware of the latest crypto news and market trends.
Crypto Influencers – Who Are They In the Crypto World
These crypto influencers are considered digital celebrities who have a large following on many social media (Twitter, YouTube, Instagram, etc.). They share their ideas on where the market is headed, review crypto projects, and analyze the latest news pieces on the crypto industry.
But what are they actually? Most of the crypto influencers are marketing experts and promoters. The leading crypto influencers are also owners of renowned projects, developers of blockchain technology, and have a big crypto portfolio that backs them up.
Everyone shares their insightful expertise over its focused area. That could be market trends, prices, crypto projects to follow and soon to be launched, and more.
How Can You Use Crypto Influencer Marketing for Your Crypto Projects
With the support of a prominent crypto influencer, your project can attract the attention of the cryptocurrency world. It also gives you some legitimacy, which is one of the main characteristics that a crypto project should focus on, as there are many supposed businesses that end up being scams.
If the project involves a physical product, it gives a chance for these influencers to showcase your product over their massive following, explaining how it works and how it will impact the blockchain industry.
Another big advantage that an influencer brings to the table is that it gives you an upper hand in negotiating partnerships and relationships with possible sponsors.
Top Crypto Influencers and Leaders Over the Crypto Community
You will have plenty to choose from, coming from many social media platforms. This list will go from investors and individuals who want decentralized control and processing of the economy and believe that cryptocurrency is the future, to people who just like blockchain and Web3 technology that is powering crypto.
Vitalik Buterin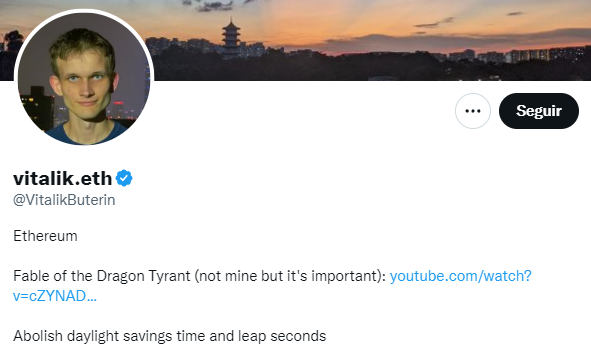 We should start with one of the most important persons in the history of cryptocurrencies: the co-founder of Ethereum and Bitcoin Magazine, Vitalik Buterin. As one of the youngest crypto billionaires in the world, he has been involved with Bitcoin and blockchain technology as a writer and developer.
He appears mostly over Twitter, where he has 4.6 million followers, and is the most popular in this crypto influencer list. He can be a bit eccentric, but usually, he posts crypto insights and thoughtful commentaries over the industry.
He shares articles, reviews, and many other resources that would be very helpful for anyone who wants a better understanding of how crypto and blockchain work.
Roger Ver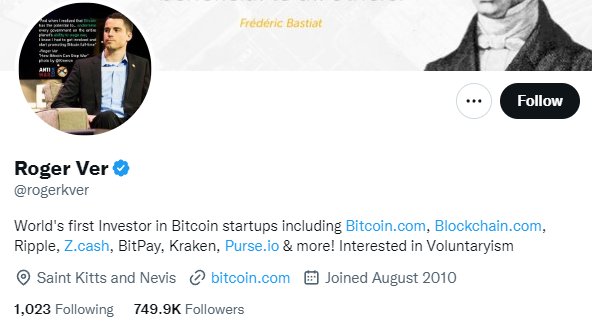 For the crypto enthusiasts, he can be known as "Bitcoin Jesus," as Roger Ver was one of the first promoters of the virtual currency back in 2011. He adopted blockchain technology early on and invested in many crypto startups, including Bitcoin, Kraken, Ripple, and Purse.io.
He was known as one of the first entrepreneurs to start implementing crypto as a form of payment, creating Bitcoin Cash, a peer-to-peer cash network that also works as a cryptocurrency.
You will find him on Twitter, where he has 750k followers and shares many crypto-related news, becoming a valuable source of information in the cryptocurrency space (and even some "Guru" insights, proper of its character).
Andreas Antonopoulos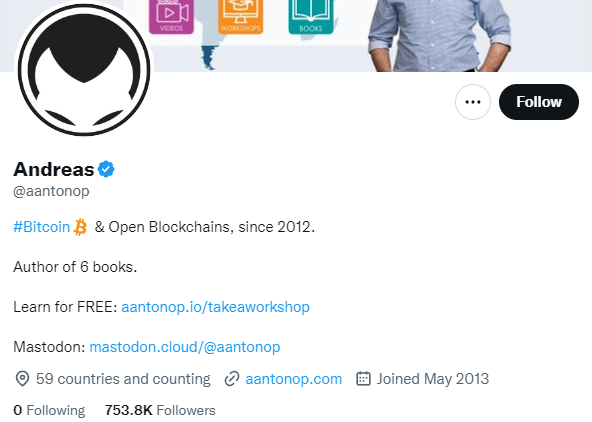 Another Bitcoin and blockchain advocate, the greek-British entrepreneur, is known for his books that explain Bitcoin and the blockchain industry, such as "The Internet of Money," "Mastering Bitcoin: Unlocking Digital Currencies," and "Mastering Ethereum." It also has two podcasts named "Unscrypted Podcast" and "Speaking of Bitcoin."
He played a big role in bringing the industry to the masses with the willingness to educate newcomers and enthusiasm for the technology. He manages a few social media platforms, as you can find him on Twitter (with over 750k followers) and his YouTube channel, with over 300k subscribers. In the latter, he posts videos about blockchain, Bitcoin, and cryptocurrency in general, among other topics. It gives an in-depth sight of the industry, working as a great starting point for beginners who wants to have a better understanding. It also has many interviews, Q-and-As, and live streams that you can enjoy on his channel.
On his website, Antonopoulos offers workshops and other useful tools to boost your crypto education.
Anthony Pompliano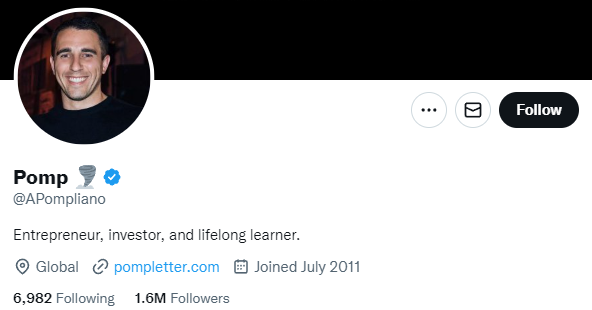 Pompliano is another pioneer supporter of Bitcoin, being one of the early investors. He founded a hedge fund that focuses on blockchain-related projects and digital assets.
He has an active following on Twitter, with 1.6 million followers, and also runs an active YouTube channel, where he uploads discussions, interviews, and podcasts related to Bitcoin and blockchain technology.
He brings some explanation about business, tech, and finance. He also has a Substack newsletter named "The Pomp Letter," which shares analysis of many industries on a daily basis.
Changpeng Zhao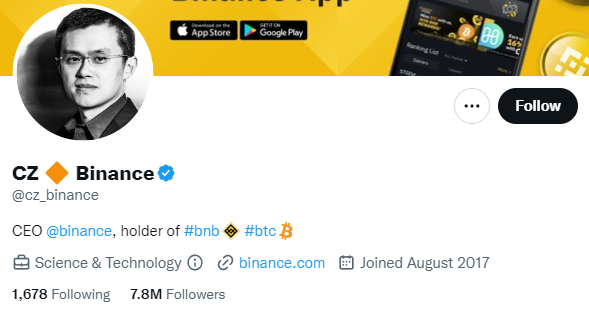 Another big name in the industry, Zhao is the founder and CEO of Binance, the largest cryptocurrency exchange service in the world.
Luckily his "serious look" is not so strict, as he provides commentaries with some sense of humor, being worthwhile to follow on Twitter for any sort of crypto enthusiast, expert or not. Although, as he runs his own business with Binance, you can reach him more for advice rather than for advertisement.
Michael Saylor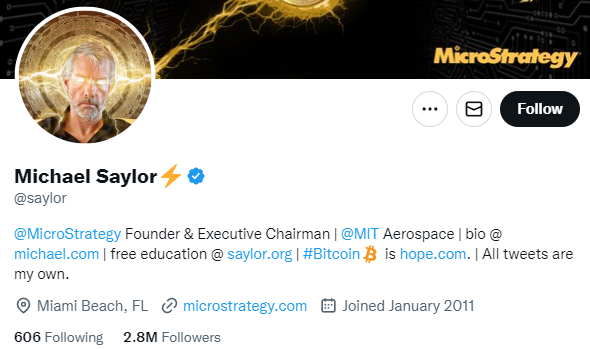 He is the owner of MicroStrategy, an analytics platform, and one of the largest holders of Bitcoins, as Saylor is a Bitcoin preacher over social media.
He gathered 2.8 million followers on Twitter, becoming a legitimate source of information for the crypto industry. He also has a digital academy, offering many courses with a free and partnership program.
Ivan On Tech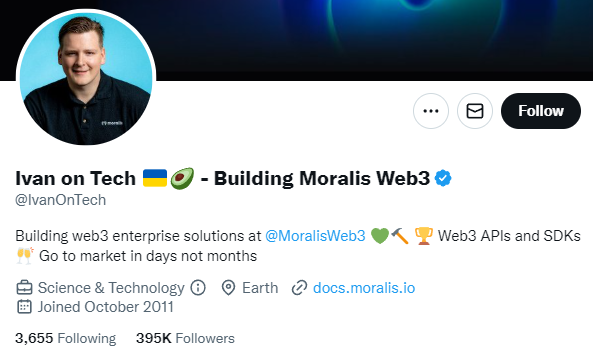 Ivan Liljeqvist is a Swedish content creator well-known for specializing in offering blockchain-related tutorials. He presents complex technology in a concise and clear manner to followers.
This software engineer and data scientist has reached almost 400k followers on Twitter, where he often shares humorous takes on crypto, Bitcoin, and Ethereum. He runs a YouTube channel that has nearly 500k subscribers. You can also find him on Instagram and Facebook.
Charlie Lee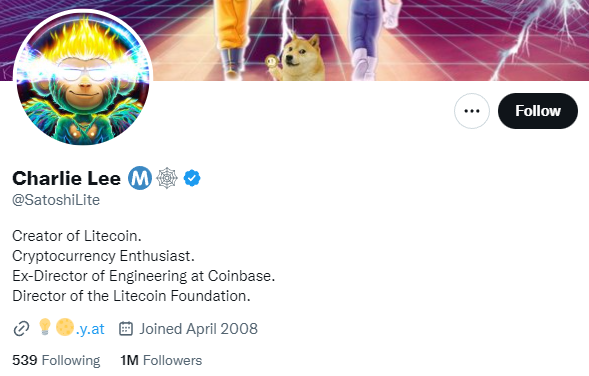 Founder of Litecoin and former Director of Engineering at Coinbase, Lee is a certified authority who shares his knowledge that appeals to many as a subject matter expert.
On his Twitter account, which has reached one million followers, he shares the latest news and updates of Litecoin and Litecoin Foundation, as well as crypto-related articles. He balances it with some memes and comic strips to give a little more light to his feed.
Although, as it happens with Zhao (Binance founder), you can contact him only for some advice, not for advertisement.
Sheldon Evans

Evans has a large YouTube community, among the most popular on this list, gathering 735k subscribers with an excellent comment/view ratio on his videos.
He is a crypto, tech, and finance expert, who mostly posts updates on the crypto industry, with some in-depth analysis of the world economy.
CryptoWendyO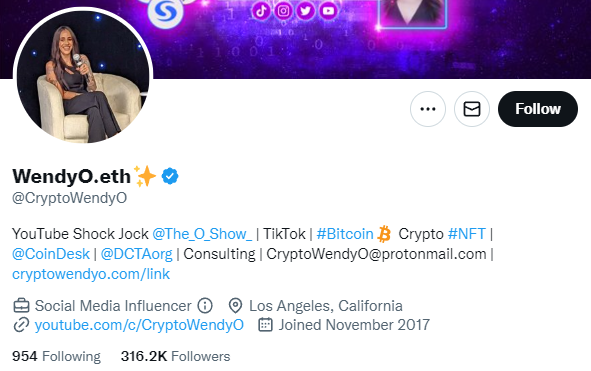 WendyO brings a little more spice to the discussion about cryptocurrencies and the traditional economy as she points out inconsistencies in the current financial ecosystem and puts herself in front of the fight.
That attitude brought her 300k followers on Twitter. It also provides content to crypto newcomers about Bitcoin and blockchain technology on her YouTube channel (which has 170k subscribers), helping them to have a firm grasp of the topic.
Layah Heilpern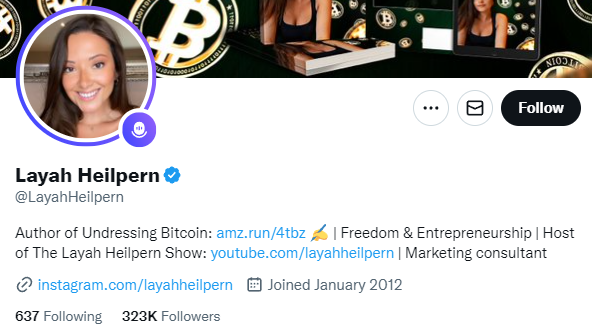 The UK-based crypto influencer Layah Heilpern has many projects under her umbrella. They include a book "Undressing Bitcoin," her website where she posts her podcasts and serves as a front page of her work, and much different content that you can see on her social media pages.
She has 317k followers on Twitter, where she posts crypto-related news, and also runs a YouTube channel (142k subscribers) with live interviews. You may also know her from many appearances on Fox News talking about Bitcoin and blockchain technology.
Humphrey Yang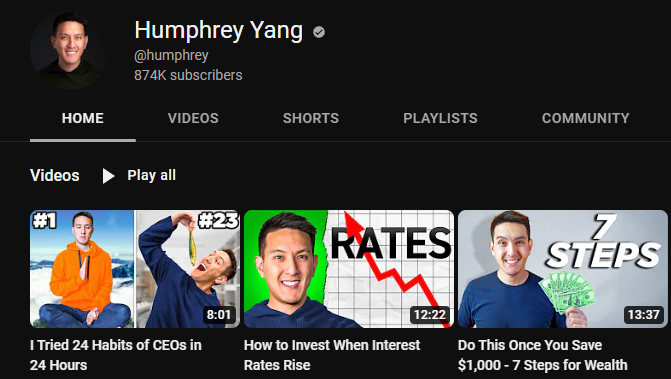 Another crypto influencer with a big YouTube audience, as he has reached 875k subscribers. Yang is an ex-financial advisor that now posts videos of "Do's and Don'ts," tips, and many different pieces of advice to manage your economy. He mixes it with some humorous content, too.
Robert Kiyosaki

The author of the bestseller "Rich Dad, Poor Dad," which became the number one personal finance book of all time.
Kiyosaki gathered huge success on social media and is one of the few that had such a big and loyal audience on Instagram, reaching three million followers. On his page, he usually posts interview fragments with insightful comments about finance.
Armando Juan Pantoja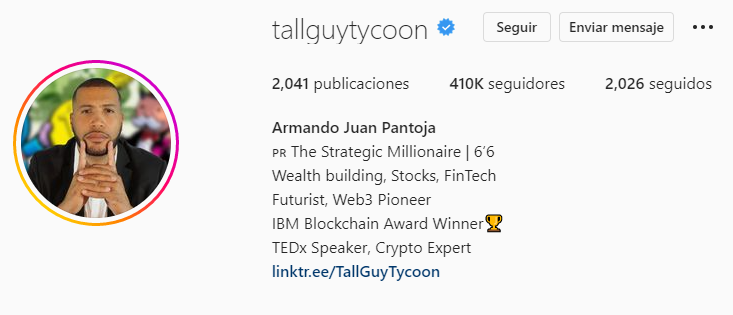 With the nickname "TallGuyTycoon," the Puerto Rican tech entrepreneur is another of the many crypto experts among the ones named in this list. But he also specializes in stocks and tech.
He has done several TED talks as a crypto expert and has received an IBM Blockchain Award. He is an active user on Instagram, where he gathered 410k followers, posting almost every day about crypto and finance news.
Ben Horowitz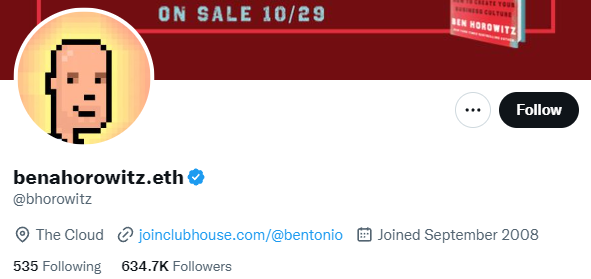 Ben Horowitz is a venture capitalist, co-founder, and partner at Andreessen Horowitz, an American venture capital firm. With this company, they invested together with Marc Andreessen in many startups in different industries such as cryptocurrency, mobile, social, eCommerce, IT, and education.
Horowitz also wrote the book "What You Do Is Who You Are" and has cemented himself as a crypto analyst on Twitter, with 635k followers. There he talks about business, finance, and technology and occasionally covers Bitcoin and crypto.
Dan Held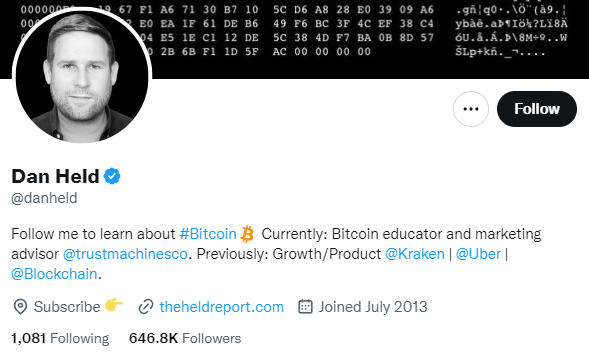 Dan Held is a Bitcoin entrepreneur who works as a crypto advisor at Trust Machines Co. and stands as a Bitcoin educator and marketer. He worked as Director of Growth over Kraken.
He has over 640k followers on Twitter, where he posts news about Bitcoin and crypto, with heavy criticism against the traditional economic system and also those people that keep staining the crypto industry as scammers.
Tone Vays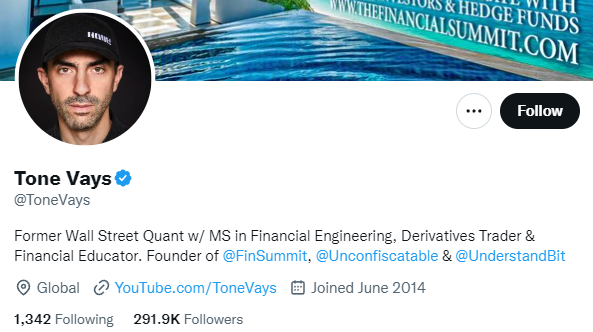 Vays is a blockchain and financial advisor with a presence on many platforms, such as Twitter, Instagram, YouTube, and his website. He is the founder of a few organizations, such as Financial Summit, Unconfiscatable, and Understanding Bitcoin.
He gathers 290k followers on Twitter, while his YouTube channel has 123k subscribers, where he posts mostly Q-and-As.
Erik Voorhees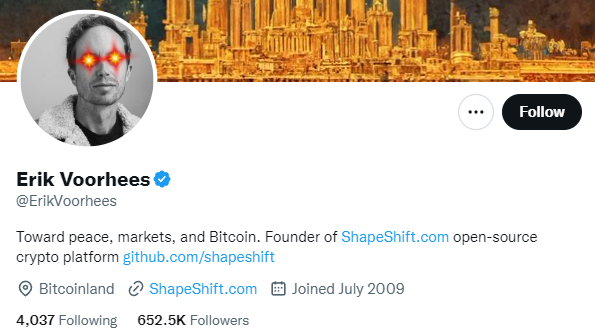 Voorhees is the founder and CEO of ShapeShift, one of the largest open-source crypto trading platforms. He also co-founded Coinapult, a Bitcoin wallet.
With his experience, he catapulted himself as a herald of leading voices when it comes to crypto and Bitcoin. He shares his insights to about 650k followers over Twitter but also writes articles on Medium, talking about crypto and his company, ShapeShift.
Max Maher

Maher is well-known in the crypto YouTube landscape as a recommended source of information and advice about finance and crypto investment.
With over 900k subscribers, his video series tutorials "The Beginner's Guide to Cryptocurrency" and "How to Buy and Sell NFTs" are some excellent examples for newcomers that want to understand the crypto world better.
BitBoy Crypto

Here's the most popular YouTube channel in this list. With 1.45 million subscribers, Ben Armstrong is a news channel that posts project reviews and crypto news and gives trading advice.
It is considered by many to be one of the thought leaders regarding investing and crypto trading.
Brian Jung

Just like BitBoy Crypto, Brian Jung is another very popular YouTube channel among the crypto community, with 1.2 million subscribers. He also does crypto updates and finance news.
Jung is a serial entrepreneur and investor from Washington that will advise you about the economy and crypto while giving you the latest updates on the crypto landscape.
Tim Draper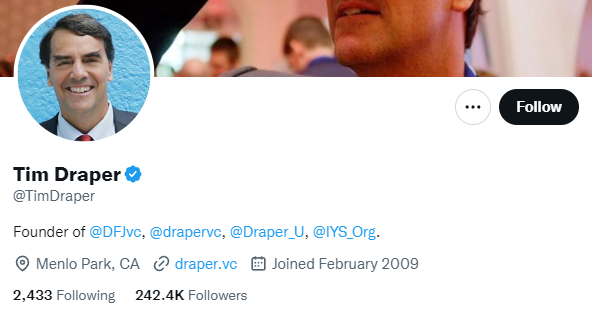 Tim Draper is the founder of the capital firm Draper Fisher Jurvetson and Draper University. He has invested in companies like Skype, SpaceX, Tesla, Twitter, and Coinbase.
He is known for his accurate Bitcoin price forecasts and his support for virtual currency. You can follow him on Twitter, together with 242k followers, where he shares his insights on the crypto market.
CryptoGodJohn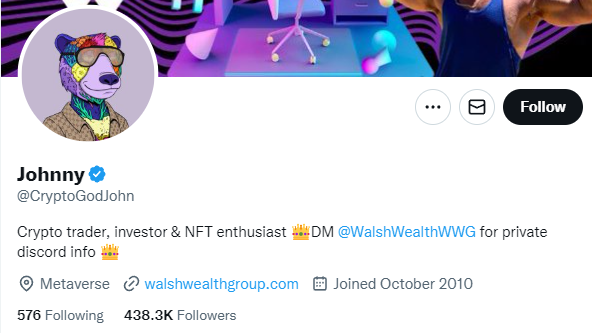 CryptoGodJohn is a crypto trader, NFT enthusiast, and investor. He has a crypto community over Discord at WalshWealthWWG and shares comments over the latest news in the industry on his Twitter, which has 438k followers.
Paul Barron

With 353k subscribers, Paul Barron is another well-regarded YouTube news network for anyone who wants to be up to date with everything related to crypto, blockchain, tech, and Robotics.
Barron dives deep into the crypto market, including topics like Web3, Metaverse, NFTs, and much more. He covers more fields than the news channels we listed before.
Data Dash

Our last entry on the list is another popular YouTube news channel named Data Dash, run by Nicholas Marten, with 512k subscribers. 
Not only does he covers the latest updates on the industry, but uses data analytics to provide insight into crypto investing. Many consider Marten's channel the best place for beginners.
Data Dash has been going strong for many years, teaching those new people how to analyze market trends from a holistic perspective.
Bottom Line
If you are looking for an influencer to advertise your project, let us give you one more piece of advice: check their background and how you are dealing with their reputation and clout. An influencer that is actually dealing with some controversies will be no-good for promoting your project at the moment. That's where GamerSEO comes in line, as we provide marketing service and help you toward choosing the best candidate to promote your crypto project.
Getting the right influencer is a hit or miss. It can be someone who is very helpful and positive or just someone who's there to receive a check.
With this list, you will have insight into which influencers you should follow and to whom you can reach for some advice or even deal with an advertisement. Most of them are active on their social media, so they'll be on to answer any question that you might want to ask.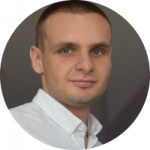 SEO specialist with over six years of professional experience. A/B test and Data-Driven SEO enthusiast. In his work, he focuses on the development and implementation of a strategy that achieves predetermined, specific goals. Privately, a fan of mountain biking.