NFTs have been the sensation of the digital world in recent years. Their popularity has grown so much that both creators and influencers have seen in them an opportunity to expand their influence. On the web, there is a batch of exciting influencers who help people to invest in the NFTs world. In this NFT influencers article, we mention some of these experts, the most relevant according to our point of view.
What Are NFTs?
NFTs, or Non-Fungible Tokens, are encrypted digital assets, a particular type of cryptographic token that is unique, like a piece of art. These tokens are not interchangeable; their prices depend on the collection, the artist who created it, or even the demand for those NFTs.
The NFTs are indivisible, transferable, and able to demonstrate their scarcity. NFTs use Blockchain technology and provide digital property. NFTs can be used in many platforms and applications that require unique digital articles, such as crypto art, digital collections, and online video games in the form of avatars and a sign of distinction.
What Is an NFT Influencer?
An NFT influencer is a person who boasts a significant influence over other people when it comes to the NFT subject. Some of them have massive followings. Other influencers do not. But they always provide good content related to cryptocurrencies, non-fungible token educational content, and trading NFTs.
Who Are the Best NFT Influencers?
Next, you'll find a list of the top influencers you can see in the NFT world. They promote the most valuable NFTs through social media channels, mainly Instagram, Facebook, and Youtube.
Garyvee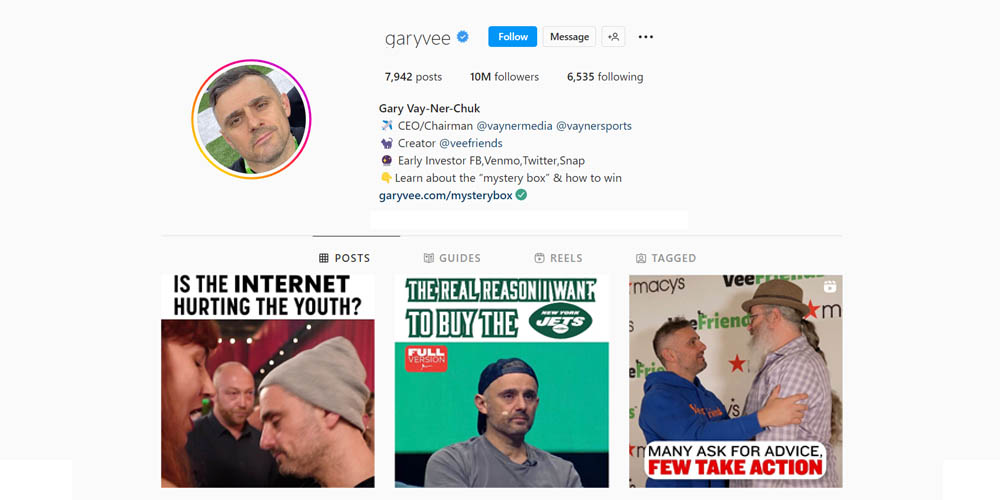 10M followers – Instagram
Gary Vaynerchuk is one the major NFT influencers to follow since he created a community for all the professionals and artists interested in collecting NFTs, the blockchain technology. And NFT news. His community is called 'Veefriends.' Here, users can also view the most prestigious NFT collections of the founder and even attend education courses to expand their knowledge of the non-fungible tokens. Gary Vee is also an essential digital artist in the crypto space.
Garyvee's Instagram account www.instagram.com/garyvee
Mark Cuban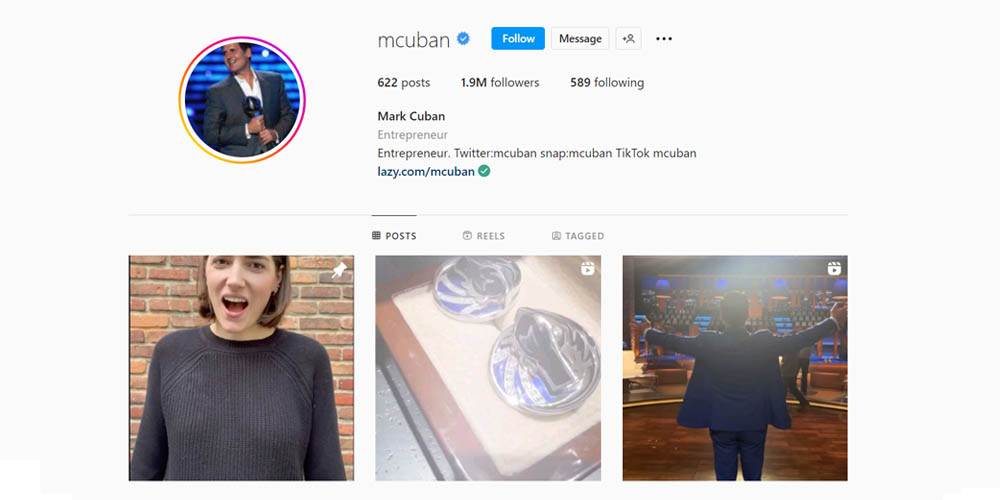 1.9M followers – Instagram
Mark Cuban is a Big Fish in the crypto world. Due to the impressive growth of the NFT market, crypto companies have focused on NFTs and their digital marketing concerns. Currently, Mark Cuban encourages and advises people about the NFT world, strategic investments, and personal finance. People love Mark for his role on the Shark Tank tv show.
Mark Cuban's Instagram profile https://www.instagram.com/mcuban/
Kevin Rose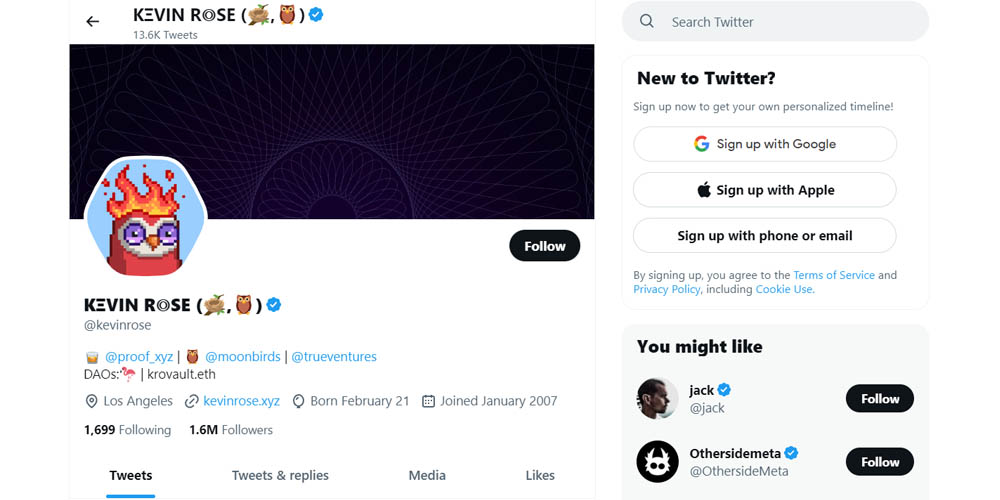 1.6M followers – Twitter
Kevin Rose is a major blockchain-based influencer who promotes cryptocurrencies, NFTs, and other digital assets. He's the creator of 10,000 ETH digital assets called Moonbirds. Thousands of owls integrate this piece of art in different circumstances and with different traits. He's also the founder of a big NFT community that recently has received over USD$50 million in funding. But that is not all. Kevin Rose also has his podcast, where he comments about the scope of NFTs. His podcast has tons of viewers per day.
Kevin Rose's Twitter account https://twitter.com/kevinrose
JRNY Crypto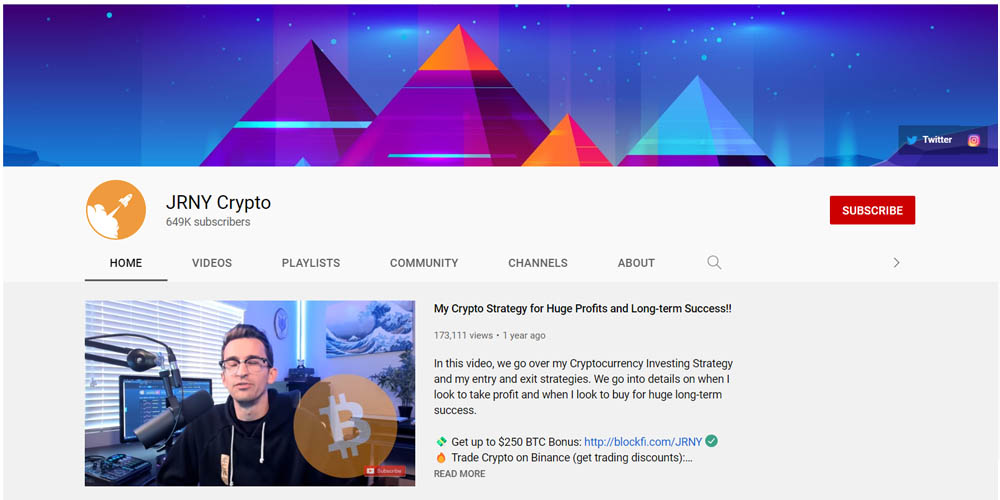 649K subscribers – Youtube
JRNY Crypto is a top NFT influencer who provides all the news and the best tips regarding the NFT marketing, investments, and strategies of the best NFT holders. The JRNY club, founded by this critical influencer in the digital world, is where each NFT artist can communicate with other artists and developers of NFT projects.
JRNY's Youtube channel https://www.youtube.com/c/JRNYCrypto/featured
Punk6529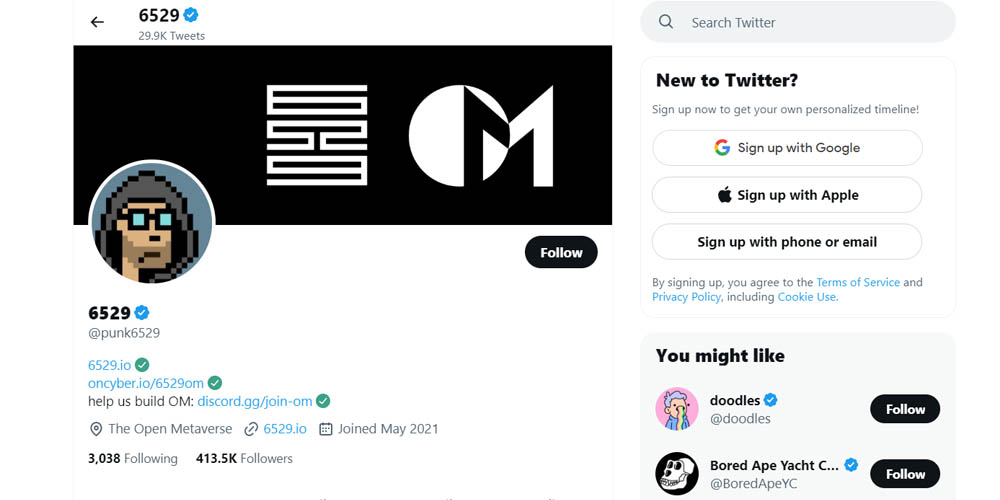 413.5K followers – Twitter
Punk6529 is an anonymous NFT influencer with a significant presence on Twitter. This account collects NFTs from several NFTs creators, such as CryptoPunks, the Bored Ape Yacht Club, Rare Pepes, Art Blocks, Autoglyphs, and much more. He is well-known for sharing interesting content about the most relevant phenomena of the Metaverse sphere.
Punk6529's Twitter account https://twitter.com/punk6529
Farokh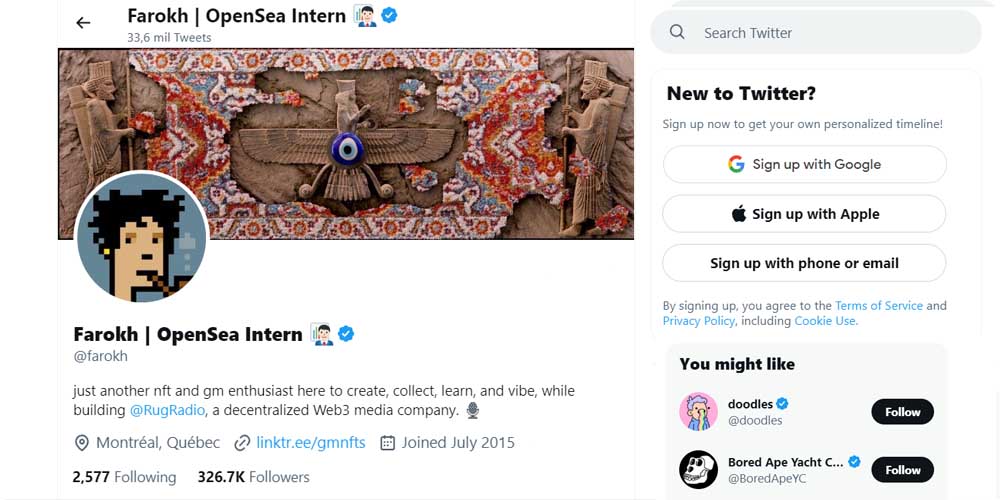 326.7K followers – Twitter
Farokh is one of the top NFT Twitter influencers. This fantastic creator loves collecting artwork from several artists, creators, and developers. Farokh is not an NFT creator, but he's continuously promoting NFT creators, such as Cory Van Lew's timepiece collection. Farokh speaks about investments and the NFT industry on his radio channel called RugRadio. His listeners can learn about investment opportunities and general rules when it comes to NFTs.
Farokh's Twitter account www.twitter.com/farokh
Mad Dog Jones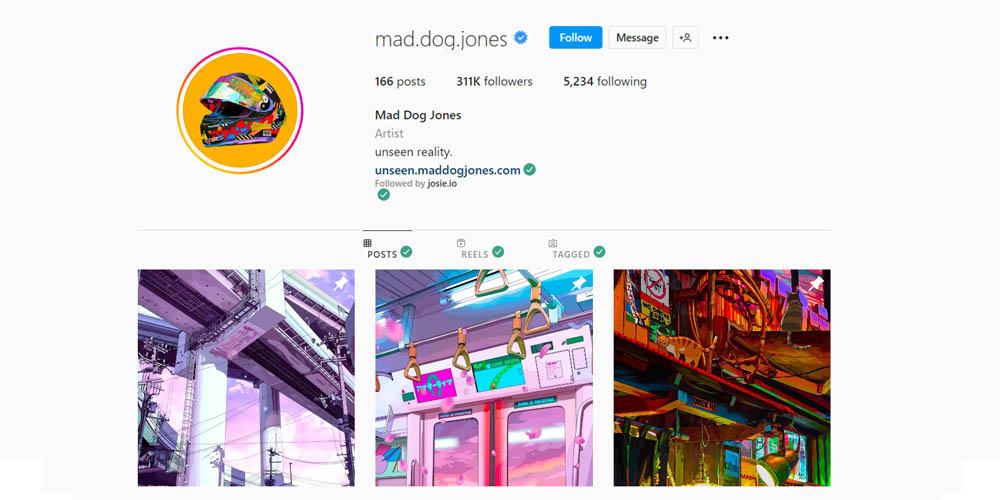 311K followers – Instagram
Michah Dowbak, AKA Mad Dog Jones, is one of the top NFTs creators of this list. He's a multidisciplinary artist who creates non-fungible tokens from algorithms and other pieces of art and music. He has gained massive popularity recently and put a vast collection of NFTs in the international markets. He's also a musician and even has his architectural side. His community of followers loves his great cyberpunk style, colors, and urban images.
Mark Cuban's Instagram profile https://www.instagram.com/mad.dog.jones/
Brett Malinowski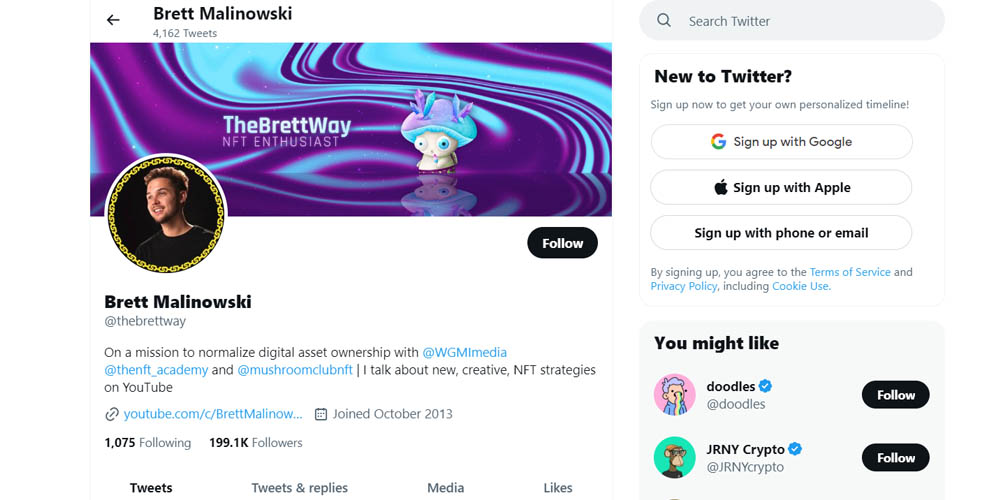 199.1K followers – Twitter
As his own description indicates, Brett Malinowski is an influencer whose mission is to normalize crypto and NFT, talking about minting, insights, strategies, and general NFT investment by providing advice for beginners and not-so-beginners.
Brett Malinowski's Twitter account https://twitter.com/thebrettway
Beanie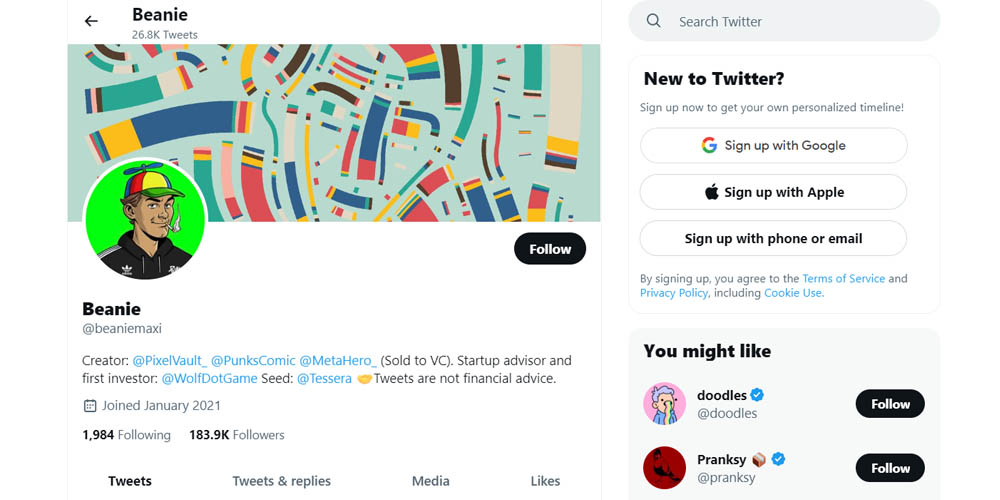 183.9K followers – Twitter
This social media influencer focuses on communicating all news in the NFT digital marketplace world by providing information about NFT pricing and non-fungible token possibilities. He addresses crypto gaming currencies, marketing strategies to buy and sell NFTs, and trading. Thousands of digital artists and Twitter users flock to Beanie for advice and data regarding NFT investments and how the physical market affects the metaverse.
Beanie's Twitter account www.twitter.com/beaniemaxi
The Bitcoin Express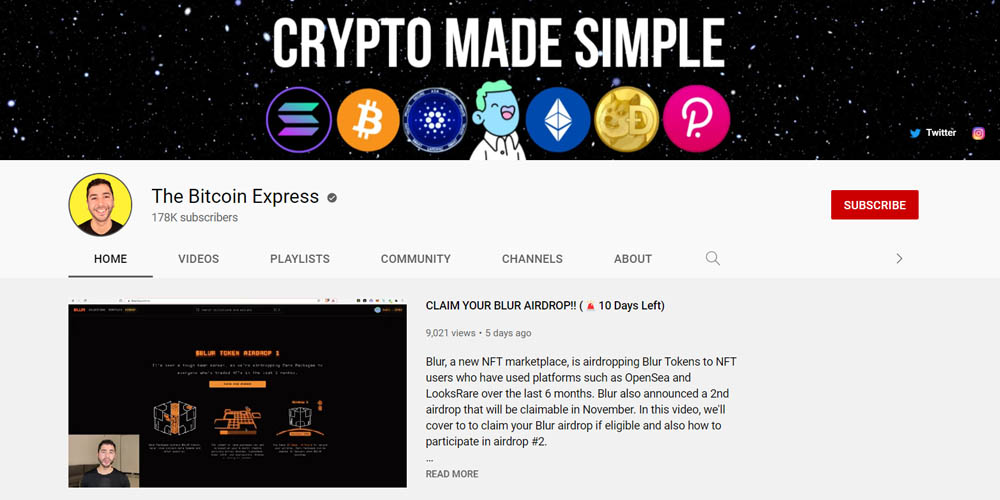 178K subscribers – Youtube
The Bitcoin Express is a Youtube influencer focused on crypto content. All his videos are like campaigns awarding users in the NFT world to make creations pairing their style with intelligent investment. He's continuously speaking about the ups and downs of the market of digital assets. The Bitcoin Express helps investors to take advantage of the reality of the moment and do their best with their creations, bought NFTs, or digital assets.
The Bitcoin Express's Youtube channel https://www.youtube.com/c/TheBitcoinExpress
RealMissNFT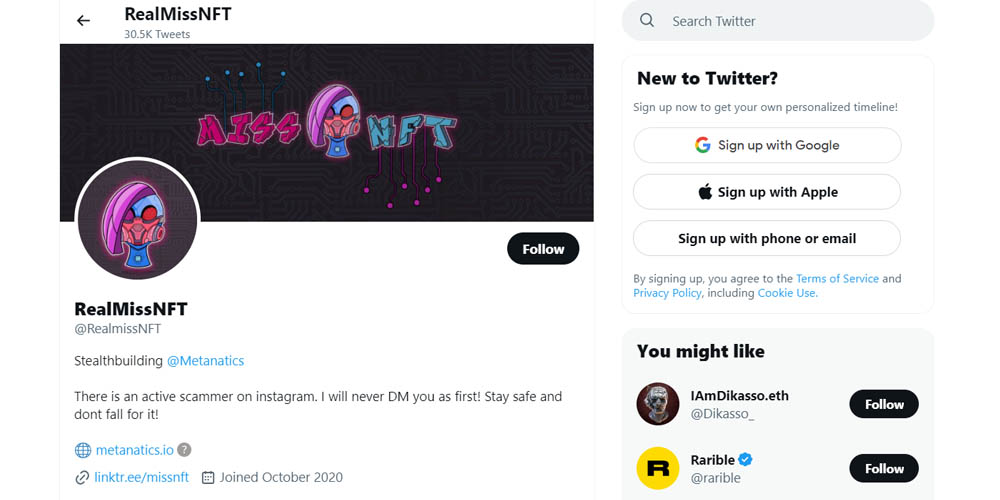 159.7K followers – Twitter
RealMissNFT is one of the few female NFT influencers on the web. She's continuously sharing NFT and creating cutting-edge pieces of virtual artwork and one or another digital asset. She has a vast community of followers who love her NFT craze. The influencer boasts a great marketing strategy where she creates great hype by sharing some shots of her work in progress. Her current collection, Metanatics, has generated many expectations among members.
RealMissNFT's Twitter account https://twitter.com/RealmissNFT
Ohhshiny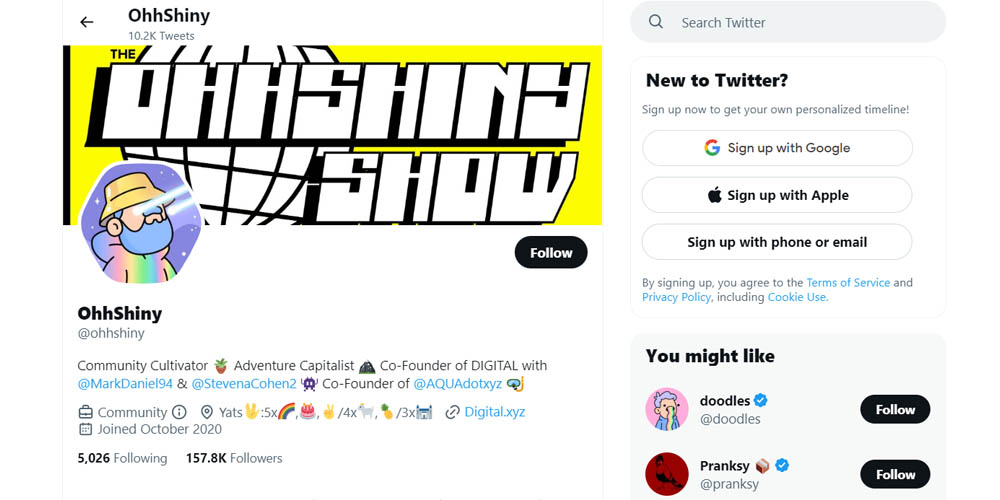 157.8K followers – Twitter
Ohhshiny is a relevant NFT influencer and a co-founder of Aquadoxyz and Digital, two companies focused on decentralized finance and making smart investments in the metaverse. He also is the head of a particular Twitter space called "The Ohh Shiny Show." In this space, this influencer talks about incoming events, crypto trends, how to invest your money wisely in NFTs, and other helpful tips. The Ohh Shiny Show also features notable non-fungible tokens experts as co-hosts.
Ohhshiny's Twitter account https://twitter.com/ohhshiny
Devin Finzer
71.8K followers – Twitter
David Finzer is a famous entrepreneur in the NFT world and co-founder of Opensea, a marketplace where users collect NFTs and mint their work worldwide. As the CEO of Opensea, Finzer seems like an anonymous NFT influencer. Still, his company provides relevant advice to trade NFTs, even to create them, and about Ethereum Cryptocurrency and other critical digital assets.
Devin Finzer's Twitter account https://twitter.com/dfinzer
NFT Times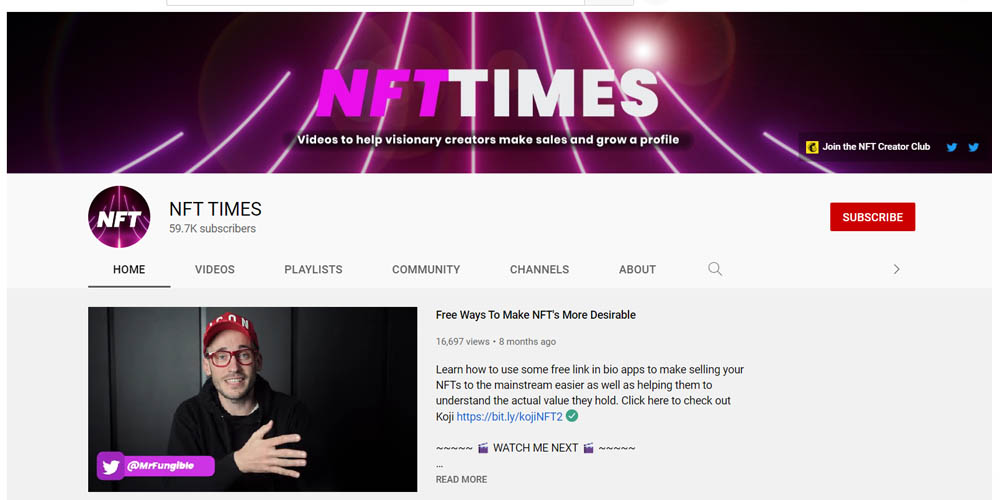 59.7k subscribers – Youtube
NFT Times is an influencer that has spoken about NFT projects and digital marketing for almost a decade. On his social media, he uploads educational videos and tutorials to support NFT creators, musicians, and other artists or influencers. His content is excellent for avoiding common NFT mistakes and learning how to create more attractive non-fungible tokens. NFT Times makes it more accessible to get good information about NFT projects and leverage market flows.
NFT Times' Youtube channel https://www.youtube.com/c/NFTTIMES
Josie Bellini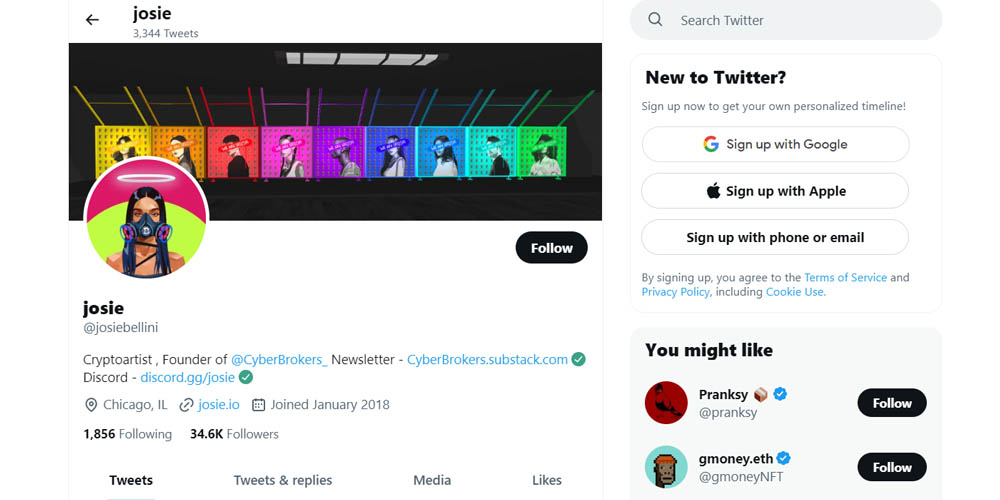 34.6K followers – Twitter
Josie Bellini is another female NFT creator in the non-fungible token world. She creates digital and physical art, such as paintings and engravings. Josie is well-known on Twitter, where she uploads her pieces of artwork and trades them as digital assets. In short, Josie Bellini is a great crypto artist with fresh ideas that can result in interest for many NFT investors.
Josie Bellini's Twitter account https://twitter.com/josiebellini
Roger Dickerman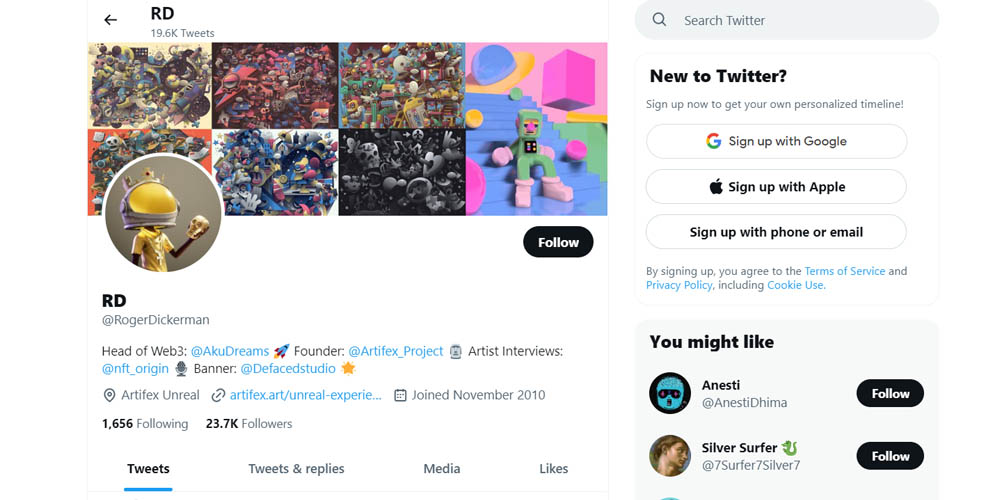 23.7K followers – Twitter
Roger Dickerman is a crypto artist that sells his art through the Ethereum blockchain technology. He creates interesting NFTs that seem like videos, or moving images, with a pop style that reminds us of Jasper Jones, the magnificent American artist. Roger Dickerman has gained vast popularity in the NFT business, selling his profitable piece of artwork worldwide and creating many collectibles.
Roger Dickeman's Twitter account https://twitter.com/RogerDickerman
IAmDikasso
28.1K followers – Twitter
Not only does this NFT influencer produce tonnes of NFTs, but he is also a VR artist, and a massive influencer, even though he does not consider himself one. But that is not all. Dikasso's influencer loves collecting artwork, including artwork from Based Fish Mafia, Rarible, and Tide Estates. He's well known for his recent project Apes R Us 3876.
Roger Dickeman's Twitter account https://twitter.com/Dikasso_
Crypto Baristas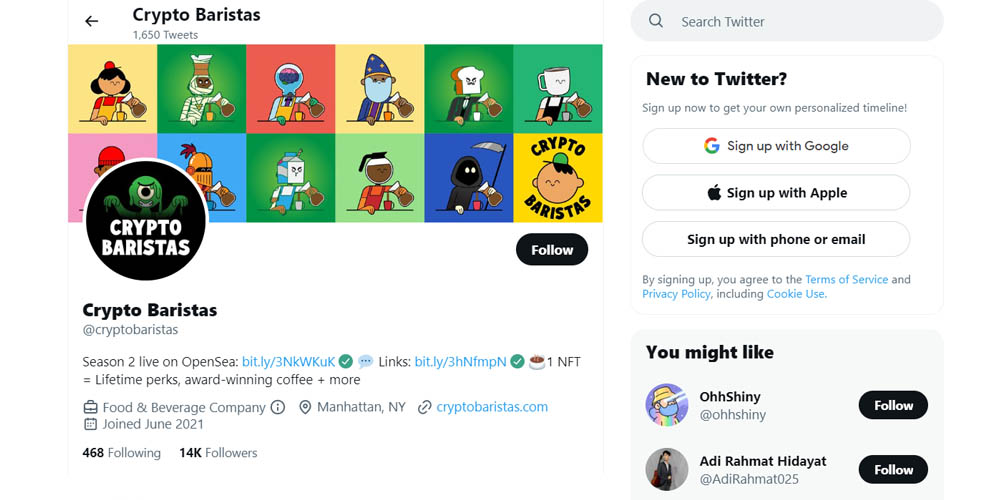 8.5K followers – Twitter
As you can imagine when you read 'Crypto Baristas,' this NFT art creator is heavily immersed in the coffee industry, creating awareness about the process of this fantastic drink. Crypto Baristas has built an impressive own NFT collection, allowing users and coffee lovers to create funky avatars for the metaverse. Each of these avatars has a unique look, style, and personality.
Crypto Baristas' Twitter account www.twitter.com/cryptobaristas
Snoop Dogg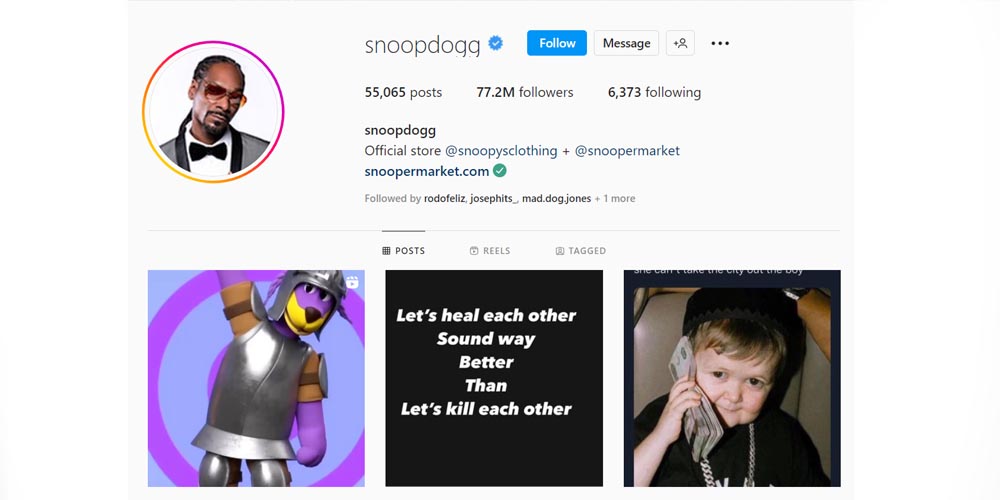 77.2M followers – Instagram
The last name on this list is Snoop Dogg, the famous rapper. Recently, he has admitted that he'd been saving digital assets and non-fungible tokens under an alias. Currently, he has accumulated USD$17 million in NFT holdings. He wants to convert Death Row Records, the famous record company, into the first NFT musical label.
Mark Cuban's Instagram profile https://www.instagram.com/snoopdogg/
How to Find the Right NFT Influencer to Promote your Brand
Beyond the top NFT influencers we've mentioned above, there are a lot of NFT influencers on Instagram and other social media who can promote your NFT project.
But, How can NFT creators choose the right influencer to promote their projects?
The primary rule is to conduct profound research in your NFT collection niche. The NFT space is vast, and it grows every day. There are specific markets for specific buyers. And most influencers focus on a type of NFT.
If you're going to create your NFT collection with gaming inspiration, look in the NFT community for an influencer specializing in video games, NFT, and crypto trends.
When you have a broad spectrum of possible candidates for your project, now it's time to find out if they have a strong presence on the platform of your interest to reach your target audience. Check if the potential influencers already promote prestigious NFT collections and what their results are.
Viewing their portfolios, packages, and rates is also relevant. This way, you can see if their NFT influencer marketing campaigns have positive effects and their general experiences as influencers.
Final Thoughts
There is not much more to say about NFT influencers than we've mentioned above. To say that, to learn how to achieve victory in the digital world, get advice from experts on the subject.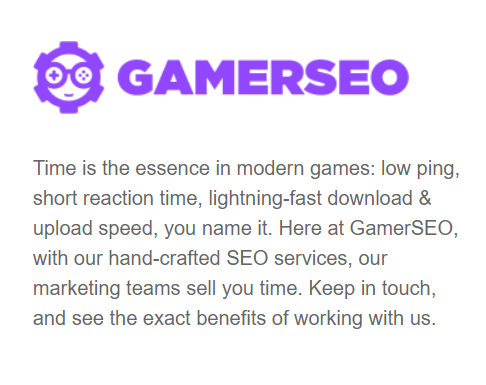 In this regard, the team of GamerSEO will help you to reach multiple of your Internet goals, such as creating impressive Youtube campaigns, SEO and marketing strategies, and so on. Still, suppose you're planning to enter the NFT world and create your own social media channel to promote these digital assets. In that case, GamerSEO can help you with your endeavors through an SEO consultation, UX analysis, and case studies.
Contact us via our contact form! We'll be happy to answer any questions you have. Do not hesitate to speak to us, and let's find the best strategies to reach your objectives!