One of the greatest challenges in content creation is writing content that attracts the public to your texts or other productions, such as videos and podcasts. This is important because we want to improve our web pages' organic traffic by fulfilling users' interests. The challenge gets bigger since not all types of content result in audience growth.
Regarding this challenge, one of the essential things in the creation process is to know the different types of content you can create to boost the number of users and views.
Today, we'll discuss ideas regarding Evergreen Content to help you improve the content ranking of your articles. So let's get straight to the point.
What is the Evergreen Content
Evergreen is the kind of valuable content that never goes out of date. This article never gets old and keeps attracting a good flow of visitors throughout days, months, years, or even decades. Since its relevance doesn't end with time and the audience keeps returning, its value is almost incalculable.
This is what makes this kind of text different. If you write evergreen content, you will see that it may take some time to go up in the search engine results, different from topical articles. But you can be sure that it doesn't have a real expiration date and stays relevant long past its publication date.
For a lasting evergreen piece, the search volumes will be continually relevant, resulting in an indeterminate period of first-page ranking. This doesn't happen with news posts and other time-sensitive content such as pieces you or your company may publish.
The term "Evergreen" comes from a specific kind of plant that can keep its foliage green throughout the year, regardless of the season it is passing through. It relates to the general website and blog content because, just like the plants, this kind of article never loses its best form. Since it is always up to date, it helps you achieve success in keeping a good SERP position.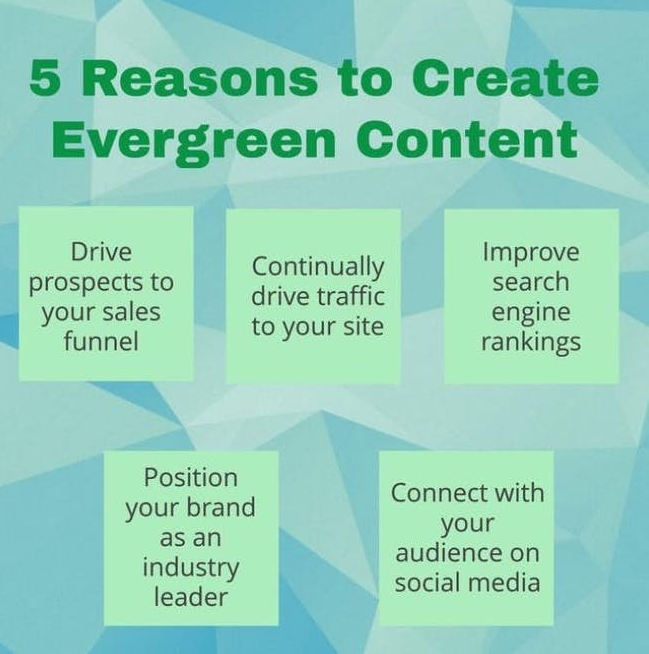 The Challenge in Creating Evergreen Content
Keeping your evergreen content well-optimized and new can be challenging, but it's vital to be found by visitors searching for the specific topic to which the post is related. That way, it will always generate organic traffic for your blogs and sites.
When creating evergreen posts, make sure that your language doesn't get old. If it does, the public will notice and give fewer credits for what you are saying. Additionally, even Google may stop ranking you in its SERPs, considering that your main terms are not used anymore.
It's also important to ensure that your text is not overly technical since such content is not evergreen. For your content to stay relevant, look for more broad topics, but don't run away from your niche. Also, you must keep your content in line with your brand voice.
Specific Examples of an Evergreen Blog Post
It is also crucial to rank some blog post topics to create excellent evergreen content. Remember to always chase a matter or general topic that people constantly look for, such as "how to lose weight" or, when focusing on gaming: tutorials or walkthroughs of famous games.
Considering that, good content for evergreen articles can be:
Articles focused on presenting lists,
Instructional content, well known as "how-to" guides,
Product Reviews,
Tips about specific topics,
Testimonials,
Frequently Asked Questions (FAQ). To keep this content relevant, you must answer the public's questions often. If you don't, either your visitors or Google will stop considering your page as quality evergreen content.
What is not an Evergreen Post
Now that we have already looked at some of the standard evergreen formats, it is also important to clarify what must not be considered an evergreen article. To start, since this content is created to last and stay in evidence after a long period, the non-evergreen materials are everything created to have a good circulation volume and decay with time.
Here are some of the content you should avoid if you want to create content considered evergreen. Generally, these specific types of text aren't good in keeping consistent traffic and, therefore, are not good examples of evergreen content.
News articles statistics,
Posts based on trading topics or specific celebrities,
Articles or posts based on statistics that will change in the future,
Articles about specific holidays,
Fashion trends.
Why Are Evergreen Blog Posts Important
Why is evergreen content important? The main reason why websites should dedicate their efforts to writing evergreen content is that this kind of material guarantees a substantial and precious amount of constant traffic to their pages. Focusing on writing texts with a short lifespan only may be "dangerous." Your blog will have lots of competition in that subject since everyone will be looking into competing with it.
Evergreen Content may not perform as well as the small lifespan texts but will guarantee considerable and constant long-term traffic to your site. To make it clear, let's look up some numbers:
The first graphic shows Ahrefs' blog search traffic after they've started investing in evergreen content. It's easy to see the considerable increase in the page's numbers.

The second graphic shows the New York Times' organic traffic after revealing the breaking news that Donald Trump was winning the 2016' American election. Since they were the first to bring this to the public, their site had a massive spike in its access. But this kind of text is strong only when the elections happen

Tips for Writing Awesome Evergreen Content
We've already run through what are considered evergreen articles, as well as what is a good evergreen piece. Now, it's time to check some tips that will help you to create long-lasting evergreen posts.
Make the proper keyword research: One of the essential tips to advance in evergreen writing is to make the best keyword research possible. In this process, the copywriter or blog owner must use specific programs to find keywords and phrases with substantial search in a long period. Through the right keywords, it is possible to find a lot of evergreen topics with great potential.
Make sure to have an optimized SEO text: After searching the best keywords for evergreen topics, you must be sure to apply all the SEO basic techniques, such as putting the keywords in your title, URL, and across all your text, adding alt texts for your images and also to put links from related evergreen posts.
Google can be your greatest ally or our worst enemy, so make sure to produce good-optimized SEO content to see your articles becoming top-ranking pages.
Write for beginners and avoid overly technical language or data: Writing for beginners is vital since it will most likely represent the great majority of your readers. Even though it is important to show some authority in the subject of the text, you must find a way to do so without putting away those who are not specialists on the matter.
Don't forget to keep your text updated: A great evergreen content piece is created to last, but it doesn't mean that you should make it and then abandon it. Pay attention to your article and remember that it must always stay fresh to be considered an evergreen topic.
In addition, remember to be updating content and using more and more links constantly. These are also good SEO techniques, but you can always test other formats or even other strategies.
How to Create Evergreen Content
It's time to go into the step-by-step process so you can start to make your content evergreen, adding some timeless pieces to your repertory. Before you begin writing, making original research can be a good call since it can become great content and increase the search results. On the other hand, a regular keyword search can also be beneficial since it will help you to create the best posts.
Find Evergreen Topics
You must remember that you must stay away from trending topics and pop culture to make your own evergreen pieces. These topics will surely go down in the searches real quick, and you don't want that. To know what to write about, you must do keyword research.
A good idea is to brainstorm some of the topics you would like to be writing about on your own website. With them in hand, use Ahrefs or Google keyword research tools such as Google Trends.
Then, you must check if the words are with a good volume in the search rankings. If not, it may be a good idea to look for parent topics. They determine if you can rank for your specific keywords while working on a more general subject. But remember: avoid current trends or current events. You should also evade specific events that happen once in a year, like Super Bowl.
Write Valuable Evergreen Content
Remember: to have a great piece, you must always seek to guarantee your readers' satisfaction. In other words, they must find the answers to the questions that made them search the topic you have written about.
If you need additional information on addressing the search intent, look at the link to our complete guide: Types of Search Intent: Understand the Needs of Web Users.
There are some factors that will determine if your text is just decent or outstanding. The first is quality: make sure to have your text well written and structured. Also, don't forget to keep it well optimized. If not, you shouldn't expect people to find it.
The second is authority: once again, you must be careful not to pull your visitors away with strange or overly technical terms or data. Nevertheless, you can find a way to make your authority over the subject clear. Last but not least, it's crucial to stay unique. In other words, make sure that your content has something different and special compared to your competition.
Avoid Using Words With a Short Lifespan
In copywriting, a short lifespan means that you are using words that can make your text dated. These are terms that make the moment of writing clear. They must be avoided because your public may consider your content outdated and lose interest. Even worse, Google may see your text as irrelevant anymore, dropping your page in its SERPs. Some examples of words you should avoid are:
"Earlier this Year"
"Last Month"
"Yesterday"
Specific Years such as "2015", "2016", "2017"
These words serve only to make your text dated, but don't forget that specific dates can be important for particular kinds of evergreen content such as "history of" articles.
Check the SERPs
This is important because your main competitors are the well-ranked pages in Google and, if they are there, it's because they are doing something right. So constantly check them for inspiration and to see practical elements that you can incorporate into your texts.
Experiment With Different Types of Content
We've already listed some popular content that you can work on to make your piece evergreen. Some of them are: "How to" Content, Lists, and Product Reviews. Besides finding good evergreen themes to work on in your specific area, you must look for using them in these text formats.
As well-known types of evergreen content, these texts will help you see what kind of texts suit your area the most. It will also show what your public likes. To complete, it will guarantee you considerable and constant traffic and audience.
Content Marketing Strategy
As a blog owner or even as a copywriter, looking for the best content marketing strategy is critical in your work. Since we live in the digital era and social media has undoubtedly come to stay, our best alternative will always be to focus on social media marketing.
Promote Your Evergreen Content in Social Media
Social media is essential because you can engage with your audience and answer questions and comments. Social media also make a strong combination with evergreen content. Since this kind of text has been created to last, you can always share it repeatedly and still get a lot of new sharings with no effort.
If your blog is about gaming, you can always share your tutorial content about a specific game, like Black Desert Online, every time a new season begins or when big news or major changes happen in the game.
Conclusions
In today's online world and digital marketing, it's surely not enough to constantly bring new content that entails more traffic. Covering topics with high search volume is important, but what's critical is to enrich your website or blog with suitable topical pieces that are long-lasting evergreen texts. That's why producing evergreen content pieces that never go out of date can do wonders for your business.
And these were some pieces of advice that will help you bring value to your business through well-optimized evergreen content. If you need Evergreen Content, contact GamerSEO, so we can help you to grow your blog even more!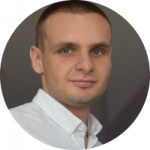 SEO specialist with over six years of professional experience. A/B test and Data-Driven SEO enthusiast. In his work, he focuses on the development and implementation of a strategy that achieves predetermined, specific goals. Privately, a fan of mountain biking.