The gaming industry has always been popular, but its market grew significantly during the lockdown. The year 2021 was a golden year for gaming developers. In terms of operating profit, Nintendo leads with $5.4 billion, while Sony is a close second with $2.63 billion. This is quite impressive, and such numbers result from several marketing channels, like YouTube videos, promotional articles, and gaming blogs.
Of course, starting a video game blog won't net you such ridiculous numbers, but it's a great way to start a new career if you have a writing flow. Is there anything better than doing something out of passion and making money? The statistics shown above prove how big of an audience you can reach. It sounds great on paper, but what about reality?
There are several factors to consider when starting your gaming blog. You must create a website, build an audience, write valuable content, and hope to be recognized to make a profit from your work. These are pretty daunting tasks, especially for a beginner, so we've created a step-by-step guide on handling them. If the benefits of starting a new gaming blog sound appealing to you, read on to find out everything you need to know about it.
Why Start a Video Gaming Blog?
The gaming community grows yearly, especially in the esports market, valued at $1.22 billion in 2021. Whether you want to write about mainstream or niche topics, finding like-minded people within the gaming sector is much easier than cooking, for example.
Here are other reasons why you might want to start a career as a gaming blogger:
Be recognized as a brand within the gaming or esports industry.
Grow a community around your own blog, discussing topics you're passionate about.
You'll gain the knowledge and experience required for your future career.
You can get your hands on new hardware and play video games before they launch publicly.
Attend invite-only press conferences and gaming conferences.
Monetize your blog and gain profit from something you love.
Not bad, isn't it? However, achieving such goals takes time, but with good content and enough dedication, you'll eventually get there. A piece of advice, though: don't quit your current job as soon as you start writing your new video game blog.
How to Start a Successful Blog in 10 Steps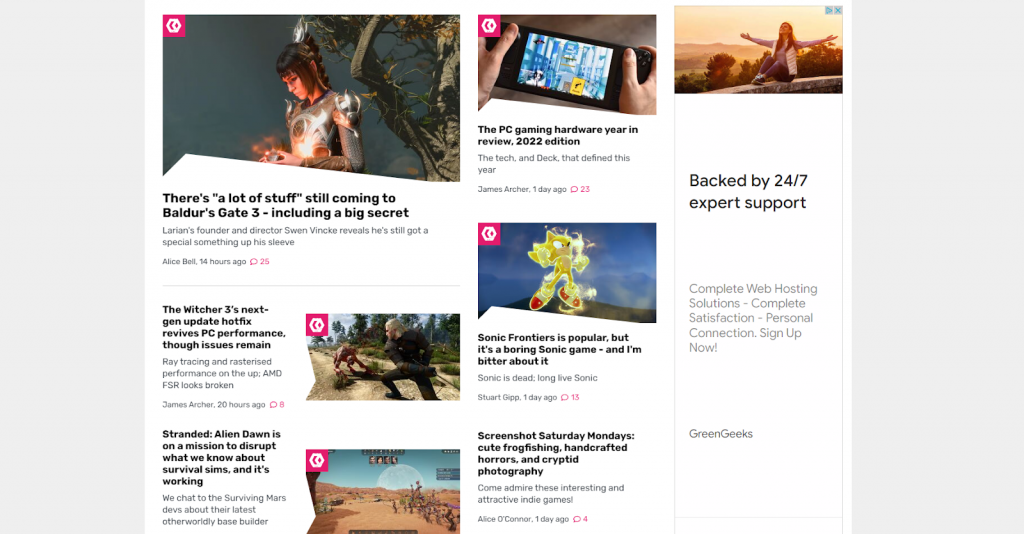 Have you decided to become a video game blogger? That's great; passion is the main reason we start something. Here, we will walk you through everything when starting from scratch. However, if you already have an idea and only need help setting everything up, you can jump straight to step 5.
Set the Focus of Your Gaming Blog
Ask yourself three questions before you start writing:
What's your direction?
What's your target audience?
What's the main purpose of your blog?
You can't just write about everything and nothing. The key to success is to decide on a specific video game blog niche. A jack of all trades is a master of none, and your readers will immediately notice that. This means you won't grow as a blogger since you're not providing anything useful to your readers.
Let's say you're a Minecraft expert with a throughout knowledge of the game, ready to help those who are just starting out or are less experienced than you are. If that's the case, you'll always have something to write about. Also, hosting a Minecraft server would be a great way to gather a community around yourself. Do you get the idea?
Find a topic that you know in-depth. Since we're talking about gaming, pick one game you'll feel confident writing about, like guides, tips, the latest news, etc. It sounds obvious, but that's the secret behind success. For example, Blog of Legends provides esport-oriented content regarding League of Legends. Keoni Miller, the site's contributor, has extensive knowledge about League and provides its readers with the latest news regarding the professional scene. He found his niche, and that's exactly what you'll have to do, too.
It's all about establishing a brand people will recognize. You could be an esports enthusiast or one of the best junglers on your League server. Writing about something you're truly good at is the best way to make a name for yourself.
Of course, a successful gaming blog doesn't have to be all about games. Maybe you're a hardware enthusiast who loves building gaming PCs, from budget to high-end rigs. That's also an excellent topic to write about!
After establishing your focus, it's time to choose the right gaming niche.
Choose a Niche for Your New Blog
Don't cover too many topics at once. Many games have their own genres and even subgenres, creating their own niches. Take, for example, Witcher 3. You can write about its lore, monsters, storyline, character builds, or Gwent mini-game. Let's say you finished the game, but you've spent most of the time collecting all Gwent cards and know the location of every opponent. If that's the case, you've found your niche.
Instead of writing about everything that crosses your mind regarding your favorite game, stick to that one topic you're passionate about and focus on that. Later on, you can expand your niche, but it's best to stick to only one when you're just starting out. It's much easier to gather a dedicated audience around your topic this way.
Another advantage of such an approach is the quality of your blog content. If you're an expert in your chosen niche, it's easier to write in-depth posts your readers will find valuable. Below, you'll find some of the most popular niches for your gaming blog if you've still not decided what to write about.
Gameplay Walkthroughs
One of the most popular topics to write about since many players are looking for walkthroughs when they get stuck. It's one of the easiest topics to write about since you don't need to be extremely creative when writing such a guide. However, being straightforward and cohesive will definitely help in creating quality, unique content.
Steam and Reddit are among the most popular places for written gameplay walkthroughs. So if you're already a streamer, such content is the best way to promote your existing channels. Bring your own unique style, and there's a high chance you'll stand out in the sea of gameplay walkthroughs.
Game Reviews
Writing an engaging game review is difficult on its own, but you'll also compete with other gaming blogs, and I mean big ones like IGN, Gamespot, or Metacritic. It doesn't sound motivating at all, but many readers appreciate independent writers as they find them more trustworthy.
Use this to your advantage and show your audience that you can create content directly competing with the biggest names in the industry. A well-presented viewpoint has more impact on your readers than you may think.
Latest Gaming News
When looking for a niche within a certain topic, gaming news is an endless sea of things to write about. The number of sub-topics you can find is endless here, and you'll have to figure it out yourself. Choose a certain game, category, or esports team and focus only on that.
As a news provider, you'll have to keep up with the rest of the world and avoid getting overwhelmed by too much information. Focusing on one niche will definitely help with that, so you can cover breaking news faster.
Gaming Hardware Reviews
Consoles, games, monitors, collector editions, you name it. Whether it's an unboxing or an entire review, reading your opinion on a certain product will help potential customers evaluate if it's worth the price. Written hardware reviews perfectly complement YouTube channels, covering all the details of the product you're reviewing.
However, being a good reviewer means honesty and good insight. Your audience will notice sponsored reviews from a mile away, so gain their trust by pointing out all flaws of a reviewed product.
Game Developer Diary
Becoming a game developer is the biggest dream of many, so first-hand information on what it looks like can be very valuable. However, it's a complex subject where you can't just do research and write about it. You'll have to be a game developer yourself to earn credibility and be able to give advice on this topic. Therefore, it's a niche that's always in demand since only game developers can fill it.
Streaming Channel Blog
We've already mentioned it a few times throughout the article, but many successful blogs arose from already popular YouTube or Twitch channels. So, if you already have your own group of dedicated viewers, a streaming channel blog is a great way to increase traffic. Promote it through social media channels so every subscriber can visit it.
The best thing about this solution is that you don't have to be the writer. Working on YouTube videos and writing posts can be challenging, especially if you upload regularly. If that's the case, you can hire a competent friend who will run the blog while you will focus on the streaming channel.
Esports Related Blog
Esports has seen increased popularity in recent years, so picking such a niche is a great opportunity but also a challenge. You'll have to compete with sites like ESPN, THeScoreESports, Gamurs, EsportsObserver, and many more. However, these sites are big and not specific-team oriented. And that's where small video game blogs can shine.
Most sports teams wouldn't exist without fans, and the gaming world isn't an exception here. Creating high-quality, unique content regarding your favorite esports team can attract a lot of like-minded people and build a place where people can read about matches and events related only to their favorite team.
Picking a niche can be difficult, but once you do, it will help you keep your articles value-packed and relevant. Any of the niches described above are a great choice but pick according to your own interests. Write from passion, not from obligation. Once you do, it's time to choose a web host and get your blog online.
Choose The Right Blogging Platform
There are so many blogging platforms to choose from that you can even start your gaming blog today. It's a great idea to start ASAP, especially if you have a broad concept of what to write about. Things can get complicated, though, especially if you notice how many options are available to you, both free and paid.
Many beginner bloggers tend to choose a free domain, and we can't blame them for that. Sites like Blogger, Tumblr, Squarespace, and Wix are great when starting out, but they fall short after a while. Start with a paid web hosting service if you want to take your blogging seriously. Why is that?
Free platforms are plagued with many limitations that will successfully deny your blog from being successful, even if you're known for writing relevant posts.
Here are the main drawbacks of free blogging platforms:
Very limited customization.
Unprofessional look and feel.
Minimal monetization potential.
Strict terms of use that can even lead to losing all blog content upon violation.
They technically own your content.
We know it's tempting to start with free options first, but no one will take you seriously if you do that. People are accustomed to professional-looking websites, and you must follow the trend. Therefore, your current best option is to start a WordPress blog. WordPress is a self-hosting blogging platform miles ahead of the free alternatives.
WordPress allows for easy one-click installation, has an intuitive interface suitable for beginners and veterans alike, and simply works like a charm. There's even a free option with some free themes to try out if you don't take our word for it. However, premium benefits aren't that costly and offer great benefits for the price.
Here are some of them:
Stable, reliable, and easy to use.
A lot of customization features.
Great optimization and over 50 000 plugins to customize the site to your liking.
Compatible with SEO (Search Engine Optimization) and its tools to generate more traffic on your website.
Great technical support and a vast community of web developers.
Support for most media formats.
Easy monetization without limitations.
Free plan.
Some impressive statistics about WordPress:
According to HubSpot, WordPress is used by 43,2% of all websites on the internet (as of 2022).
22% of all newly registered domain names use the WordPress self-hosted platform.
WordPress was the fastest-growing CMS in the past 8 years.
WordPress offers almost 60,000 plugins and over 3,500 themes.
These statistics alone should be convincing enough to give WordPress a chance. If you want your site to look and feel professional right from the start, you can't choose better. Once you've made up your mind, it's time to choose your domain's name.
Pick a Domain NamePick a Domain Name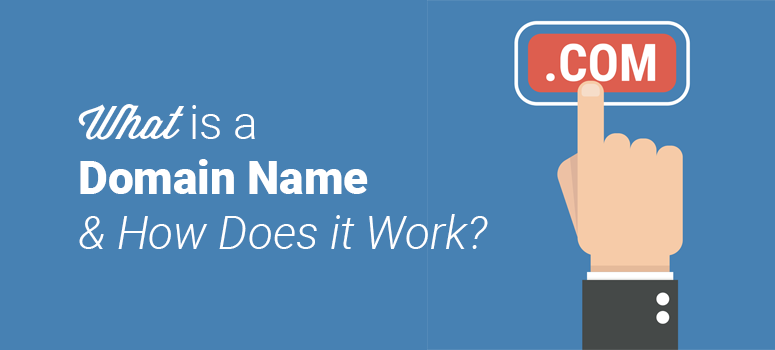 A domain name refers to your website or blog name. It's included in the address (URL). Use your blog name as a domain name to avoid confusion. For example, if your site's name is BestGamingBlog, name your domain the same way, e.g., www.BestGamingBlog.com. You wouldn't want to name your blog that way, obviously.
You'll have to consider several factors when picking a domain name. Follow these 10 steps:
Buy a .com domain name. This domain has been used since the beginning of the internet and is the most common one. It also ensures your site is the real deal.
Pick a universal domain name. Name your domain in a way that will allow expanding your content in the future. If your name is too specific, like NFS reviews, you would be tied to that niche only, whereas Racing Games Reviews leaves you with more versatility.
Keep it short. Short domain names are catchy and easy to remember. Don't use more than four words; less is more in this case.
Use alliteration. Alliteration refers to using two words that start with the same sound or letters, like Gamer's Guide or Polygon Players.
Be creative. You'll have to come up with something creative since common names are most likely taken. You can change it word by word if it turns out that your name is taken. For example, change it to Game Zealot if Game Fanatic is taken.
Add extra words if needed. As a last resort, you can add an extra word if you want to keep your name. Short extensions like HQ should be enough.
Think of a concept. A domain name should reflect the concept of your blog. Think of what you want to achieve in the future, which will help you find possible names.
Use name generators. Using tools like Instant Domain Search or Lean Domain Search can help you find much-needed inspiration.
Don't buy a domain name. Even if your desired name is taken, you'd be offered to buy it for hundreds or thousands of dollars. It's better to pick a different domain name and use those resources for growing your website instead.
Be patient. Picking up a catchy and original name takes time, so don't give up. It's the most important step, so spend even a few hours figuring it out. Ask a friend, brainstorm some names, and you'll figure it out eventually.
Here are 5 popular gaming blogs with great names if you're seeking inspiration:
Buy Domain Name and Hosting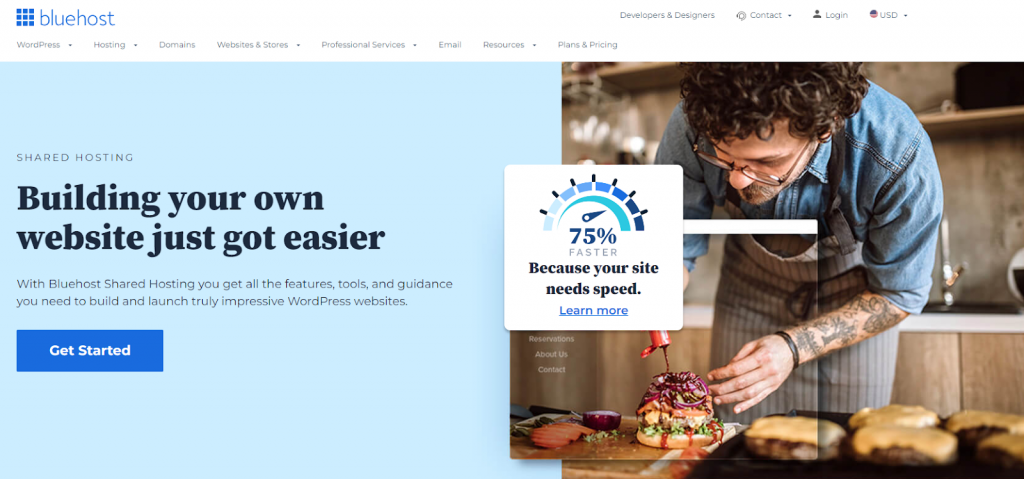 After deciding on your domain name, it's time to register and get blog hosting. Blog hosting is a space where your blog lives, and it's online 24/7. You can also use their servers for keeping blog files or tools for more advanced users.
One of the best choices for web hosting is Bluehost. They're beginner-friendly, affordable, have great customer support, and have a secure WordPress install. Feel free to navigate through available plans and choose according to your needs, but even Basic will be just fine if you want to minimize your investment.
Connecting your domain with WordPress is extremely intuitive, and all you have to do is follow the on-screen instructions after choosing your desired plan. Once you've completed everything, you'll be able to access your newly created website! Now it's time to go with the looks.
Choose a Theme for Your Blog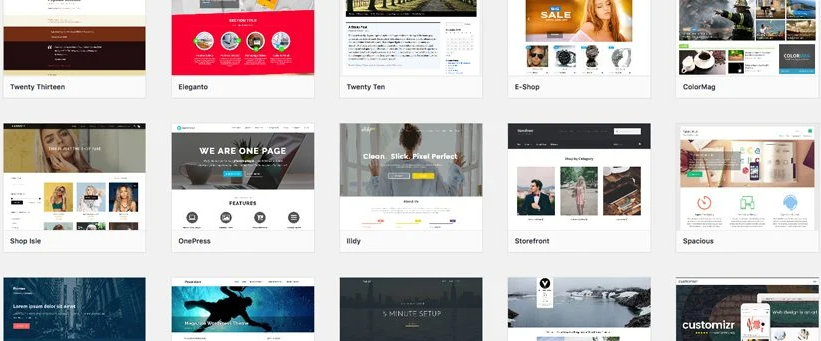 Once you've installed WordPress on your hosting platform, you need to choose a theme. Your blog's theme determines the looks and functionality of your website. WordPress offers both free and paid themes, varying in features.
Once again, we do not advise using free themes. A free theme doesn't look professional and has several flaws.
Here are some of them:
Limited customization.
No technical support.
Not optimized for mobile.
Clunky and problematic.
Some free themes contain malware.
You want your blog to stand out and be able to customize it easily at the same time. Since you want to start a video game blog, find a WordPress theme that's designed with that purpose in mind. With such a theme, you'll be able to showcase videos, images, and video game graphics on your blog.
Here's what should be included in a good Premium WordPress theme:
Professional look and feel.
Easy customization.
Support from creators.
Great ratings.
Fast and responsive.
The best places to look for themes are ThemeForest and StudioPress. And if you want to take it one step further, you can create your own theme with Thrive Theme Builder. It's a great tool that allows you to design everything with point & click instead of hiring a developer.
Essential Pages and Logo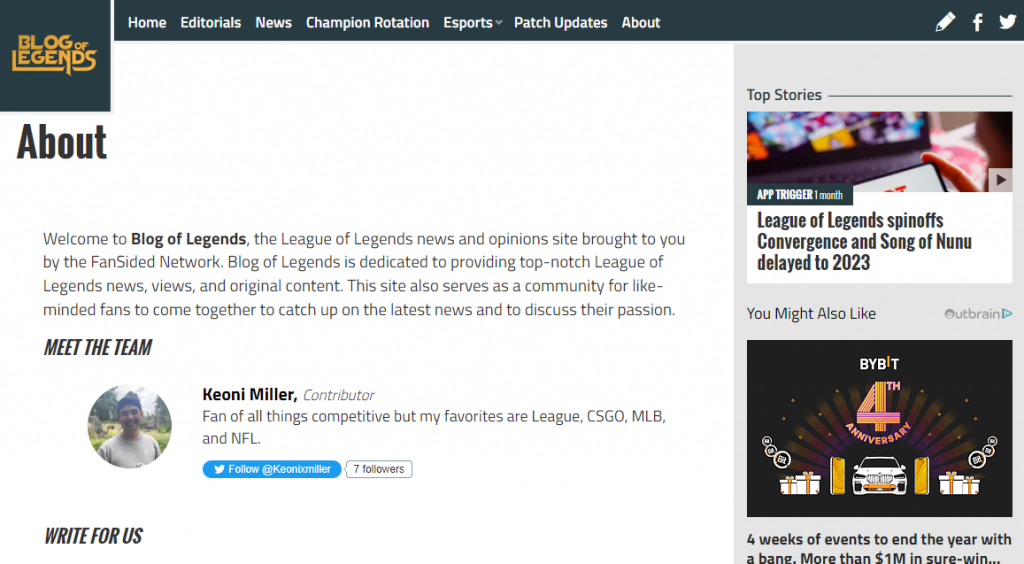 You're a professional blogger, so don't forget about essential pages like About, Contact, and Privacy Policy. Here's what to include in each of them:
About. Some info about yourself and the purpose of your blog. Writing something about yourself, your interests, and what motivated you to start a blog. This is your page, so don't hesitate to add something funny and hilarious to show off your personality. It's also a great idea to add a photo of yourself.
Contact. A place where you add links to your social media accounts. Choose the forms of contact according to your target audience. It's also a good idea to include an FAQ section on this page to avoid getting bombarded with emails.
Privacy Policy. An important page that's included in every website, basically. You can either use privacy policy generators or hire someone competent to write it for you. It's probably the best idea to do that because they can tailor the information specifically for a gaming blog.
Logo. Most video game blogs have a logo associated with them. Use Photoshop, GIMP, or any other graphical software to create it, or hire someone to do it for you.
Start Blogging
Everything's ready, time to start writing! Easier said than done? It's easy to get stuck once you have everything ready to start creating content. Below you'll find a list of ideas on what to include in your first posts when just starting out.
Make sure you have at least 10 blog posts published before sharing your blog. Potential readers might find it off-putting when they find a good-looking website without content. Imagine eating Oreos without the stuffing. That's what an empty blog tastes like.
Listicles. A list of items, like top 10's. For example, "Top 10 RPGs of 2022."
Tutorials. If you have a thorough knowledge of your chosen gaming niche, share it by writing a tutorial. Use examples, images, videos, etc.
News. Share the latest news regarding your chosen niche.
Reviews. Games, hardware, collectibles – everything you feel you can write a review about.
Checklist. Find common answers regarding your niche and write a simple checklist providing clear and short answers.
Tip articles. Similar to a listicle but includes various tips on how to accomplish something.
Interviews. Interviews with other bloggers or game developers are always interesting and reliable. Such content is never boring so conduct as many interviews as possible if you have the occasion.
Image galleries. Depending on your content type, you can include an image gallery for better visual fidelity of your website.
Promote Your Blog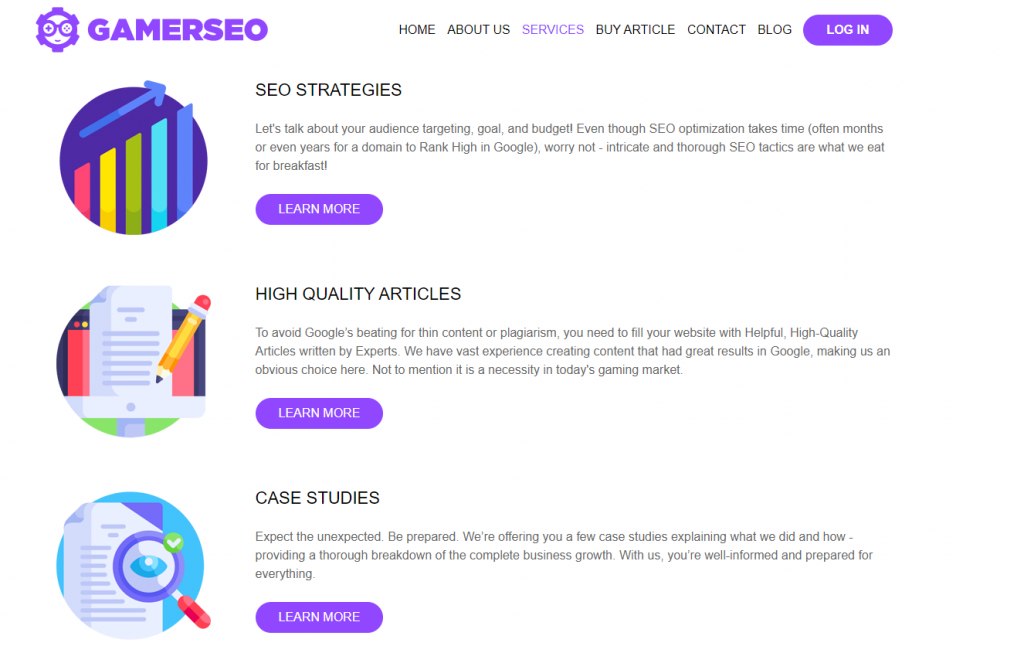 There are several ways of promoting your blog. Here are the best methods:
Search Engine Optimization. You may have the best content available, but it won't do much if your site isn't optimized to rank high in search engines. They say that page 2 of Google search results is the best place to hide a dead body. Thus, you can contact our SEO experts from GamerSEO. Visit our Services page and learn more about what we can help you with. Writing content, marketing strategies, social media – we can do that for you.
Share your blog with family and friends. Link your blog with everyone you know. Ask friends and family to read your posts and write comments about them. Make them share your blog with their friends to give you even more exposure.
Use social media. Use all your social networks to promote your blog.
Post on Reddit and your niche-related forums. Finding like-minded people is easier within your niche-related groups, so use that to your advantage.
Guest blogging. If you write posts for a popular gaming blog, you can link to your own blog. This will result in a steady stream of visitors over time.
Make Money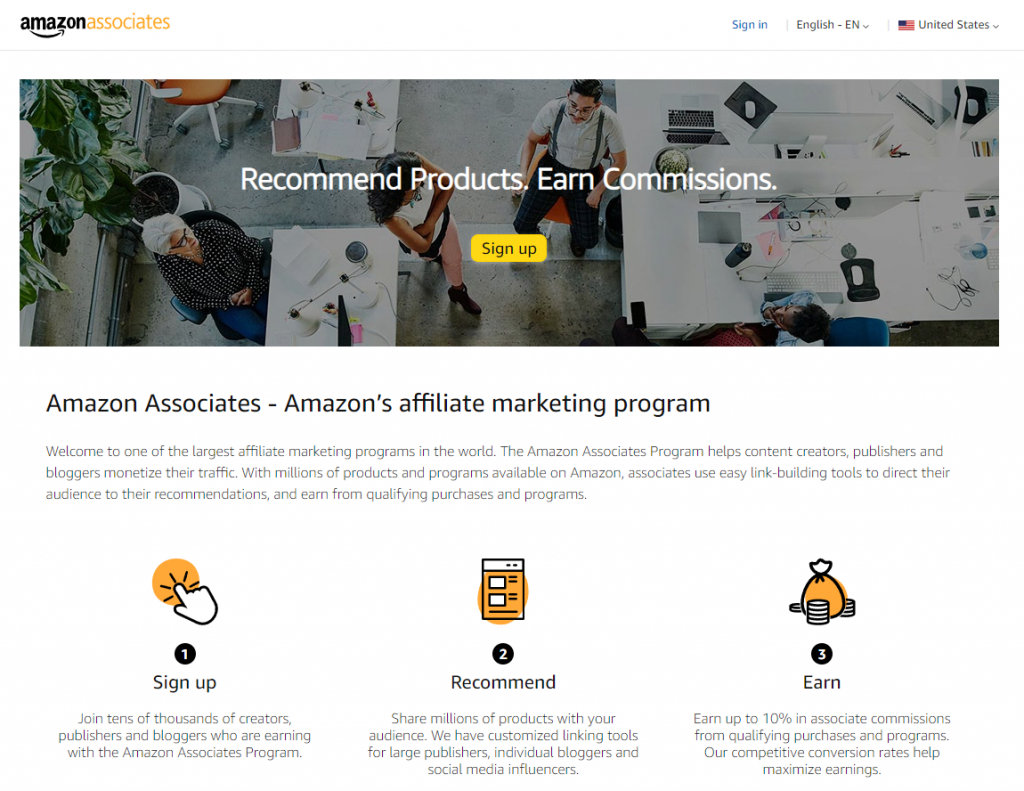 Once you've gained a decent audience, it's time to monetize your blog. The best methods are those used by other gaming blogs, and we will focus specifically on them. Here are the best blog monetization methods used by most video game bloggers:
Affiliate Marketing. The most popular way to monetize a blog. You need an affiliate network like Amazon Associates so you can put affiliate links within your blog's content. You'll get paid for every purchase from that link.
Google Adsense. Also known as PPC (pay-per-click) is a way to make money with the traffic coming to your blog. Sign up for the Google Adsense program, and they will put ads on your blog. You'll get paid a small commission each time someone clicks on an ad.
Sell ad space. Similar to PPC advertising, you're selling a certain space on your website for companies to put their ads. You're simply adding their banners to your blog, and you're getting paid regardless of whether your visitors click on them.
E-commerce store. You can sell your own audiobooks or guides to make some extra money. This also includes merchandise like gaming equipment, clothes, etc.
Conclusion
And there you have it, the essential steps to start a video game blog. We all want to make a profit out of something we love, so using our guide should help you to speed up the process. Also, if you want to take your blog marketing to the next level, feel free to contact us – we are here to help.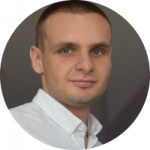 SEO specialist with over four years of professional experience. A/B test and Data-Driven SEO enthusiast. In his work, he focuses on the development and implementation of a strategy that achieves predetermined, specific goals. Privately, a fan of mountain biking.