Smart and Standard Shopping campaigns are crucial in the modern world, where customers tend to search and buy products online and directly from platforms like Amazon, eBay, and business stores. These are a great complement for search and display ads since they appeal to visual recognition and present your items as quality products. In the subsequent sections, we delve into the crucial aspects of these campaigns, giving you some key points to plan, build, and release the best campaign possible and respond to the question: What Are Google Shopping Ads?
What Are Google Shopping Ads?
Shopping ads –also called Product Listing Ads, or PLAs– correspond to the ads you see at the top of the SERPs when searching for a particular product or industry. They use the information the Merchant Center provides to rank the products and decide which ads will be shown to customers.
Google uses the product feed from the Google Merchant Account, which contains information about your store's products, and uses it to create ads based on user queries. The product must be in the product feed for advertising.
Benefits of Using Google Shopping Ads
Like search or Performance Max ads, shopping ads benefit retailers and marketers who want to position their products in the best places in SERPs. Here are the main ones.
Position your Products at the Top of SERPs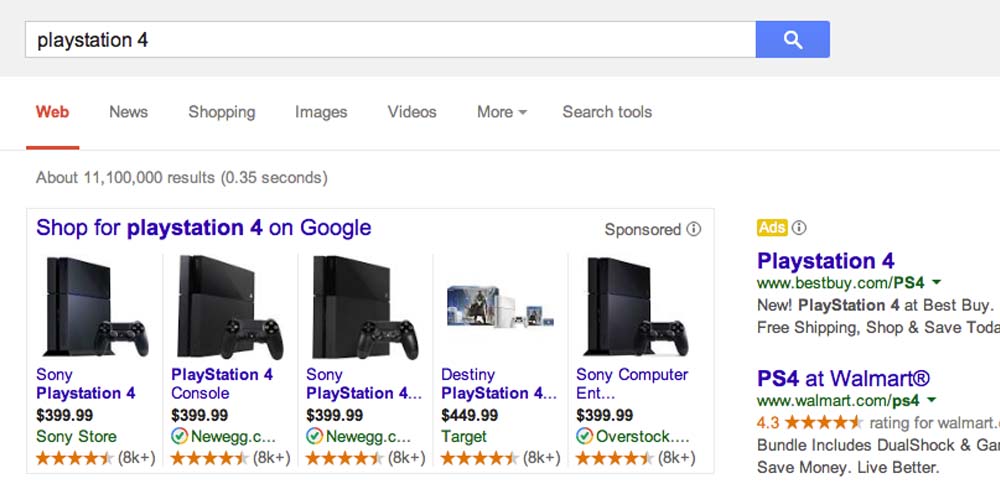 When you look for a specific product, you can notice that multiple options related to your search spawn at the top of the results. These results show the specific product data you're looking for and several alternatives for the same or related items. Shopping ads appear above search ads, which increases the visibility and opportunities to convert. Moreover, visual ads can also include a star rating system. This way, you can know what previous customers think of the product. 
Reach a Wider Range of Customers
An interesting and very helpful characteristic of shopping ads is they appear not just on the SERPs but also in other services such as YouTube, Gmail, Google Image Search Results, and across the entire Google Network. This way, your product can entice customers from different media and improve the click-through rate and ROI. You must enable the "Search Partners" when setting up the campaign. We will discuss this later.
Greater Impressions
As mentioned above, visual ads get greater impressions since they appear in multiple media and platforms. As the number of impressions increases significantly, the chance of getting clicks and the ROAS and conversion rate are higher.
Better ROI
A good ROI – Return on Investment – directly results from increasing click-through and conversion rates. It's a bit obvious, but the higher the number of conversions, the higher the ROI and profits. Regardless of the higher number of clicks that search ads get, it would help if you considered shopping ads as a parallel campaign to increase ROI.
In-Depth Reporting and Competitive Data
Google has several campaign management tools where companies can measure their results, i.e., visualizations, clicks, and ROI, and even cancel low-quality audiences and feedback on what they learn. This reporting data provides insights into what you're doing well and what ads work better. This way, you can adjust advertising preferences for a new campaign or fix an existing one.
How to Create a Google Shopping Ads Campaign
Creating a Shopping Ads campaign is not a complex process, but still, it's better if we resume the necessary steps to facilitate your work and highlight crucial points you shouldn't ignore.
Create a Google Merchant Center Account
Google Merchant Center is a virtual platform where you upload all your products and their data to feed your Shopping ads further. In this space, you create a product feed containing all the crucial information about your products. It's also where you can set tax and shipping rules. In the Merchant Center, businesses must upload product details and descriptions before creating a paid Shopping campaign.
Create the Product Feed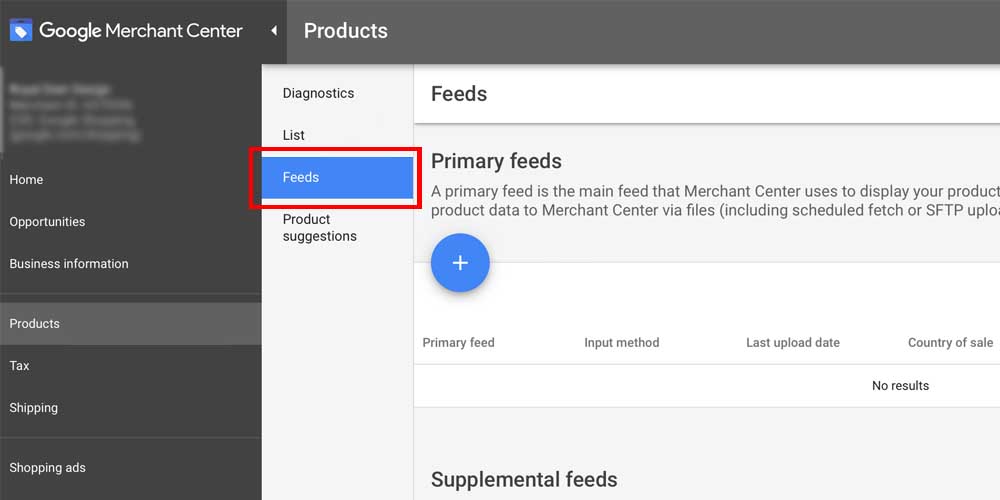 This is where you include and save the products your store offers. To start, click the section you see above. Next, provide all the data that Google needs to display your products. The process follows: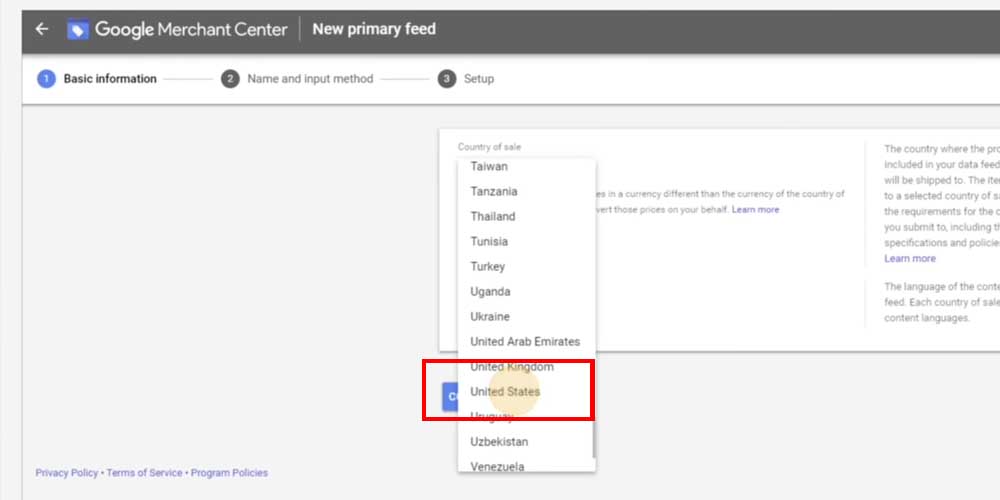 In basic information, set the proper language and the country where you want to sell your products.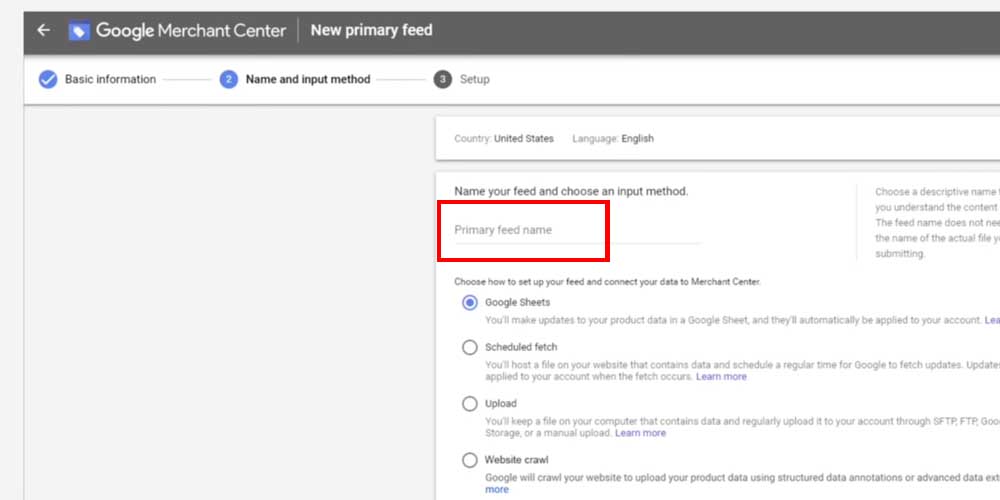 Next, it's time to name the feed and insert information about each product. To do this, select the Google Sheets option immediately below.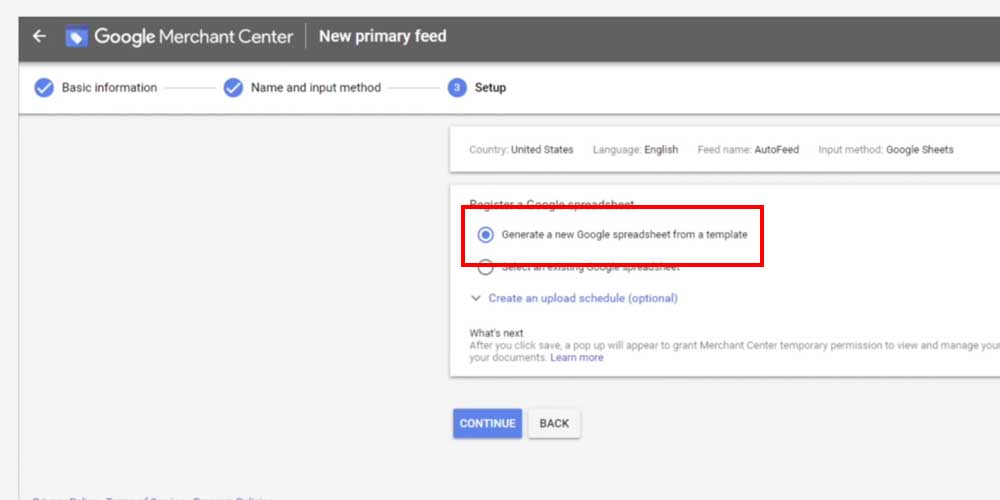 Next, select the "Generate a new Google spreadsheet from a template" option to build your feed from scratch. Click "Continue."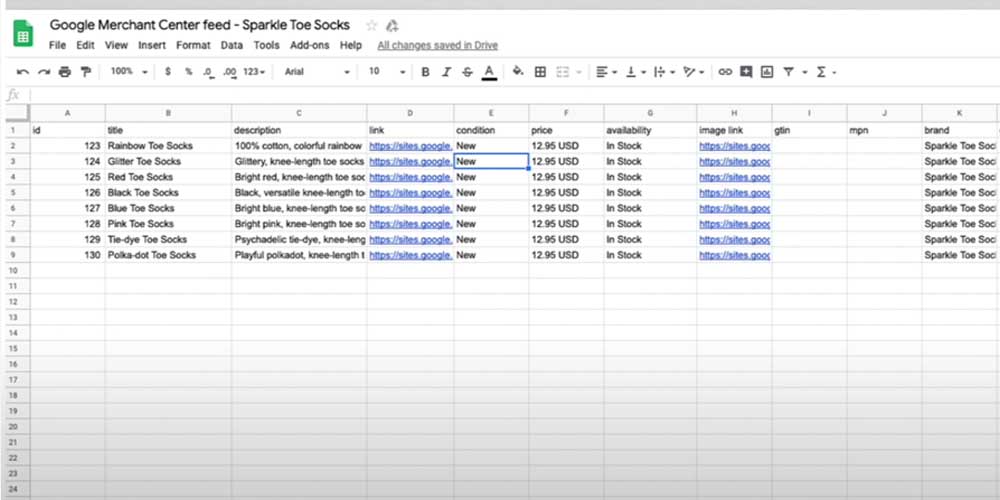 Now, fill out the spreadsheet document provided by Google. Include all the items in the same category and pay special attention to the "availability" column since you specify if products are available here. Besides, if you sell all the items of a particular product type, you should come to the specific spreadsheet and change the information as soon as possible. Below, we list the crucial information you should include in your feed.
Product Title
Since you're advertising a particular product, it's important that the client immediately knows what you're offering them. The title, along with the images, directly communicates to the buyer what your product is. Besides, the title also tells Google what you sell. This way, the American giant displays ads to people interested in items like yours.
Remember to use the actual name of the product and the main keywords that define the brand and the function. You have a 150-character limit. Then, do not be scared of using all of them to describe the product accurately.
Product Description
The product description holds as much significance as the product title. This is because potential buyers, especially those browsing through search and shopping ads, rely on the information provided in this section to distinguish one product from another.
Descriptions are not visible on the Google search results page, but still, Google uses this information to rank your shopping ads and display them according to customer's searches.
However, the descriptions are key if you use free listings since they will appear on the Shopping tab. In other words, descriptions are a must-have, and you should pay close attention to them. You should also include one or two main keywords that address the benefits and features of the product and how it can help customers. Be concise and keep it short.
Google Product Category
Selecting the proper category for your product requires you to go to Google's taxonomy. You should select the category that fits your product better. This way, you help Google to understand how to classify your item. For instance, if you're selling a gaming product, select the category of Electronics > Computers.
Google Product Type
You can include everything you want in this column since it's available just for Google and not for shoppers. Still, the product type can provoke a huge impact, especially if you use the top keywords to show up. It's an optional attribute that lets Google know you're using your categorization system.
Product Highlights
Think of highlights as direct benefits and crucial features of your product. Online retailers normally highlight product features by using bullet points. Just look for a product on Amazon: in detail pages, you can check how retailers insert the bullet points. In other online stores, the story is the same.
You should include up to ten bullet points or product characteristics per product. The search engine recommends four or six highlights, each with a maximum of one hundred fifty characters.
Images
The image you use in your advertisement describes the product in the same way as written descriptions. In other words, images directly influence the amount of clicks your ad will get since customers are purely visual and judge products by what they see.
According to Google, the best Google images are those with a plain white background. However, images that show a real environment where the product will be used also work well.
We strongly emphasize the importance of high-quality images with the best possible resolution. Remember that these images will be displayed as thumbnails, so the format should effectively showcase all of the product's features.
Sales Price Annotation
Google is increasingly smart since it will show products on sale if a price drop exists. To do this, Google needs you to keep a solid price for at least 30 days in the past 200 days and set a sales price at least 5% lower than the base price. This is crucial, especially when product shopping ads are set in sales seasons.
Product Details
This section is not mandatory, but you can include additional information you haven't described in the previous sections. Still, this is a great place to add another keyword you consider relevant to entice prospects or highlight other features. This section also includes negative keywords that avoid bad prospects with low purchase intent. You should also include technical specifications that clarify and convince customers with a more practical gaze about functionality and quality.
Price
Although a good image and a well-achieved description will entice the attention of most customers, price is another relevant factor determining whether a prospect clicks your shopping paid ads.
Besides, this is even more important when other retailers, marketers, or sites sell the same products as you through the same system, search ads, or other media.
In this sense, you must study the market and check if there is a possibility of setting a better price that attracts interested customers.
Brand
Most customers look for products according to their brand, especially those who have already made a purchasing decision. This is why you need to indicate the brand in your feed, whether it's about your brand or someone else's. Besides, the logo or brand name appearing in the image or the advertisement is also relevant to give the final push to potential customers.
Availability and Condition
Regardless of the simplicity of these points, they are crucial to providing good data to Google and its customers. Besides, if you miss out on inserting this information, your product will be ineligible for appearing in the results. In "Availability," you can insert "in stock," "out of stock," and "preorder." In "Condition," you can type "new" and "used."
Shipping and Sales Taxes
In the Account setting inside Google Merchant Center, you can specify shipping rules, rates, and taxes you charge. It's better to set up the rules inside the Merchant Center rather than filling a different rule for each product. In this section, you can indicate "free shipping," "flat rate shipping," or "carrier-calculated shipping."
Global Trade Identification Number and Manufacturer's Product Number
Nowadays, GTIN – Global Trade Item Number – is required for any product you want to sell anywhere in the world. Otherwise, your product can be disapproved by Google. You will also need the UPC – Universal Product Code to sell products in North America. In other words, you need to inquire with the manufacturer about GTINs/UPCs.
Custom Labels
Labels are optional but can help you describe attributes you overlooked in previous sections. Moreover, labels can build stronger campaigns based on other characteristics, like color, sensations, smell, texture, etc. They are also good for optimizing your bid strategy. You can add a custom label specifying a top category or seller, spring category, etc.
Apparel Categories
Apparel needs additional data points since multiple characteristics vary according to multiple factors. Some crucial points you should consider are the following:
Gender: fame, male, unisex.
Age group: newborn, infant, kids, adult.
Size: small, medium, large, extra large, etc.
Size Type: regular, skinny, plus, maternity, etc.
Size System: US, UK, EU, BR, etc.
Color.
Link your Ads Account to Google Merchant Center
Finally, you should link your Google Ads account to your Google Merchant Center account. Remember that Google Shopping extracts data directly from the spreadsheet you previously set up. To do this, select "Settings" in the sidebar and click "Ads." Then, click "Link Account."
Create the Shopping Campaign in Ads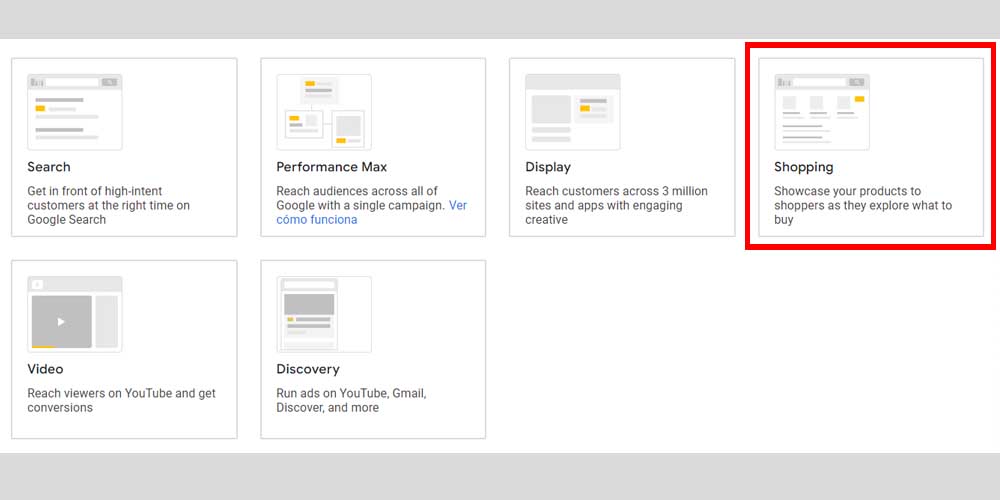 As the image above shows, select the Shopping type campaign corresponding to the type that will display your advertisements properly. After this, you'll be prompted to select a Standard or Smart Shopping Campaign.
Standard Shopping. As its name suggests, this corresponds to a basic campaign only allowing your products to appear in the SERPs. This way, you can reach a tighter audience but more intended to purchase your product. It's a perfect choice for new marketers, retailers, small businesses, or startups just beginning in this world. It costs less. It's a solid choice if you're on a strict budget.
Smart Shopping. This campaign is more expensive than Standard but reaches a wider audience, such as YouTube and Gmail users. As more potential clients see the ads, the click-through rate increases significantly, and you get a better ROI.

The next step is to adjust the general settings of the campaign. The first is to give your campaign a name – make sure that the name you choose directly reflects what you're selling– and select the country. The country you select should be the same that you selected in the Product Feed.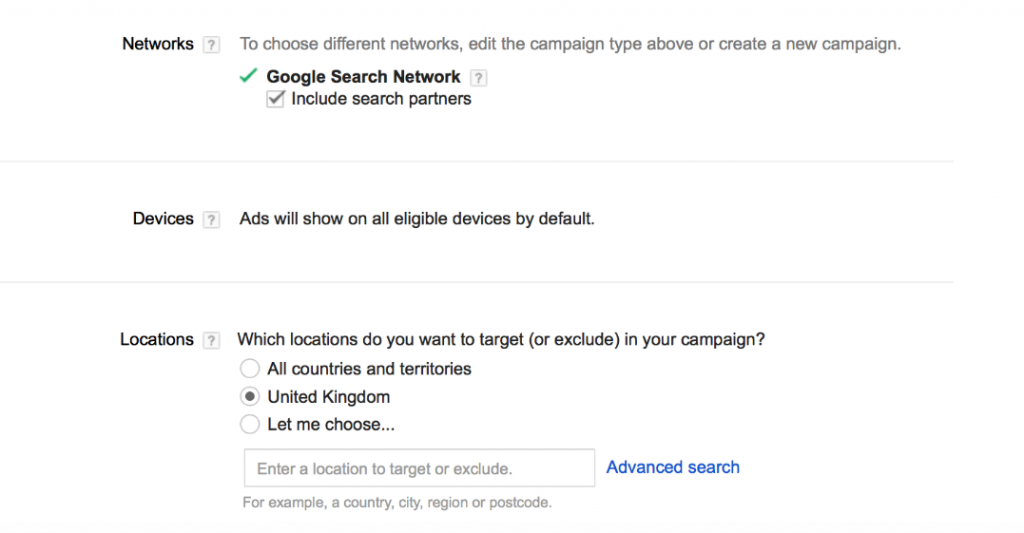 After completing this step, you'll be prompted to select the network to display your shopping ad or the ad group, devices, and locations. The best practice is to select "Google Search Network" and include partners, at least initially.

Like in other campaign types, you must set up the best bidding strategy in shopping campaigns. It means the total budget you will spend and the budget per day, which indicates the total number of users your campaign will reach. 
Note. If you notice that your Google shopping ad is showing some results, you can increase the budget per day.
Google Shopping campaigns do not work with particular keywords you need to type to attract a certain audience. They work according to the product types specified in your Product Feed. This way, Google analyzes that data and uses its own particular keywords. In other words, you advertise your product based on product types.
Advanced Shopping Settings
Suppose you're a professional retailer and believe that Google Shopping Ads are worth it. In that case, you can adjust the "Advanced Shopping Setting" for a more accurate campaign and have tight control over shopping and local inventory ads.

When entering the "Advanced Settings" section, you'll see a section named "Inventory Filter." In this section, you can select the products you want to advertise in your next campaign, leaving aside the ones not on sale.  
Besides, as you can see in the image above, there is another section called "Campaign priority." This is perfect if you manage an online store running multiple campaigns. This way, you can prioritize the one you believe will benefit your business most. Products in this campaign will receive a higher bid and more exposure. Finally, click "Save and continue" to run the campaign, and ads will appear in the market.
Google Shopping Ads Better Practices
Below, we're giving you six pieces of advice you can consider to improve the quality and results of your Shopping Ads campaign.
Specify Negative Keywords
Are Google Shopping Ads worth it? In short, the answer is yes. We mentioned in a previous section that negative keywords are relevant to keep away searchers with no real purchasing intent. To do this, head to the "All Campaigns" page and click the "Keywords" tab. You can add all the keywords you want to exclude from your campaign.
Still, you can add negative keywords based on two criteria: "Ad group level" and "Campaign level." The method you'll use will depend on how you set up the campaign in the first place.
Work hand in hand with a Professional Marketing Agency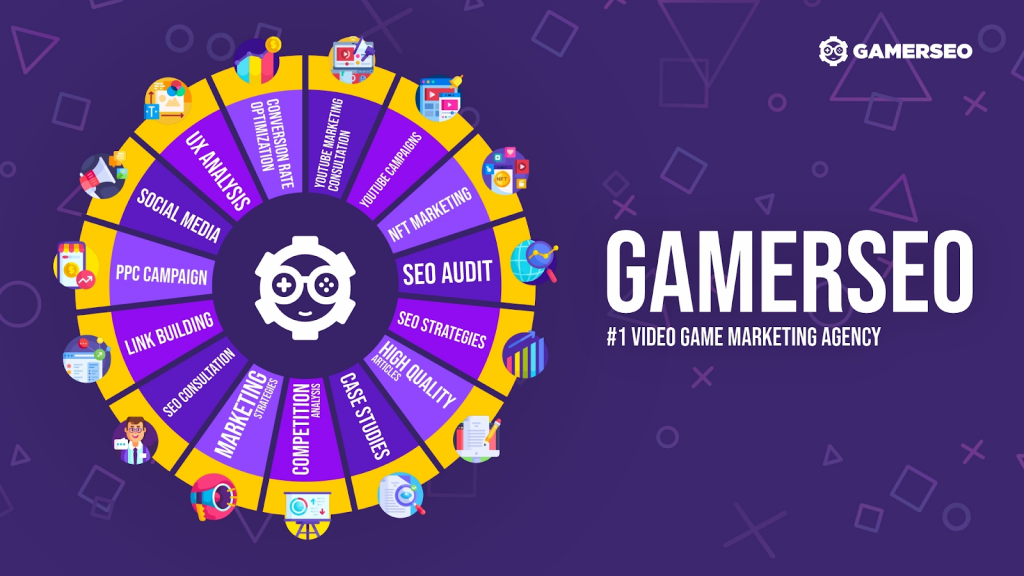 Most of the time, especially when you don't have experience creating your own campaign, running performance max campaigns or building shopping ads can be overwhelming. This is why working hand in hand with a professional agency can relieve the headaches you suffer when understanding the setup process and how the Google search engine works.
A professional marketing agency like GamerSEO will help you understand and manage Google Ads and Google Shopping Ads, building the proper ad campaigns for your products on your behalf.
GamerSEO boasts professionals and marketing experts with the knowledge to create the best PPC ads for your business, considering your industry's crucial factors, organic search results, and SEO strategies to boost results, conversions, and ROI. GamerSEO will give your visual ads the push they need.
Choose a Header that Engages with Customers
We mentioned the importance of the product title earlier, and it doesn't hurt to mention it again. However, we must emphasize that the header or title must aim directly at potential customers and generate a feeling that your product is what they seek. Consider that this practice will not only help the ad appear in Google's search engine results but also capture the attention of buyers.
Use the Best Images Possible
Shopping ads, like ads displayed through the Google display network, are visual ads. It means that the image they show is more than important to entice prospective customers. This is why you should use professional images that teach customers that your product and our business are highly professional.
Be Straightforward and Concrete with Descriptions
Copywriters know that bases are simple: features, benefits, and a final call to action, or CTA. You can use this structure to create shopping ads and descriptions. Keep your description concise, use relevant keywords, and try to understand the search intent.
Use Smart Bidding
In a previous section, we mentioned that Smart Shopping is designed for businesses with large budgets that want to reach a wider audience. This strategy will help you to get the best return possible and leverage your ad spend. Although this approach can be a bit more expensive, this bidding strategy is economical in the long run since it does not waste money with counterproductive customers.
Summing It Up
Any business wanting to grow and reach a wider audience should invest and apply a Google Shopping Ad campaign. This campaign type significantly increases the number of impressions and the click-through rate of most product ads and will help you maximize revenue.
Please send us a message through our contact form. Feel free to ask any questions you have. We're here to clarify all your doubts. We'll help you to develop your own campaigns and get the best-qualified leads possible.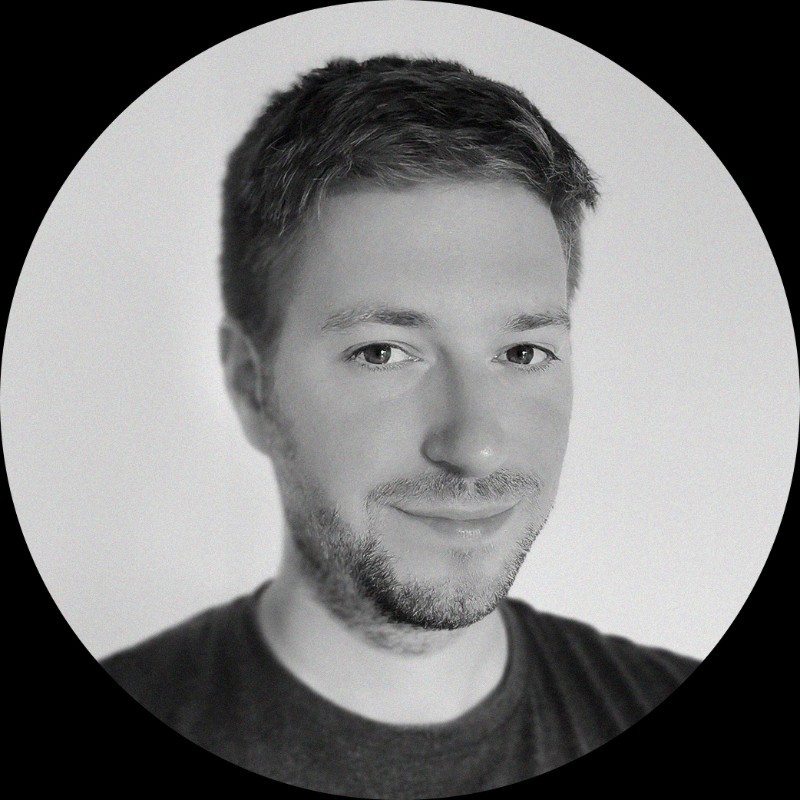 A PPC specialist who started with organic social media. For several years, the core of his activities are:- Google Ads, Microsoft Ads, Meta Ads, TikTok Ads, Twitter Ads,  Linkedin Ads. He has led campaigns with a global reach, e.g. for FootballTeam, G2A, ETOTO, as well as many smaller campaigns in the sports, construction and financial industries. Has full focus on ROAS. Privately, a fan of football, history of wars and Star Wars.