Small businesses and startups play a crucial role in driving the global economy, accounting for a significant portion of economic activity in both Western and Eastern regions. Despite their importance, startups, which often have a limited operating history, face the challenge of effectively promoting their products and services to secure capital, attract new customers, and achieve growth.
Additionally, these nascent businesses often grapple with uncertainties regarding their strategies and execution. This is where the expertise of a dedicated marketing agency for startups becomes invaluable in helping these small businesses effectively market their offerings. In this article, we explore the top agencies and various aspects related to this topic, providing valuable insights for entrepreneurs in need of marketing support.
What Is Startup Marketing?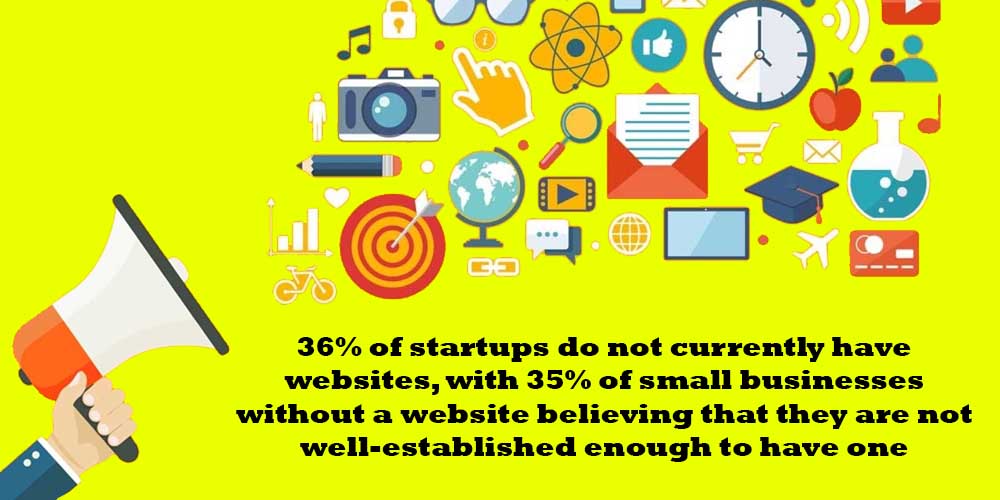 Startups distinguish themselves from other businesses, such as medium-sized or large companies, by their unique characteristics and objectives. Startups typically operate with limited budgets while aiming for rapid growth and the promotion of their products or services. In this context, the effective management of resources become vital to achieving their goals and avoiding failure in the process. Given the constraints they face, startups must optimize every aspect of their operations, ensuring that each resource is utilized strategically to maximize impact and propel their growth trajectory.
In general, startup marketing utilizes digital media, hands-on marketing strategies, and innovative solutions to promote the brand's products and increase organic traffic, leads, conversions, and brand awareness.
Most strategies that startup marketers use have to do with online marketing. Some of the most relevant are the following:
Search Engine Optimization (SEO) strategy.
Growth marketing strategies.
Content strategy marketing.
Email marketing.
Organic social media marketing.
Paid advertising.
Most marketing agencies we mention in this article have worked with hundreds of small businesses, offering digital marketing services specialized for startups that begin in the industry.
Why Working with a Marketing Agency is Crucial for Startups?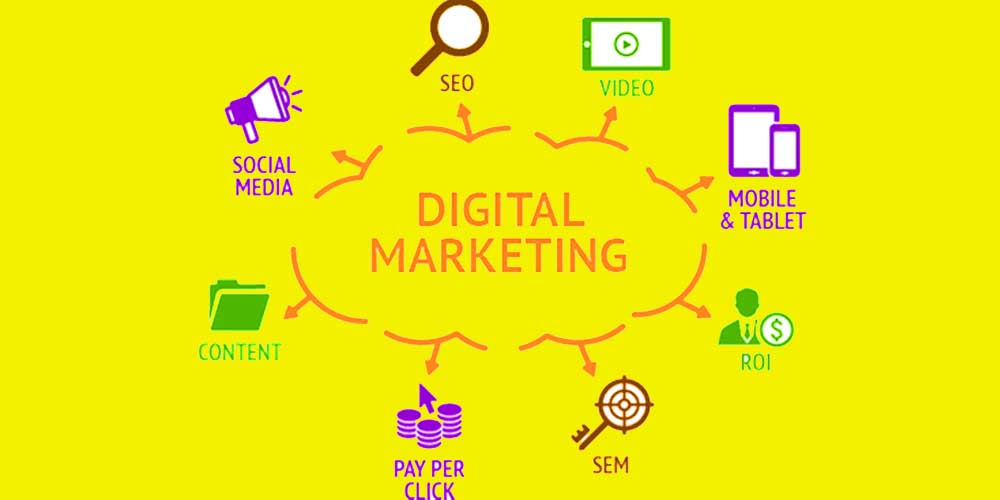 Here are the main reasons why a startup or any small business should hire a digital marketing agency as a partner who helps them to achieve their goals and get measurable results.
Marketing Strategy
This is the essential feature that any digital marketing agency must offer. Marketing strategy corresponds to all joint efforts and tactics to achieve different brand goals. These goals depend on the client's weak points and what they need to enhance, for instance, raising brand awareness, getting more leads, increasing website visitors, and more.
The marketing strategy forms the roadmap for all the movements and activities that will communicate a determined message to the target audience.
A digital marketing strategy is also helpful in determining the best marketing channels for your specific case and the target market. This way, you can aim your efforts and reach the most leads possible.
Customer Acquisitions and Lead Generation
The ultimate objective of a startup marketing agency is to generate maximum customer acquisition and lead generation. To accomplish this, the agency employs a range of strategies encompassing both inbound and outbound approaches. These tactics include both indirect methods, aimed at attracting customers organically, as well as direct methods that actively engage potential customers.
An agency of this nature balances traditional marketing tactics with on-the-mood and innovative tactics, such as social media, email, and search engine marketing.
Generally, most marketing agencies address the customer acquisition process and lead generation as different aspects of the same strategy. Still, the truth is that the second is an integral part of the first. Still, the final objective is to move potential customers down the sales funnel to get more conversions.
Growth Hacking and Marketing
Not all marketing agencies consider this concept when planning marketing campaigns. Growth marketing – also known as growth hacking – is a tactic that aims to analyze specific data to determine what features or strategies drive measurable business growth and better results.
This method aims to uncover and leverage the most productive and cost-effective approaches that may work for your startup. In this sense, growth marketing is fundamental since most startups and small businesses need a significant budget to finance the creation of products, web development, web design, promotion, and other crucial things.
Content Marketing
Content marketing is a crucial part of an overall marketing strategy that any digital agency must include in its planning for your startup. Content marketing is mandatory since most people look for information, products, or interesting topics on the Internet via search engines. In this sense, content marketing helps to build your online presence, position your brand in a privileged place in the industry, and raise leads and conversions.
Most marketing agencies that use content marketing as a cornerstone of their operations are also SEO specialists since Search Engine Optimization is vital to position your small business well in SERPs. An SEO agency conducts SEO research and audits to determine the best topics and crucial keywords for your niche to attract leads and generate sales.
Paid Media and Social Media Marketing
Although organic traffic is the most reliable and recommended way to reach new customers and get leads, inorganic traffic from paid advertising can benefit your business objectives.
Investing in paid advertising, such as securing top positions on search engine results pages (SERPs) or utilizing Google Ads, can significantly boost the number of visitors to your website. However, it's crucial to recognize that to retain these visitors, encourage content sharing, and drive conversions, your website must offer exceptional and compelling content. This aligns this point with the above.
Social media marketing, on the other hand, includes all the strategies you can use in the most popular social media – Facebook, Instagram, Youtube, Twitter, LinkedIn – to attract users and drive them to marketplaces or landing pages of your website. The strategies include tweets, Facebook posts, Instagram reels, highlights, Youtube videos, shorts, and more.
PR or Public Relations
It is a common misconception among startup owners that media relations are not significant for their companies. However, this perception couldn't be further from the truth. In fact, public relations play a crucial role in the growth of startups, facilitating the generation of improved products and services, as well as attracting high-quality leads.
Furthermore, good public relations will create a positive brand image and allow you to offer parallel services in which your startup is not specialized thanks to the help of third-parties or collaborators. Creating strong relations will expand your field of influence and allow you to develop other products that can improve your startup performance.
One valuable approach for startups is to engage in collaborative partnerships with other businesses. This collaboration can take various forms, such as seeking assistance with app or website development from a specialized company or establishing mutually beneficial partnerships where both parties support each other to enhance their services or achieve new business objectives.
PR presents unique challenges and benefits that may result in innovative solutions. A creative agency will encourage you to create the most relations and collaborations possible.
What Are the Best Digital Marketing Agencies for Startups
We've built a list of the top digital marketing agencies. These startup marketing agencies have a proven curriculum and a long trajectory, ensuring your business's success.
NoGood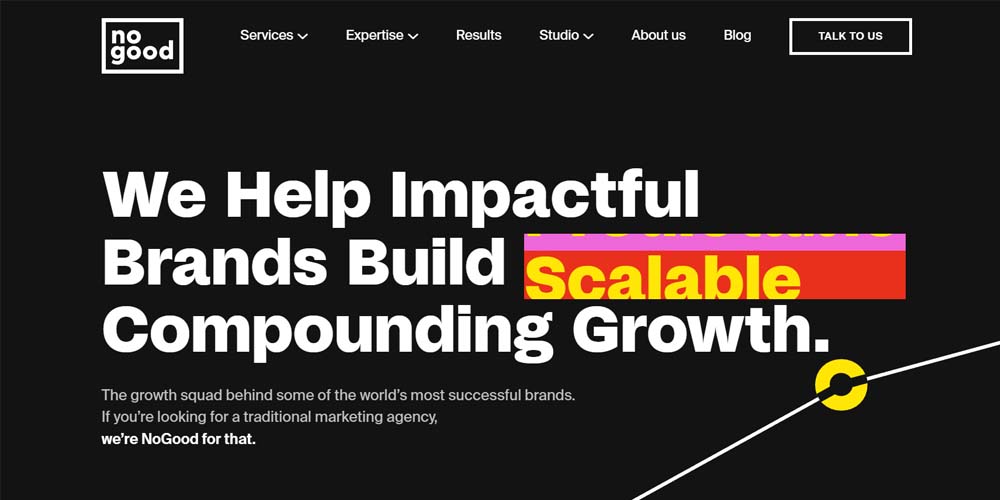 NoGood marketing agency has its headquarters in New York City, and five years of experience in the field. NoGood offers SEO, CRO (Conversion Rate Optimization), SEM (Search Engine Marketing), PPC (Pay-per-Click), Display, Programmatic, Email marketing, Ad Creative, and Attribution Reporting services.
NoGood has worked with multiple early-stage companies from the first moments of their creation until they become relevant for their industry. It means working with the startup founder to validate ideas, develop strategies, create brand identity, and more.
GamerSEO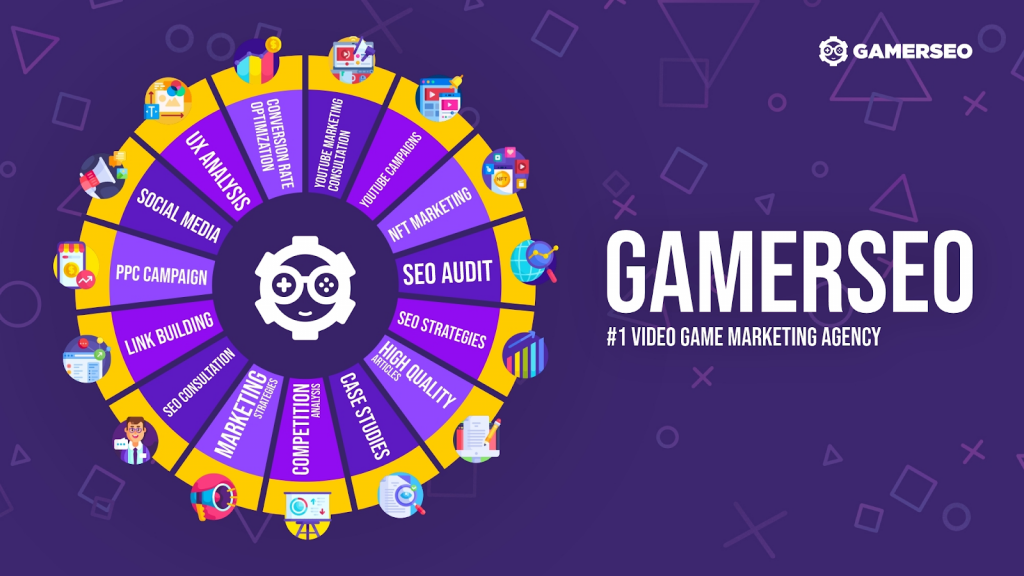 GamerSEO is one of the premier agencies for startups in the digital realm. With a specialization in partnering exclusively with brands at the forefront of new technologies like NFTs, crypto, and the gaming industry, GamerSEO sets itself apart from other agencies in the field. Their expertise lies in crafting cutting-edge SEO strategies, content marketing initiatives, PPC campaigns, and social media engagement to elevate their clients' online presence. As a result, GamerSEO enables startups to establish a strong foothold in the ever-evolving digital landscape and reach their target audience effectively.
Skalski Growth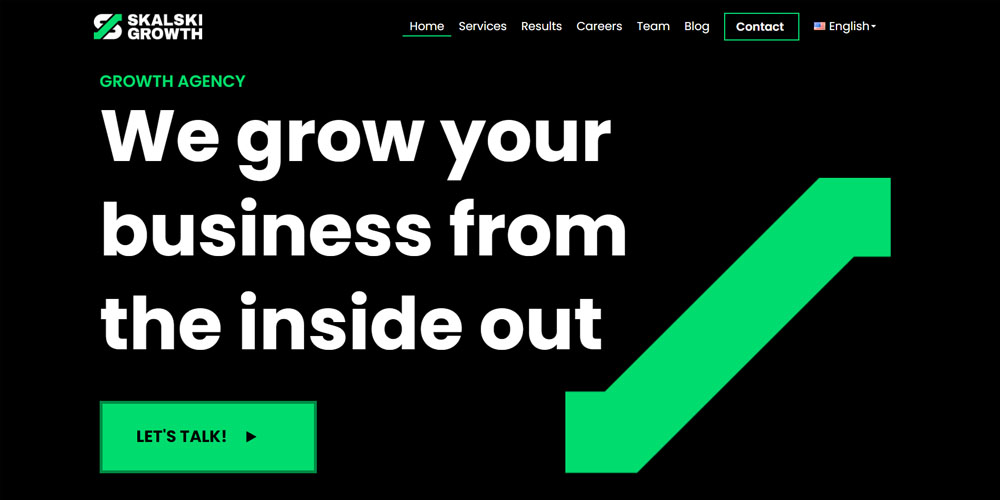 Skalski Growth is a marketing agency firmly focused on creating customized growth strategies to make your startup grow as fast as possible. The agency implements all these strategies hand in hand with this team and clients. Skalski Growth develops marketing funnels, analytics, and financial technology to generate a go-beyond impact, influencing the business model and operations. The agency brings valuable skills to your organization, such as performance marketing, growth leadership, and actionable analytics. Skalski Growth is a perfect choice for ecommerce companies that need evolutionary growth.
Ninja Promo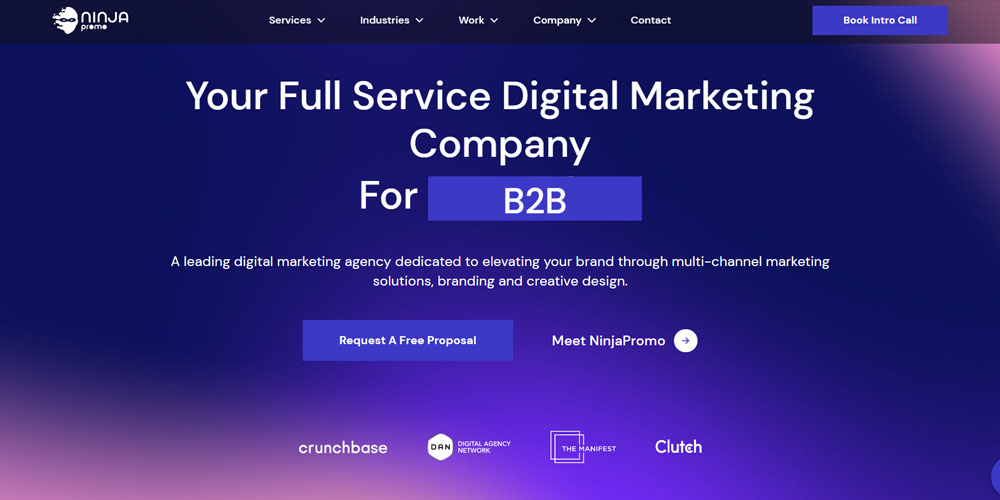 Ninja Promo is a multifaceted digital marketing company offering services for early-stage startups and in-depth knowledge of crypto and blockchain features. This agency specializes in B2B businesses, crypto brands, and FinTech, offering many services that will help to generate leads and fantastic ideas. The most important services you can find are SEO, paid media, video production, influencer marketing, branding, community management, mobile app design, lead generation, and blockchain development. Ninja Promo helps startups carry out unique and exponential growth, which startups require.
SimpleTiger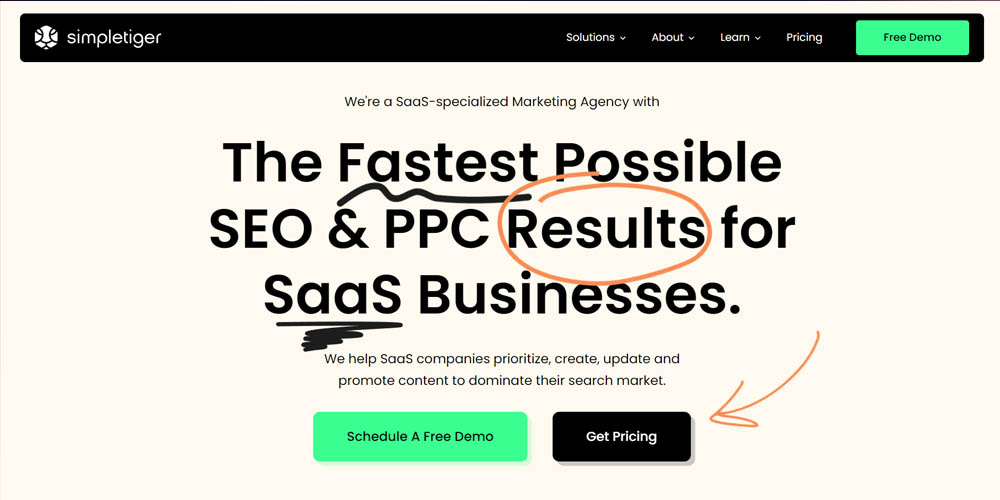 SimpleTiger is a marketing agency in Sarasota, Florida, mainly focused on providing services for SaaS companies and ecommerce brands.
With over 12 years of experience, they have provided solutions to businesses of all sizes–from startups to middle-sized and large companies– and have played a crucial role in assisting tech startups in achieving SEO success.
SimpleTiger helps businesses to create, prioritize, update, and promote content to stand out in a specific market. This agency mainly uses Search Engine Optimization to scale organic presence and increase MRR (Monthly Recurring Revenue). SimpleTiger specializes in keyword research, technical optimization, content marketing, link building, and paid search.
SmartSites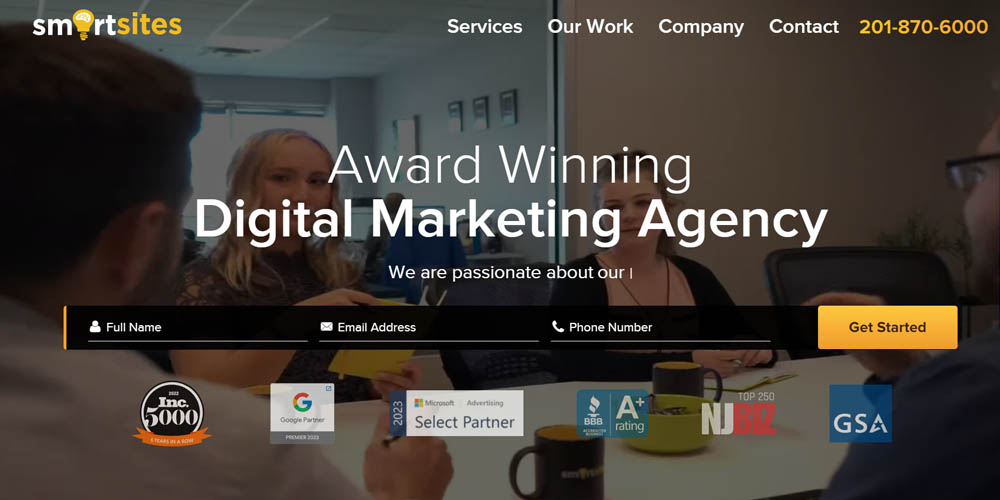 SmartSites is an award-winning digital marketing agency working with the latest trends in marketing to offer innovative solutions to multiple types of startups and businesses. SmartSites has worked with over 500 companies of various industries worldwide. SmartSites is one of the best companies for small and medium-sized businesses due to its history of helping startups to grow through multiple channels.
SmartSites mainly uses Facebook, Amazon, Google, Instagram, LinkedIn, Pinterest, and Reddit to communicate ideas, directly engage customers, and generate more traffic.
Among the services provided by this excellent marketing agency, you can find brand building, SEO marketing, PPC advertising, CRO (Conversion Rate Optimization), content creation, paid social, and website design.
Transcend Digital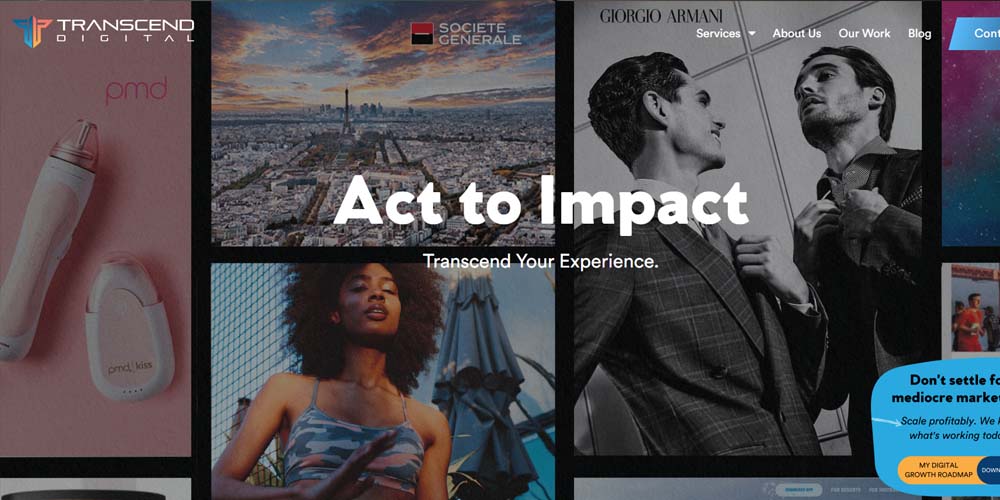 Transcend Digital is a full-service customer experience and digital marketing agency based in Los Angeles, California. This company caters to brands of all sizes and industries, offering comprehensive services to enhance their online presence and establish industry leadership.
Transcend Digital specializes in seamlessly integrating web, marketing technologies, and mobile solutions. With their deployment of cutting-edge solutions, they empower businesses to achieve industry-leading positions. This agency places a special emphasis on delivering a distinctive digital customer experience that fosters an emotional bond with customers. Transcend Digital is dedicated to helping you rapidly grow your business, gain traction, and achieve expedited results.
Digital Uncut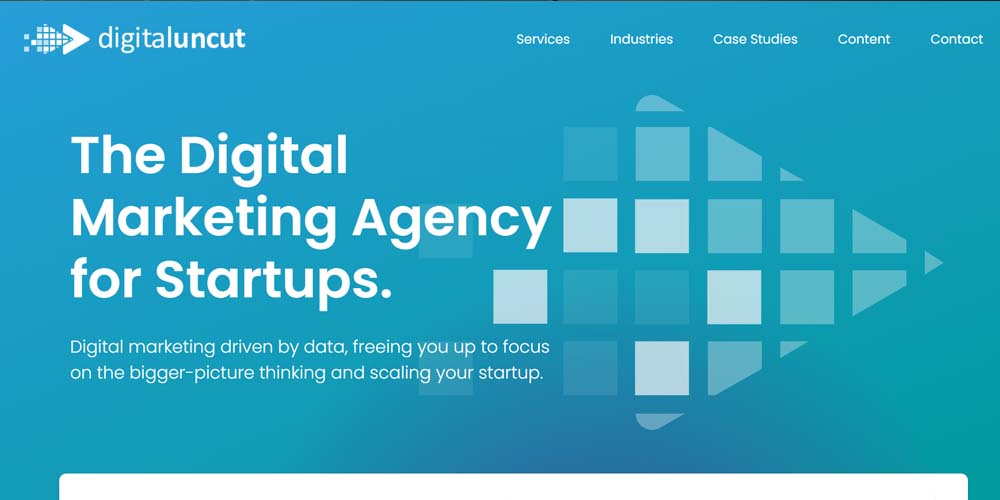 This marketing agency is designed for startups and focused on analyzing data to provide tailored services and solutions to e-commerce, tech, and all kinds of businesses. Digital Uncut offers three main services: content marketing, SEO, and web development. This agency boasts many successful case studies where you can check how its team increased web traffic, PPC investment, ROI, revenue from organic search, etcetera. Digital Uncut will deliver unique services to FinTech, Tech and B2B, Transport & Logistics, Travel, Consumer Services, and E-commerce businesses.
How Can You Evaluate These Marketing Agencies?
You should consider four main aspects when evaluating the next marketing agency you consider hiring.
Check the Feedback
Feedback and reviews play a crucial role in determining the credibility and effectiveness of a marketing company. It is essential to avoid agencies that lack a proven track record in your startup's industry. Look for agencies with a diverse portfolio and multiple clients who have provided feedback on successful campaigns specifically related to your industry. By prioritizing agencies with a demonstrated understanding of your industry and positive client testimonials, you can make a more informed decision about which marketing company is worth investing in for your startup.
What Type of Services for Startups They Offer
Not all the marketing companies offer the same services. You need to know exactly what service is relevant for your startup at the actual point of its development. Selecting the right services will help your brand stand out from the crowd and over other similar small businesses.
The Cost
This point may be a bit obvious since your startup is just beginning, and it likely does not have enough budget to pay for expensive marketing services. Luckily, multiple agencies understand that startups are in a poor financial position, so they are helping companies with small budgets by providing the best and cheapest strategies to achieve their goals. Besides, the cost-effective way is a crucial aspect you should consider.
How Flexible They Are
Finding a marketing company that aligns with the specific needs of your startup is invaluable. While marketing agencies may have fantastic ideas, it's essential to ensure that those ideas are tailored to your business's goals and objectives. Working with an agency that understands your purpose and can provide effective solutions without wasting time, resources, or money is crucial.
Flexibility is key when choosing an agency that can adapt to your unique requirements and deliver customized strategies to meet your needs efficiently. Ultimately, the right marketing agency will not only provide valuable ideas but also be flexible enough to support your business's growth effectively.
The Bottom Line
The support of a marketing agency can provide the necessary push to achieve small goals and continuously grow, being the perfect ally to propel your startup forward.
By working with the marketing agencies mentioned here, you can ensure that your marketing dollars are utilized effectively. These agencies will act as new partners, helping you organize your ideas, concepts, and budget while focusing on the most critical aspects of your startup. Their expertise and guidance will enable you to maximize the impact of your marketing efforts.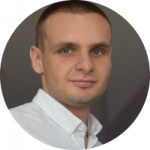 SEO specialist with over six years of professional experience. A/B test and Data-Driven SEO enthusiast. In his work, he focuses on the development and implementation of a strategy that achieves predetermined, specific goals. Privately, a fan of mountain biking.