Understanding the competitive scenario of your industry is a vital practice for any business that wants to highlight among the competitors. One of the most common ways to do so is through search engine results pages, whether through SEO or paid search.
But your paid keywords must be precisely selected for an effective PPC strategy on Google Ads or any other search ads tool. The same works for the other businesses in your industry.
With this, analyzing your competitor keywords becomes an excellent strategy for better promoting your landing pages and understanding the PPC competition and how they behave. Looking at the competitor's site gives you numerous insights and keyword ideas that can be used in your next ad-spend campaign.
In this article, we will show you the best strategies you can use to make quality competitive analysis through relevant keywords. Follow all steps carefully to ensure precise research on your competitors' keywords and create quality PPC advertising.
Table of Contents
What Is Keyword Research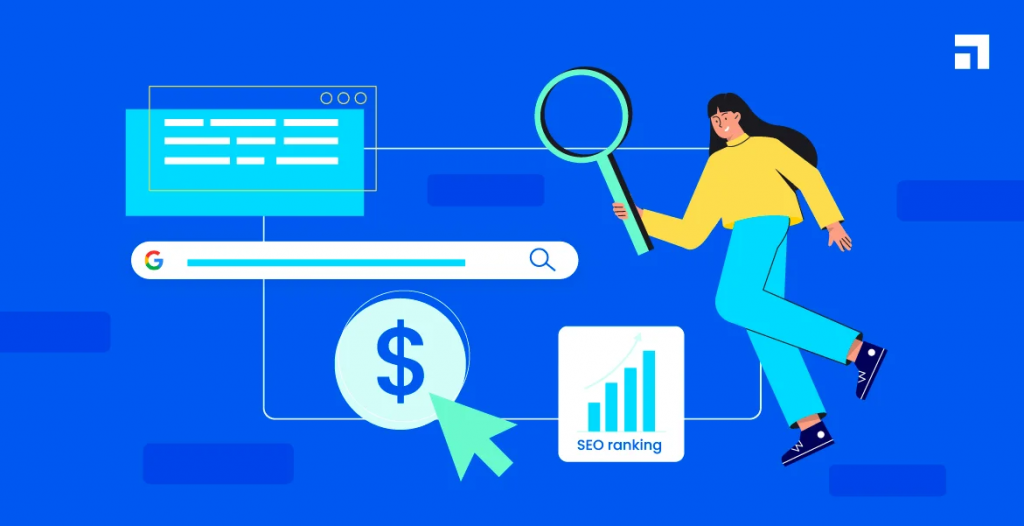 Keyword research is a practice used for both pay-per-click and search engine optimization. It consists in identifying new keywords and search terms that most users type when looking for products or services in your industry.
There are paid and organic keywords, but both have the same primary objective: gathering search traffic for your website. Using a particular keyword or multiple ones helps search engines identify and rank your website among competitors, making it appear at the top of results pages.
Along with identifying specific keywords and their search volume, this practice is also vital to understand how your competitors behave on SERPs and how the competitor's domain is structured. It is a vital step of any marketing strategy based on SEO or paid search results.
Why Keyword Research Is Important for Competitive Analysis
Along with directly impacting your marketing campaigns, there are several reasons why analyzing your competitors' keywords can grant you several advantages. First of all, these keyword rankings directly affect your organic strategies.
Relying on paid search as a long-term strategy might not be the best plan since, from the moment you stop paying for these actions, you'll see your traffic drastically decrease. Moreover, analyzing the competitor site and the keywords used helps you generate new ideas for certain keywords and the type of content you can create to attract more customers.
Your biggest competitors already have experience with the most effective ways to reach your target audience. Looking at their strategies can help your PPC efforts to gather even more clients. Creating keyword ad groups also impacts how well your website ranks, making it easier to generate traffic organically.
PPC x SEO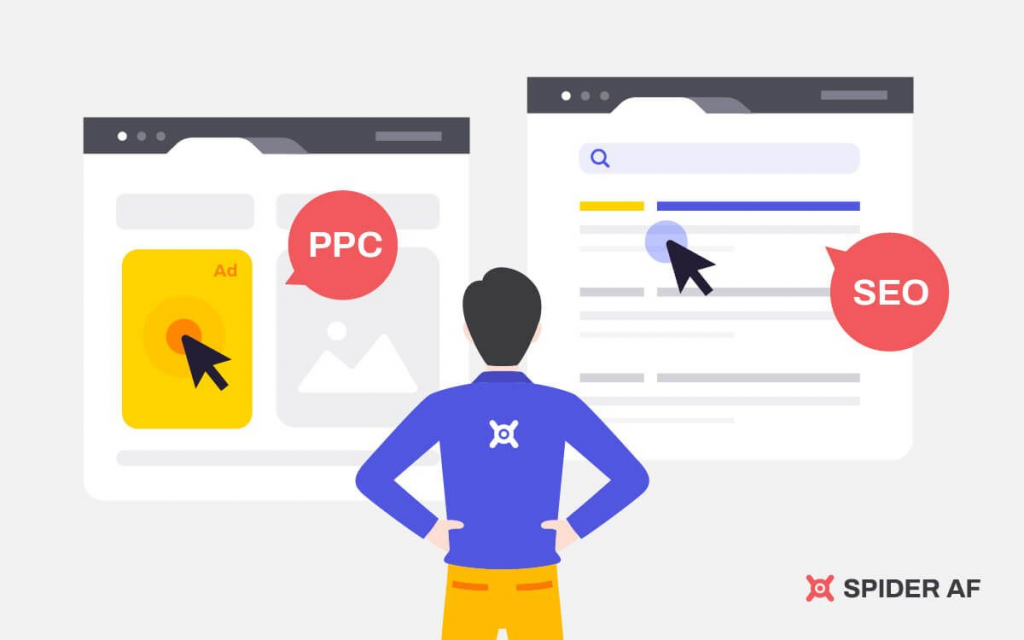 Many business owners might get confused about the differences between PPC and SEO. If this is your case, don't worry. Here is a simple explanation.
Both strategies have the same objective: to generate more traffic to your website. Additionally, the keywords used for PPC are usually the same used for SEO, so one keyword research can be used for both cases.
But the similarities stop there. As the name suggests, pay-per-click (PPC) is a paid marketing activity that gathers traffic through ads on search engine results pages.
When running a PPC strategy, you must consider details like how much you invested and which keywords are more important to achieve the same audience.
You will also worry about these keywords on search engine optimization, but you don't have to spend on paid actions for your website to appear at the top. You will create content strategies to optimize your website and rank better.
The higher your rank, the more chances you have to appear at the top. The traffic generated with this and all the efforts are done organically.
How to Make Competitor Analysis and Gather Keyword Data
Now it's time to see the best strategies and procedures you can use to analyze which keywords your competitors use.
Make sure to take a look at all of them to ensure you choose the best option for your business and the tools you have at your disposal for this task. This way, you can achieve better results and create better Google Ads campaigns.
Here are the main strategies:
Use Specialized Tools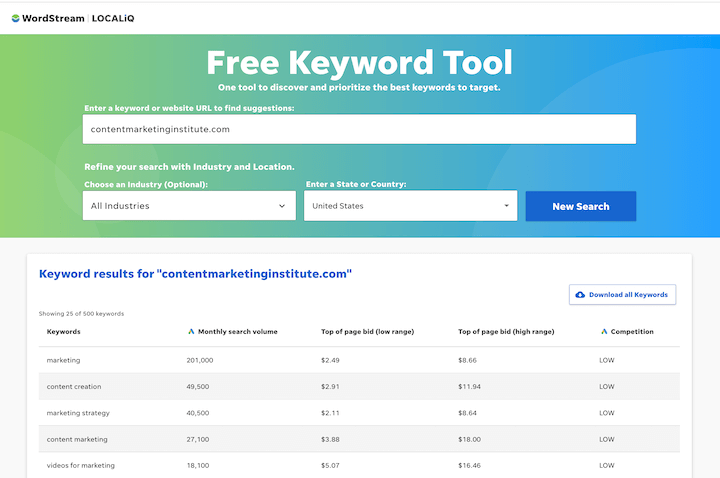 One of the most used methods to gather competitors keywords is through specialized tools. Several options with all kinds of features help you achieve exactly what you want.
Whether it is the paid keywords from your main competitor or the most used terms and their search volume, these tools can help you get the data you need to create better strategies and stay ahead of the competition. But for this competitor analysis to work as expected, you need to understand how each tool works and what are their main features.
They can be valuable resources for competitor research and are some of the most useful PPC tools for competitors websites analysis. Here are some examples of specialized tools that can be used for gathering information, such as keyword difficulty and most used terms:
WordStream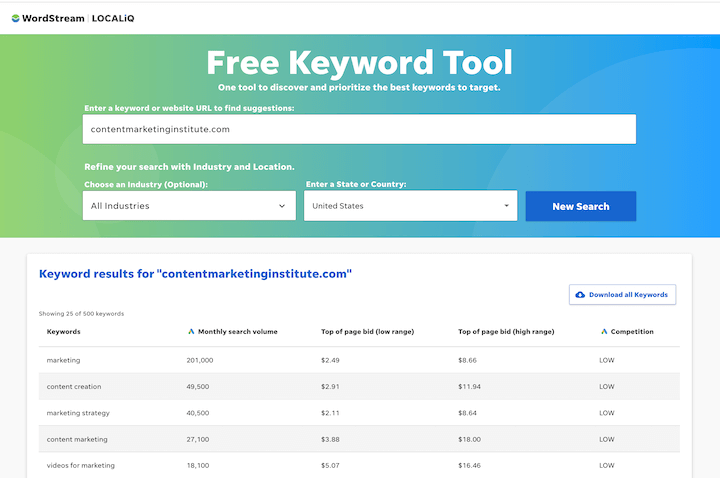 WordStream's free tool is one of the most used when analyzing competitor domains and their PPC account. It is simple to use, and with just the URL of the competing site, you can gather volumes of valuable information.
The competitive research solution can get data like the most used keywords in your competitors campaigns and how often they appear. Along with that, you can also select the company's industry, showing you even more insights and ideas.
With this, you can use the same keywords as them and gather more traffic. It is a simple-to-use tool and is totally free.
BuzzSumo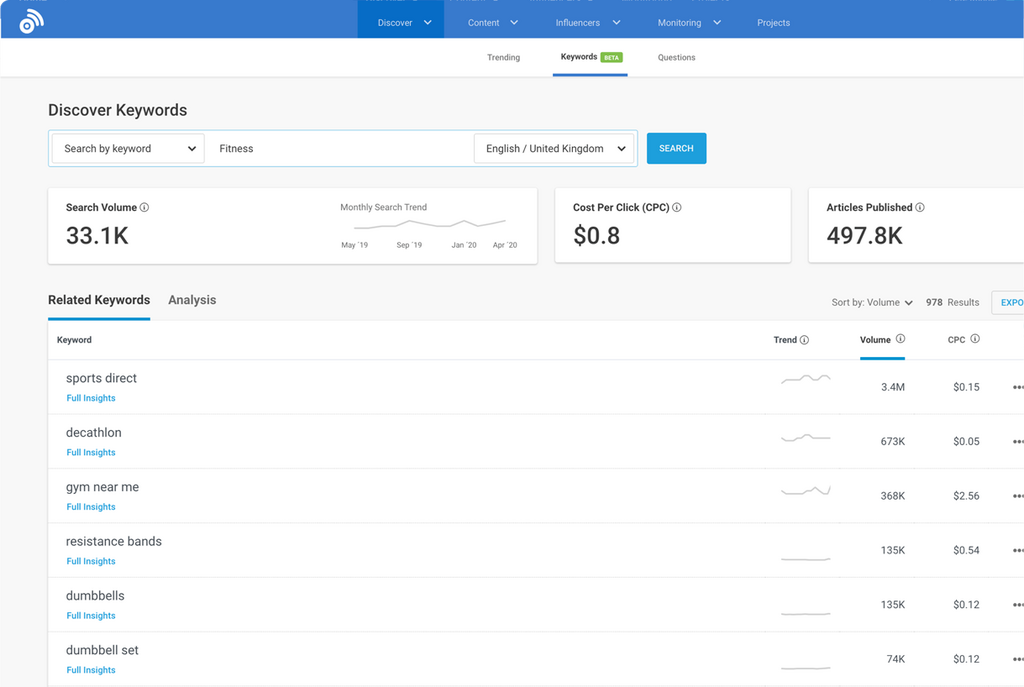 Another known tool for keyword research is BuzzSumo. If you want to create visually appealing graphics and other information to sustain your discoveries, this is the perfect tool.
It's mainly used by professional marketers, but if you're doing competitive analysis, it can also be a game-changer for your efforts. It has specialized features that allow you to make direct comparisons between you and your competitors, whether on SEO score or usage of keyword lists.
It has visual features and great comparison tools, but when it comes to identifying keyword gaps and analyzing competitors' pages, there are better options on the market. It is also important to remember that BuzzSumo is not free-to-use and has different plans and price ranges.
SpyFu
SpyFu is a famous tool in the SEO and PPC market. It features an interface that is simple to use and, although it has limited resources, provides a complete and comprehensive overview of the main points regarding your competitors' landing pages.
Whether researching competitor's keywords or any other information you want, SpyFu is a capable tool that can generate numerous search results to help plan your next Google Ads strategy. The tool also provides visual results to help with the analysis, making the collected data even more useful for generating insights.
Use Google Ads Console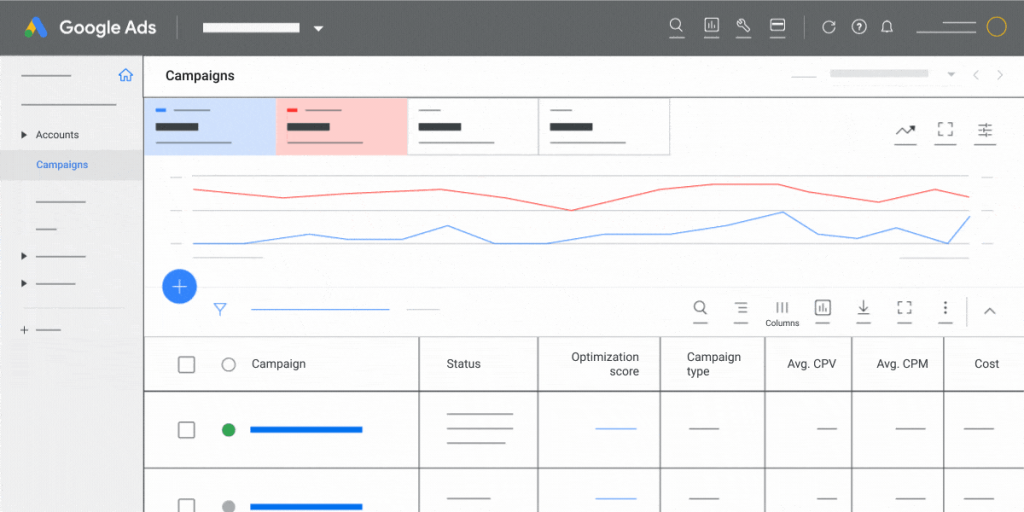 If you don't know who your competitors are or have difficulty identifying the main ones, using the details tab on Google Ads might help you. You can gather high volumes of relevant information that will show your competitors and how good their SEO and PPC efforts are.
Through a tab called "Auction Insights," you can look at different aspects of your competitor's landing page and strategy. Some of the main pieces of data are:
Impression Share

Impression share is an essential part of identifying your competitors since it regards the frequency in which both you and other websites receive impressions. The impression share calculation is done by gathering the number of impressions you received vs. the number of impressions you were eligible to receive.
Overlap Rate

Another piece of information you should consider when analyzing competitor keywords on Google Ads is the overlap rate. This data refers to how often your and your competitor's ads receive impressions.
A higher percentage of overlap rate means that they are potentially bigger competitors. With this, you'll know which websites and ads to analyze.
Outranking Share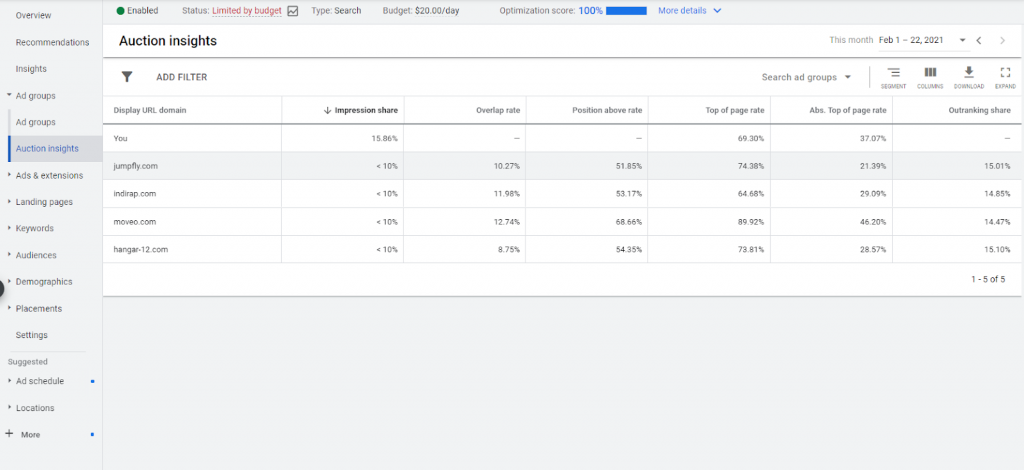 The following auction insight that should be considered when analyzing Google's tool for PPC is the outranking share. It tells you how often your paid ad ranks higher than the others in the auction.
Analyzing this information is vital to understanding which campaign had the best results. With this, you'll also know which keywords you used had the most positive effect overall. This helps not only to identify important keywords but also to plan better strategies for your next campaigns.
Position Above Rate

When analyzing competitors and their possible keywords, looking at the position above the rate is also important. It is the percentage indicating how often your competitors' PPC ads appear above yours in the result pages.
If both ads are shown simultaneously, and your competitor's link is ranked above yours, it means that they have more effective keywords. With this, you'll know which websites and ads to analyze.
It is vital information that can also be accessed through auction insights. Along with identifying keywords, it also helps understand who are your biggest competitors and presents more risks when developing campaigns.
Top of the Page Rate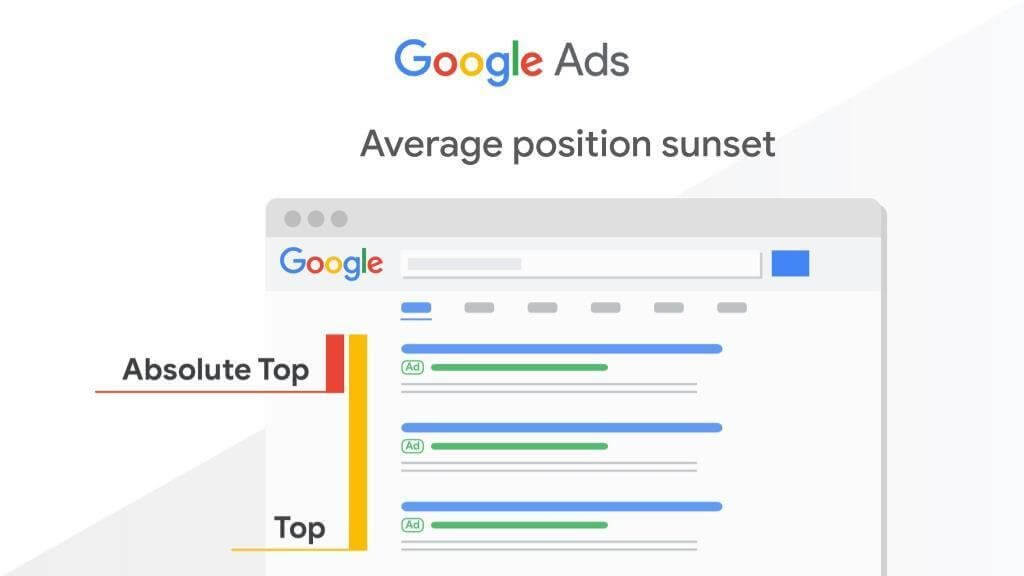 The last piece of data you need to evaluate when using Google Ads to find competitor keywords is the top-of-page rate. As the name suggests, it regards how often your competitors' paid ad appears at the top of the result page.
Ranking at the top also means they have the best keyword usage. Analyze their campaigns and use complementary tools to list the keywords that can be used in your next PPC efforts.
Hire a Professional PPC Marketing Agency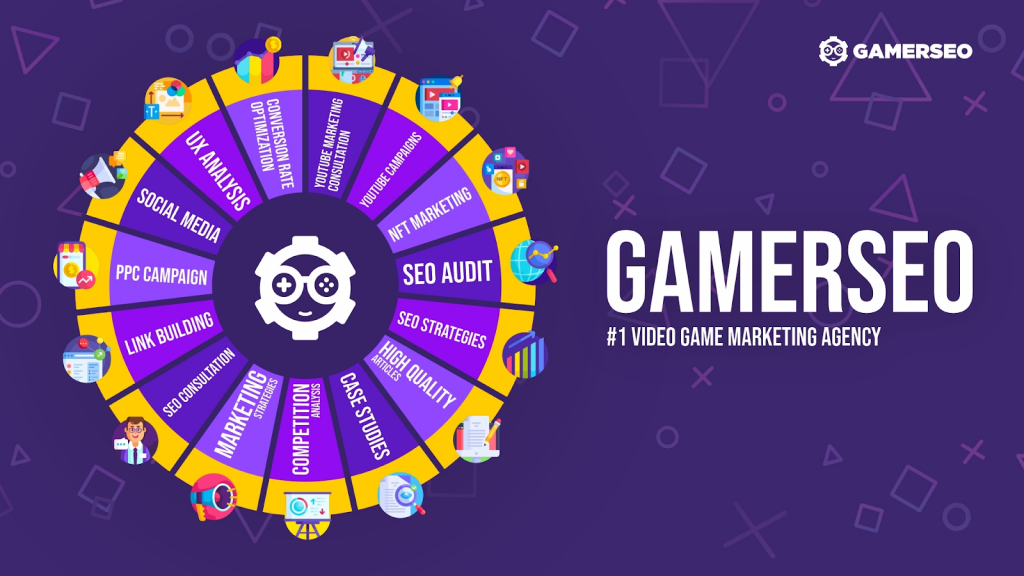 Among all strategies, hiring a professional agency to analyze your competitors is the most effective option that can bring results faster. By leaving these tasks to a professional, you ensure you'll receive the best results in a shorter period.
Moreover, by leaving this to the agency, you dismiss the need to assign tasks to your team. This means they can focus on other duties and keep the business running efficiently.
Collaborating with GamerSEO for your PPC campaigns is undeniably worthwhile. Our team of experts is dedicated to delivering exceptional results for your business. We will conduct a thorough analysis to identify the most effective keywords relevant to your industry, ensuring optimal visibility and reach.
With our skillful optimization techniques, your campaigns will be fine-tuned to achieve maximum performance and cost-effectiveness. Moreover, we conduct comprehensive research on your competitors, allowing us to devise strategies that set you apart and give you a competitive edge.
By tailoring a customized campaign, we guarantee reaching your desired audience and fulfilling your specific business goals. With GamerSEO as your PPC partner, you can expect remarkable outcomes and an impressive return on investment.
Time to Start Your Keyword Research
Making quality keyword research is indispensable for effective PPC actions. Understanding what paid keywords your main competitors use and how effective they are can generate insights and ideas for your next campaign.
But to achieve these results, you need to have a good strategy. Whether by using specialized tools or hiring a professional company for the research, you must plan these actions based on your goal.
Hiring a company like GamerSEO is the best way to reach your goals. Every aspect of the campaign will be thought out and executed by a professional with years of experience. Also, by having a dedicated team for the task, you don't need to move employees from other business sectors to do it, improving the optimization.
Now that you know everything you need, it is time to research your paid keywords. Ensure you understand your main competitors before moving to the keyword listing phase.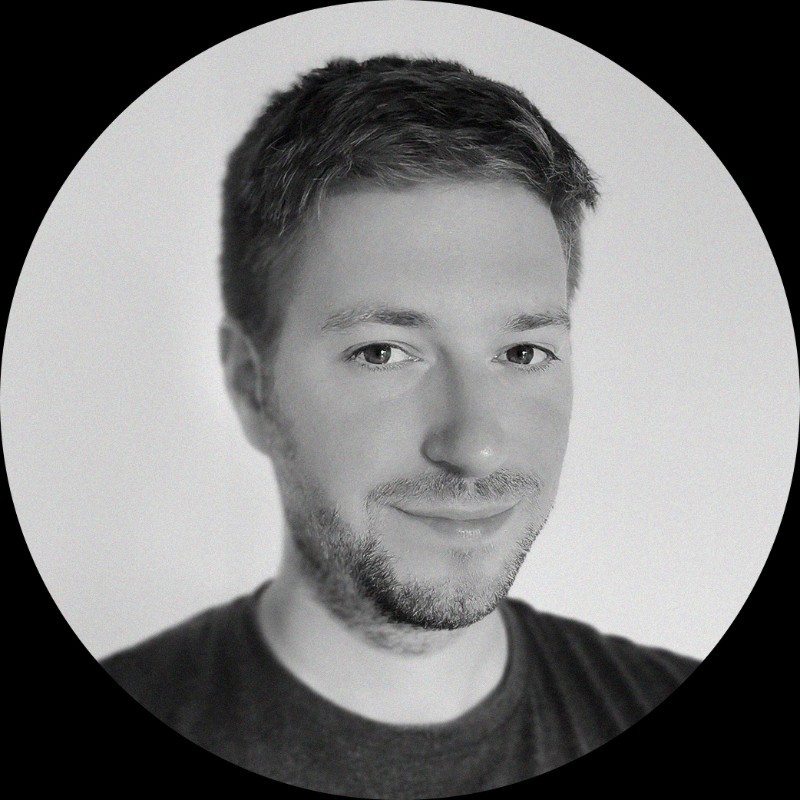 A PPC specialist who started with organic social media. For several years, the core of his activities are:- Google Ads, Microsoft Ads, Meta Ads, TikTok Ads, Twitter Ads,  Linkedin Ads. He has led campaigns with a global reach, e.g. for FootballTeam, G2A, ETOTO, as well as many smaller campaigns in the sports, construction and financial industries. Has full focus on ROAS. Privately, a fan of football, history of wars and Star Wars.