With the rising of blockchain technology, NFT enthusiasts found a way to digitalize art in different formats and monetize their talents.
As a result, many NFT projects have taken over the market. They have turned into a phenomenon over the internet and social media, becoming the subject of headlines, with many celebrities getting into it.
So, we are going to check every step that you must take to make your NFT launch successful. Starting from the very beginning, understanding all the aspects of an NFT itself, how to set up your own NFT project, and how you should continue once you start minting NFTs.
A Reminder: What is an NFT?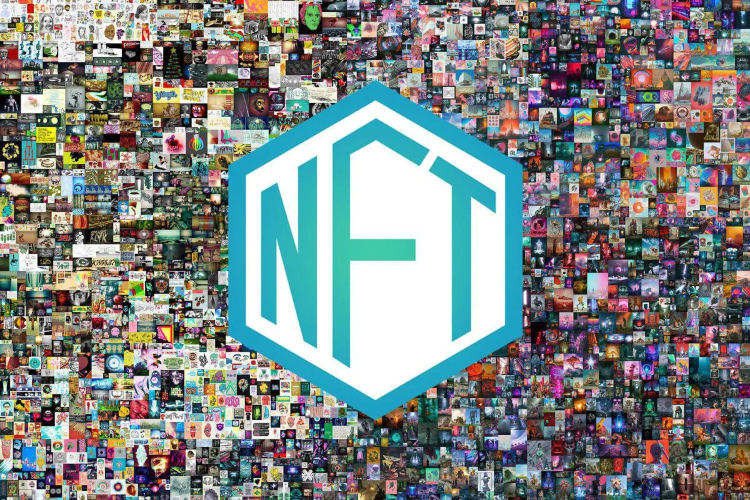 Let's start by answering this basic question. Non-Fungible Tokens (NFT) are digital tokens stored in a blockchain. Each one is unique, limited in quantity, and can prove ownership over some sort of digital art, which can be sold in different NFT marketplaces around the internet.
These NFTs are distinguished from one another by unique identifiers and metadata, allowing users to buy or sell digital assets based on their metadata rather than the entire object.
NFTs aim to replicate tangible attributes of real-world objects like uniqueness, proof of ownership, and scarcity. Yet, digital products are valid when used in conjunction with their product. This opens the doors to many artists that want to attract the attention of potential buyers toward their art by opening NFT collections and selling NFTs of their work.
Considerations When Creating NFT Projects
You have decided. Everyone is doing it, and you want a piece of that cake. You want to sell NFTs. That's good. But before you go any further, there are some issues that you have to address.
We will talk about NFT marketplaces, but one thing that you will see regularly is "gas fees." Every transaction that happens over a particular marketplace will have an additional fee so the transfer can go through. Creating an NFT is completely free, but selling them will require some money. These "gas fees" can vary significantly, even on an hourly basis.
Another issue is that if anything happens during the transaction and makes it fail, you won't get back what you paid for the gas fee. But don't worry – we will recommend some trustworthy NFT marketplaces.
Lastly, there is the environmental aspect of NFTs. Most of them are based on the Ethereum blockchain, which uses an energy-intensive "proof of work" system and has a big carbon footprint. Although, the developers are working toward a more energy-efficient Ethereum blockchain in the future.
Choose a Format For Your NFTs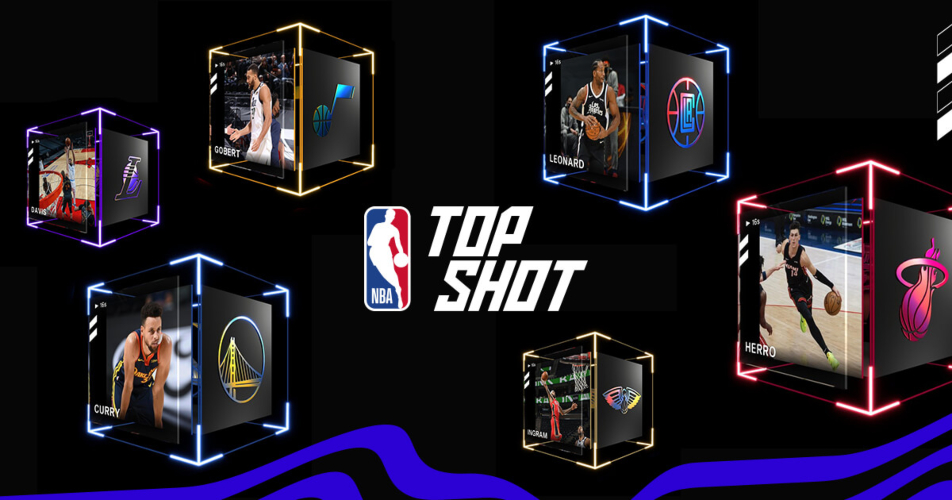 NFT creators need to choose the format for their asset. Are you selling videos, images, text, audio, or paintings? For gaming, there are also NFTs in the form of items or in-game assets, like the creatures you use to play Axie Infinity, for example.
Whatever you choose, remember that you are completely free to pick any format that would fit. It will depend more on the artwork and imagination you provide. Then, once you decide, you need to convert that work into an appropriate digital file, like music as MP3, video as MP4, texts as PDF (portable document format), or images that can be stored as PNG (portable network graphics) or GIF (graphics interchange format).
Choose a Blockchain and NFT Marketplace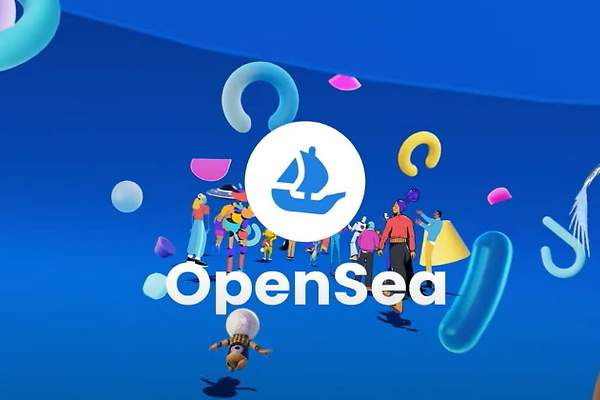 After you choose what your NFT is going to be, you have to decide where it is going to be. You will have to pick the marketplace to sell this new NFT collection and the blockchain people will mint NFTs on.
There are plenty of options, but the majority of NFTs projects end up being on the Ethereum blockchain and using NFT marketplaces that support this blockchain. Some projects even choose to build their own marketplace to have better control over the transactions and gas fees. But this will require specialized people in your team that know how to deal with it.
Established NFT marketplaces have different customer bases, and you could benefit from those for different reasons. Some NFT markets to consider are:
OpenSea: The largest NFT marketplace and where most of the projects end up.
Nifty's: They sell NFTs from the largest brands and creators, focusing on being eco-friendly.
MakersPlace: An NFT marketplace for individual creators.
Rarible: Another option to OpenSea, as it's also very popular and lets you sell NFTs without actually introducing them to the blockchain (named "lazy minting").
Setup and Connect a Digital Wallet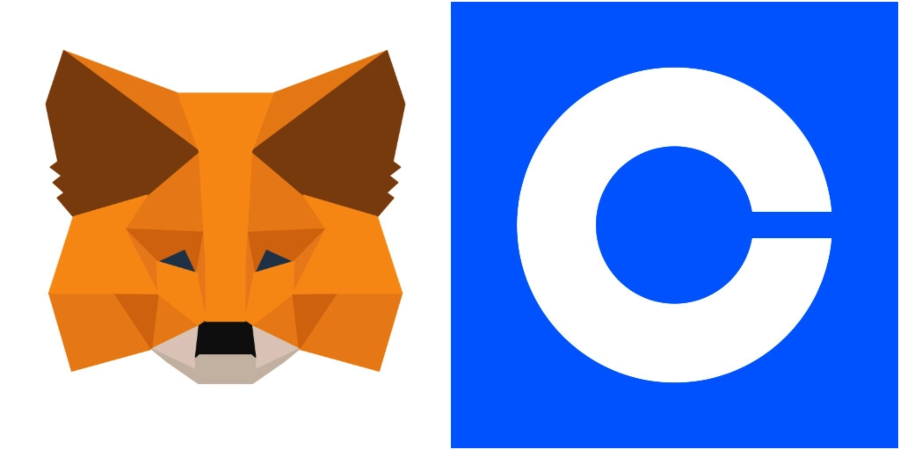 These virtual wallets let you store your cryptocurrencies as well as any NFT that you end up buying or minting. And like we said, when choosing a marketplace, you need to choose a wallet that supports the crypto that you are using and the one you intend to sell your NFT.
One of the most popular is Metamask, which supports Ethereum-based applications like Foundation, OpenSea, and many others, and also has a web browser extension for Chrome and Firefox and a mobile app for Android and iOS. But, if you will use other blockchains rather than only staying with Ethereum, a great option for you would be Coinbase, as it has a broader support of crypto.
Both Metamask and Coinbase wallets are pretty easy to set up and have step-by-step instructions to guide you through the process.
Write a Smart Contract
There are many things to consider when writing a smart contract, as it is an essential part of the NFT sales process:
The maximum number of NFTs to be minted
If the NFTs are living on-chain or off-chain
If you are going to take royalties when the NFT is resold
If purchasing the NFT comes with anything else, like a ticket to a special event or a physical item
And if the buyer will acquire intellectual property rights over the NFT once it is bought
Build a Professional Website
With a professionally looking website, you will attract sponsorship and gain some legitimacy. But the most important thing about your website is to be prepared for high traffic.
When you launch your NFT sale, many people may try to mint one for them, but if your website is not prepared, it will crash and ruin the experience of everyone, damaging a potentially successful NFT project on its first living day.
Create and List Your NFT Collection
What defines the value of NFTs is their uniqueness. But for massive drops, some creators might want to create identical copies of their creations. You can offer different versions of the same NFT and make one rarer than the other.
We previously talked about "minting," which is the process of creating an NFT. It refers to converting a digital asset to the blockchain, similar to how physical coins are created and put into circulation.
After this process, the item becomes "tamper-proof," secure, and difficult to manipulate. Yet, it can be purchased and traded as an NFT, and it is digitally tracked when it is resold or collected again in the future.
Some NFT technologies allow the creator to earn a commission whenever the asset is traded. You can program a clause that generates royalties for subsequent sales of NFT to generate a passive income for them.
You will need to have prepared a digital wallet (and it will be better to have some crypto already stored), and you can follow the next graph, as most of the NFT markets follow similar instructions for the mining of NFTs.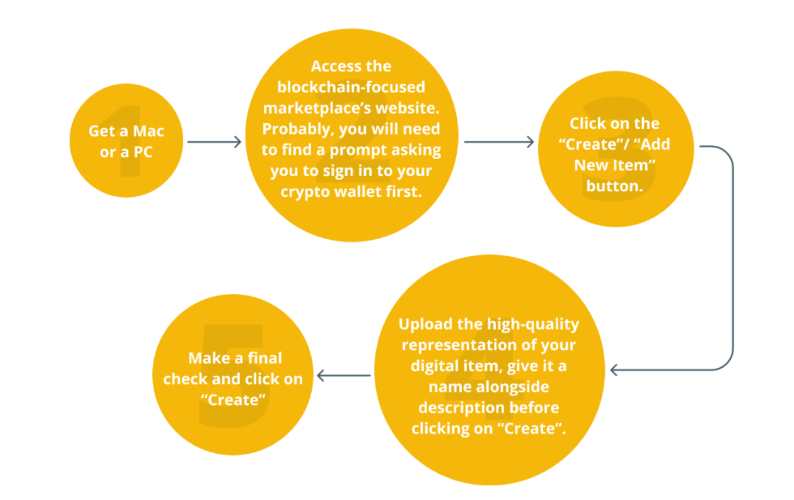 Then, the minting process will begin once you've signed the NFT and paid its gas fee. You can check your minted NFT in your profile after the transaction has been validated in the marketplace.
The Best Practices to Ensure a Great NFT Launch
Everything we already talked about was about the technicity of launching an NFT, how to do it properly and what is required. But that's just half of the process of creating a successful NFT project.
Now that you have everything ready, you need to promote it. And doing marketing is the other half of the NFT creation process.
The NFT space is built around trust and the belief that the product has value. The task is to convince your target audience that your work is truly unique and that you are honest with your intentions. You want to bring the community something of value and uniqueness.
But unfortunately, there were plenty of bad actors (fraudulent organizations and scams) that stained the NFT space and made it even harder to launch an NFT due to trust issues in people.
Luckily, there are some practices that you'll find useful to make people believe you and attract buyers to your NFT project.
Tell a Compelling Story
Ask yourself, "why would people want to buy your NFT?" Sit down together with your marketing people and start writing down a relatable and compelling story that will tempt customers to buy your NFT.
Tell them why your NFT is different from others and what makes it significant. Explain how your NFT will hold value and interest in the coming years and what value it gives the buyer. Tell them how exclusive your NFTs are, making the customer part of an exclusive group around the community.
Build a Community
Creating a strong community will ultimately determine the success of your NFT project. Whether you are a renowned brand or an indie artist, you won't get much further without a community.
Set up a Discord server or/and a Telegram group, where you will engage with potential buyers and bring them the latest updates about your project. The more effort you put into brand-building, the better the chances of launching a successful NFT project and creating a loyal following in the long term.
Invest time where your target audience spends time. Support other projects, buying their NFTs. And join Twitter to share your ideas with the community.
Engage with Your Audience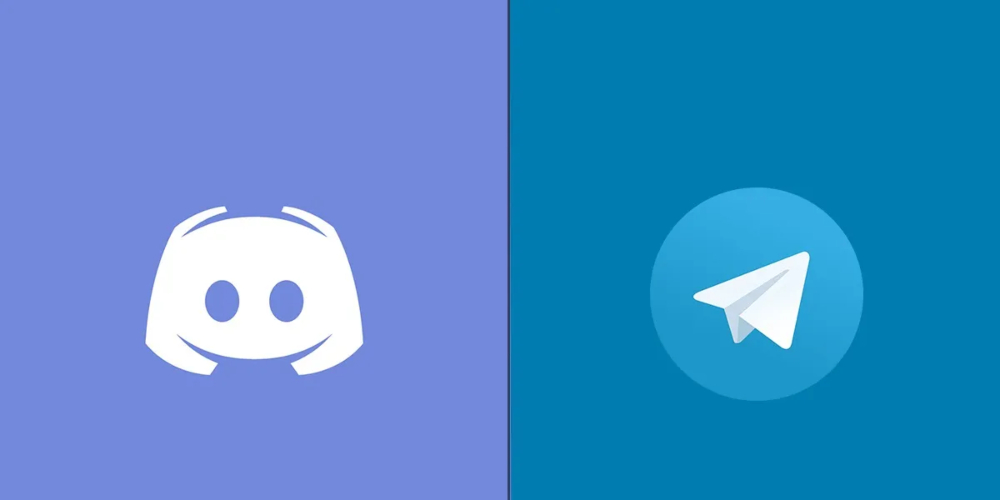 With so many "rug pulls" and scams over the NFT space, you have to keep your audience up-to-date with everything surrounding your project. That's why it is so important to have communication channels like Discord and Telegram, so you can tell them about every update. Going silent will derail the momentum, and that's the worst thing you can do.
Some tips to ensure your audience is engaged with the project are:
Set a regular communication schedule and stick with it (your audience will know when to expect news about the project)
Hire someone to moderate your communication channels and answer questions
In Discord, tag "@everyone" and regularly post over announcements channels
If anything may happen to the project that will result in delays or any sort of issue, keep your audience informed about it
Posting multiples times per week, doing some customer service for your holders, and being online for your buyers for any question that they may ask will send strong signals that the project is not a scam, it is completely legitimate, and your team is focused on positive sum value accrual.
Partner with Reputable Companies and Influencers
Do not fall into the trap of hiring a "big name" to promote your product. Having a big crypto influencer or celebrity attached to your name will not ensure success.
Choose partners that believe in your project and the NFT industry as a whole, and don't let a "big name" hurt your project's reputation. It's crucial to have reputable crypto social media influencers and organizations with a history of integrity and no controversy over their curriculum.
Do your research and choose someone that fits the project. You should even integrate them as part of it and work only with people you trust.
Setup a Fair Price
Another vital thing that can determine the success of an NFT project is setting the initial price correctly. Charging too high will risk your project losing momentum, not selling out your NFT collection, and ultimately losing support from your customers.
Not only do you have to set a fair price, but a fair royalty commission too for all secondary NFT sales. With a high royalty, customers will not be able to get as much value from the community they helped to create, resulting in a loss of loyalty regarding the future of the project or whenever you decide to launch a new product.
Some tips to consider for setting a fair price are:
Spend time talking to the community about what is a fair price for them
Take into account the ability to deliver value in the long term
You can research the price of similar projects on sites like Nonfungible and Dune Analytics
Don't make it too expensive and set a price that would invite many supporters to participate
Keep in mind that the initial sale is not the only way to earn money, as we talked about royalties from secondary sales
Most successful NFT projects set their price between 0.1 ETH and 0.5 ETH
Plan a Strong and Realistic NFT Roadmap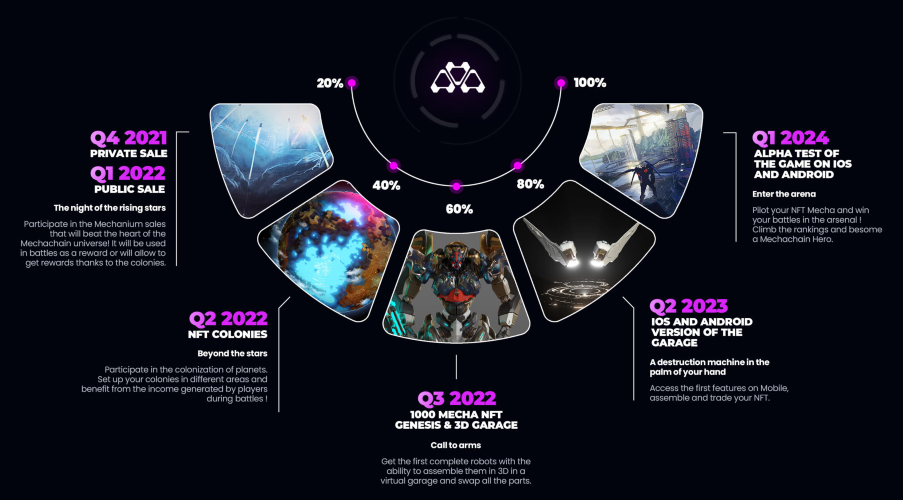 Don't stick only to the launch day. Think about how you will continue this project after its creation. Create a roadmap with all the things related to your project and how you will keep adding value to it.
When done right, your revenue will mostly come from secondary sales, thanks to the royalty payments. That's why you should think of new ways to keep your community engaged after the NFT launches and increase their enthusiasm to participate.
Invest in the NFT Code
Everything can come down if there isn't proper security. It's critical to ensure your code is well-written to avoid any potential exploit that may affect your users.
Invest in the best Web3 developers that you can find and afford. While most NFT smart contracts help to mitigate the risk (like ERC721 and ERC721A), there is always the possibility that someone will find an exploit. Don't let your enthusiasm to launch your project distract you from investing in security precautions, as any exploit may harm and doom your project completely.
Conclusion
Through this guide, we look at the technicalities it takes to create an NFT project and all the steps you need to take to ensure a successful launch. But also, what comes after is creation. Promoting the product is as important as making the NFT itself.
With growing competition, a key element of success is to stand above the competition. And even if you achieve it, you shouldn't stay only with that, as any issue can severely damage your brand, and all the goodwill invested would be in vain.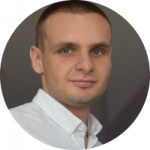 SEO specialist with over six years of professional experience. A/B test and Data-Driven SEO enthusiast. In his work, he focuses on the development and implementation of a strategy that achieves predetermined, specific goals. Privately, a fan of mountain biking.