Game promotion is a challenge, either on Youtube, Twitter, or other platforms. Each of these has its pros and cons, and to leverage each of them is a crucial move that every developer or channel owner should make.
Twitch is a relatively new streaming platform used for gamers to promote different games or their own channel. It's not easy, it involves a great effort, but the option is worth the effort.
Doing it right requires the right balance between entertainment, novel experience, and advertising. People tend to avoid a Twitch streamer who is overly promotional, but without some self-promotion, it will be harder for people to find your stream.
This article aims to give you the tools and tips to balance your promotion and reach more people. Here you will learn:
How and why you should use Twitch to promote your game.
The best ways of advertising on different platforms.
How to Promote Your Twitch Stream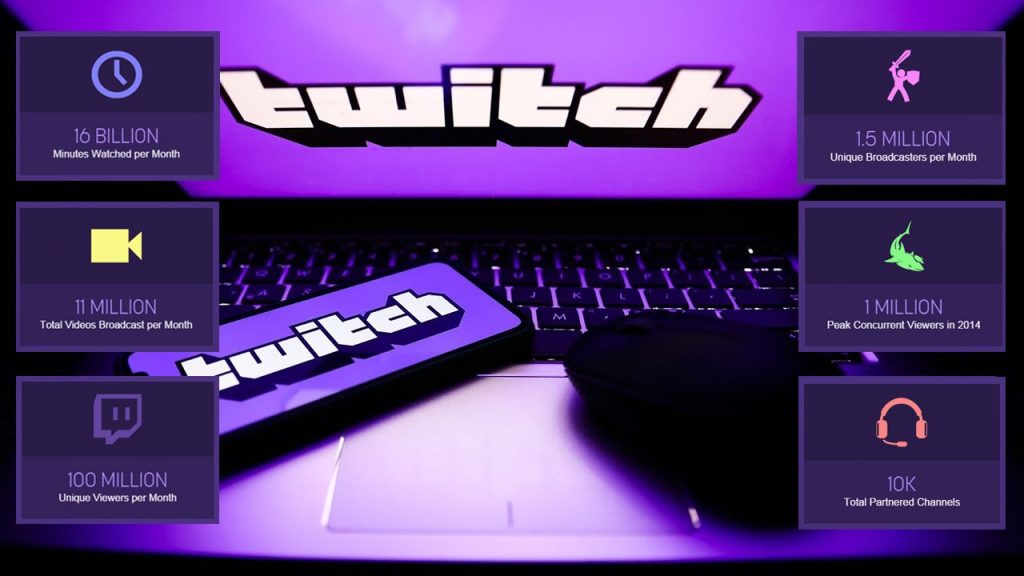 Source: moz.com
Creating a Twitch channel and creative content requires a deep understanding of your own. You need to understand who you are and what you want to stream on the Internet. It's also crucial to know who your audience will be and where they hang out online.
Is your audience a small niche?
Are they interested in RPGs or MMOs or just in watching you play?
It's unnecessary to compare yourself with Twitch streamers who have been in the business for a long time. Most of them have people who spend a lot of time on promotion and marketing. In some cases, they earn enough money to position their channels via paid media.
Still, be aware of what they're doing and which things are working and which aren't. Try to understand the process without copying them. Imagine and create your individual way of communicating. Just think about them as inspiration, or a helping partner, for your unique ideas.
Why Should You Use Streaming for Video Game Marketing?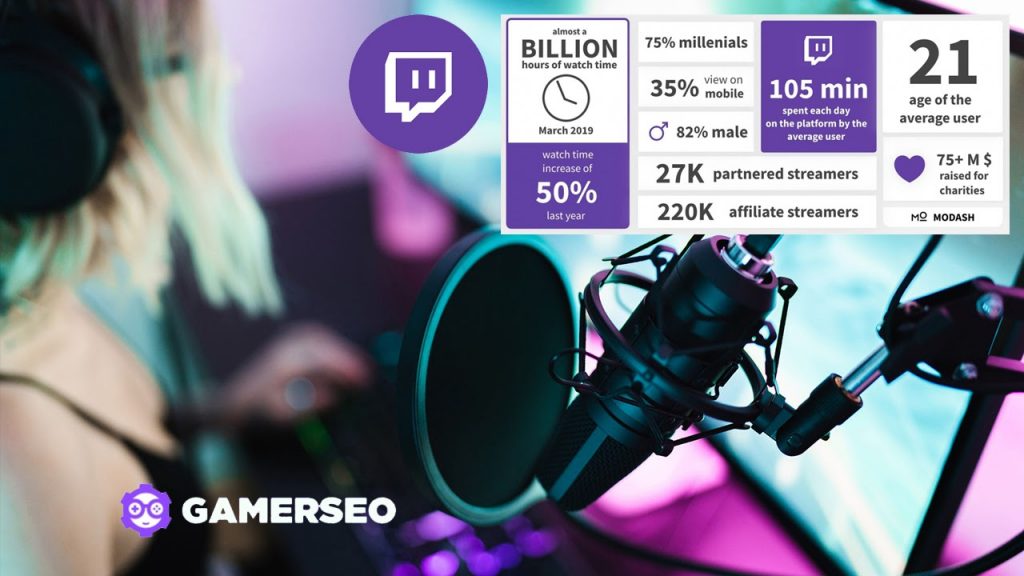 Source: modash.io
The gaming industry is growing and growing and will continue to do so in the future. For instance, gaming is one of the most-watched topics on YouTube, and 2 of the top 5 YouTube channels with the most subscribers worldwide are gaming-related. Regarding Twitch, 87.1% of all streams on Twitch are gaming streams.
Getting into a spotlight in this world full of features and possibilities is a challenging goal to achieve, no matter if you're an indie developer or an established studio. To boost this process, it's mandatory you build an efficient marketing strategy that attracts a target audience to your channel.
There are two core issues marketers need to solve with their strategy:
How to find and reach the right audience through your stream?
And how to make people interested in your game?
In gaming production, the marketing starts several days and months before the launch, generally when the first results are obtained.
This poses another challenge for marketers: they need to make sure the audiences they reach support streamers and remain with them until the game's actual release.
Find Your Audience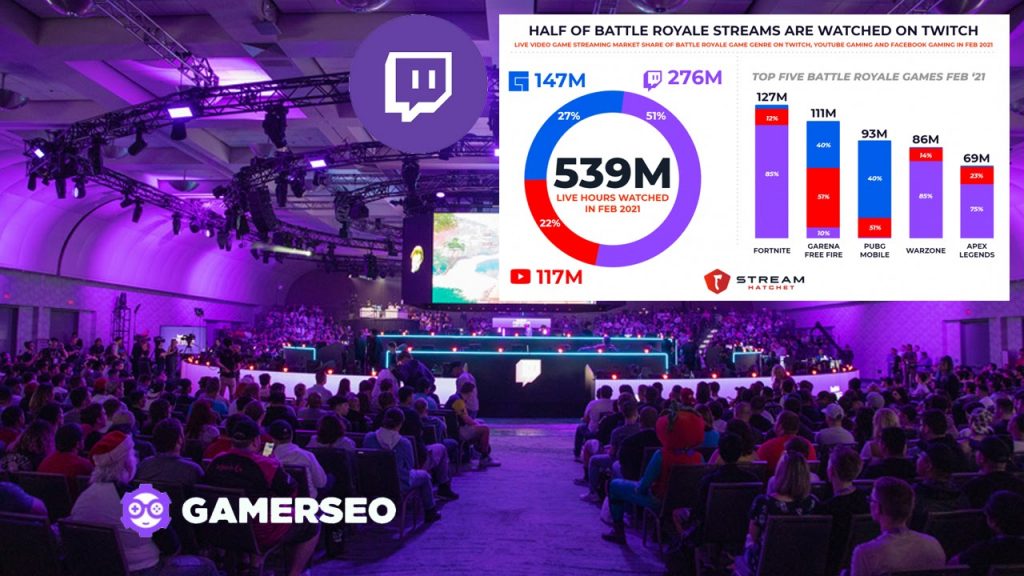 Source: streamhatchet.com
When you start with the post-production and design of a game, you know it is aimed at a specific type of player with a particular profile. They prefer a genre, a type of story, certain themes, a gaming style, and some typical products on the market.
What's more, you might even already be part of a gaming community or have an audience on social networks. Carry on a survey and learn about what they expect in a game. When your game is in production, share your progress, and invite them to your stream.
Anyway, finding new Twitch users is a goal you need to consider. Moreover, it's even mandatory. Creating a persona (or an anti-persona) is a good practice if you're unsure what your audience is.
Knowing your audience, i.e., their interests, values, age, or other demographics and psychographics, will help you determine the best path to reach them.
Once you know your audience, you need to figure out where to find them and how to entice them to download your game and to watch your stream.
Collaborate With a Gaming Influencer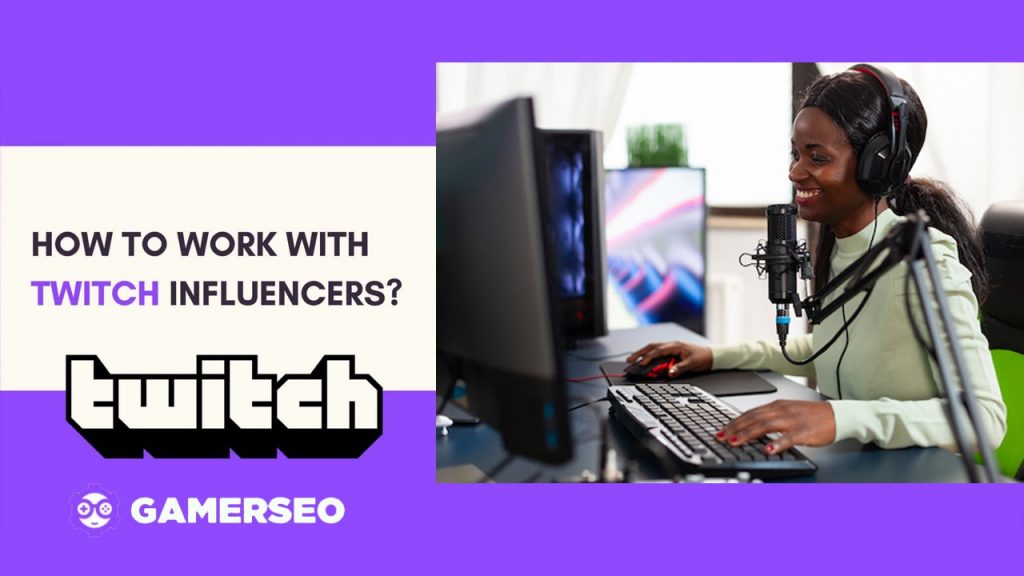 Twitch influencers who play video games can be the key to reaching a huge group of people. They can help you to create other content and attract new users. In general, influencers have a lot of Twitch viewers and a strong relationship with their followers, which can help to promote your game.
The idea here is that you find the right influencer to promote your game. Keep in mind a few things to choose the right one:
Study their content and check if they have a disposition towards your game.
Check the data, the number of followers, how many viewers, visitors, and donations the influencer has.
Check the growth rate and if the influencer belongs to a Twitch community.
A classic example of the above is Among Us, the indie game released in 2018. For two years, this game went completely unnoticed, until in 2020 many of the most famous streamers started to play it. We can't blame them as it offers a lot of fun. Now it's one of the most-streamed games ever.
A piece of advice: measure the analytics you get after one or two months of starting to work with influencers. This way, you can know if their sponsorships are working.
Maintain Contact With Your Viewers
Talking with your viewers through Twitch chat while you're streaming and keeping in touch when you're offline is a great way to make a connection with them. Due to this, you'll be more likely to get new subscribers.
When you're doing your live streams, try to read the comments of any viewer every time you can. Answer questions and be funny. Viewers will thank you for the interaction with loyalty.
Also, thanking your viewers by name will make them feel appreciated. It's also a great way to encourage other viewers to subscribe, donate, or join your giveaways too.
Use Host Mode to Engage Your Viewers When You're Offline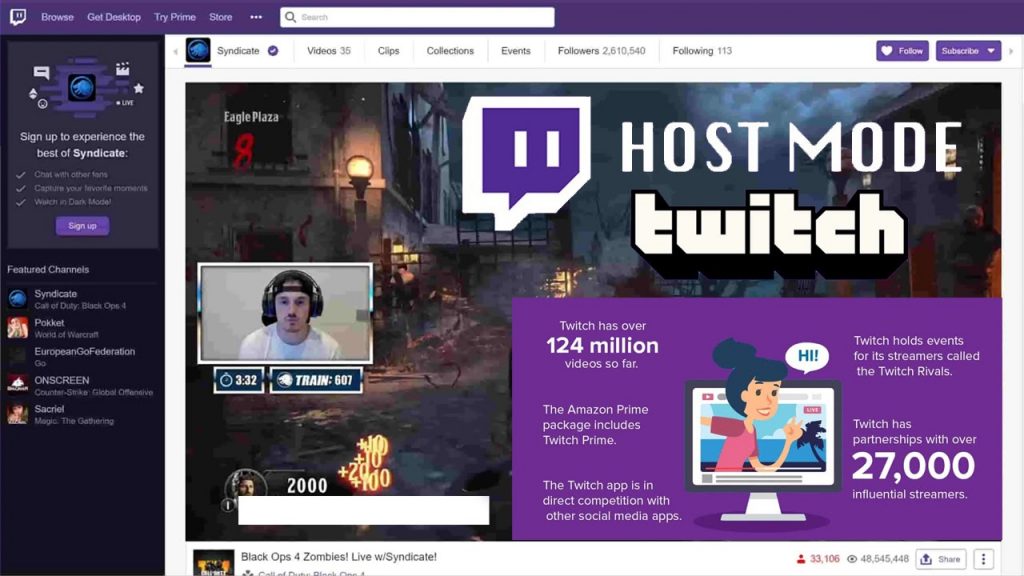 Source: facts.net
Host Mode is an interesting feature that allows broadcasters to host another channel´s live broadcast on their own channel without changing the chat. This mode is very useful to keep your subscribers and Twitch users entertained while you're away.
Besides, Host Mode allows your viewers to know other streamers whose content is similar to yours. It's important that things you are going to stream will be to the taste of your audience. For example, if your viewers always head to your channel to watch how you play your game, you could host another streamer playing a similar one. Related entertaining in this regard will allow you even to gain new subscribers.
Run a Contest For Your Viewers
A practice that works for Twitch influencer marketing is running successful contests from time to time to keep viewers interested, create hype, and have a great time together. If you are streaming a new game, you can create a bit of content with different prizes: for example, gaming merchandising, exclusive access to unreleased bits of the game, special accounts, etc.
Also, running content will keep people around your streams until you announce the winners. This is the best way to make sure they stay watching your stream long enough to see the gameplay.
Furthermore, if participation in the content depends on whether or not viewers are watching the stream, they will be encouraged to watch it because they don't want to miss anything important.
Try to Go Viral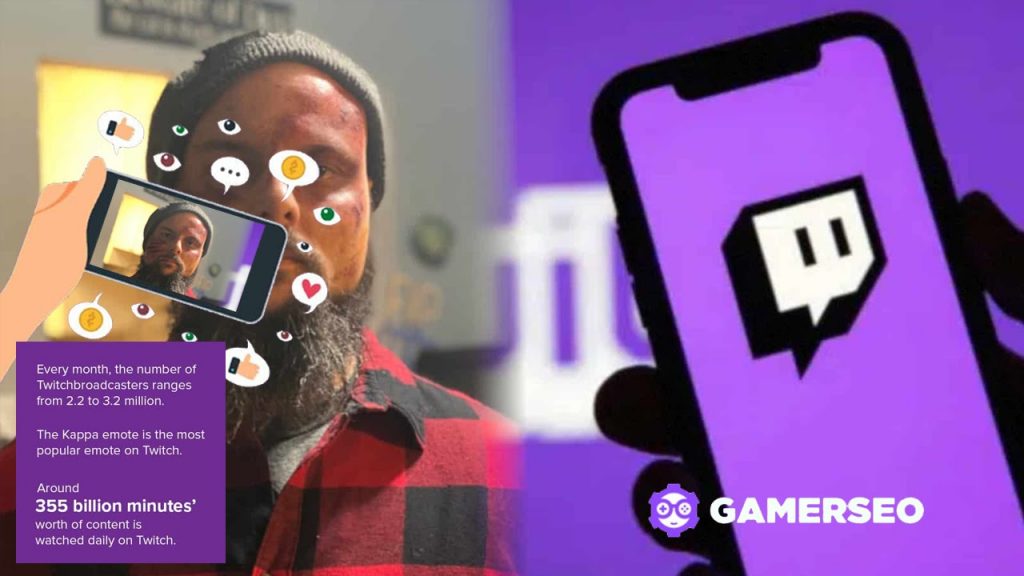 Source: facts.net
Going viral is not just a matter of luck. It is also about being aware of the unique moments of your stream and boosting them to get a high-quality viral moment. If you can identify that, you can cut these moments and upload them separately to social media when you finish the stream. This way, you expand the life of your stream and make it easily shareable.
The highlights you choose to share must be spontaneous and realistic. People know when you're acting unnatural (although it can make you go viral for all the wrong reasons).
Use Other Platforms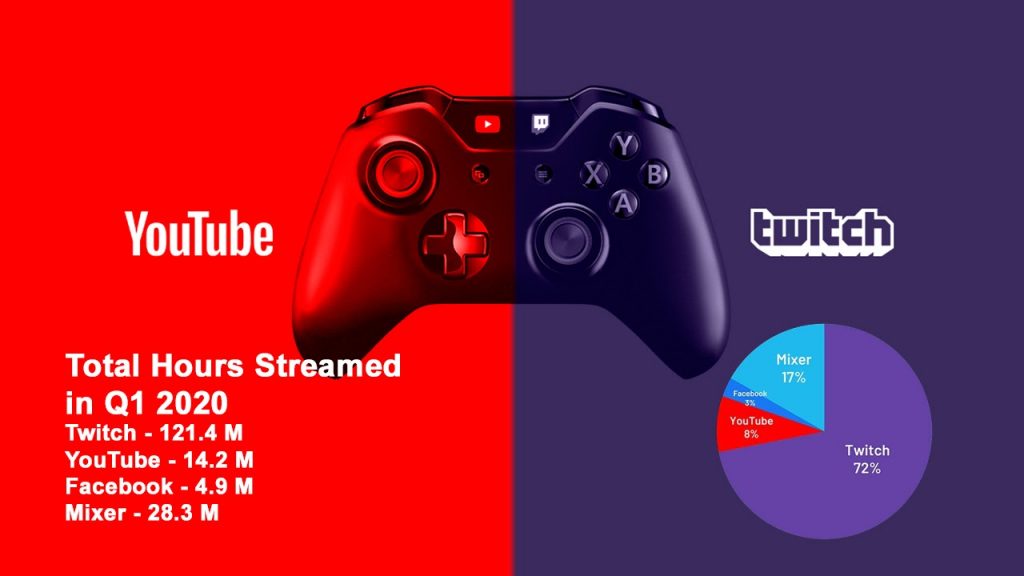 Source: Streamlabs
Even though this article is concerned with Twitch, do not restrict yourself to this single platform. Twitch is the most popular for streams, but you can always use YouTube to upload short clips or other content.
Closing yourself inside a single platform 'bubble' simply doesn't make sense for smaller channels. Spreading your content across platforms means higher visibility.
Since you have a strong presence on YouTube, you can leverage the algorithm to recommend your video more often, maybe to thousands of millions of people. Many of the most popular streamers have their audience following them from other platforms.
At this point, live streaming platforms are fundamental to reaching tens of thousands of new users and keeping people interested in your game.
Promote Your Twitch Channel on Twitter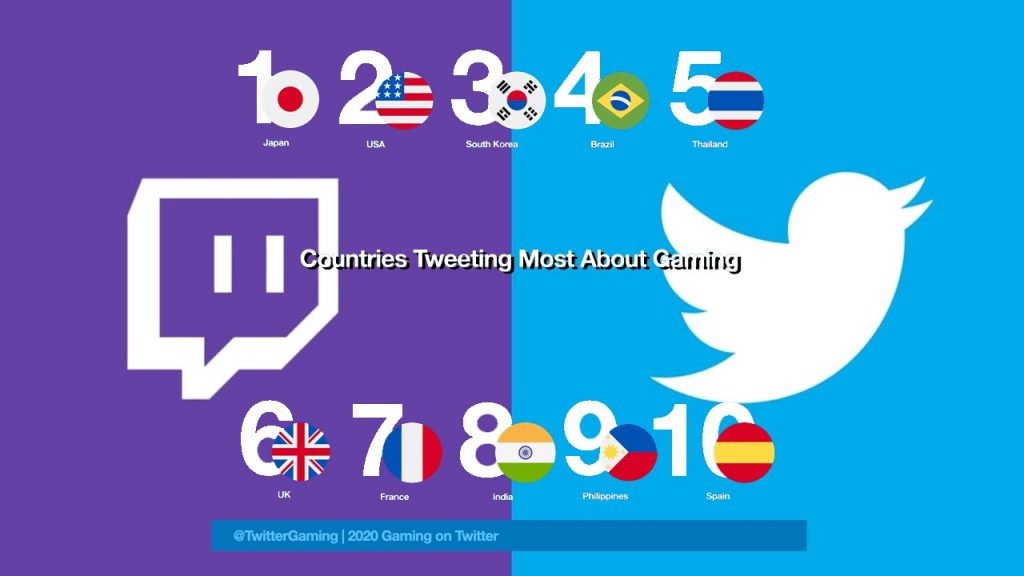 Source: blog.twitter.com
Twitter is an indispensable social media platform for devs who want to grow or publicize their future games. Also, it's great to network with other streamers and follow exciting topics and projects of the industry.
Let's take a look at some of the ways you can use Twitter.
Create Shareable Memes
Memes can help you to create a lot of engagement, which, at the same time, will help you to promote your channel. Regarding the topic, think about something that would be relevant to streamers and viewers of the community.
Shout Out Raids
If other creators raid you, think of a shout-out that you can use to thank them at the end of your stream. People love to hear that streamers and influencers speak about them.
Share, Retweet, or Like Others' Posts
Engaging on any other account similar to yours in terms of size, you will find out soon that people and other streamers will return the favor.
Twitter has a character limit that makes shout-outs short and sweet. You need to learn how to build your posts to bring in the most engagement.
Promote Your Twitch Channel On Reddit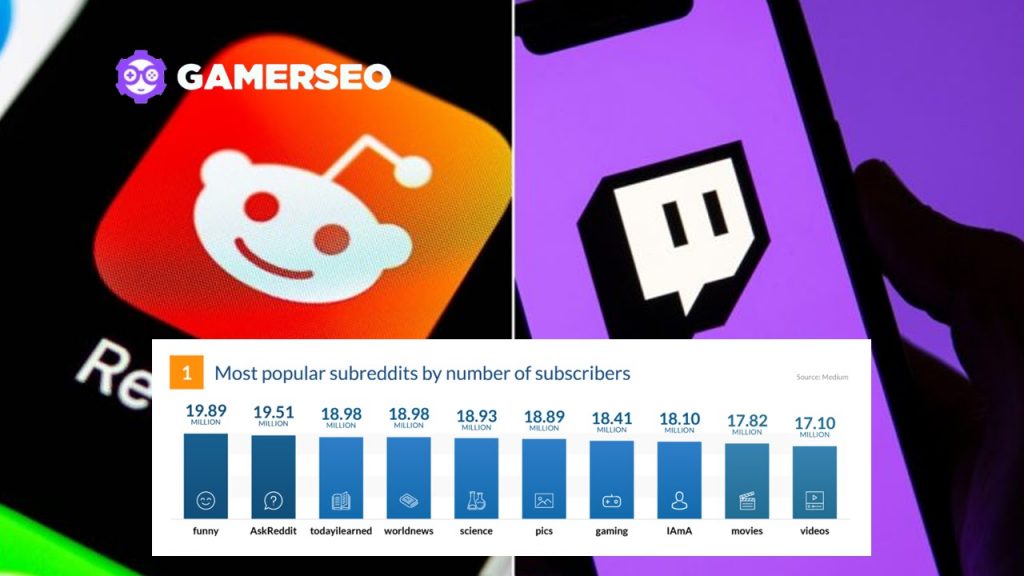 Source: financesonline.com
Reddit is a must-have social media website for gaming. There, you can find hundreds of online communities of your interest.
There are multiple subreddits whose topic is gaming and where streamers and viewers hang out: r/gaming, r/speedrunning, r/gamernews, r/IndieGaming, to name a few.
Publish engaging content about games, or your own game, to get new fans even before the upcoming launch. However, the content you publish doesn't necessarily have to relate to video games.
For example, you can talk about the game's context, the genre, or the city where the action takes place. Don't forget to interact with people who respond to your comments or give you feedback on your launched game.
Another option you must consider is promoting yourself or your brand on a subreddit. Nevertheless, most subreddits don't allow promotion of any kind (unless you advertise), so make sure to read the rules and instructions before you do anything. That said, there are a few ways you can grow using Reddit.
Be Active On the Twitch Subreddit
Answer questions and participate in conversations. While you can't drop your link in this subreddit, you can add your Twitch name as your flare.
Create a Campaign On a Game and Request User's Input.
Message them afterward if you use their ideas in your stream.
Suppose you reach some achievement or create unique content for your game or project. Then, post images or videos in the game's subreddits. Do not forget to mention that you reached the milestone while streaming. Again, don't overdo this.
Conclusions
Twitch is the must-have platform that both experienced and new streamers must use to promote their games and quality content. If you are a novice, you must create a Twitch account and start broadcasting to reach success. On the other hand, if you are just a developer and want to show your game, a Twitch influencer is a good idea.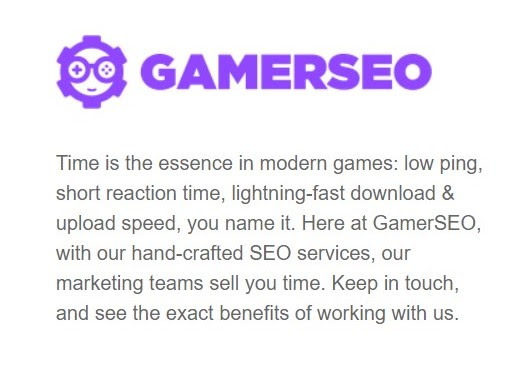 If you're wondering who can help to promote your game on Twitch and increase your average concurrent viewership, our GamerSEO team can give a push to your strategy so you can reach your marketing goals.
We have hundreds of thousands of hours of expertise. Thus, we will study your case and propose you a complete cluster of movements. Feel free to send us a message through this contact form if you need more information about our services. We are sure we can help you.
FAQ
How Do I Promote my Game on Twitch?
Set yourself goals.
Stream consistently and frequently.
Offer your audience value.
Play the right games.
Interactivity.
Use high-quality streaming equipment.
Promote yourself on social media.
Networking.
Run contests.
What Games Offer Drops on Twitch?
Some games that offer Drops are:
Warframe.
Champions.
Quake.
Path of Exile.
Smite.
Can I Pay to Promote My Twitch Stream?
The answer is yes. With Twitch Strike Promote, your stream will appear on the front page, so many people interested in your topic can watch it. This way, thousands of brands and companies get more views through direct promotions.
All rights reserved. Copyright 2021.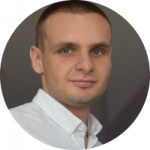 SEO specialist with over four years of professional experience. A/B test and Data-Driven SEO enthusiast. In his work, he focuses on the development and implementation of a strategy that achieves predetermined, specific goals. Privately, a fan of mountain biking.